The Biggest Surprise for Every NBA Team This Season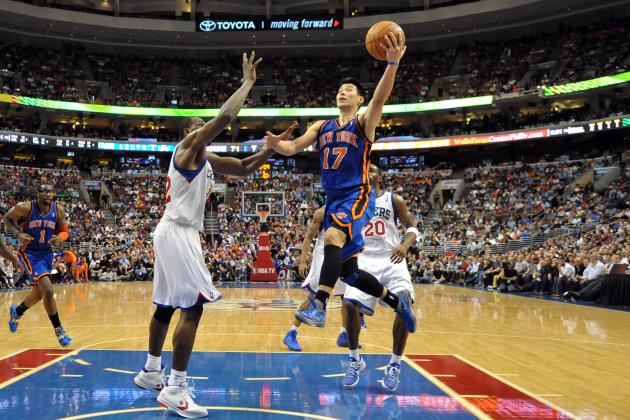 Drew Hallowell/Getty Images

As with every NBA season there are surprises. There are different kind of surprises, the good kind and the bad kind. There's the surprise birthday party and there's the kind your dog leaves for you when he wants you to know you should have taken him out.
Depending on your favorite team you've had one or the other.
There are players that exceeded expectations, and players that came short of them. There are teams that blew up and there are some that prove they need to be blown up.
One way or another they are surprises. Here is the biggest surprise form every team.
Begin Slideshow

»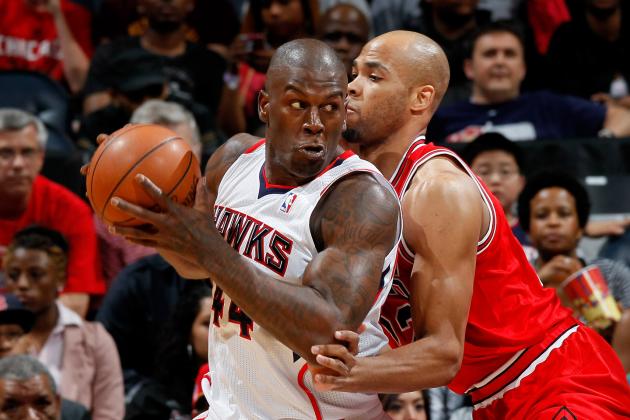 Kevin C. Cox/Getty Images

If you say you knew who Ivan Johnson was before the beginning of the season, you're either lying, your Ivan or you're his mom. Well there's also the Korean official he flipped off (receiving a lifetime ban in Korea for doing it—and you thought David Stern was tough!).
So Johnson, who is 27 years old, finally broke into the NBA this year. He's been averaging 14.1 points and 8.7 rebounds per 36 minutes and has Player Efficiency Rating of 14.5, which is pretty good for a player that was in the D-Leagues.
There's a rumor that Johnson once scared a ball into the net. I'm not sure if there's any truth to it or not. Allegedly, the ball had actually gone below the rim when he glared at it and reversed course and went through. Ivan Johnson is a scary dude.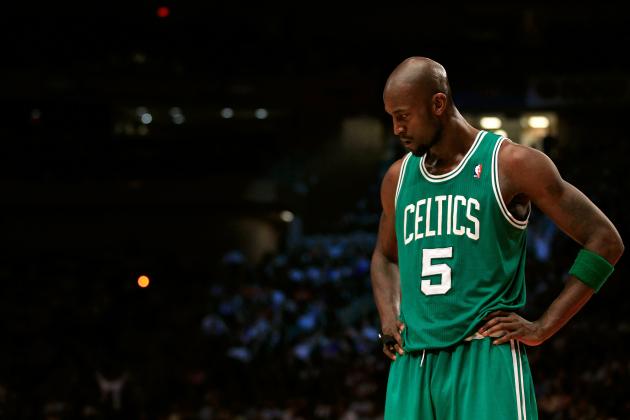 Chris Trotman/Getty Images

Kevin Garnett was too old and with his best year behind him the Boston Celtics were destined for a first-round exit, if they made the playoffs at all. Then Garnett started playing center and everything changed. Who knew he was going to be one of the best centers in the game?
Apart from the typical outstanding defense Garnett brings to his game, his numbers since the All-Star break, about the time he took over at the 5, are through the roof. He was averaging 14.4 points, 7.9 boards and 3.2 assists before the break.
Since then he's been averaging 17.5, 8.7 and 2.8, respectively. His jersey was telling us what position he should play all along!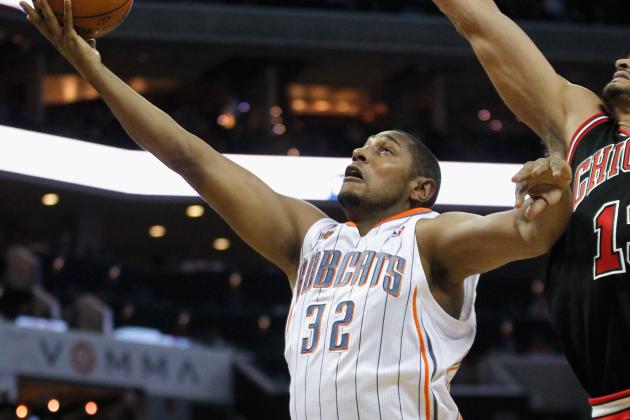 Streeter Lecka/Getty Images

Everyone knew heading into the season that the Bobcats were going to be bad. I predicted they would be the worst team in the NBA this year myself, but even I didn't think they were going to be this bad.
I mean there's bad, and there's awful, and there's horribly awful, and then there's the Charlotte Bobcats. If Charlotte loses out, and let's be honest, it's looking they will, they will have the lowest winning percentage in the history of the NBA.
They have the second-worst margin of victory ever. They have the fourth-worst offensive rating since the advent of the three-point line. I mean this is a really, really bad team. They are so bad, that even though you knew they were going to be the worst in the league it's still surprising how bad they are.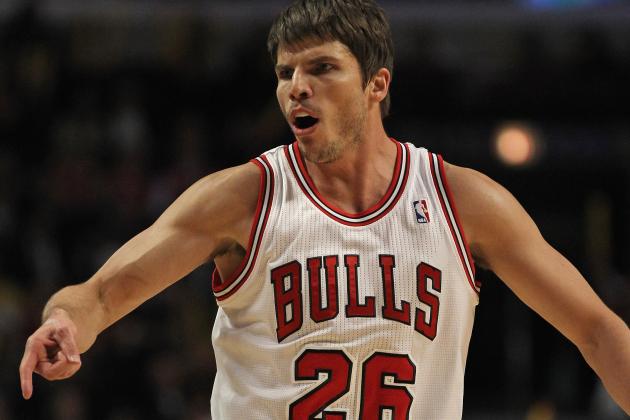 Jonathan Daniel/Getty Images

Everyone knew that Kyle Korver was a great three-point shooter. Owning the NBA record for three-point percentage in a single season will do that. The problem has always been that he's offered roughly the same defensive resistance of air.
This year Korver has offered, at the very least, marginal defense and at times, respectable defense. Every once in a while he's offered good defense.
If you've watched a Bulls' game this year and uttered the sentence, "Nice defense Kyle!!!" the next words out of you mouth were "I can't believe I just said that!!!"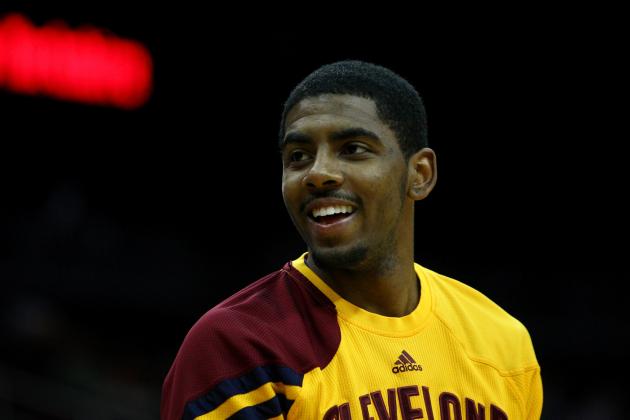 Chris Chambers/Getty Images

It isn't exactly a surprise that Kyrie Irving is good, you sort of expect that from a player who is taken with the No. 1 overall pick. What's surprising about Irving is how mature he is.
This is a kid who at just 19 years old is already the leader on the team. In spite of only having played 11 games in college he's playing like a five-year veteran. He has a basketball IQ which is off the charts. There were some people who felt that the Cavs should have taken Derrick Williams over Irving.
You don't hear them saying much now.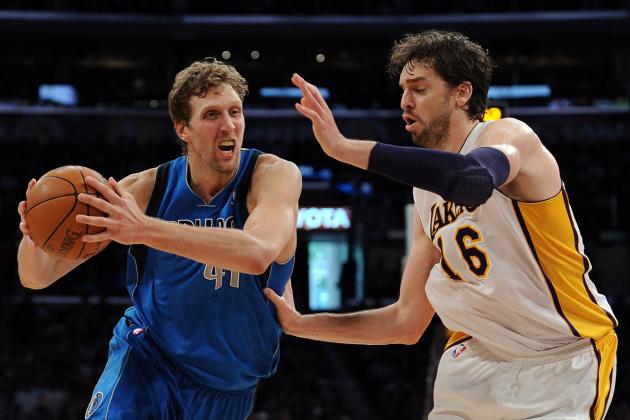 Harry How/Getty Images

Dirk Nowitzki and the Dallas Mavericks have been in the playoffs every year since 2001. Now just a week away from the end of the season the Mavericks have yet to clinch a playoff spot.
Now granted, it's not very likely they are going to go home early, but this is a defending NBA champion struggling to get into the postseason. The only time a defending champ has failed to make it to the playoffs was the post-Jordan Bulls, who don't really count.
Whether they make it or not, the Mavs struggles this year are a bit of a surprise.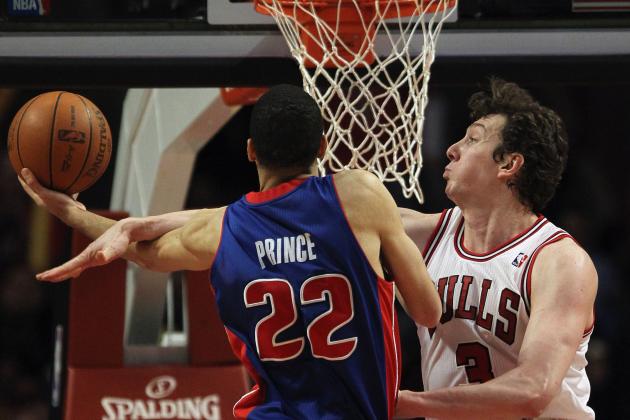 Jonathan Daniel/Getty Images

When Tayshaun Prince's contract expired and he was ready to move everyone expected him to move on. There was a lot of conversation about where he'd go. The answer no one expected was "nowhere."
Inexplicably the Pistons gave the 31-year-old small forward a four-year, $28 million contract which there's no way he can live up to.
If the Pistons were a contender it might make some sense, but this is a team that is in full-blown rebuilding mode. There's little reason to keep around a middling, middle-aged player for the future.
The biggest surprise of the Pistons this year is that they inked Prince for another contract.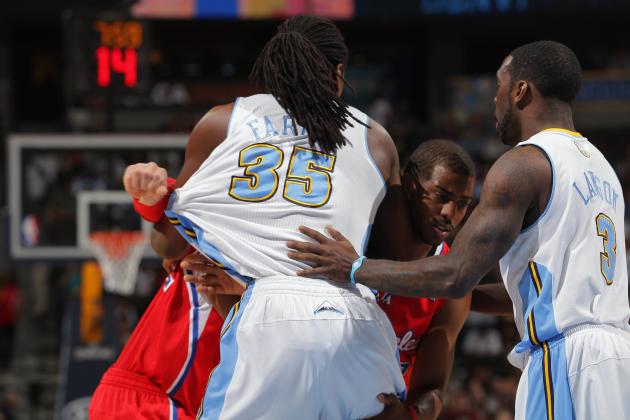 Doug Pensinger/Getty Images

Who knew Kenneth Faried, aka the Manimal, was going to be this good? Not me.
He's been averaging 11 points and eight boards as a starter this year and he may lead the Nuggets in style points. If you watch Denver play, you'll believe a Manimal can fly.
He also is in contention for best hair in the league, but that's another story.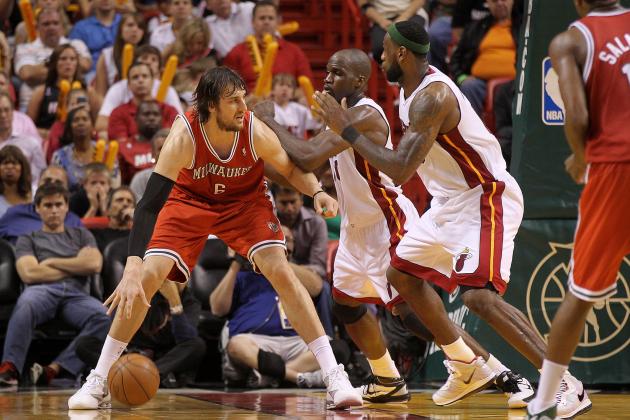 Mike Ehrmann/Getty Images

If the fans of the Golden State Warriors reaction to the trade for Monta Ellis is any indication, they weren't pleasantly surprised. I don't quite understand how they didn't see this coming. Ellis has only been getting rumored to be moved for about two years now.
In the end it seems like it could end up being a good thing. Klay Thompson looks to be an NBA-caliber shooting guard and when he's healthy Bogut is arguably one of the best centers in the NBA.
One thing is clear, the Warriors weren't going anywhere the way they were going.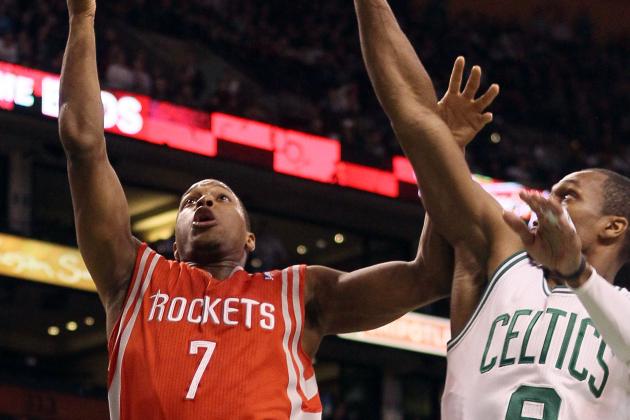 Elsa/Getty Images

The Houston Rockets have two outstanding point guards in Kyle Lowry and Gorgan Dragic. From the position on the year the Rockets have the second-best net efficiency of any team in the league form their point guards, trailing only the Los Angeles Clippers.
That's better than Chicago, Boston and Oklahoma City who are three, four and five, respectively, behind Houston. No, stats don't mean everything but they don't mean "nothing" either. That Houston would be that high up has to be a surprise to most.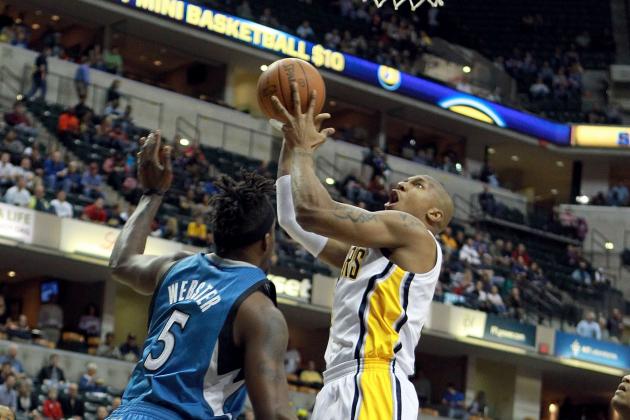 Andy Lyons/Getty Images

There were people that predicted the Indiana Pacers, who added George Hill and David West in the offseason, and who have been steadily improving since making Frank Vogel their new head coach.
Not many felt they would get the third seed in the East, and fewer felt that they would end up with one of the five best records in the NBA this year. The Pacers have surprised even for a team that was picked to surprise.
Now people are talking about the advantage Miami has in the second seed. Not so fast. People are still disrespecting this team and they have a chance to surprise even more when the postseason comes.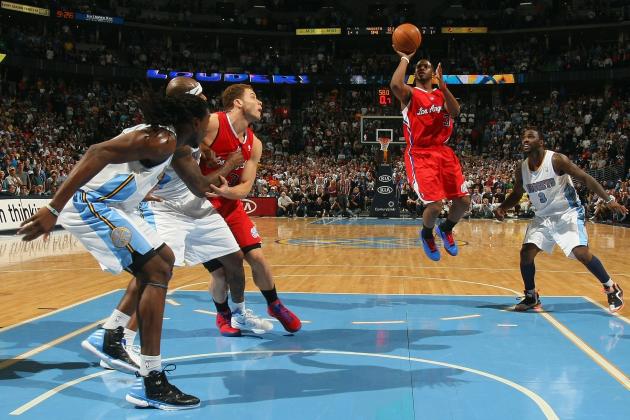 Doug Pensinger/Getty Images

The Los Angeles Clippers, without question, had the best offseason of any team in the NBA. The fact that sentence is written as an actual opinion and not a set up for a joke, is a surprise.
Well maybe it is a joke, but the joke is that it's not a joke. Now I'm confusing myself, but you get the point.
The oft miss run franchise has in a single season managed to make every smart move it hasn't made for the last 50 years. Neil Olshey is the front-runner for Executive of the Year, and that's one of the biggest surprises in NBA history.
That's not a knock on Olshey it's a knock on Donald Sterling. The surprising part is he hasn't done anything to mess this up yet.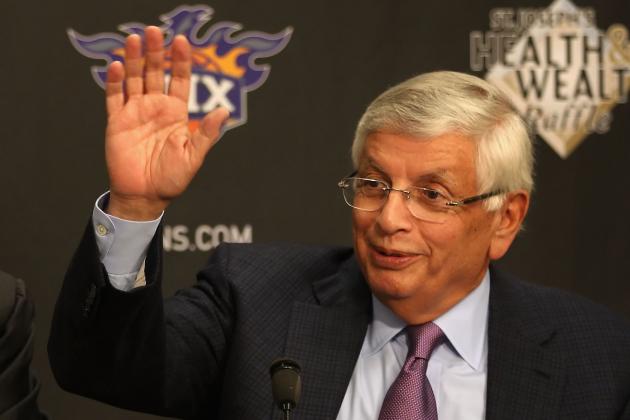 Christian Petersen/Getty Images

After 24 hours of partying, celebrating and engaging in who knows what over the acquisition of Chris Paul, Lakers fans were shocked this December by the two ugliest words they could have ever heard (with the possible exception of Boston Celtics) "basketball reasons."
The Lakers are now on the other end of the season and they are in first place in the Pacific Division, although it still could go either way. The team seems to be getting some traction heading into the postseason. They've gotten their point guard in Ramon Sessions.
All of that is true, but if the Lakers don't win there will always be those other two words haunting them. What if...?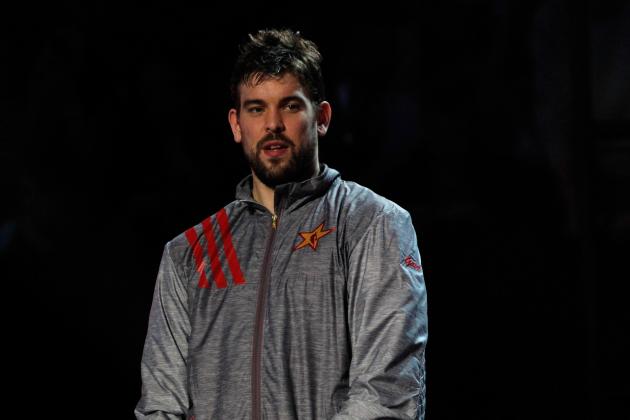 Ronald Martinez/Getty Images

The Memphis Grizzlies were expected to compete for the title this year because of the way they finished last season. They have improved marginally over last year's record, but only marginally.
The Grizzlies won't be hosting a first-round series, and that is something of a surprise. Yes, they've been saddled with a major injury to Zach Randolph for a large part of the year, but virtually every team has had at least one big injury they've had to deal with.
The biggest surprise in regards to the Grizzlies is that they aren't better than they are.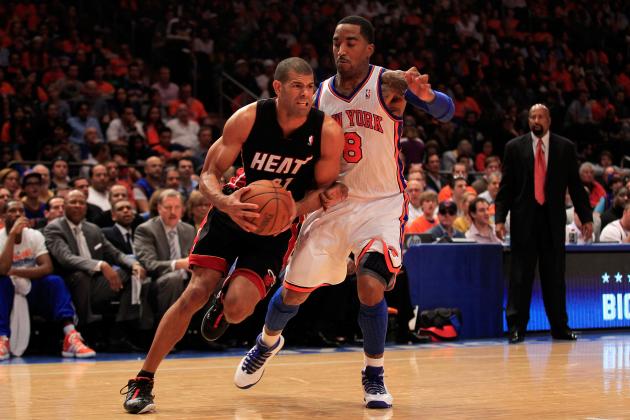 Chris Trotman/Getty Images

The Miami Heat added Shane Battier in the offseason. Early on, the rookie Norris Cole was playing better than expected and it had a lot of people discussing how much deeper the Heat were this year than last.
Now near the end of the season there are major concerns regarding where the Heat are outside of the big three. Their bench is the third-least productive since the All-Star break in terms of efficiency. They are 25th in net efficiency form the point guard position and 26th in net efficiency from the center position.
In other words apart from the "Big Three" of LeBron James, Dwyane Wade and Chris Bosh, they are 25th or worse across the board. That's not the production of a team that is "deep" and in fact it's worse than they were last year.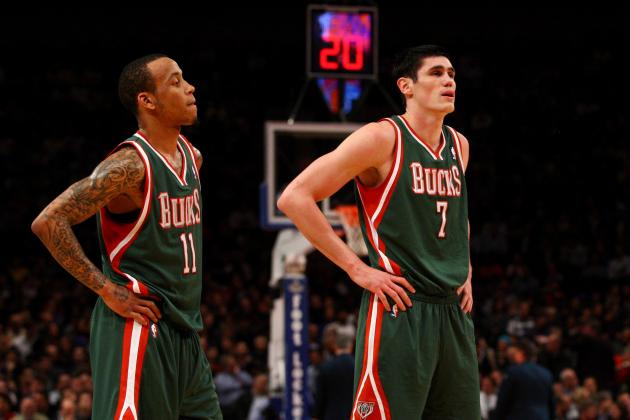 Chris Chambers/Getty Images

Since the All-Star break Ersan Ilyasova has been playing on a level that has Bucks fans wondering "Where you been all my life?" Ilyasova has really broken out averaging 15.9 points on .551 shooting, including a whopping .518 from deep since the break.
Ilyasova will be a free agent this summer, and Bucks fans are hoping that this version of him can come back next year. It looks like the Bucks are going to try and comply according to the Milwaukee Journal-Sentinel:
Milwaukee Bucks general manager John Hammond has said the team wants to re-sign the 6-foot-10 power forward, who has made major strides in the final year of a three-year, $7 million contract he signed in the summer of 2009.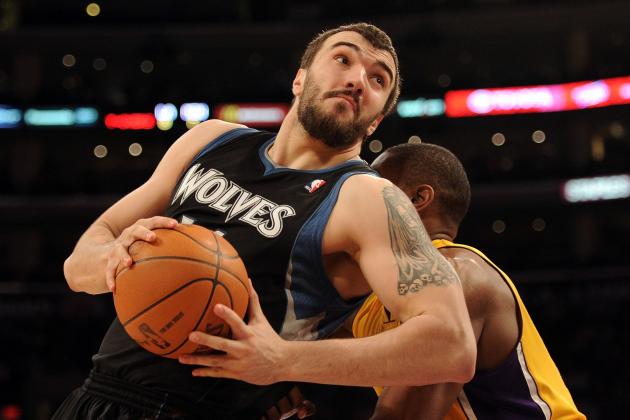 Harry How/Getty Images

Nikola Pekovic was so unknown six months ago he wasn't even the answer to a trivia question. In his 32 games as a starter the big man is scoring 15.0 points and 8.3 rebounds. That's none too shabby for a second-round pick from 2008.
Pekovic, or as a I prefer to call him "Pecs-ovic" (the man's chest is the size of a two-car garage!) stepped in when he got a chance for injuries and within a week had the entire state of Minnesota wondering why he hadn't been starting all year.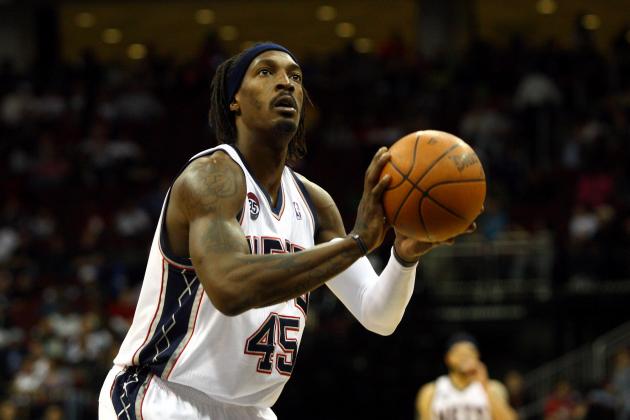 Chris Chambers/Getty Images

Last year at the trade deadline the Nets went out and got Deron Williams in a huge and gutsy move. They mortgaged their franchise to get him too.
Then they were going to complete the miracle by getting Dwight Howard, and they were oh so close to doing so. Then it didn't happen when Howard decided to not exercise his option, and even signed a waiver to bind himself to his word.
So the Nets went out and got...Gerald Wallace? Really? The answer to your franchise is Gerald Wallace? The Nets gave up a top-three protected pick to get him, which means they are likely not even going to get a pick this year.
Good luck building a franchise around New Jersey and no picks, New Jersey.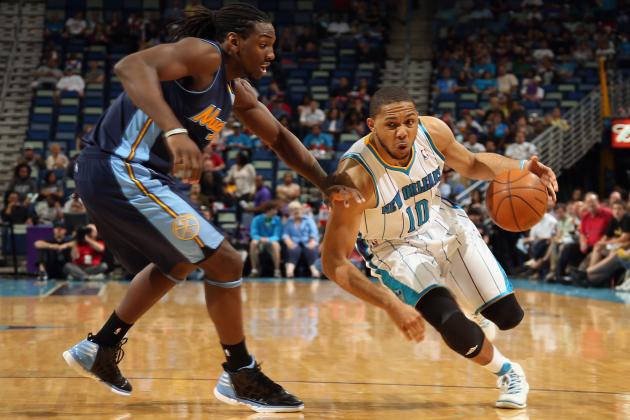 Chris Graythen/Getty Images

The big prize in the Chris Paul trade was that they got Eric Gordon. The big surprise is that he's played a whopping seven games all season long.
He's a restricted free agent, and with the Hornets getting bought by Tom Benson, they greatly improved their chances of matching any offer. At least it's not a total loss.
In a way it might be a blessing in disguise as the Hornets just improved their lottery position with him going out.
Honorable mention here is Greivis Vasquez, who played well beyond what the Hornets could have hoped for.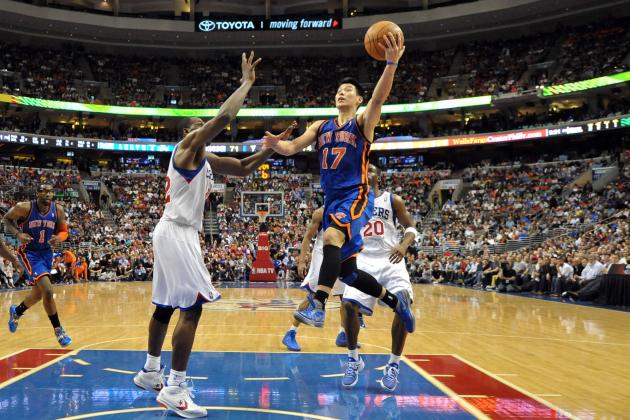 Drew Hallowell/Getty Images

I had to think long and hard about what the biggest surprise was for the New York Knicks. I mean, if you haven't really had your ear to the ground this story might have gotten completely past you. But there's this kid, Jeremy Lin, who was in the D-League and when he took over as the starting point guard he played pretty darned good.
I mean there was some local media that picked up on the story, and some national media, like ESPN, ABC, CBS, NBC and Fox, and then there was about 28 million stories on the Internet, and then there was the international news, but apart from the entire world, hardly anyone picked up on it.
It's called Linsanity, and it's the biggest surprise in the NBA this season.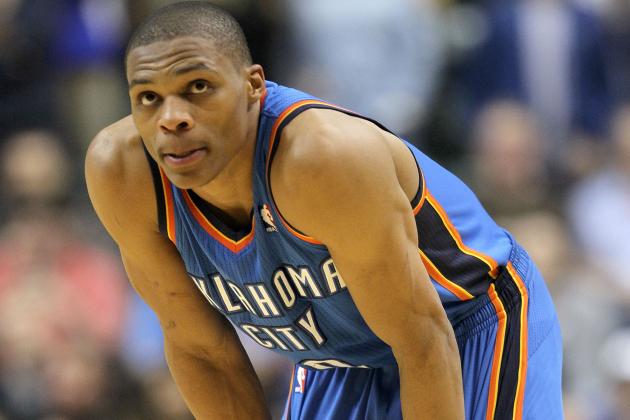 Andy Lyons/Getty Images

In a lot of ways it's hard to say there's much of anything that's surprising with the Oklahoma City Thunder. They're competing for the best record in the NBA. That was expected.
James Harden is the expected winner for Sixth Man of the Year. That was expected.
Serge Ibaka has been "I block a" lotta shots. That was expected.
Kevin Durant is contending for MVP. That was expected.
The biggest surprise with the Thunder is the harmonious change in Westbrook's game. His scoring has gone way up as he's taking nearly two more shots and averaging nearly three less assists. He's become more of a scorer and less of a passer.
Everyone would have told you before the season that if that were true there would be all kinds of squabbles between he and Durant, but they are living in perfect harmony. That's the surprise. And if Kevin Durant doesn't have a problem with it, and his coaches don't have a problem with it, neither you nor Skip Bayless should have a problem with it.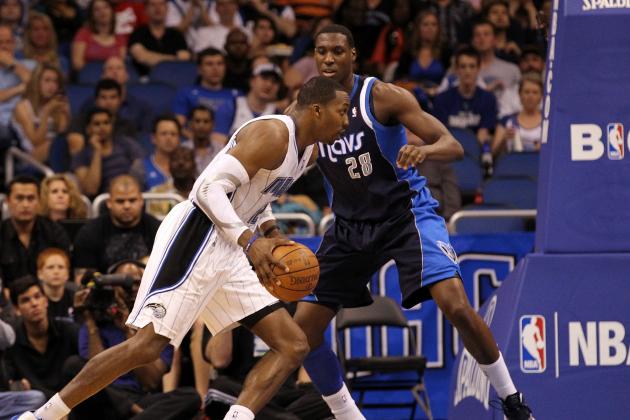 Sam Greenwood/Getty Images

For the bulk of the offesason and the regular season there was one huge story that dominated the headlines. Where was Dwight Howard going to go? Everyone wanted to know. Everyone had ideas. Chicago? New Jersey? Dallas? Los Angeles? The other Los Angeles?
Then the answer came out the day before the trade deadline. Nowhere! Dwight Howard agreed to waive his option to waive the final year of his contract and give the Magic one more year. Now we get to do this all again next year. Can I get a holla?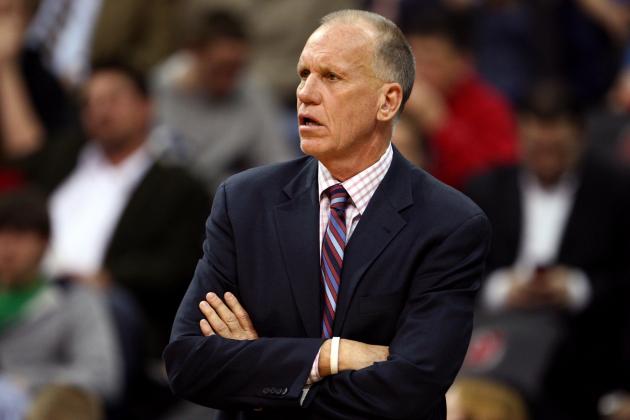 Chris Chambers/Getty Images

The Philadelphia 76ers started off the season liquid hot and it was getting Doug Collins a lot of talk for Coach of the Year. Phily won 20 of their first 29 games and were looking like an easy choice for the third seed in the Eastern Conference.
Then the Sixers just started falling apart and now they're stumbling their way into the postseason. Since their smoking start they've gone 12-21 and are looking like they're headed for a first-round exit against the Bulls or Heat.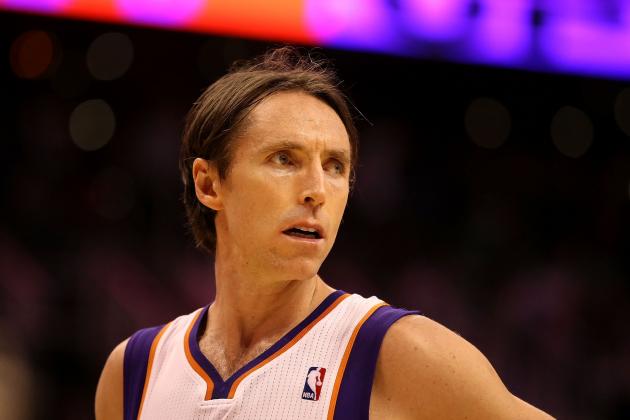 Christian Petersen/Getty Images

The Phoenix Suns are like the opposite of the Philadelphia 76ers. They started off horrible but they were the "tortoise" to the 76ers "hare."
Did you know the Phoenix Suns are the eighth-best team since the All-Star game? In fact after their own 12-19 start the Suns have risen like a phoenix form the ashes, like the sun at the break of day, going 18-11.
I'm just saying. Steve Nash is good.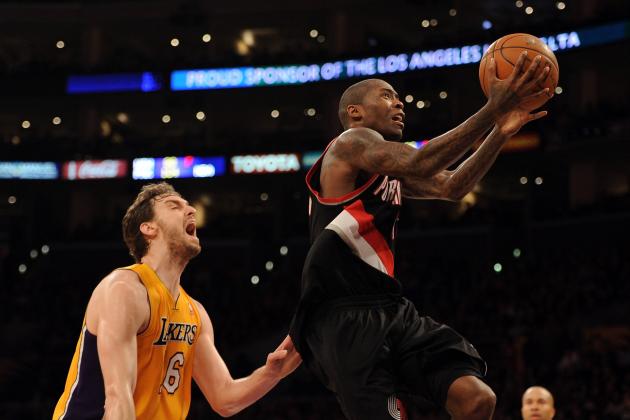 Harry How/Getty Images

The Portland Trail Blazers seemed like they had amazing chemistry last year when Gerald Wallace came to the team and it was a big part of the reason I felt that they would have a great year this year. Between their chemistry, talent and coach Nate McMillan, they were looking primed for a run.
Not so fast. The team fell into chemistry disaster and the team was having some major internal fighting in the locker room as the team clashed with one another and with Coach McMillan. The next thing you knew, McMillan was fired as coach, Wallace was trade, players were cut and Portland went into rebuilding mode.
It wasn't just the severity of the decisions, it was the abruptness. Portland was mired in a slump, but they weren't bad. They were contending for a playoff spot. It was a shock to see them make so many moves so quickly.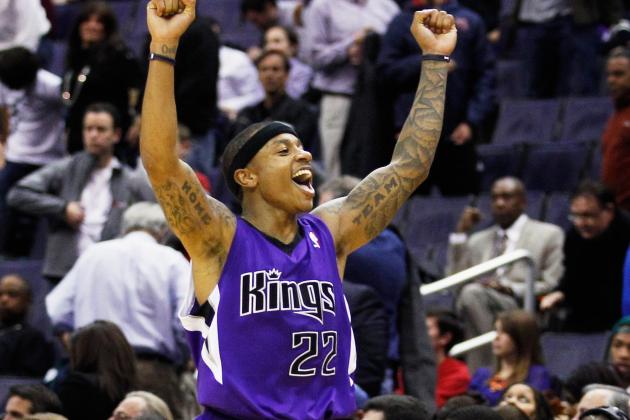 Rob Carr/Getty Images

Isaiah Thomas was the last player picked in the NBA draft. He's been playing like he should have been taken in one of the top-10 picks, though, as he's been just an amazing little player.
The 5'9" guard (if that) must have been inspired by "The Little Engine That Could" when he was a boy. He thinks he can! And since he's been moved into the starting lineup where he averages 15.2 points and 5.3 assists, as well as 3.2 boards, he's playing like a man who deserves consideration for Rookie of the Year.
"Listed" at 5'9" myself, I have to cheer for the little guy!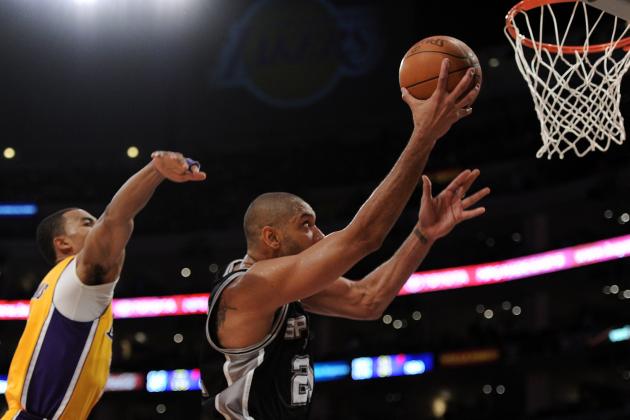 Harry How/Getty Images

The Spurs are too old.
Yeah, no they aren't. There are three things in life that you can count on, death, taxes and Gregg Popovich.
Since the All-Star break the Spurs have the best record in the NBA and they are one game (two losses) away from the best record in the NBA overall.
Yes they got swept from the playoffs in the postseason last year but there's a huge difference. Last year they started hot and finished cold. This year they've been coming on like gangbusters at the end of the season.
In fact they are looking like they're just getting going. Don't count them out of the playoffs too lightly. They could win it all.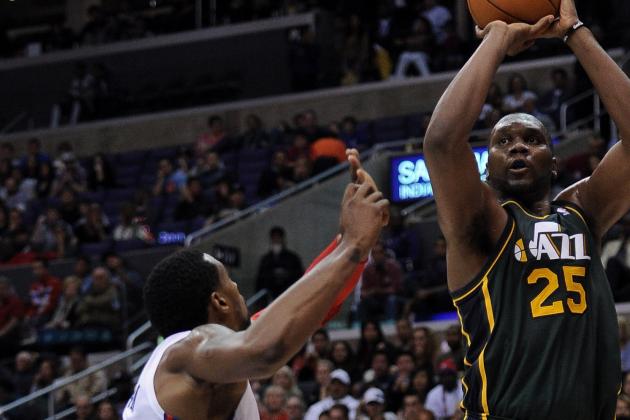 Harry How/Getty Images

I wasn't sure exactly how to put this one, but what else can you say? The Utah Jazz don't suck!
Believe it or not I don't mean that as an insult. With a solid pick in the first round that was considered correctly to be a bit of a project in Ernest Kanter, the Jazz were not expected to do much.
Apart from Kanter they were missing Andre Kirilinko and other than that, were essentially returning the same core that had the 26th-"best" record in the NBA after the All-Star break last year.
The post-Sloan Jazz were frankly not looking very jazzy. Instead, they came out and played solid basketball, even earning a win over the Miami Heat. On top of that at this moment they are holding onto the eighth seed for the playoffs.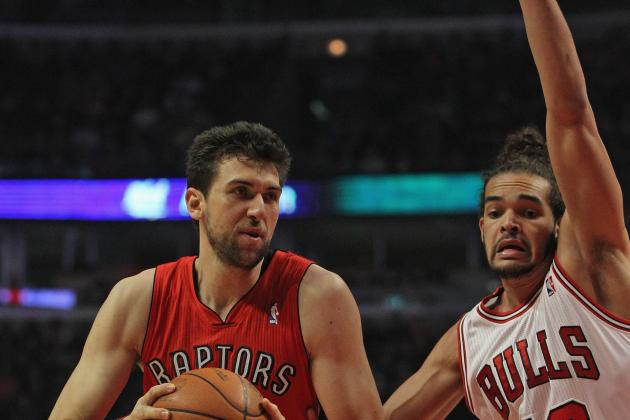 Jonathan Daniel/Getty Images

The Raptors are not that surprising of a team. They are about as bad as we thought they'd be; no better, no worse. It's in part by design as they essentially drafted to be "bad" this year with their top pick, Jonas Valanciunas obligated to play in Europe.
That's alright. That just means another top-tier pick this year.
The closest thing to a surprise in Toronto to me is the development of Andrea Bargnani before he got hurt when he was averaging 23.5 points and 6.4 rebounds, which for him is like 2,134 rebounds per game.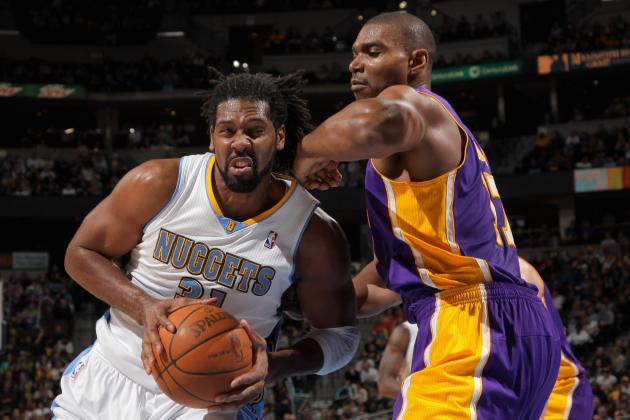 Doug Pensinger/Getty Images

The biggest surprise for the Washington Wizards was the acquisition of Nene at the trade deadline. I mean, no one saw this coming.
One day you're reading about how JaVale McGee is wanting DeAndre Jordan money and then the next Nene is on his way to the capital. Whoda thunk?
I also like the move. Nene is a citizen! And really that's what they need in Washington. I don't mean he's an American citizen (I don't even know if he is. Is he still carrying Brazilian citizenship?), I mean a team citizen.
Nene is a down-to-earth, responsible player who you can depend on to do the little things, like stay on his own side of the court during offensive possessions.
This trade replaced the biggest knucklehead on the team with a solid, veteran leader, which is precisely what this team needed. I mean there were times when I was expecting Wizards to start wrestling one another for the ball.