Pudge Rodriguez Will Go Down as One of the Best Catchers in Baseball History
April 19, 2012

Stephen Dunn/Getty Images
According to The Associated Press, former Texas Rangers catcher Ivan Rodriguez will retire as a Texas Ranger on Monday.
He is one of the best catchers in Major League history and probably the best catcher in Texas Rangers history. No, he never led Texas to a playoff series win, but Pudge Rodriguez endeared himself to Rangers fans baseball fans in general with the cannon attached to his right shoulder and the passion and love he displayed for the game every single time he stepped on the field.
And that never-quit attitude is what made him the fan favorite Ranger of the '90s, even above guys like Juan Gonzalez and Rafael Palmeiro.
That is the kind of attitude it takes to play arguably the most physically grueling, and potentially dangerous, position in the game. For 21 years, Pudge took the abuse that comes with squatting behind home plate and protecting it while getting run over by 200 lb players.
His 13 Gold Gloves are the most by a catcher in MLB history. That includes guys like Carlton Fisk, Jim Sundberg, Johnny Bench and Gary Carter.
It wasn't just his work from behind the dish that made Rodriguez one of the all-time greats. He had a feel for the batter's box like few catchers have.
Pudge managed a .300 batting average or better in 10 of his 21 seasons. He picked up seven Silver Slugger Awards in his career, as well as an MVP in the 1999 season. In a true testament to his understanding of how to guide a pitcher, he caught Kenny Rogers' perfect game in 1996.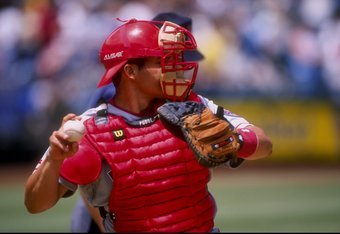 Otto Greule Jr/Getty Images
One of the best moments of Pudge's career actually came in his first game, when future Hall of Famer Carlton "Pudge" Fisk was the opposing catcher. Each catcher showed off his arm, throwing out two runners apiece. 
It was a passing of the torch, so to speak—one of the best catchers of the '70s and '80s to the best catcher of the '90s.
Pudge really displayed his now-famous arm against the A's in 1991. Pudge did what other catchers wish they could do: he threw out Rickey Henderson twice in the same game. That is the same Henderson who stole 1,406 bases in his career.
Whatever the Rangers have planned in their pregame ceremony for Pudge is well deserved. He will forever be remembered as possibly the best player to ever put on a Texas Rangers uniform.