7 Coolest Dana White Moments Ever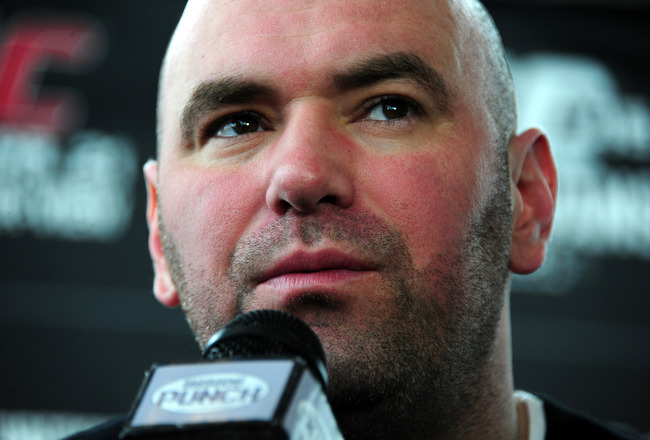 Scott Cunningham/Getty Images
The enigmatic Dana White is a polarizing figure. Part Don King, part Vince McMahon, his expletive laden media relations tactics sets him apart from both those figures.
Connecticut native White took on the role of UFC president in 2001 after he convinced his childhood friends Lorenzo and Frank Fertitta to buy the ailing organization. Since then he has taken the promotion and the sport of mixed martial arts to dizzying heights.
In this slideshow we countdown the coolest moments of "El Presidente."
MMA techniques and MMA training
Dana White's First Interview as UFC President
At just 31 years old, Dana White was handed the presidency of the UFC. Who knew then that this softly spoken, greasy-haired suit would metamorphose into the fiery-mouthed, jacked up person we see today?
His first interview at UFC 30 is cool simply as a contrast to how White's on-screen persona changed so dramatically.
Dana White Confronts Anti-MMA Protesters
The history of MMA is a history of a sport trying to gain legitimacy among the mainstream. Attacked as "human cockfighting" by John McCain, White has done much to transform the image of the sport.
During UFC 134 White confronted a group of protesters who were against the UFC "bringing violence" to their community.
Unusually for him, White coolly and calmly explained how most of the fighters are college educated and with stable families while explaining the sport is no more dangerous than the NFL and is well regulated by the government.
Dana White on The Ultimate Fighter
It's difficult to pick one Dana White stand-out moment from The Ultimate Fighter since every episode seems to contain a White classic.
From beating the contestants to giving his acerbic monologues on their performances, White's appearances on TUF are legendary in and of themselves.
Checkout this video of his best moments from YouTube and reflect on how cool he is.
Dana White Shares His Phone Number with the Fans
Ever one to be down with the fans, White took things a step further when he released his phone number to the public...by accident. That gaff led to him being inundated with phone calls, so the UFC president decided to take things a step further and open a dedicated fan hotline.
Shortly before the Edgar vs. Penn rematch in August 2010, as seen in the video, White tweeted his phone number and spoke at length to fans personally on the upcoming match.
Dana White Tells Floyd Mayweather, "Yes Floyd, You're Racist."
Dana White is as outspoken about boxing, his former sport, as he is about MMA. The one man whose repeatedly been on the receiving end of his vitriol is Floyd Mayweather.
Earlier this year White launched an attack against the boxer for complaining about the media attention NBA wunderkind Jeremy Lin was receiving.
White tells Floyd in the video in no uncertain terms: "Yes Floyd, you're racist." He then explains to him exactly why he's racist.
"First of all, Jeremy Lin gets all this credit because he's an Asian player in the NBA? That African-Americans never get? Ya, he's getting all this credit cos he's an Asian guy playing in the NBA. And you say that African-Americans don't get it? Really, Kobe Bryant doesn't get any praise? Michael Jordan never got any praise? ... Not only can [Lin] compete and make it in the NBA, the guy's tearing it up and breaking records you knucklehead."
Knucklehead, that's one of White's tamer insults. White then goes on to explain to Floyd, who said Manny Pacquiao should make sushi, "Sushi's from Japan. He's from the Philippines dummy."
Dana White Takes on Bob Arum
Boxing promoter Bob Arum's feud with Dana White and the UFC was a long time in the making. When you're the top dog and someone beneath you is clawing for that No. 1 spot, tensions are bound to boil over at some point in time.
In the past Arum has compared ground fighting in mixed martial arts to homosexual sex, while White has repeatedly mocked him for his age and referred to him as a dinosaur. But things came to a head last year as UFC's new Fox deal put the promotion head-to-head with Arum's Manny Pacquiao pay-per-view.
In an interview with ESPN.com Arum said, "There is no competition...If Fox was to put on a top movie that night, it might be more competition. If Fox put on Manchester United that night, it would be more competition."
When word got to White, the UFC president pulled no punches in an interview with Yahoo! Sports.
"Bob Arum is a jealous moron. Bob Arum had the ability to do great things for the sport of boxing. I don't know if he wasn't smart enough to do what we did or whatever, but when we first came out with this thing, this guy laughed at us. He said how stupid the Fertittas were, and that this thing was ridiculous and it would never be a sport.
"Now, all he does is run around [expletive] and complaining about it. You had the ability, Bob Arum, to make boxing great. But the problem was, you were greedy. You're a greedy pig, just like all the other guys who were involved in boxing. All you ever did was try to rip money out of it. You never invested a dime into the sport of boxing to make it great, to make it last, to create a future for boxing. He's nothing but a greedy pig, and his jealousy shows non-stop."
Dana White vs. Ben Askren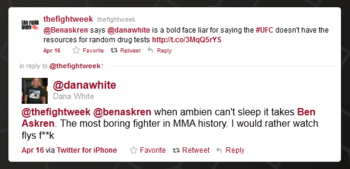 It isn't wise if you're an up-and-coming fighter to pick a fight with the president of the world's biggest MMA promotion. It's less wise to call him a bold-faced liar.
But this is exactly what Ben Askren did when he criticized the UFC and Dana White on their inability to conduct random drug tests on their fighters.
In a Twitter post Askren said, "The USOC random tests Olympic athletes in all sports. Dana saying testing his fighters would be impossible is a bold-faced lie...just making a statement about a level playing field."
White's response was swift and uncompromising. "When ambien can't sleep it takes Ben Askren. The most boring fighter in MMA history. I would rather watch flys f***."
Keep Reading