2012 NFL Mock Draft: Definitive Picks a Week Ahead of Draft
April 20, 2012

Thearon W. Henderson/Getty Images
In our 2012 NFL mock draft, we highlight the most definitive picks in the first round just a week ahead of the draft:
1. Indianapolis Colts: Andrew Luck, QB, Stanford
ESPN's Adam Schefter confirmed Thursday what we've assumed for a while: Luck will be the draft's No. 1 overall pick. The Colts did their homework on both Luck and Robert Griffin III and ultimately decided that the Stanford quarterback was the best bet to bridge the gap between the Peyton Manning era and the future in Indianapolis.
Given the fact that many consider Luck the most polished quarterback prospect since Manning came out in 1998, it's easy to see why.   
2. Washington Redskins: Robert Griffin III, QB, Baylor (trade w/ St. Louis)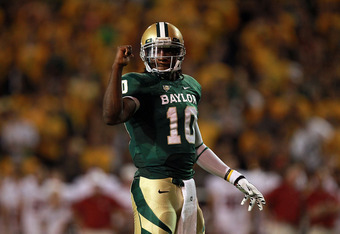 Ronald Martinez/Getty Images
Luck's confirmation to Indianapolis is also a confirmation that Griffin III will be a Redskin by the time the No. 2 pick is in the books. Washington gave up a historical amount of high picks to move up to the second slot, and it wasn't in an effort to get a player other than Luck or Griffin III.
Head coach Mike Shanahan will find ways to utilize Griffin's rare skill set. If he succeeds, the Redskins will be immediately relevant again.   
3. Minnesota Vikings: Matt Kalil, OT, USC
The Vikings look intent on finding a trade partner for this pick. When the dust finally settles, however, Kalil should be their pick. 
4. Cleveland Browns: Trent Richardson, RB, Alabama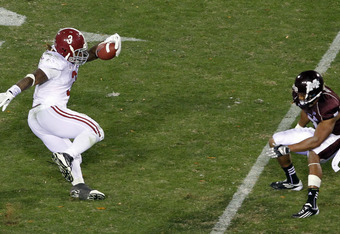 Butch Dill/Getty Images
 I think the Browns would have to at least look at Kalil if the Vikings passed on him at No. 3 overall. But that scenario still looks unlikely at this point. If Luck, Griffin III and Kalil are the first three picks, Richardson should come off the board at No. 4.
The Browns have a number of holes, but no player could have the kind of instant impact that the Alabama running back would right away.  
5. Tampa Bay Buccaneers: Morris Claiborne, CB, LSU
With the Vikings looking around at No. 3 overall, it's no lock that Claiborne will fall to the Bucs here. But given the way this draft falls, Tampa Bay would be crazy not to snag the draft's top cover corner at No. 5 overall. 
6. St. Louis Rams: Justin Blackmon, WR, Oklahoma State (trade w/ Washington)
The Rams are far from locked into a receiver in the top 10, but Sam Bradford desperately needs playmaking pass-catchers.  
7. Jacksonville Jaguars: Melvin Ingram, DE, South Carolina
Jacksonville is a true wild card at No. 7 overall, with a pass-rusher, receiver, offensive tackle and cornerback all in play. Ingram is the best value, but he's no lock here.
8. Miami Dolphins: Ryan Tannehill, QB, Texas A&M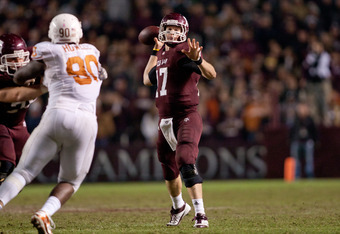 Darren Carroll/Getty Images
It will be tough to explain the Dolphins' offseason without the team finding a young, long-term option at quarterback in this draft. While it doesn't have to be Tannehill, the consensus among draftniks is that the Texas A&M quarterback is the clear No. 3 player at his position.
The decision to draft Tannehill at No. 8 overall will be difficult, but one that the Dolphins probably have to make.  
9. Carolina Panthers: Fletcher Cox, DT, Mississippi State
The Panthers need help on the defensive line, and Cox—not Dontari Poe—is the best player available here.
10. Buffalo Bills: Riley Reiff, OT, Iowa
The Bills have plenty of solid options at No. 10 overall. While Reiff may not be the 10th-best overall prospect, he fills a big hole on the left side of the offensive line. 
11. Kansas City Chiefs: David DeCastro, G, Stanford
The Chiefs appear ready to tailor their offense to the running game in 2012, and there's no pick in the first round that will have a bigger impact on that unit than DeCastro. 
12. Seattle Seahawks: Luke Kuechly, LB, Boston College
The Seahawks have one of the NFL's young and emerging defenses. Trusting the middle linebacker position to Barrett Ruud wouldn't be smart. 
13. Arizona Cardinals: Nick Perry, OLB/DE, USC
The best-case scenario for Arizona has to be an offensive lineman falling to No. 13. But with Kalil, Reiff and DeCastro off the board, taking a pass-rusher like Perry is the next best option.  
14. Dallas Cowboys: Mark Barron, S, Alabama
Butch Dill/Getty Images
Slowly but surely, Barron has become a popular pick for the Cowboys at No. 14 overall. And why not? He's the draft's best available safety and Dallas needs another calming presence in the secondary. The only hurdle I see is Barron's double hernia surgery, but that appears to be a non-issue now.
If he's here, I can't see the Cowboys passing on him. 
15. Philadelphia Eagles: Dontari Poe, DT, Memphis
I wouldn't pick Poe in the top 20, but a team like the Eagles—with a solid defensive line coach in Jim Washburn—can afford to take a chance on such a high-ceiling player.  
16. New York Jets: Courtney Upshaw, OLB, Alabama
Upshaw seems to be dropping as the draft nears, but head coach Rex Ryan won't let such a perfect fit fall past No. 16 overall. 
17. Cincinnati Bengals: Stephon Gilmore, CB, South Carolina
I don't think Gilmore is top-10 quality, but he makes a lot of sense for the Bengals here at No. 17.  
18. Cleveland Browns: Michael Floyd, WR, Notre Dame (trade w/ San Diego)
The Chargers are always looking to move up or down, and they won't mind swapping first-rounders with Cleveland to get another pick later on. The Browns will be surprised that Floyd falls this far. 
19. Chicago Bears: Quinton Coples, DE, North Carolina
Coples falls in the draft, as teams with worries about his motor and consistency pass on the UNC pass-rusher. The Bears, who are in the market for a defensive end, stop his free fall at No. 19.  
20. Tennessee Titans: Peter Konz, C, Wisconsin
The Titans continue to upgrade the interior of their offensive line by taking the draft's top center. 
21. Cincinnati Bengals: Cordy Glenn, G, Georgia
With an ability to play guard and right tackle, Glenn is an easy pick for the Bengals' second first-rounder. 
22. San Diego Chargers: Jonathan Martin, OT, Stanford (trade w/ Cleveland)
Glenn would be a better fit for the Chargers, but Martin is plenty capable of taking over at right tackle.  
23. Detroit Lions: Dre Kirkpatrick, CB, Alabama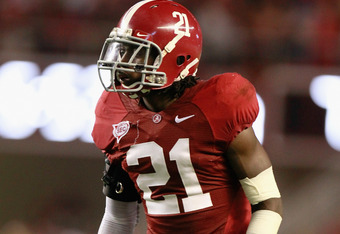 Kevin C. Cox/Getty Images
The Lions could get greedy by taking a pass-rusher like defensive end Whitney Mercilus here, but Kirkpatrick is too good of value—and at a need position—to pass up here. He'll be an instant starter and upgrade over what the Lions threw at opposing offenses last season.
If Detroit doesn't like him at corner, there's always the possibility of Kirkpatrick playing a Malcolm Jenkins-type role at safety for the Lions. 
24. Pittsburgh Steelers: Dont'a Hightower, ILB, Alabama
A defensive captain at Alabama with experience rushing the passer, Hightower is the definition of what a Steelers linebacker needs to be.  
25. Denver Broncos: Devon Still, DT, Penn State
The departure of Broderick Bunkley left a hole along the Broncos defensive line. Still is a good value at No. 25, too.  
26. Houston Texans: Kendall Wright, WR, Baylor
Lining up opposite Andre Johnson and in the same offense as Matt Schaub and Arian Foster, Wright could end up being the Offensive Rookie of the Year. 
27. New England Patriots: Shea McClellin, OLB/DE, Boise State
McClellin might be a reach on the Patriots' draft board, but he's such a perfect fit for what New England does defensively. Bill Belichick will love him.
28. Green Bay Packers: Whitney Mercilus, DE, Illinois
I can't imagine the Packers hesitating with this pick if Mercilus is still available. He's the kind of pass-rusher Green Bay needs opposite Clay Matthews. 
29. Baltimore Ravens: Andre Branch, OLB, Clemson
I could see Baltimore moving up ahead of the Steelers to take Hightower, and I'm sure they'd love for Konz to fall this far. In the end, they'll settle with another raw pass-rusher in Branch. 
30. San Francisco 49ers: Michael Brockers, DT, LSU
Most have Brockers going much, much higher, but he's raw and wasn't very productive at LSU. The 49ers are a good fit for him at the end of the first round.  
31. Chicago Bears: Coby Fleener, TE, Stanford (trade w/ New England)
The Bears have been aggressive all offseason, so why stop during the draft? New England floats its second first-rounder and Chicago bites. Fleener is the kind of elite tight end that offenses need. 
32. New York Giants: Mike Adams, OT, Ohio State
Adams is a risk, but GM Jerry Reese will understand where need and value comes together here.