Philadelphia 76ers: Can a Team with No "Star" Player Provide Hope for the Fans?
April 19, 2012

Drew Hallowell/Getty Images
Right now in the City of Brotherly Love, the Philadelphia 76ers are at the bottom of the sports scene. That's right. The Sixers are getting less attention than the early struggles of the Phillies and the draft plans of the Eagles. Not to mention the Flyers are playing some exciting playoff hockey right now.
So why the apathy? The Sixers are a fairly young team by NBA standards. They're very athletic, which makes them capable of playing a highly entertaining brand of basketball. And Philadelphia still loves itself some basketball. The college games were packed all season.
There is no line forming for the Sixers bandwagon. Sports talk-radio in Philadelphia is more concerned with the Eagles' safety situation and the impending free agency of Cole Hamels. It's very sad, but this a shining example of what the NBA has become.
Why can't the Sixers inspire the fans? Because the fans have no hope that this Sixers team could win a championship. There's very little sentiment that the Sixers can even win one series. This is a team composed of solid players and good human beings. But not a team that can control a game and bend another team to its will.
The weaknesses of the Sixers are glaring at this point:
No player who can consistently create his own shot/offense.
Lou Williams keeps trying to be such a player, but he's just a solid Sixth Man, not a focal point for your offense—crunch-time or not.
No player who can consistently provide a low-post threat on offense.
No player who can successfully guard opposing elite(ish) big men one-on-one.
Very little creativity on offense.
They are among the worst three-point shooting teams in the NBA
Despite all of this, the Sixers are a good basketball team because they defend very well and function well as a team on offense. The real problem is, not only do they possess the weaknesses listed above, but this particular set of weaknesses adds up to a very boring brand of basketball.
The Clippers will lose a big game at some point because Blake Griffin can't make his free throws. The Clippers fans won't be happy with the loss, but as long as Blake throws down a dunk worthy of YouTube, they will be happy that they came (or watched). Not every team should (or needs) to play a "YouTube" brand of basketball. Yet you still need to somehow create some excitement.
Talking with my buddy (a Philly guy/Sixers fan) the other day, I wound up on the optimist/good cop side of the Sixers argument. When struggling to find a line of reasoning that would allow me to successfully argue why the Sixers would win a playoff series, I drew a blank.
I tried to rationalize a situation where the Sixers have been resting their players and/or maybe trying to dictate their first round match-up by selectively "not trying as hard" in certain games. Maybe all of a sudden Evan Turner could play big-time ball with Andre Iguodala back in the lineup. Spencer Hawes would finally get healthy for the first time since 10 games into the season. Even Lou Williams would scale back his "Hero Ball" to help fully capitalize on the scoring potential of the Sixers' second unit.
That sounds possible enough, right? I never like an argument where I'm actually trying to convince myself as I make it. But that's where we are at with the Sixers at this point. The NBA has become a league of Stars (with a capital S). Because of this, the NBA has also become a league of "haves" and "have-nots". If you have a (legitimate) star player, you're a "have". If you don't have a (legitimate) star player, you're a "have-not".
If the Sixers could find post-season success, the city of Philadelphia would rally behind them, star player or not. There's a certain amount of pride to be had in winning as a team without a superstar. Or at least winning as a team built in the old-fashioned way: with some misspent money and luck (and skill) in the draft. Look at how the fans rallied behind the Dallas Mavericks last season. People WANT to root for this Sixers team; they just don't know it yet.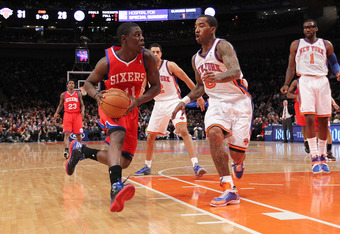 Nick Laham/Getty Images
No matter which way you cut it, the Sixers are a couple of players away from being a legitimate contender. They have some nice pieces; they just don't fit together perfectly and there are some definite redundancies. After this post-season, I don't think you will see the Sixers in this exact form next season. Not only will Lou Williams probably exercise his opt-out clause, but the Sixers will make moves to address their shortcomings.
Until then, can everybody just give this squad a chance? Sure hope is low right now. But so are expectations. Even the strongest of structures can be felled by great expectations. Just ask LeBron. So hop on the bandwagon and enjoy the ride. I can promise you this: the line will be short.
Thanks for reading. If you have anything to add or any questions, please use the comments below. 
Follow John on Twitter
Find more from John at SportsSomething