2012 NFL Mock Draft: Complete Detroit Lions Draft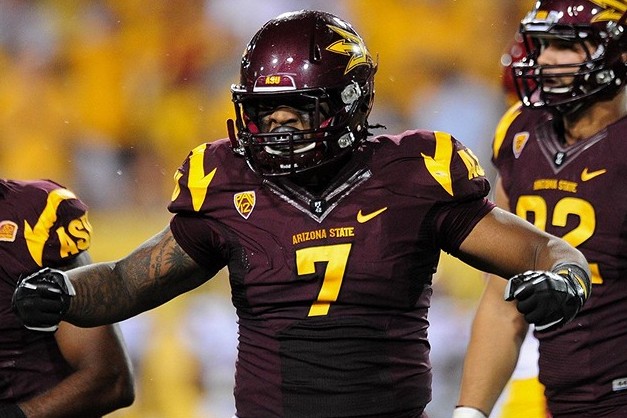 AP PHOTO
With the NFL Draft only a few days out, you can be sure that teams have all but solidified their draft boards.
Team officials have spent countless hours preparing each year for every possible outcome imaginable, in preparation of acquiring as much quality depth as possible in the draft. Teams trade up and teams trade down, but the objective remains the same: "How can we better facilitate the growth of our team now?"
For Martin Mayhew and Co. their mission has been clear. They're drafting with a "Win Now" mentality. They not only want the best player available, but they are looking at players with specific roles in mind.
If Mayhew believes there's a need, he'll look at filling it. He has shown the willingness to aggressively address needs through both trades and free agency. Case in point, the three team trade in 2010 that brought Tony Scheffler, a second pass-catching tight end, to Detroit to play alongside Brandon Pettigrew.
It's not easy attempting to project exactly how a team such the Detroit Lions will address their needs via the draft. But, in preparation comes preparedness.
Analyzing game footage and taking into account player workouts and combine results, you can formulate a good idea as to which player's teams are leaning towards. In doing that you can formulate a player's worth and/or possible draft position. When you figure an individual's approximate draft position, you can assimilate a draft board.
This is how I project Detroit's board to look come draft day.
*This article was written assuming that Detroit doesn't move franchised defensive end Cliff Avril on draft day. This is of course a strong possibility.
Begin Slideshow

»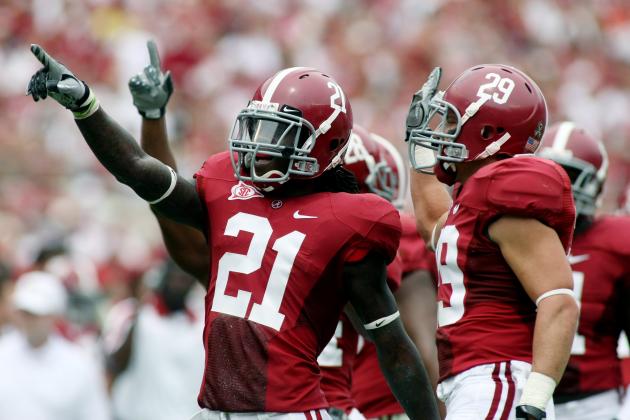 Greg McWilliams/Getty Images

Dre Kirkpatrick - Alabama Crimson Tide
Position: Cornerback
Height: 6'2"
Weight: 190 Lbs.
40 Time: 4.5
Pedigree: Kirkpatrick fits Schwartz's defensive back model to a T. He is a physical, man-coverage, island-type DB whose hard-hitting, aggressive nature permits him to make the tackle in the open field. During his time at Alabama, Kirkpatrick dominated opposing SEC receivers both mentally and physically.
Analysis: Though Kirkpatrick's combine efforts were hardly spectacular, he is still widely considered to be one of the top 1-3 talents available at the position. I don't necessarily believe that Mayhew needs to address his team's "need" at the cornerback position in the first round, but if Kirkpatrick is available at No. 23, you have to believe he fits the mold of best player available. The departure of Eric Wright this offseason left a void in regards to the cornerback position in Detroit. But I don't believe that trading for Philadelphia's Asante Samuel is in Detroit's best interest. I believe that Detroit's best case scenario is having a talent like Kirkpatrick fall to them as Nick Fairley did in 2011. He is a reliable difference maker that possesses the ability to solidify Detroit's secondary for years to come.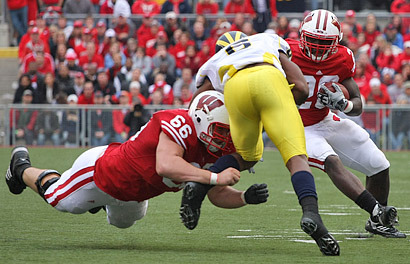 AP PHOTO
Peter Konz - Wisconsin Badgers
Position: Center
Height: 6'5"
Weight: 313 Lbs.
Bench Total: 23 reps
Pedigree: Konz is an experienced, road-grading run blocker who was undoubtedly the best center in the nation in 2011. His ability in the trenches were vital to success of Heisman Trophy candidate Montee Ball, who rushed to the tune of 1,923 yards and 33 touchdowns.
Konz is such a perfect fit for Detroit's run scheme that he could easily be selected with the teams' first pick at No. 23. If he shows signs of dropping to the end of the first round or beginning of the second, look for Mayhew to swoop in and nab this future Pro Bowl offensive lineman out of Wisconsin.
Analysis: In this scenario I have Detroit dealing their 2012 second-round (54th overall,) fourth-round (117th overall) and one of their seventh-round selections as well as their 2013 fourth-round selection to New England for their first-round selection (27th overall.)
I know it seems like a steep price to pay for one selection. But in 2011 the Patriots traded their 28th overall pick to the New Orleans Saints for a 2011 second rounder pick (56th overall) and a first round selection in 2012.
If the player available at 27th overall is someone who Detroit believes fills a significant need, then the cost isn't high at all.
It's been said that Mayhew is fielding questions regarding moving out of the 23rd overall pick. If that's the case then he has most certainly entertained the thought of trading back into the first round after the 23rd pick.
Mayhew has been quoted in saying "there are probably between four and seven guys that we really feel very comfortable with that are great fits for us and that we're very excited about having." So you have to assume that Detroit believes that there will be a few players of high talent level available at 23-32 that were projected to go in the 15-20 range.
This includes players like David DeCastro, Mark Barron, Jonathan Martin, Peter Konz, Amini Silatolu and Courtney Upshaw.
Of those players listed above, I believe that Peter Konz is Detroit's safest pick. He is a day one starter at either guard position, becoming a viable replacement for current center Dominic Raiola as early as 2013.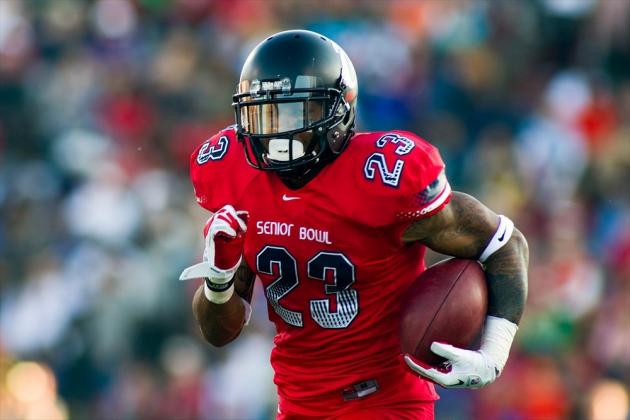 AP PHOTO
Isaiah Pead - Cincinnati Bearcats
Position: Running Back
Height: 5'11"
Weight: 200 Lbs.
40 Yard Dash: 4.47
Pedigree: Pead is an all-purpose, pro-ready, multi-talented running back. He can do it all.
He plays with game-changing speed and vision and has an incredible nose for the end zone.
Sound like anybody we know? (Jahvid Best)
But, what I love most about him is his willingness to contribute as a blocker out of the backfield. In reviewing film of Pead, I quickly noticed his ability to correctly identify and pickup blitz assignments, and at 5'11", 200 pounds, that's no easy task.
Analysis: First of all, let me begin by saying that I am completely enamored with Isaiah Pead. I love this kid's abilities.
To me, his skill set closely resembles that of oft-injured current Detroit Lions running back Jahvid Best. Pead is the total package and fits the exact role that Detroit was looking to fill back in 2010, when they traded back into the first round to acquire Best.
I haven't given up on Best and neither has the Detroit Lions organization, so Pead would be nothing more than an insurance selection at this point. However, the Lions have serious concerns regarding the health of Best due to his well-documented history of concussion issues.
With player safety of the utmost importance, don't look for the Lions to put Jahvid in any unnecessary danger—his playing days could be over.
Former Lions linebacker Zach Follett was seriously injured covering a kickoff return against the New York Giants in 2010 and had to be removed from the field. It was later discovered that Follett had suffered a significant injury that directly correlated to his cervical spine. Erring on the side of caution, the Lions were forced to release Follett, effectively ending his brief career in the NFL.
Additionally, with Mikel Leshoure, coming off a torn Achilles and facing possible suspension related to multiple off-season drug incidents the Lions now find themselves in a market for a running back.
Isaiah Pead is the guy.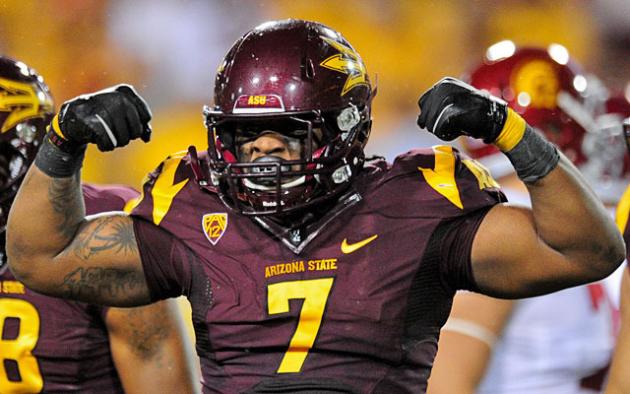 AP PHOTO
Vontaze Burfict - Arizona State Sun Devils
Position: Inside Linebacker
Height: 6'1"
Weight: 248 Lbs.
40 Yard Dash: 5.09
Pedigree: Burfict is just downright volatile; he is the perfect combination of rage and violence.
He is a walking highlight reel, whose ability to take on and shed blocks have always put him in an ideal position to viciously explode into opposing players.
But that's exactly the issue with a player like Burfict. He doesn't care if said opposing player has the ball or not He doesn't care whether it's during or after the whistle.
When he sets his sights on someone it's "annihilate by any means necessary," no matter what.
Unfortunately, that frame of thought leads to penalties.
Analysis: There are some analysts that believe that Burfict could potentially go undrafted. I am not one of those people. I project Burfict to be taken between the fourth and sixth rounds.
Someone will take a flier on this former top ten projection.
Who better to take a flier than Detroit?
At the moment, the Lions have solidified their middle linebacker position by re-signing both Stephen Tulloch and DeAndre Levy this off-season. Detroit is in an ideal position to take a chance on a potential game changer like Vontaze Burfict.
Say for instance Vontaze is capable of working into a role specific interior position behind Tulloch; Levy is free to move to an outside linebacker position.
At the very least Burfict has the sideline to sideline speed to make an immediate impact as a blitz outside linebacker in passing situations.
Burfict is a low-risk, high-reward prospect for the Detroit in the fifth round.
You can be sure that there are other teams who feel the same way.
Patrick McDermott/Getty Images

Back in 2011 the NFL ruled that the Lions were in violation of the league's Anti-Tampering Policy. A statement issued by the NFL read that,
"Following a review and hearing, Commissioner Roger Goodell has determined that the Detroit Lions have violated the NFL Anti-Tampering Policy by commenting publicly to the media about the Lions' desire to acquire players then under contract to the Kansas City Chiefs and by having impermissible contact with a player (or his agent) under contract to the Chiefs. The violations occurred in 2010.''
The Lions were ordered to swap 2011 fifth-round picks with Chiefs and stripped of their 2012 conditional pick (sixth-round if Lions make the 2011 playoffs) by NFL as a penalty for tampering.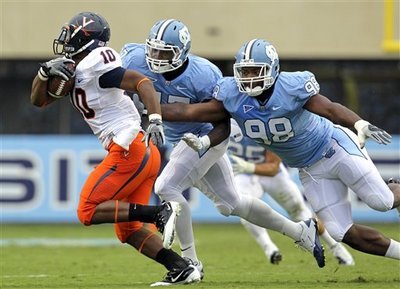 AP PHOTO
Donte Paige-Moss - North Carolina Tar Heels
Position: Defensive End
Height: 6'3"
Weight: 268 Lbs.
40 Yard Dash: 4.6
Pedigree: Paige-Moss' ability to correctly utilize his size and power has made him a nightmare for opposing offensive coordinators from the rush end position.
Unfortunately that ability has never caught up with his potential; he has historically proven inconsistent and at times unreliable.
After a disappointing season ending in injury and embarrassment, Paige-Moss isn't far from entering the NFL as an undrafted free agent.
So why would Detroit be interested in a player of poor character and work ethic?
Because, Detroit Lions head coach Jim Schwartz has made a career of turning players' character flaws into on-field success.
Paige-Moss' potential is undeniable. If he is capable of harnessing his aggressive energy he could make an immediate impact at the next level.
His athletic frame and aggressive skill set remind me a lot of Cliff Avril.
Analysis: Donte Paige-Moss is one of those players that could go considerably earlier than projected in the draft.
He is a player of amazing upside.
The Lions are in the market for a defensive end of Paige-Moss' talent set, regardless of whether or not they deal current defensive end Cliff Avril.
But, if Detroit does move Avril on draft day, expect them to address the defensive end position much earlier. The trade of Avril would significantly alter the landscape of the organizations draft plan.