Mayweather vs. Cotto: Keys to Cotto Pulling off an Upset Against Money
April 19, 2012

Jeff Gross/Getty Images
On May 5, Floyd Mayweather will be putting his undefeated record of 42-0 with 26 KOs on the line against Miguel Cotto at the MGM Grand Garden Arena in Las Vegas. 
Cotto may not be undefeated like Mayweather, but he's no slouch, as he's carrying a 37-2 with 30 KOs record into this fight. 
The fight will be, without a doubt, one of the best fights boxing fans have seen in a long time. In order for Cotto to pull the upset though, he's going to have to do a few key things. 
Firstly, Cotto must stress his punch accuracy to the max. Mayweather is an outstanding defensive fighter who knows exactly what to do in order to minimize the punches landed on him and maximize the punches he lands. Cotto will need to zero in on the chinks in Mayweather's armor and learn exactly when to strike and how.
If Cotto slips once, it could spell disaster. Mayweather could walk away with another knockout. If problems continue throughout the fight, Cotto could easily loose in a decision. 
Cotto will have some aid in this category, as he already possesses tremendous footwork and body control, two huge factors when one is looking at developing surgical-striking precision. 
Secondly, Cotto will have to condition himself better than he ever has before. Mayweather is a very tenacious fighter that never stops coming at you. Mayweather will keep coming at him with strike after strike until Cotto can't keep up anymore. Cotto is known to be an aggressive fighter, but tends to run out of gas as the fight advances into the later rounds. Since this simply cannot happen against Mayweather, Cotto will need to improve his stamina to pull off an upset.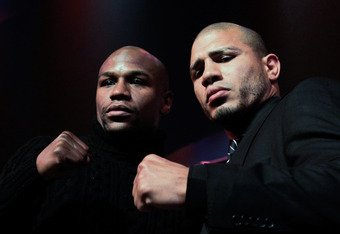 Chris Trotman/Getty Images
Thirdly, Cotto will need to focus on his defense. He has developed a reputation as a bleeder. If he takes too many shots, he starts bleeding, which could result in a referee's decision to stop the contest. Mayweather is a very precise, quick and powerful puncher that can do some serious damage if Cotto allows him to. Cotto's defense will be paramount in the outcome of this fight. 
Finally, Cotto will need to avoid the uppercut. Mayweather has a very sharp uppercut, and Cotto will be vulnerable to it. He has reverted back to his old stance in which he leans forward toward his opponent. Cotto can take a few good punches, but a dozen or so lightening fast uppercut combos from Mayweather will take him out. Cotto needs to straighten his posture and work on his uppercut defense, so he doesn't get knocked out on May 5.