The 100 Funniest Fan Pics Ever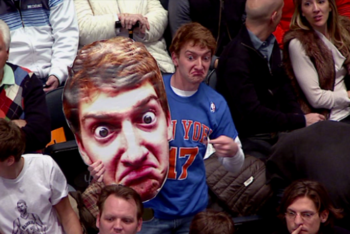 Image via sportsgrid.com
Laces are tied, foam fingers in hand, clean-pressed jerseys feeling snug. All that's left for these diehards is an empty poster board and an array of brightly-colored permanent markers.
Whoever told you sporting events involved athletic masterpieces and crowd eruptions hasn't seen what we've seen, hasn't teared from laughter the way we have after truly studying the art of fandship.
There are those who reek of violence, others who always seem depressed and, finally, those who veer towards comedy as they watch their team battle for victory.
Get ready for 100 hilarious pics of fans improvising and entertaining, giving their teams more than just a loud roar and respectful clap.
It's recommended that you avoid beverages during the viewing of this production. Enjoy.
100. Searching for Waldo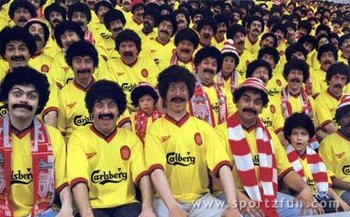 Image via sportzfun.com
Teamwork makes the dream work.
99. Preparing for Fatherhood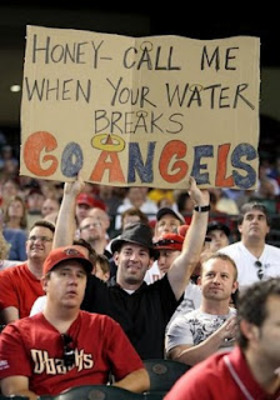 Image via freefantasyfootballpicks.com
A dedicated husband indeed.
98. Digging for Gold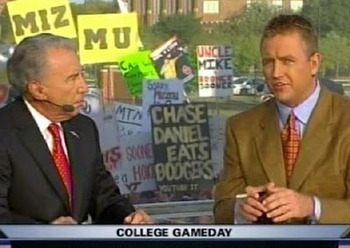 Image via lampeace.com
And as we search for the man in doubt, we find out that Chase Daniels does in fact "eat boogers."
97. Solving the Puzzle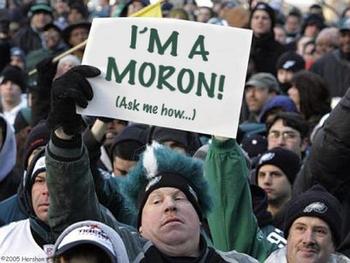 Image via phlmetropolis.com
Asking you why seems better, but the answer is quite obvious.
96. So Easy a Caveman Could Do It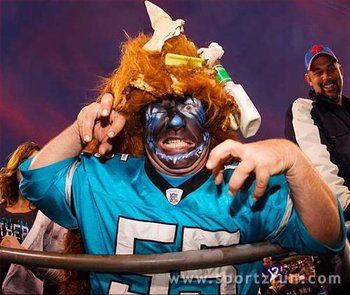 Image via sportzfun.com
Eerily reminiscent of Ben Stiller's "kung-foo grip" in Meet the Parents.
95. Cape Fear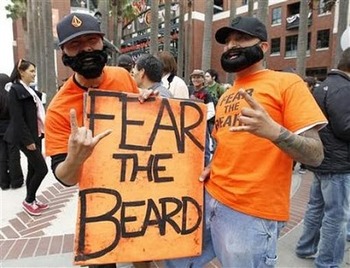 Loyal, enthusiastic, creative...extremely disturbing.
94. Becoming Tradition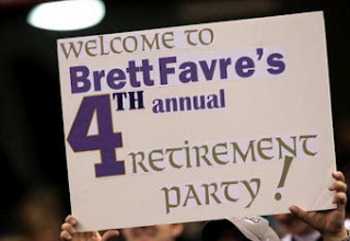 Image via freefantasyfootballpicks.com
A vicious never-ending circle for the former(?) gunslinger.
He may still be lingering around the gridiron.
93. This Little Piggy Went to the Ball Game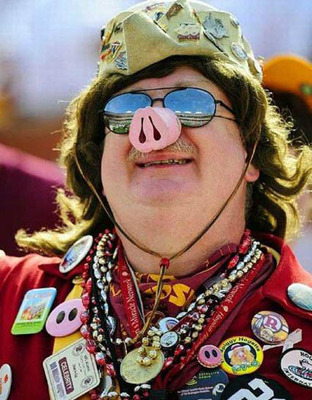 Image via you-can-be-funny.com
Beware of the big bad wolf.
92. Fantasy Land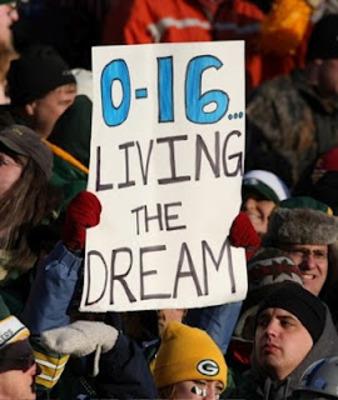 Image via freefantasyfootballpicks.com
We're truly envious. What an experience that must have been.
Vicious tailgating all season.
91. Festive Creations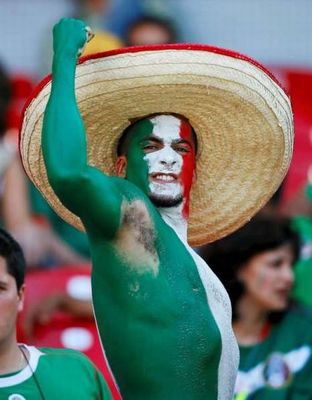 Looks like you missed a spot, but solid effort overall.
90. A Quarterback's Conundrum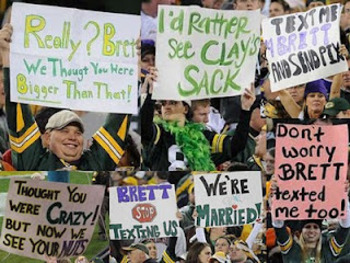 Image via freefantasyfootballpicks.com
This diverse collection never gets old, but the "Clay's Sack" poster is by far the most mature.
89. An Excruciating Reminder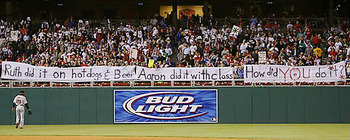 Image via mainstusa.blogspot.com
88. Burned Like a Cheesesteak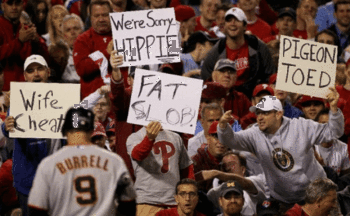 Image via larrybrownsports.com
The glorious return of Pat Burrell to Philly.
87. Doubling Up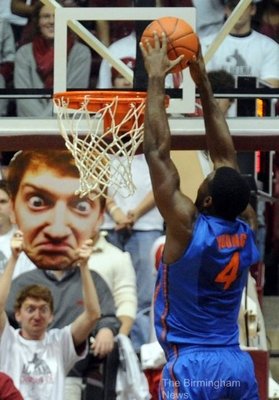 Image via gentlemint.com
Two is always better than one, well done sir.
86. Another One Bites the Dust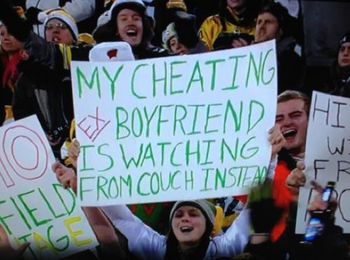 Image via larrybrownsports.com
He's probably enjoying a better view, considering you're covering half the stadium with that poster.
85. Baby Boom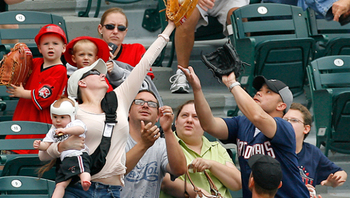 Image via cbsnews.com
Don't worry guys, I got this. (voice of All-Star mom putting the team on her back)
84. Neighborly Misconduct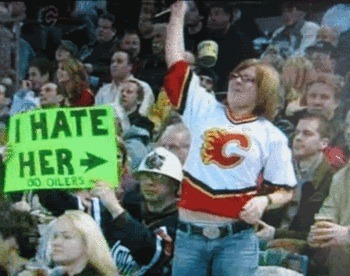 Image via freefantasyfootballpicks.com
We always despise that one obnoxious "I got this on my own" fan who never sits down.
83. Happy Days
The humorous ellipsis truly completes this masterpiece.
82. Welcome to My House Party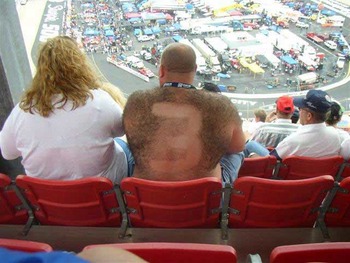 Image via funnychix.com
Just take a tad off the back, please and thank you.
Hopefully he tipped.
81. Respecting the Game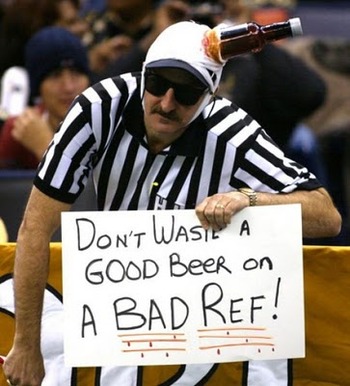 Image via limfy.com
Hopefully he didn't waste one making this outfit.
80. Dazed and Confused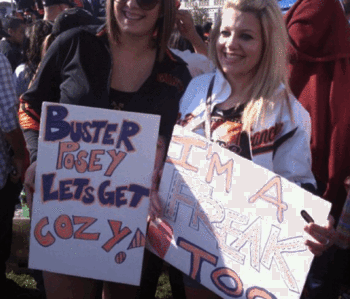 Image via larrybrownsports.com
The Posey one is expected, but the Tim Lincecum reference...well, that's just stellar wordplay.
79. Aping for Victory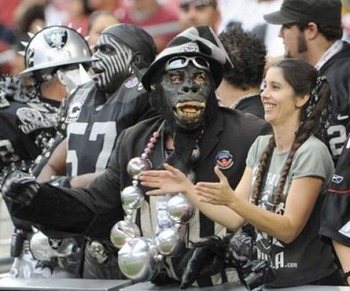 Image via limfy.com
The Black Hole is a melting pot of creativity.
Raiders Nation never fails to baffle, scare and inspire.
78. Furious Statistics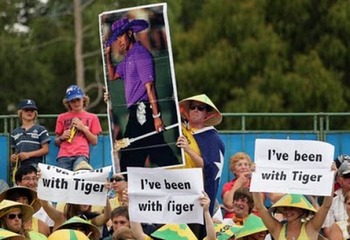 Image via limfy.com
Purple is clearly the new 20.
77. Extraterrestrial Dedication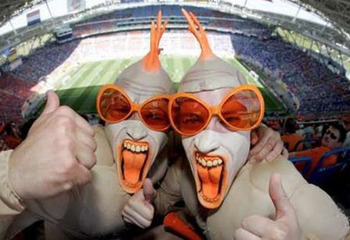 Image via you-can-be-funny.com
Just back from a dental checkup and a necessary cleaning it seems.
76. Photobomb Extraordinaires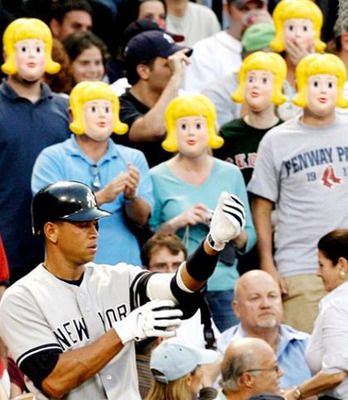 Image via you-can-be-funny.com
It's nice to see they care.
75. Memorable Kodak Moments
Image via you-can-be-funny.com
Wait! We're not snapping the silly pic just yet.
74. Mars Attacks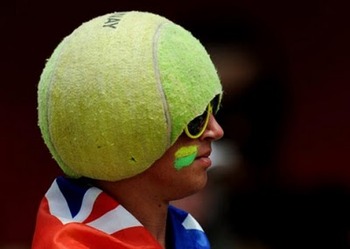 Image via limfy.com
It clearly takes a unique head shape to complete this outfit.
73. Blast from the Past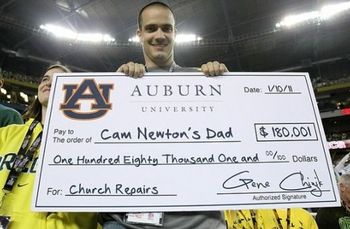 Image via larrybrownsports.com
Using Cecil Newton's real name might have improved the authenticity a bit, but kudos for creativity.
72. Holy Saint!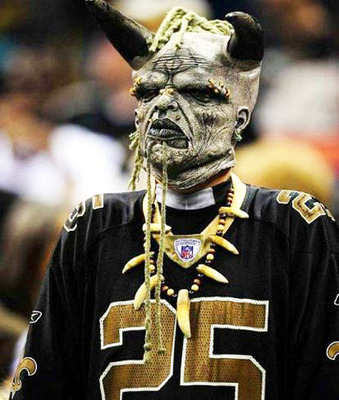 Image via you-can-be-funny.com
A defense seems unnecessary with intimidation like this oozing from the stands.
71. Be Sure to Wear Flowers in Your Hair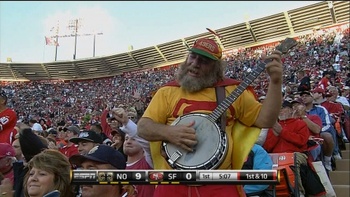 Image via dubsism.wordpress.com
On this tranquil, almost melancholy day there was one healing soul ready to enlighten the crowd.
Several plucks on the old banjo always pleases listeners.
70. The Mecca of Patriotism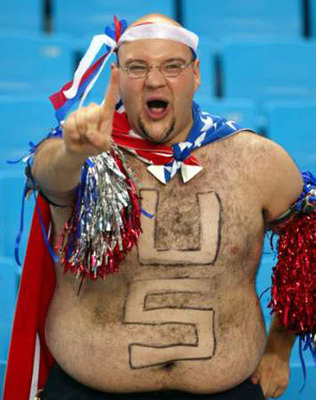 Image via you-can-be-funny.com
Easily the sexiest part of any Olympic Games.
69. Revenge of the Nerds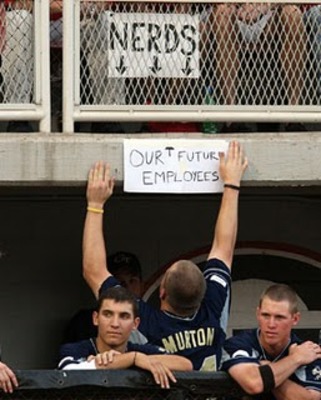 Image via freefantasyfootballpicks.com
Absolutely burned, enough said.
68. Bueller...Bueller...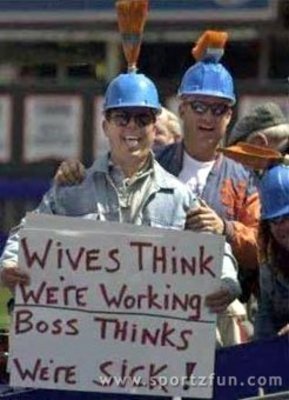 Image via sportzfun.com
Pure dedication, honorable indeed.
67. Building a Winner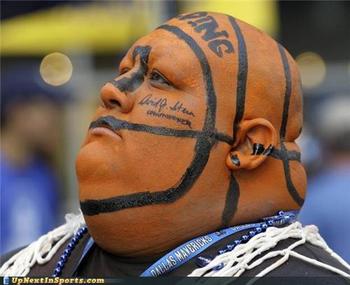 Image via fails.failblog.org
Air is overrated, this ball's got grit and history behind it.
66. One in a Million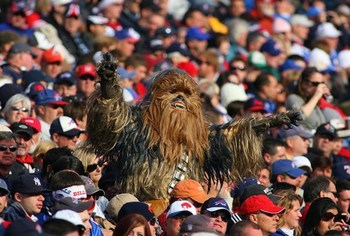 Image via topuspost.net
Apparently Wookies aren't extinct, and they love football.
65. Yearning for a Headdress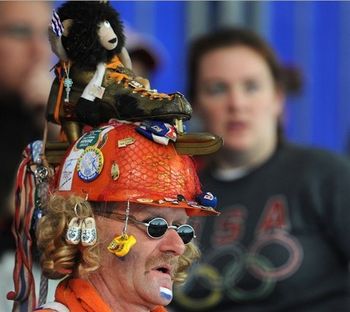 Image via izismile.com
If the goal of the game is to pile on as many arbitrary collectibles as possible, this fan has already secured the trophy.
His shadowing neighbor seems naturally in awe.
64. Winning in Style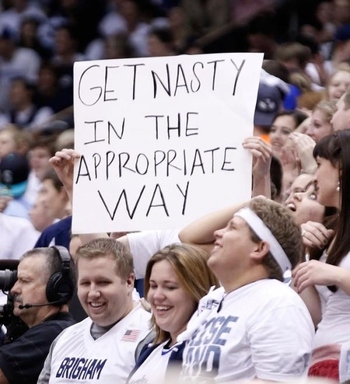 Image via jockular.com
Hopefully they're referring to ferocious defense, aggressive drives to the hoop and pure focus...yeah BYU got pretty nasty on this glorious February night.
63. Christmas Come Early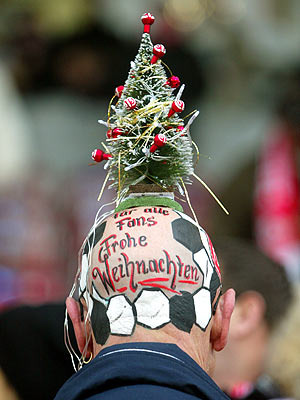 Image via z6.invisionfree.com
On the rare chance he gets hungry during the game, this fan's got all the accoutrement necessary for nourishment.
62. Steaming Pile of Disapproval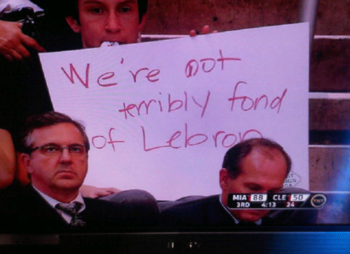 Image via jockular.com
Perhaps the kindest response LeBron James has received while on the Heat.
61. Who Wears Jort Jorts?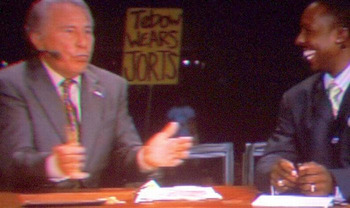 Image via jockular.com
60. Git-R-Done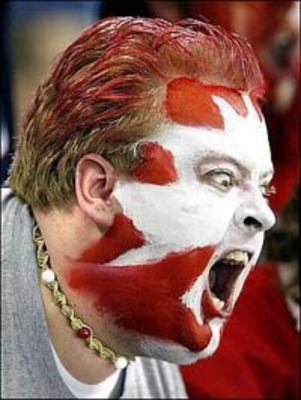 Image via pghsportstalk.blogspot.com
You've colorfully, yet sufficiently gotten your point across, thank you.
59. King of Soccer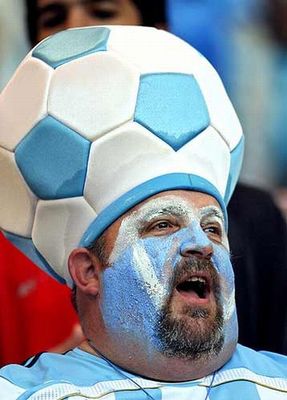 Image via izismile.com
The face paint may be a bit off, but the enlarged plastic masterpiece more than certainly makes up for it.
58. The Tale of Mark Mangino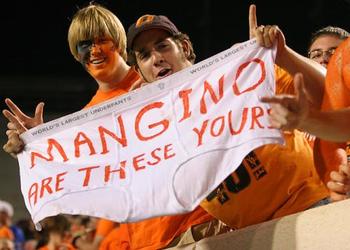 Image via jockular.com
If they didn't say "world's largest underpants," this wouldn't make sense. (stinking of sarcasm over here)
57. Animal Instincts Taking over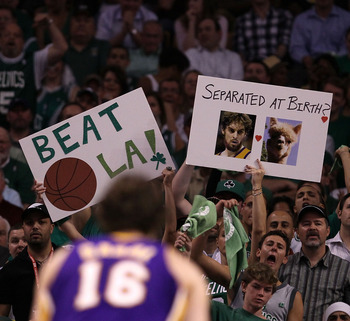 Image via toptensthings.com
While it's been established that Pau Gasol does indeed look like a Llama, let's appreciate the fan underneath the sign trying to emulate the regal creature.
His expression can't go unappreciated.
56. Breaking the Mold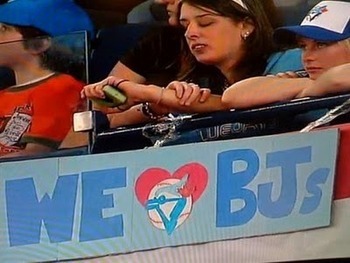 Image via clutch.mtv.com
Classy, it's obvious this sign was thoroughly thought out.
55. Gladiator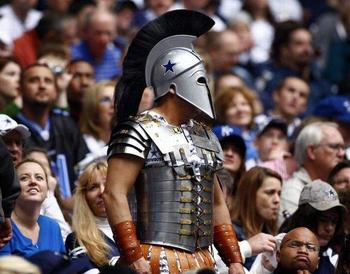 Image via funvblog.com
Just a routine Roman general protecting his flock from invading Germanic tribes, nothing out of whack here.
54. Judging the Line Judge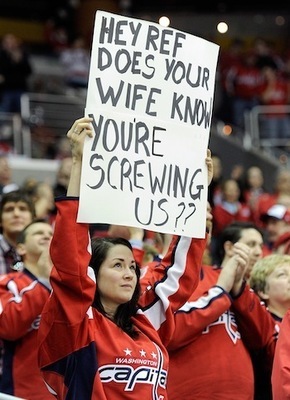 Image via clutch.mtv.com
It's only expected that he took you all out to a nice seafood dinner first.
53. Flirting with Disaster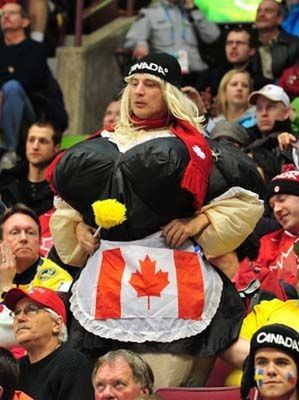 Image via izismile.com
A bit more baffled by the fan to the right checking his questionable neighbor out from behind.
52. Clenching for Dear Life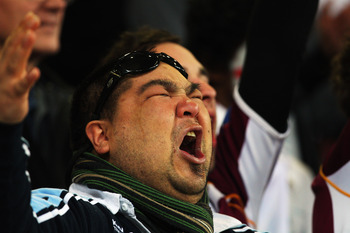 Mark Kolbe/Getty Images
He just couldn't hold it any longer, defeat at last.
51. Heating Up in Miami
Image via clutch.mtv.com
Time for a coffee refill, what a buzzkill.
50. Pregnancy Test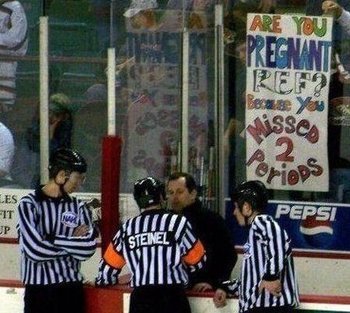 Image via clutch.mtv.com
He's not showing at all for two months, wow.
49. A New Breed of Fan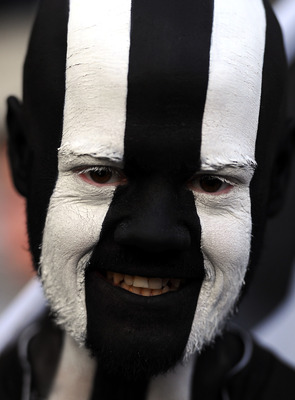 Stu Forster/Getty Images
Leaning towards Zebrasaurus as the name, extraterrestrial as the species.
48. Squatting on the Competition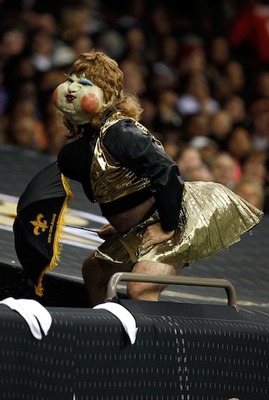 Image via clutch.mtv.com
Can't wait to attend Mardi Gras.
47. Called for a Hand Ball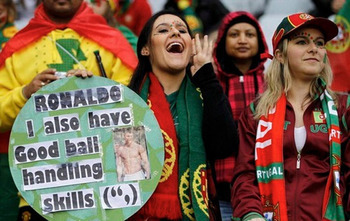 Image via clutch.mtv.com
That is one strange emoticon, a new kind of wink it seems.
46. Punctuating the Process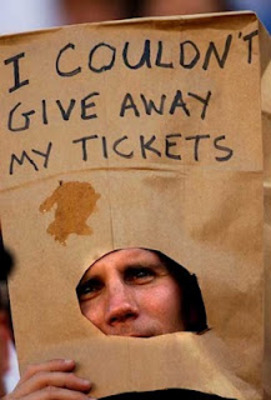 Image via freefantasyfootballpicks.com
Understandable of course, but what's with the mysterious stain on the left?
45. It's Always Weird in Philadelphia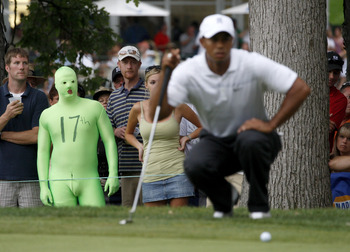 Gregory Shamus/Getty Images
Please let that be Charlie Kelly.
44. Always Amazin'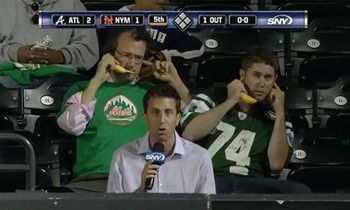 Image via amazinavenue.com
As if going bananas for Kevin Burkhardt were a natural thing.
43. Truth Be Told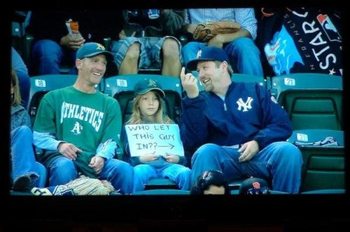 Image via walkoffwalk.com
She doesn't seem to be even close to kidding around.
42. Frostbitten Loyalty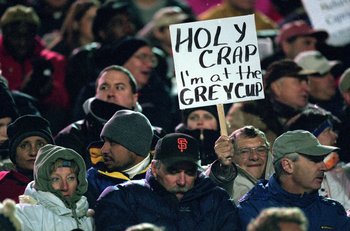 Craig Klem/Getty Images
It's clearly colder than a mother-in-law's love over there.
41. The Maturation Process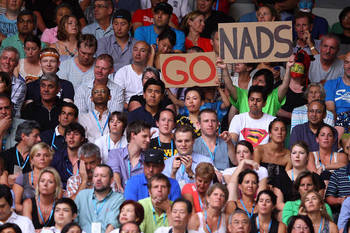 Image via jockular.com
40. Thoroughbred Mess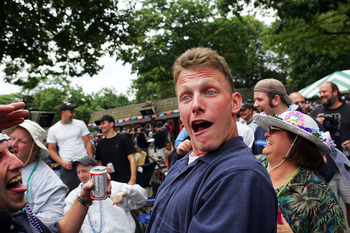 Ezra Shaw/Getty Images
The Belmont Stakes seems to have that effect on people.
39. Chi-Town Hangover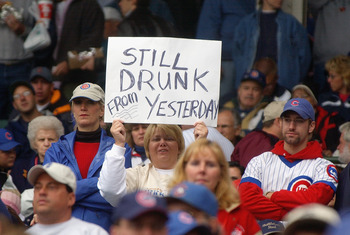 Jonathan Daniel/Getty Images
It's tough being a Cubs fan.
38. True Love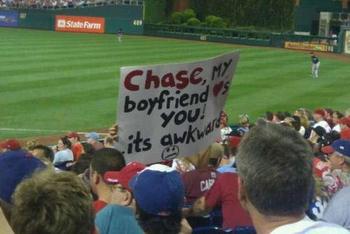 Image via stuft.tumblr.com
Her boyfriend is likely salivating in the next seat.
37. YES Network Reporter Kim Jones Gets Robbed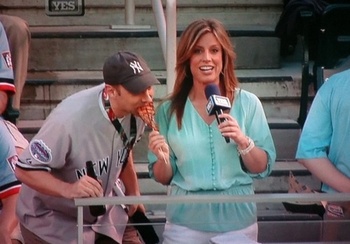 Image via sportscracklepop.com
Most of us will continue wondering why she had a chunky pork chop while on live television in the first place.
36. Unique New York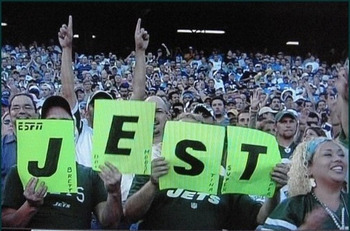 Image via clutch.mtv.com
Nothing wrong here, it's just the Jets' form of the word zest.
Spicing things up a bit.
35. Sibling Rivalry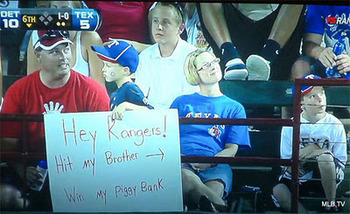 Image via lampeace.com
Clueless, smile-filled parents...so typical.
34. The Mind of a Referee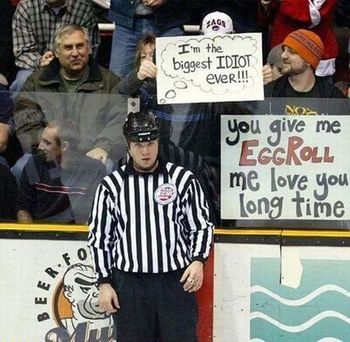 Image via wadbuzz.com
Greasy egg rolls keep many of us sane.
33. Tarnished Reputations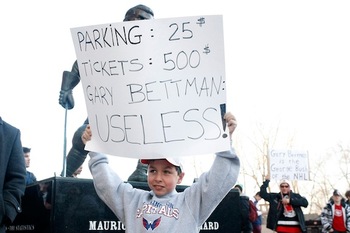 Image via clutch.mtv.com
Let's be serious, it's the background sign that's got us spraying milk everywhere.
32. Cali Is Active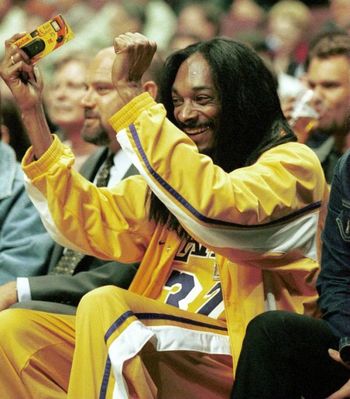 Image via curiousphotos.blogspot.com
For the record...Snoop Dogg for President, end of story.
31. The Moment of Truth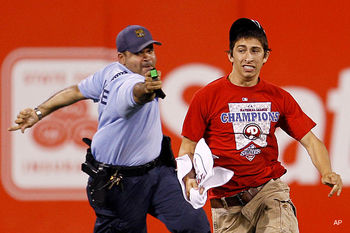 Image via darryl616.blogspot.com
Dirtied khaki shorts and several electric shocks later, this 17-year-old fan was still winnnnnnning.
30. An Actual Fan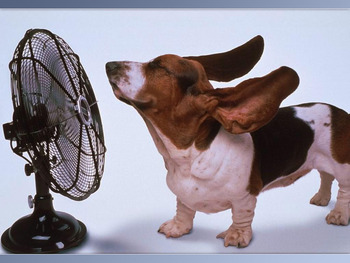 Image via cbseguess.com
Don't shake your head, it was only a matter of time before this happened.
29. Father of the Year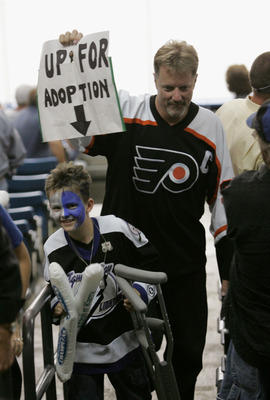 Harry How/Getty Images
A truly inspirational rivalry, father and son bonding over mutual disdain.
28. How Now Brown Cow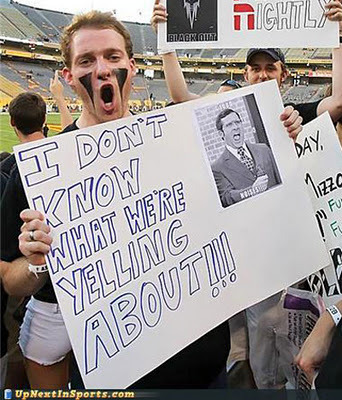 Image via lampeace.com
Anchorman quotes continue to reign supreme.
Epic.
27. Spreading Like Wildfire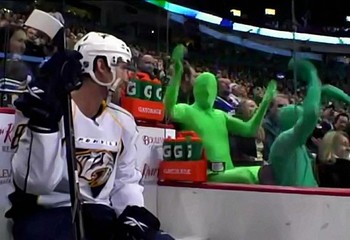 Image via totalprosports.com
The green-man fad continues to fill every crevice of sports fandom.
26. The Common Fan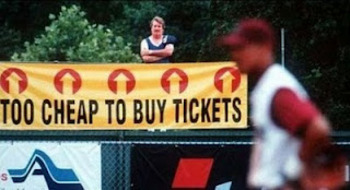 Image via freefantasyfootballpicks.com
The view is phenomenal, often breathtaking.
25. Young Money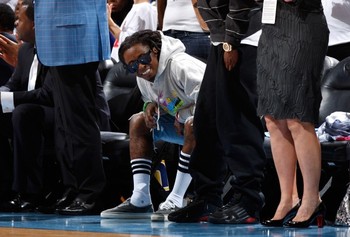 Image via club937.com
Weezy F. Baby looks ready to l-l-lick the court like a lollipop.

24. Birdman Soars Within
Image via rp-online.de
But are they ready to save the world when the time comes?
23. The Majestic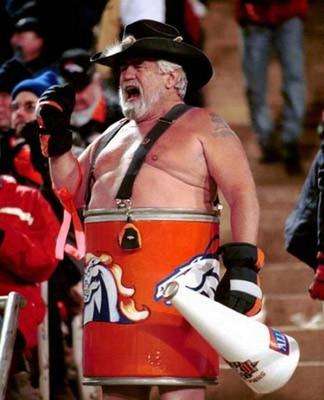 Image via funvblog.com
Stunning, regal, glorious...the perfect NFL fan.
22. Taking the Cake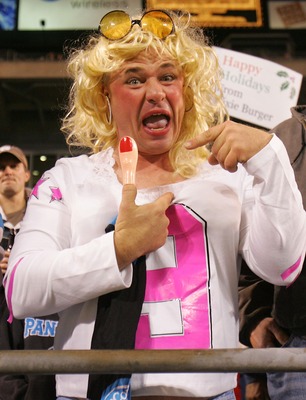 Streeter Lecka/Getty Images
"Go hard or go home" is this guy's motto...well done.
21. The Antoine Dodson Effect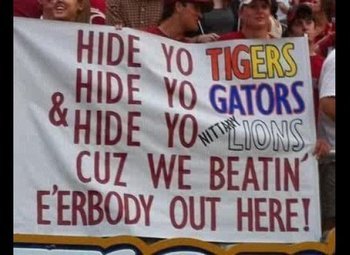 Image via clutch.mtv.com
Precise punctuation and stellar grammar, the Intruder Song lives on.
20. Ramming Ahead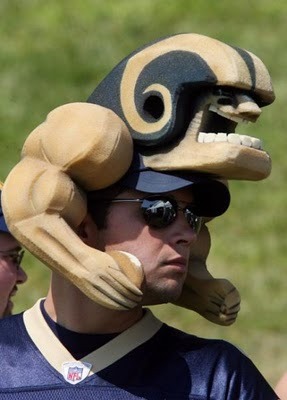 We haven't seen jaw enthusiasm like this since Dick Tracy's '30s comic strip.
19. This Sir Is Mixing a Lot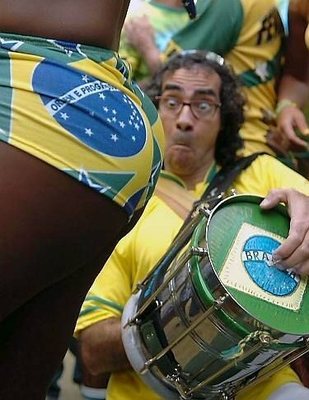 Image via jokeroo.com
Oh my god. Becky, look at...yeah this guy is quite enamored.
Concentrate on your own drum bro.
18. The Chosen One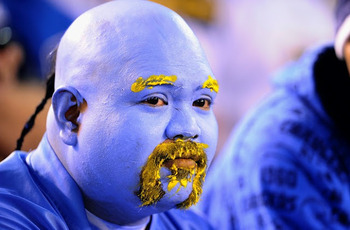 Image via todaysaccheadlines.com
Buddhist monks should probably avoid procreation with the Blue Man Group, just a suggestion.
17. The Godfather of Facial Hair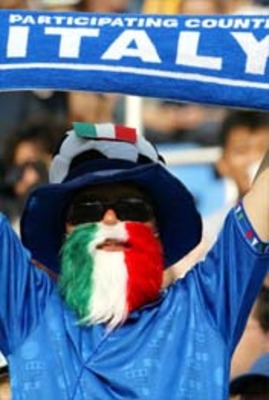 Image via z6.invisionfree.com
Without a doubt the greatest goatee on Earth.
16. The Blind Side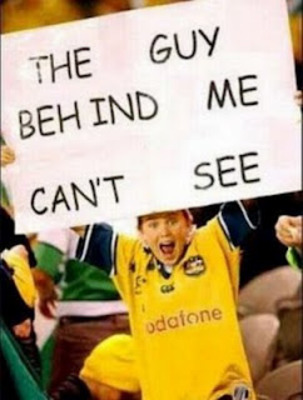 Image via freefantasyfootballpicks.com
If that is truly your only purpose then, well...we respect that.
15. White Sox It to 'em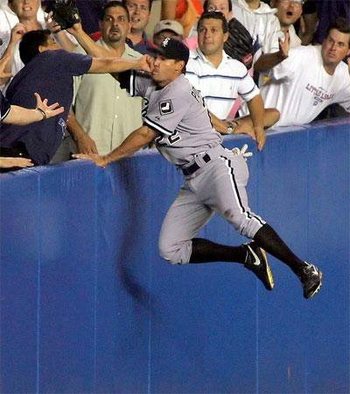 Natural reaction, we get it.
Iron Mike would be proud.
14. Damsel in Distress
Image via funnyfeaturesandmore.blogspot.com
He must be the type who uses "like" after every syllable.
13. Parade of Goodies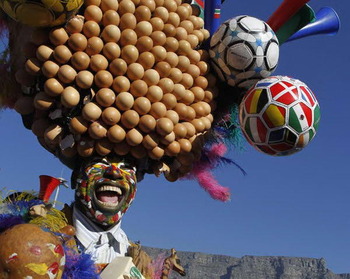 Image via listas.20minutos.es
Is any of this for sale?
All in.
12. Ladies Day at Aintree Racecourse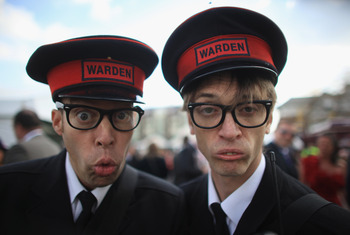 Christopher Furlong/Getty Images
This must be how racing fans pass the time in Merseyside, England.
11. Nintendo's Main Man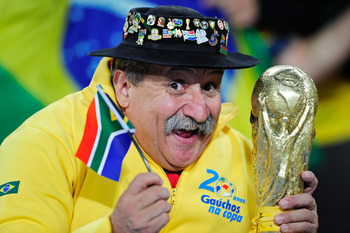 Stuart Franklin/Getty Images
10. And the Academy Award Goes To...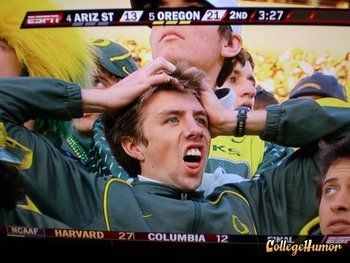 Image via thedawgdude.com
9. Taylor Pyatt's No. 1 Fan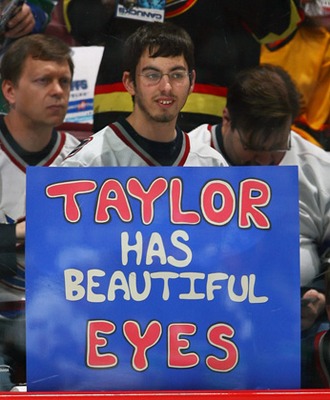 Image via mattgunn.wordpress.com
He seems to be dreaming about a Caribbean vacation with his favorite hockey player, as he watches Pyatt gracefully glide across the rough ice.
Strange.
8. When Nature Calls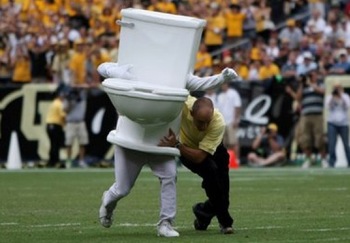 Image via stayentertained.com
That could turn out to be a messy tackle.
7. When Keeping It Real Goes Wrong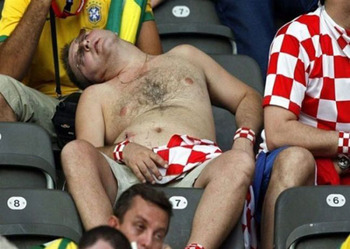 Image via stevenhumour.com
It doesn't get any realer than this.
6. Precious Rivalries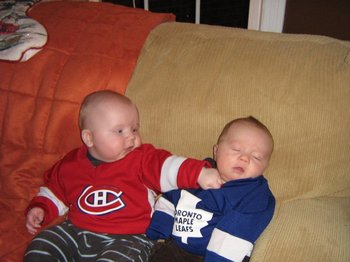 Image via forkparty.com
5. Stinky Cheese Fan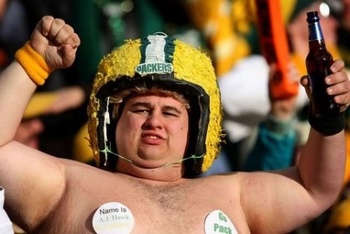 Image via clinicallyhappy.com
Homemade macaroni and cheese at its best.
4. Bill Murray's Quest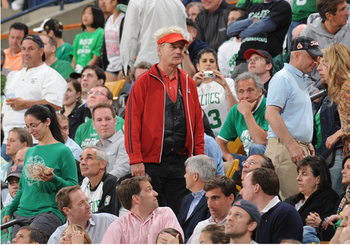 Image via fresnobeehive.com
Easily the greatest sight known to man, words can't possibly suffice.
3. Watch the Gap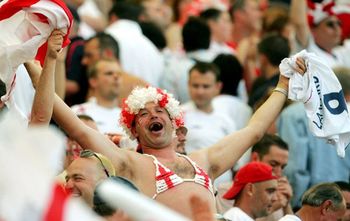 Image via izismile.com
Team-colored bra: $10
Colorful wig: $25
Team shirt: $40
Leaving teeth at home: Priceless
2. Caught in the Act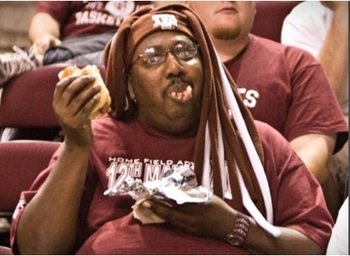 Image via kodyssportskorner.com
If only this were a stacked foot-long sandwich, we could say he was an Aggie eating a Hoagie.
Oh what could have been.
1. The Walk of Shame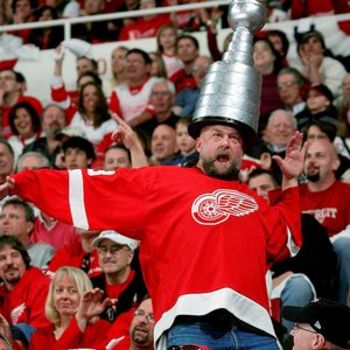 Image via realtalkthemag.com
The combination of violent athleticism, lack of daily excitement away from the rink and five two many spiked lemonades can certainly make a fan lose his cool.
Sloppy much?
Keep Reading