2012 NFL Draft Predictions: Projecting Which Teams Will Make First Round Trades
April 19, 2012
Jason Miller/Getty Images
Draft day trades happen every year. Some are more mind-boggling than others, but hey, that's what makes it fun and entertaining. If they didn't happen, you wouldn't have much to talk about the following day, and where's the fun in that? 
The 2012 NFL draft will be no different, as teams will try to do whatever it takes to get the best prospect. It's all about improving the team, and if that means trading up, or even down, then so be it. 
With that said, here's a few teams I foresee making draft day trades in the first round. 
According to Mary Kay Cabot of The Plain Dealer, the Eagles and Rams are among multiple teams interested in trading up to the No. 4 pick. 
It doesn't appear that anything will happen before the draft, but on Thursday evening, I think the Browns will once again do something crazy. Last year, they could've had Julio Jones, but instead the opted for a big trade with the Atlanta Falcons. 
This year, staying put and drafting Trent Richardson is the Browns' best bet, but Cleveland will fall in love with some offer and move back. As long as the Browns end up with two first-round picks and use both to help the offense, then they should still make out as winners of the 2012 NFL draft, but that remains to be seen. 
The Rams would be interested in moving up to most likely get Justin Blackmon, and there are other teams that might feel the need to jump up to get Ryan Tannehill. That's a major reach in my opinion, but like I said, NFL teams do crazy stuff all the time on draft day.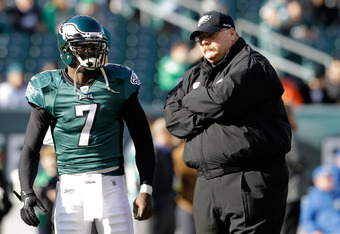 Rob Carr/Getty Images
We already know that the Eagles have made calls about the No. 4 pick, but Peter King of Sports Illustrated wrote that Philadelphia doesn't "want to trade up from 15 to anywhere between three and eight." 
He mentions that the Eagles may move up for Ryan Tannehill, but that's only going to happen if the Dolphins don't take the insanely hyped-up QB.
Still, I think the Eagles will in fact move up on draft day to get the best possible prospect for their team. They know they're very close to being the best team in the league, but with a little extra help on both sides of the ball, they could be even more dangerous than they already are.  
Getting a top-notch defender who's expected to be a top-10 pick will give the Eagles a big boost moving forward. Philadelphia may sit tight at No. 15, but don't be surprised at all if the Eagles swap spots with a team like Buffalo, Kansas City or Arizona.
All of those teams need extra picks and can afford to drop a couple spots in the first round in order to gain more picks. 
This one is just a given. With two first-round picks just like a year ago, it's safe to assume that Bill Belichick and the Patriots will be wheelin' and dealin' per usual. 
While I believe they should keep both draft picks to stockpile the best possible talent for the future, making draft-day trades is just what they do. 
New England's No. 31 pick is the most likely one to be traded, as some team will look to jump back into the first round. That will all depend on which players are available, but I'm sure Belichick will be selling the pick hard. 
If for some reason teams play it smart and don't select Ryan Tannehill super high, there will be a team that jumps back into Round 1 to get him, and the Patriots are a prime target for that at No. 27 or No. 31.