2012 NFL Mock Draft: One Week Until the Big Day
April 19, 2012

We are now exactly one week away from the first round of the 2012 NFL draft. There are only a few changes in my first-round projection, but one change has a domino effect on the rest of Round 1. I'll post my final projection the morning of the draft next Thursday. Enjoy.
1. Indianapolis Colts: QB Andrew Luck, Stanford
No surprise at the top. The Colts are fortunate enough to have the first pick in the draft with two players worthy of being the first selection. Although I think RG3 will be a great pro player, the Colts can't get cute. Luck is their guy.
2. Washington Redskins: QB Robert Griffin III, Baylor (From St. Louis)
Washington gave up an arm, a leg and an ear to move up for Griffin. The only way the Redskins don't take RG3 is if the Colts do, in which case Washington would gladly select Luck. Indy will take Luck, so the Skins will take Griffin.
3. Minnesota Vikings: OT Matt Kalil, Southern California
I'm sure the Vikes will be working the phone lines until the clock hits zero…and perhaps after that, if history repeats itself. If I were in charge of Minnesota, I'd take Morris Claiborne and then take the best available tackle at the top of Round 2. However, Kalil is a great pro prospect, and he'd be a starter from day one.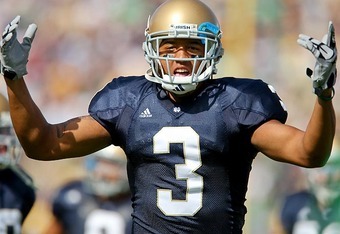 4. Cleveland Browns: RB Trent Richardson, Alabama
It's usually not a good sign when the most recognizable name on your entire roster is your left tackle. Although I usually don't like projecting running backs in the Top 10, Richardson is an elite talent. Cleveland is a long ways away from being a legitimate air attack, so the Browns would be wise to put all their chips in on Richardson to become a ground-and-pound offense.
5. Tampa Bay Buccaneers: CB Morris Claiborne, Louisiana State
Tampa would surely love to see Trent Richardson fall to them with the fifth pick, but he isn't available in this projection.
However, Claiborne is a great consolation prize, especially considering his college position coach, Ron Cooper, is now with the Buccaneers. Claiborne would provide stability to the position with uncertainty surrounding Aqib Talib, and Ronde Barber nearing the end of an illustrious career.
6. St. Louis Rams: WR Justin Blackmon, Oklahoma State (From Washington)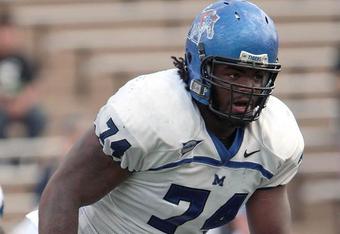 Despite an atrocious performance in 2011, I still believe in Sam Bradford. He has the potential to be a great player, but he can't do it throwing to a bunch of No. 3 receivers.
For whatever reason, the Rams were on national TV on a couple occasions last year, and it was shocking how bad their receivers were. Greg Salas, I'm looking at you. Justin Blackmon isn't a "home run" Calvin Johnson-like pick, but he's the best receiver in this class. He's a no-brainer for St. Louis.
7. Jacksonville Jaguars: DE Melvin Ingram, South Carolina
Jacksonville could use help at several different key positions: wide receiver, offensive tackle and pass-rusher. With Blackmon coming off the board a pick earlier, the Jags' best option would be to draft Melvin Ingram and improve an already solid defense. Jacksonville tends to take players with high motors, and Ingram fits the bill perfectly.
8. Miami Dolphins: QB Ryan Tannehill, Texas A&M
This works out well for Miami. The Dolphins get their quarterback, and Tannehill doesn't have the option to do what so many have done before him—reject Miami and go to another team. Top 10 may be too high for him, but he's a great athlete and could develop into an exciting player.
Peyton Manning and Matt Flynn rejected the Dolphins, so Miami needs someone else to compete with Matt Moore. Tannehill is the guy.
9. Carolina Panthers: DE Quinton Coples, North Carolina
Here's the first change in my mock for this week. After a huge combine performance, I thought Dontari Poe would surely be the pick for Carolina. However, now I'm near certain that If the Panthers take a defensive tackle, it will be Mississippi State's Fletcher Cox.
In my last projection, I had Carolina taking Michael Floyd. Between Floyd, Cox and Coples, I could change my mind by the hour as to who the Panthers will take in Round 1. I think Coples is the best of the three players.
10. Buffalo Bills: WR Michael Floyd, Notre Dame
Before signing Mario Williams and Mark Anderson, the Bills had a glaring need for a pass-rusher. With their No. 1 need addressed, Buffalo will look to address its offense—either on the line or at wide receiver.
Riley Reiff would be a solid, safe pick for the Bills, but Michael Floyd could make a big difference as a rookie. Ryan Fitzpatrick would certainly be a happy guy if he had Stevie Johnson and Mike Floyd on the perimeter.
11. Kansas City Chiefs: LB Luke Kuechly, Boston College
After adding Eric Winston from Houston, the Chiefs no longer have a glaring need at the offensive tackle position. David DeCastro could still be an option, but Kuechley would make a good defense even better. Kuechly and Derrick Johnson would make a very talented duo in the middle of Kansas City's defense.
12. Seattle Seahawks: S Mark Barron, Alabama
Seattle would really like to see Michael Floyd available here, so Matt Flynn could have a new toy to play with as the new starting quarterback. The Seahawks could also use a relentless pass-rusher on the outside, but Mark Barron would give Seattle a terrific pair of safeties along with Earl Thomas. If Barron is the pick, Kam Chancellor could move to outside linebacker.
13. Arizona Cardinals: OT Riley Reiff, Iowa
The Cardinals really need help on the offensive line. If Reiff is available, I'm nearly certain that he'll be the pick for Arizona. Another option for the Cardinals would be Stanford's David DeCastro, but Arizona could use a right tackle more than an offensive guard.
14. Dallas Cowboys: DT Dontari Poe, Memphis
Through free agency, Dallas has addressed needs on the interior of its offensive line and in the defensive backfield. With their two biggest needs already addressed, the Cowboys have the option of selecting the best player available. After a stellar combine, Dontari Poe could go as high as ninth. Dallas would be getting a good value at 14.
15. Philadelphia Eagles: DT Fletcher Cox, Mississippi State
Cox to the Eagles seems like a slam dunk for both parties involved. The middle of Philadelphia's defense struggled mightily in 2011, but they've already acquired DeMeco Ryans from Houston, so the middle-linebacker position seems to be in good shape. Adding Cox would strengthen the team's biggest weakness from a year ago.
16. New York Jets: LB Dont'a Hightower, Alabama
This is simply a gut feeling. Three former Alabama players could be of interest to New York: Mark Barron, Courtney Upshaw and Dont'a Hightower. Bart Scott's future is cloudy at best, and Dont'a Hightower would look very nice next to David Harris in the Jets defense. Hightower's versatility could push him up draft boards, as he was used to rush the passer on third downs last year at Alabama.
17. Cincinnati Bengals: OG David DeCastro, Stanford (From Oakland)
The Bengals end up as huge winners in this situation, as they land the draft's best interior lineman with the 17th pick. At first glance, I wouldn't expect DeCastro to be available at this spot, but weird things tend to happen on draft day, and it's very much a possibility that he's still on the board.
18. San Diego Chargers: CB Stephon Gilmore, South Carolina
I'm a big fan of Stephon Gilmore. Unlike several cornerbacks at the top of this year's crop, Gilmore has no character concerns and isn't afraid to throw his body around and get physical. If he's available at 18, I think he's too good for the Chargers to pass up despite their needs on the offensive line.
19. Chicago Bears: DE Whitney Mercilus, Illinois
The Bears would like to take pressure off of Julius Peppers, and Whitney Mercilus certainly could do that. Mercilus is probably the best possible name for a pass-rusher, and Chicago would love to have an athletic freak on each edge of its defensive line.
20. Tennessee Titans: C Peter Konz, Wisconsin
Tennessee addressed its need for a pass-rusher with the signing of Kamerion Wimbley.
Chris Johnson got off to a very slow start in 2011 after the Titans invested a lot of money in him. One way to ensure increased production from Johnson would be to bolster the offensive line. Peter Konz would not only improve the offensive line, but he'd help Jake Locker at identifying defenses as he transitions to being a starting quarterback.
21. Cincinnati Bengals: DE Courtney Upshaw, Alabama
If the Bengals end up with both DeCastro and Upshaw, they would clearly be the biggest winners from Day 1 of the draft. Cincinnati would have vastly improved the line on both sides of the ball, and both players are better than their draft position would suggest.
22. Cleveland Browns: WR Kendall Wright, Baylor (From Atlanta)
Cleveland would be wise to add as many offensive playmakers as possible, and selecting Richardson and Wright in Round 1 would go a long ways in improving an anemic offense. Greg Little showed some promise as a rookie, but Wright would add another dimension on the perimeter.
23. Detroit Lions: CB Dre Kirkpatrick, Alabama
In a division against Aaron Rodgers and after losing Eric Wright, the Lions have a serious need for cornerbacks. Dre Kirkpatrick would be a good value at 23, and I think he's a better choice than grabbing an offensive tackle like Jonathan Martin or Mike Adams.
24. Pittsburgh Steelers: OG Cordy Glenn, Georgia
I think Pittsburgh's pick will come down to either Dont'a Hightower or the best available offensive lineman. In this case, Hightower is already off the board, so Cordy Glenn becomes the pick by default. This pick would make Big Ben a happy guy, as his offensive like has been awful for a few years now.
25. Denver Broncos: DT Michael Brockers, Louisiana State
Brockers has a lot of talent, and he's far better than the 25th overall prospect, so if the Broncos are fortunate enough to get him, they'd be getting a steal. The Broncos offense will go through a complete makeover under Peyton Manning, so they'll likely focus on their defense with their first selection.
26. Houston Texans:  WR Stephen Hill, Georgia Tech 
Houston surprised everyone last year with a tremendous defense under Wade Phillips. Even after Mario Williams was lost to injury, Houston's D flourished. J.J. Watt was a total stud as a rookie, and they'll hope their 2012 first-round pick can have a similar impact. Stephen Hill was nowhere near the first round before the combine, but a 4.3 40 will certainly put you in the discussion.
27. New England Patriots: DT Kendall Reyes, Connecticut (From New Orleans)
The Patriots need help at every level of their defense, and with four picks in the first two rounds, they'll likely be able to address some of these needs. Kendall Reyes is a high-character player who would fit into a 4-3 scheme at DT, or a 3-4 at DE. The Patriots use more of a hybrid scheme, so Reyes would be a good fit.
28. Green Bay Packers: OLB Shea McClellin, Boise State
It just sounds right. Shea and Clay, two high-motor blonde bombers on the edge of Green Bay's 3-4 attacking defense. The Packers' pass rush was non-existent in 2011, and they'll look to improve that part of their team through the draft.
If they don't go for McClellin, I have a strong feeling they'd look at Notre Dame safety Harrison Smith, in which case I'd have my doubts about the future of Nick Collins ever playing again in the NFL.
29. Baltimore Ravens:  OT Jonathan Martin, Stanford
Baltimore will likely try to grab the best available offensive lineman with their first pick. In this case, John Harbaugh will have the pleasure of coaching one of his brother's former players in Jonathan Martin. The Ravens don't have many glaring needs, so they could go pretty much anywhere with this pick, but Martin is a good value at 29.
30. San Francisco 49ers: S Harrison Smith, Notre Dame
Jim Harbaugh has turned the 49ers franchise around dramatically in a short amount of time. After adding Mario Manningham and Randy Moss, the team has addressed its deficiency at the receiver position. Harrison Smith would be a tremendous asset for a team looking for a defensive counter-attack to the league's elite tight ends.
31. New England Patriots: DE Chandler Jones, Syracuse
Bill Belichick is a very happy man after New England drafts two new starting defensive linemen with its two first-round selections. Chandler Jones is a long, fluid athlete and has a brother in the NFL (Arthur) as well as a brother (Jonny "Bones") in the UFC. New England needs all the help it can get on defense, and adding Reyes and Jones would go a long way.
32. New York Giants: OT Mike Adams, Ohio State
The Giants could surprise some people and go running back with Boise State's Doug Martin at pick 32. However, Mike Adams could go as high as 18 to San Diego, and New York finds him as too good to pass up at 32.  Adams wouldn't be forced onto the field early, but he'd be ready to play when and if he's called upon.
Round 2:
33. St. Louis: RB Doug Martin, Boise State *1st) WR Blackmon
34. Indianapolis: TE Coby Fleener, Stanford *1st) QB Luck
35. Minnesota: CB Janoris Jenkins, North Alabama *1st) OT Kalil
36. Tampa Bay: LB Lavonte David, Nebraska (From Washington) *1st) CB Claiborne
37. Cleveland: QB Brandon Weeden, Oklahoma State *1st) RB Richardson, WR Wright
38. Jacksonville: OT Bobby Massie, Ole Miss *1st) DE Ingram
39. St. Louis: DT Jerel Worthy, Michigan State *1st) WR Blackmon, 2nd) RB Martin
40. Carolina: DT Derek Wolfe, Cincinnati *1st) DE Coples
41. Buffalo: OG Kevin Zeitler, Wisconsin *1st) WR Floyd
42. Miami: OLB Nick Perry, USC *1st) QB Tannehill
43. Seattle: WR Reuben Randle, Louisiana State *1st) DB Barron
44. Kansas City: OG Amini Silatolu, Midwestern State *1st) ILB Kuechley
45. Dallas: OLB Andre Branch, Clemson *1st) DT Poe
46. Philadelphia: OLB Zach Brown, North Carolina (From Arizona) *1st) DT Cox
47. New York Jets: WR Alshon Jeffery, South Carolina *1st) LB Hightower
48. New England: CB Josh Robinson, Central Florida (From Oakland) *1st) DE Jones, DT Reyes
49. San Diego: OT Mitchell Schwartz, California *1st) CB Gilmore
50 Chicago: DT Devon Still, Penn State *1st) DE Mercilus
51 Philadelphia: S Brandon Taylor, Louisiana State *1st) DT Cox, 2nd) LB Brown
52. Tennessee: LB Bobby Wagner, Utah State *1st) C Konz
53. Cincinnati: RB David Wilson, Virginia Tech *1st) OG DeCastro, DE Upshaw
54. Detroit: OT Zebrie Sanders, Florida State *1st) CB Kirkpatrick
55. Atlanta: DE Vinny Curry, Marshall
56. Pittsburgh: RB Lamar Miller, Miami *1st) OG Glenn
57. Denver: LB Mychal Kendricks, California *1st) DT Brockers
58. Houston: OT Jeff Allen, Illinois *1st) WR Hill
59. Green Bay: RB Chris Polk, Washington  *1st) OLB McClellin
60. Baltimore: WR Brian Quick, Appalachian State *1st) OT Martin
61. San Francisco: TE Dwayne Allen, Clemson *1st) DB Smith
62. New England: RB LaMichael James, Oregon *1st) DE Perry, DT Reyes. 2nd) CB Robinson
63. New York Giants: DT Brandon Thompson, Clemson *1st) OT Adams