Ohio State Spring Game 2012: Date, Start Time, TV Info and More
April 19, 2012

Eric Francis/Getty Images
This Saturday, college football fans will finally get to see a little bit of what Urban Meyer has in store for the Ohio State Buckeyes. 
In the Buckeyes' annual spring game, everyone will get a small taste of Ohio State's new offense under the direction of Meyer. 
As many of you know, last season wasn't all that splendid for the Buckeyes, especially on offense. However, all of that is put in the past and folks are looking ahead to the 2012 season and beyond. 
That being said, here's what you need to know about the Buckeyes' 2012 spring game. 
When: Saturday, April 21 at 1:30 p.m. ET 
Where: Ohio Stadium, Columbus, OH 
Watch: Online at BTN2Go, plus on The Big Ten Network at 1:30 p.m. ET and a re-air at 11:00 p.m. ET
Position Battle to Watch: Running Back 
With the spotlight on the offense this spring and summer, all eyes will be stuck on the playmaker positions. 
Since the Buckeyes are losing key contributors at running back and wide receiver, it's very important to see which players emerge as true threats in the spring game. 
In the backfield, replacing Dan "Boom" Herron will not be an asy task. Carlos Hyde and Jordan Hall are the main guys, and one of them really needs to stand out and make a bigger name for himself on Saturday. 
Of course, there's only so much they can do in the spring game, but showcasing their talents to their fullest will ease the minds of the coaching staff as well as the fans. 
Ohio State might not need a dominant run game because quarterback Braxton Miller will be using his legs to move the chains, but it would still be nice to have players you can rely on to get the job done in the backfield.
Area in Need of Most Improvement: Quarterback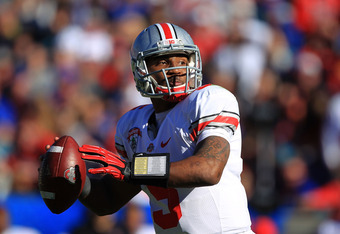 Scott Halleran/Getty Images
The Buckeyes are going to go as far as Braxton Miller takes them.
Granted, the NCAA sanctions won't allow them to compete in the Big Ten title game or a bowl game this coming year, but that doesn't mean they can't spoil the fun for others and continue to get better as a team.  
Miller has to keep getting better because he will be the leader of Meyer's offense. He'll be the guy making big plays and setting things up for others to have monster gains. 
While he may be young, there is still a lot of talent in the 6'3", 210-pound quarterback. Improving his decision-making as well as his ability to throw the ball will be very crucial this offseason. 
Look for Miller to put on a show during the spring game, but what's most important is his progression as we get deeper into the summer. 
What to Expect in 2012 
Since the Buckeyes aren't allowed to compete for their conference title or go bowling this year, the motto for this season is to ruin everything for everyone else. 
It sounds simple, but it definitely won't be easy. 
Tough road games against Michigan State, Penn State and Wisconsin will be intense, but having only two difficult home games to worry about is a major plus.
The Buckeyes will host Nebraska and Michigan, and having the home-field advantage will definitely boost their confidence. 
Winning nine or 10 games is very realistic for Ohio State this season, but that will mostly depend on the offensive production on the year. 
Throughout the year, though, look for the Buckeyes to put their new-look offense on full blast, using this year as major preparation for a title run in the 2013 season.