San Francisco Giants: Why Gregor Blanco Is the New Andres Torres
April 19, 2012

Doug Pensinger/Getty Images
When Gregor Blanco walked into spring training this year, San Francisco Giants fans were left scratching their heads as if it was deja vu. Two years ago, Andres Torres took the city by storm and helped ignite a World Series run.
With Torres in New York with the Mets via trade and Aaron Rowand out of baseball, the Giants needed more depth in center field and on November 16th, they signed Blanco.
No one predicted that Blanco would have a terrific spring, batting .333 with 14 runs and 13 stolen bases.
Flashback to 2010: Torres posted a similar .306 average with six RBI and 15 runs scored. Torres played with the Giants during the previous season, but never really made a mark, hitting .270 in just 170 plate appearances.
Blanco and Torres shared similar paths to the Giants, each having spent much of their time in the minor leagues.
Torres was drafted in 1998, but didn't play in the majors until 2002 with the Detroit Tigers.
After struggling at the big-league level he went back to minors and bounced around from the White Sox, to the Rangers, over to the Twins, then back again to the Tigers, before making a stop with the Cubs and finally the Giants.
From 2002 to 2009, Torres had 257 major league at-bats and hit only one home run. 
One home run is less than some pitchers hit in a year, but he only had 21 plate appearances after the 2003 season until signing with the Giants.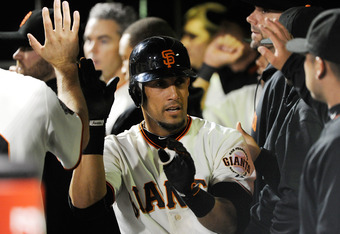 Thearon W. Henderson/Getty Images
Torres' next home run was a pinch-hit shot on April 17th against the Arizona Diamondbacks. It had been about five-and-a-half years since his last one. 
In 2007, Torres started on ADHD medication after being diagnosed in 2002. The medicine helped him increase his production, allowing the journeyman to return to the major leagues.
Gregor Blanco signed with the Braves in 2000, but didn't begin playing in the minors until 2002. After five years in the minor leagues, he reached the big time, getting his first at-bat on March 31 2008.
Blanco started the season on the bench but moved into the starting lineup, keeping his job well into September. 
In 2009, he saw a brief stint in the bigs before heading back to the minors. He returned to the majors in 2010 before being shipped to the Kansas City Royals.
Blanco began the 2011 season in the minors again before being traded to the Washington Nationals, where he continued to play at the minor-league level. 
After the season, the Giants picked up him up as a free agent.
Both these players have emerged from obscurity to find a home with the Giants.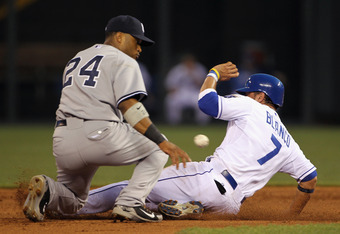 Jamie Squire/Getty Images
Torres made a name for himself before struggling in his second year, but Blanco has the opportunity to rekindle the flame created by Torres.
The situation he's arrived into is similar to Torres, with the opportunity to prove himself against the starting center fielder. 
This time, it's Angel Pagan, not Aaron Rowand. 
Right now, Pagan is hitting .220. Blanco, despite getting 14 AB, has only managed to squeak out two hits. 
Like Torres, he creates excitement at the top of the Giants lineup, but unlike Torres, Blanco hits for average, not power.
He actually has only hit two major league home runs, and there is no prediction of a breakout home run-hitting season like Torres saw in 2010.
Similarly to Torres, Blanco may need to catch a break to see significant playing time. Rowand was drilled in the cheek and went the disabled list. With the opportunity to step up, Torres produced. 
It's unlikely that Blanco would get considerable playing time unless Pagan's average stays at or below .220 or he gets injured.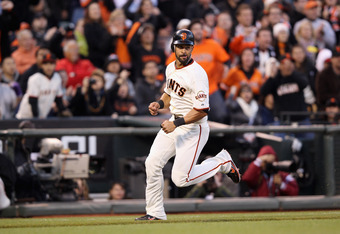 Ezra Shaw/Getty Images
At the beginning of the year, right field looked like a position Blanco could compete for, but with Nate Schierholtz batting .286 with two home runs, his best chance of playing is off the bench or if Pagan needs a day off.
Given their parallel story, Blanco could become the new fan favorite in San Francisco. With his fabulous spring training, Giants fans understand this guy's potential.
It all comes down to execution for Blanco. If he can produce, then he is going to get more opportunities to play, especially if Pagan continues to struggle.
To make the "White Shark" a household name, Blanco will have to get hot with the bat.
Remember in 2010 when the Giants were crushing it in July? Torres was arguably the Giants' best player, batting .317 with seven home runs and 20 RBI.
To help the Giants, Blanco doesn't have to hit like Torres, he just has to get on base, steal some bags and score runs.
Will he be the next Torres? That's up for fans and beat writers to decide, but given his story and ability on the field, there is no reason why he can't find a place in the hearts of Giants fans.