Boston Red Sox: 5 Things We Learned from the Texas Series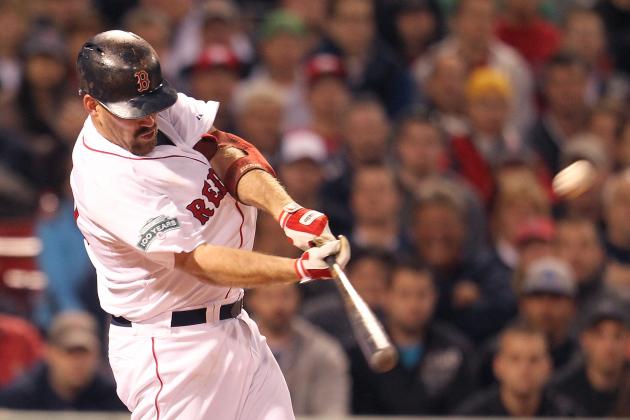 Jim Rogash/Getty Images
Kevin Youkilis connected for his first home run of the season on Wednesday night, one of the few highlights of the series for Boston.
Although it was only a quick two-game prelude to the arrival of the Yankees and the 100th anniversary of Fenway Park celebration, the series against the Texas Rangers was very important for the Red Sox. By many measures, Texas is the best team in the American League; it is the two-time defending AL champions, and its pitching has greatly improved over the last several seasons.
The Sox were riding a mini hot streak of their own. Despite dropping a tough 1-0 decision in the finale of the Tampa Bay series, they were playing their best baseball of the young season. Taking three of four from their division rival was a good start, but the Sox needed to ride that momentum into the Texas series to reverse their recent trend of poor April starts.
Going out and promptly giving up 18 runs and 21 hits in the first game was hardly the result they were looking for.
Manager Bobby Valentine put it best when he told the Boston Globe's Michael Vega that he "can't describe this one." Sox pitchers surrendered an astounding six home runs, including a bomb by Josh Hamilton that traveled an estimated 469 feet and landed in the 22nd row of the Fenway Park bleachers.
Wednesday night's game got off to a good start, as Kevin Youkilis hit his first home run of the season and the Sox jumped out to an early 2-0 lead. Sound familiar? That's because they did the same thing on the strength of Dustin Pedroia's two-run homer on Tuesday.
And, just like Tuesday, the Sox coughed up the lead.
This time, it was the bullpen. After Josh Beckett threw a solid 7.0 innings and yielded just three earned runs to the powerful Texas offense, Franklin Morales came in and gave the Sox just 0.2 innings and allowed three more runs to cross the plate.
While a two-game sweep was not what the Sox had in mind, they nevertheless learned some things about their team. Here are five of them:
Begin Slideshow

»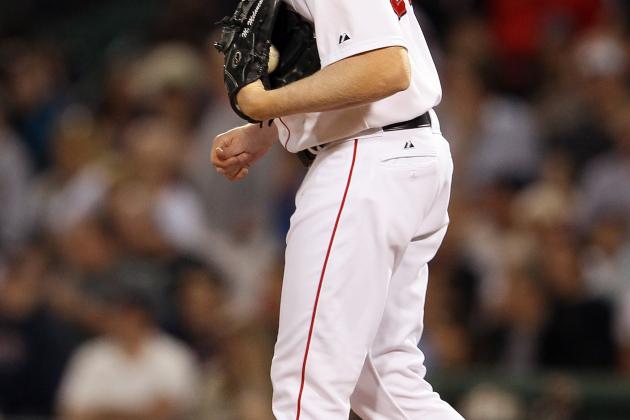 Elsa/Getty Images
Mark Melancon has been brutal this season, and on Wednesday was demoted to Triple-A Pawtucket.
Although prevailing baseball wisdom says that 2.0 innings is not enough of a sample size to tell you much about a pitcher, we can safely say that it was all Sox fans needed to see of Mark Melancon.
The right-hander, acquired in the offseason in exchange for Jed Lowrie, was expected to serve as the primary setup man for new closer Andrew Bailey. When Bailey got hurt, he seemed a logical candidate to earn some of Bailey's saves, having logged 20 last season with the Houston Astros.
Instead, Melancon responded with a performance that can be described simply as an abomination. In 2.0 innings of work in 2012, he earned two losses, surrendered five home runs and allowed a staggering 11 earned runs for an ERA of 49.50.
Sox fans are hoping that his demotion to Triple-A Pawtucket will help him get on track. Otherwise, one of GM Ben Cherington's first moves will already have proven to be a complete disaster.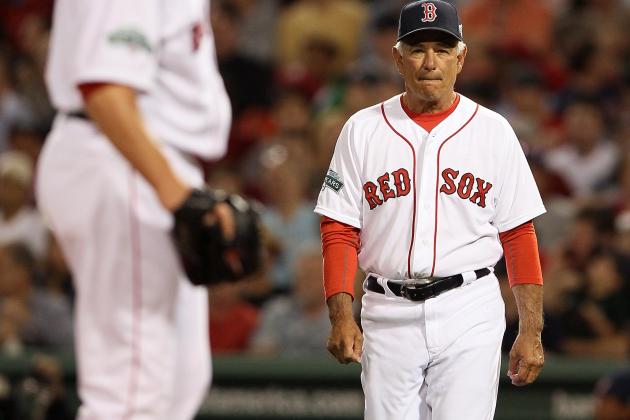 Elsa/Getty Images
Jon Lester struggled on Tuesday night, a bad night all-around for Sox pitchers.
Jon Lester's start on Tuesday night did not quite go how the Sox hoped. Lester did fine through the first 1.1 innings, working around two hits by getting a double play and also recording two strikeouts. With one out in the second inning, though, the wheels came off.
When the Rangers had finished with him and Bobby Valentine mercifully removed Lester from the game, the Sox' left-hander had already surrendered five runs (two more would come in to score off reliever Scott Atchison) on eight hits and four walks.
As Lester himself admitted after that game, he "flat out stunk." It was his worst outing since August of 2010, where he gave up nine runs on eight hits over 2.0 innings to the Toronto Blue Jays.
The Sox will give Lester a pass despite the poor stat line, though; he has been excellent so far this year, and this will likely just be a minor speed bump over the course of an otherwise excellent season.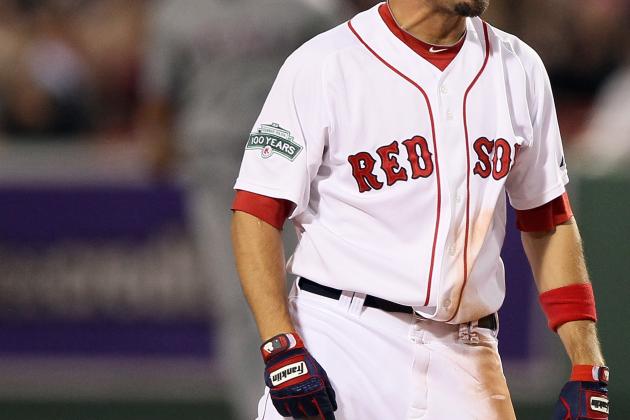 Elsa/Getty Images
Jason Repko has not been the answer in center field for the Sox, who are looking for production to replace the output of injured Jacoby Ellsbury
Though the Jacoby Ellsbury injury is still fresh, the Sox need to start thinking about filling his production. Carl Crawford will be back from the disabled list soo—he took batting practice with the team on Saturday and got four at-bats in an extended spring training game on Tuesday—but he will need time to ease back into the lineup.
Jason Repko is clearly not the answer; he was overmatched by the Rangers pitchers, striking out in three out of his four trips to the plate Tuesday before going 0-for-2 and being lifted for a pinch hitter on Wednesday. For the season, he is 1-for-9, numbers the Sox likely expected out of him when they decided to demote him to Triple-A.
Rumors already abound of potential solutions, with Scott Podsednik and even JD Drew being cited as targets. That these guys are even being mentioned shows the desperation of the situation as it stands now.
If those guys are really the best choices available outside the organization, though, the Sox's best option is to hope that Carl Crawford hits right away, Cody Ross and Ryan Sweeney keep producing like they have been and Ellsbury makes a speedy recovery.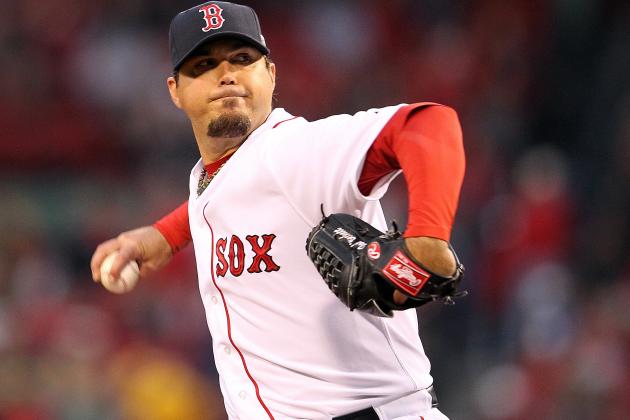 Jim Rogash/Getty Images
Josh Beckett was solid on Wednesday, going 7.0 innings and allowing three earned runs.
One of the stories that was not discussed with the retirement of Jason Varitek was the effect it might have on Josh Beckett. The difference in Beckett's Red Sox numbers with and without Varitek is startling.
With the former Sox captain behind the plate, Beckett logged a 3.68 ERA in 139 starts; without him, Beckett has registered a 5.51 ERA in 34 starts. Harder to quantify but no less important is the way in which Beckett would defer to Varitek. Often criticized for his hard-headedness, Beckett yielded all of the pitch calling to the catcher, and the results spoke for themselves.
Though it's only been two starts, Beckett has shown a similarly strong relationship with Kelly Shoppach. In 17.0 innings, Beckett has allowed just four earned runs for an ERA of 2.40. While Bobby Valentine has in the past said that he does not prefer a "personal catcher" for his pitchers, in this situation, he will likely need to reevaluate his stance.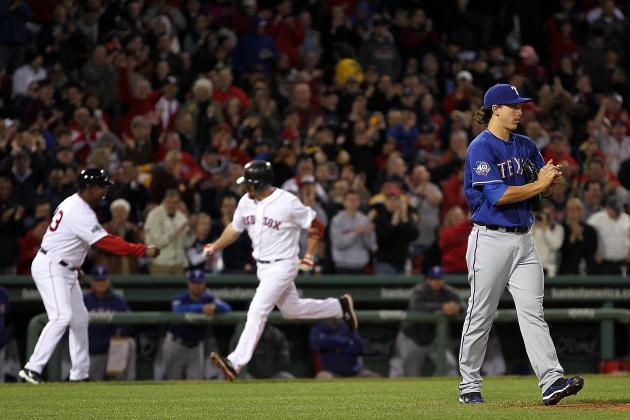 Jim Rogash/Getty Images
Kevin Youkilis hit his first home run of the season on Wednesday, one the few bright spots in the series against Texas.
Valentine made a gutsy decision to shuffle the middle of the Sox lineup in an effort to jumpstart the erratic Sox offense, sliding Kevin Youkilis down to the sixth spot and moving Cody Ross to cleanup. The move initially looked like a masterstroke, as Youkilis crushed his first home run of the season off the light tower in left-center field in the second inning.
The rest of the game was not as fruitful, as without the home run, Youkilis and Ross combined to go 0-for-7 with a walk and a run scored. Though it didn't yield great results, the shuffling of the lineup was performed with the right idea in mind: to get better offensive results.
The Sox have been a tough offensive team to figure out this year; they've scored 12 or more runs in three of their 12 games and three or fewer runs in seven games. Valentine would like to see a bit more consistency out of his hitters, and fans can expect that the Sox skipper will keep tweaking the lineup until he finds a version that works.