Minnesota Vikings Mock Draft: Analyzing DraftTek's Mid-April 7-Round Selections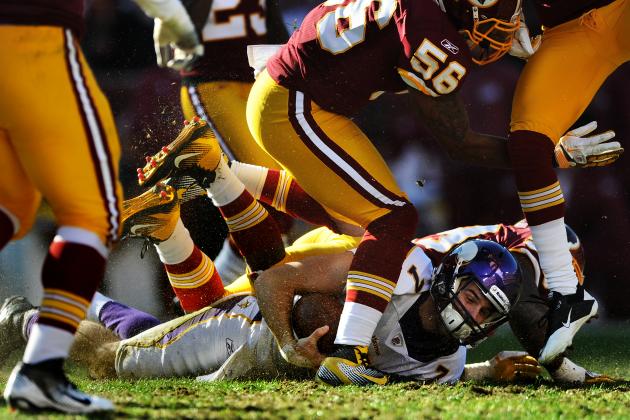 Patrick Smith/Getty Images

Most experts are pretty confident in their predictions that the Minnesota Vikings will select USC LT Matt Kalil if they retain the third overall selection come draft night on April 26th.
The great people over at DraftTek.com have been compiling complete seven-round drafts for quite some time and agree with most that Kalil will be brought in to prevent more plays like the one above from happening.
I will analyze and grade each pick and also project how each player would fit with the Vikings both in 2012 and five years down the road.
Enjoy, and please leave your comments!
Begin Slideshow

»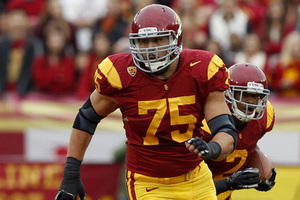 LT Matt Kalil, USC, 6'6", 308 lbs.
If the Vikings stay with the pick, Kalil has to be the selection. Some fans are desperate for the team to reach for a WR like Justin Blackmon, but he is not worthy of a top-five pick in my eyes.
Kalil will be a cornerstone on the Vikings' offensive line and help improve not only Christian Ponder's development, but also Adrian Peterson as he returns from major knee surgery.
Pick Grade: A+
2012 Projection
Kalil would immediately become not only the Vikings' best LT, but likely their best OL. Surefire starter in 2012.
Five-Year Projection
Multiple Pro-Bowls, one of game's best LTs.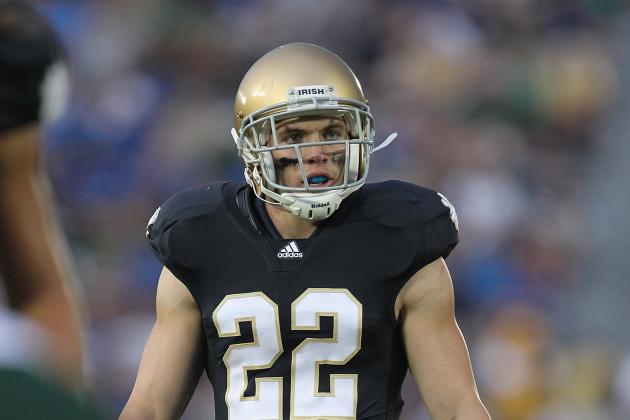 Jonathan Daniel/Getty Images

SS Harrison Smith, Notre Dame, 6'2", 213 lbs.
Harrison Smith is generally viewed as the draft's second best safety prospect. Being a four-year starter for the Irish, Smith brings a lot of talent and leadership.
While he does not excel in any aspect of the game, Smith is a very good football player. He plays well in zone coverage and is a reliable tackler.
I would be OK with this pick but not thrilled. With so many holes to fill, I think the Vikings need to take the best player available with each selection through the first four rounds.
Grade: B+
2012 Projection
Smith would compete with Jamarca Sanford and Mistral Raymond for a starting spot. Regardless of whether he won either battle, Smith would get plenty of playing time on defense as well as special teams.
Five-Year Projection
Smith should be an above-average starter, but I am not sure I see perennial Pro Bowls in his future.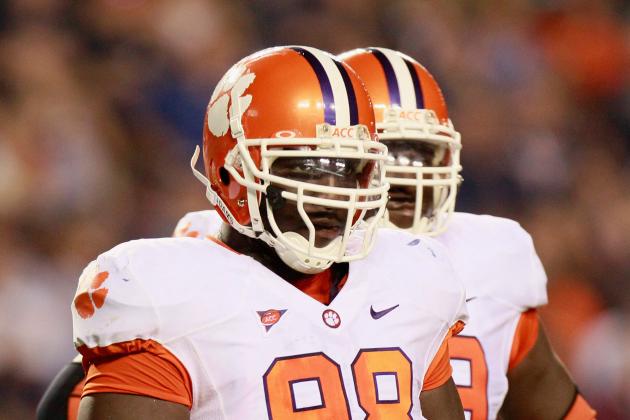 Kevin C. Cox/Getty Images

DT Brandon Thompson, Clemson, 6'2", 314 lbs.
I really like this pick. Even though the Vikings have bigger needs and re-signed Fred Evans and Letroy Guion to aid their interior defensive-line, they lack a true NT who can stop the run.
Thompson is a great fit in the Vikings 4-3 scheme as a one-gap run-stopper. Thompson has the quick, powerful first step that former Vikings' great Pat Williams did.
He is generally viewed as the draft's third best NT behind Michael Brockers and Dontari Poe.
Grade: A-
2012 Projection
I would expect Thompson to start at some point in 2012, if not immediately.
Five-Year Projection
I think Thompson could become one of the game's better 4-3 NTs within five years. He will not fill up the sack column but will be revered for his run-stopping ability.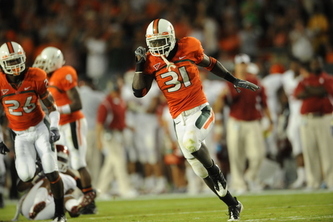 OLB Sean Spence, Miami (FL), 5'11", 231 lbs.
For the second straight selection, DraftTek thinks the Vikings will overlook their biggest needs at WR and CB and pick a player to help the defense's front-seven.
Although the team is set at OLB for 2012 with starters Chad Greenway and Erin Henderson, they have no proven backups. There is also no guarantee the Vikings will be able to bring Henderson back if he continues to improve after signing a one-year deal.
Spence makes up for his small stature (played last season under 220 lbs.) with elite instincts. He plays much quicker than the 4.71-sec. 40 he ran at the combine. If he were two inches taller and weighed 240 lbs., he would carry a fringe first-round grade.
Grade: B+
2012 Projection
There are not any OLBs in this draft that could start for Minnesota in 2012. However, Spence would see plenty of time on special teams and be the first choice were either starter to be injured.
Five-Year Projection
Worst case scenario, Spence is a backup and special teams ace. Best case, he is an above-average starter in the mold of Cincinnati's Thomas Howard.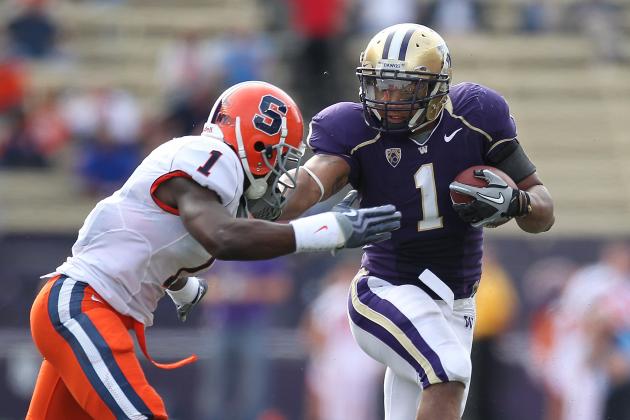 Otto Greule Jr/Getty Images

FS Phillip Thomas, Syracuse, 5'11", 198 lbs.
I am not a fan of this pick after already drafting a safety in the second round. DraftTek even shows that he would be a reach by 10 picks based on their own projections.
Thomas is a bit undersized and oftentimes plays like it. Although he accumulated a lot of tackles for the Orange over the last two years, he lacks the strength and technique to continue this in the NFL.
Thomas is very athletic and should be a solid coverage safety in the Tampa-2 scheme, but does lack straight-line speed.
Grade: C
2012 Projection
Thomas brings the most value as a special teams player during his rookie campaign. He could see the field through injuries.
Five-Year Projection
I do not see him being able to beat out either Harrison Smith or Mistral Raymond for a starting spot.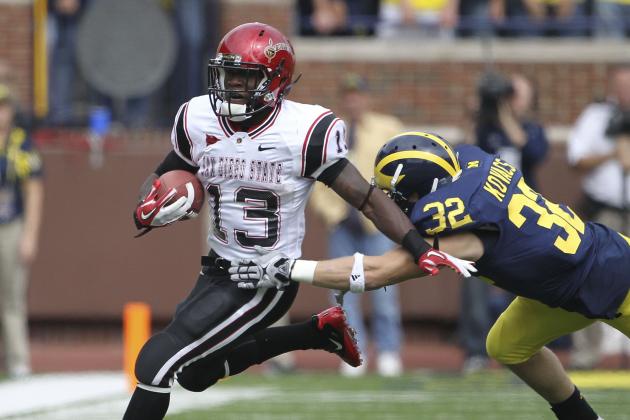 Leon Halip/Getty Images

RB Ronnie Hillman, San Diego St., 5'10", 190 lbs.
Although I love Hillman's potential as a third-down or change-of-pace back, I do not like his fit with the Vikings here.
He has a tendency to bounce everything outside, even when there are holes up the middle. This works well in college, especially against inferior competition, but ask Reggie Bush how well it worked in the NFL.
Every day I seem to be getting more and more confident that Adrian Peterson will return 100 percent in 2012. A backfield consisting of AD and Toby Gerhart is more than enough for me.
Grade: C-
2012 Projection
If Peterson is not healthy, Hillman would see a lot of playing time in third down situations. If Peterson returns to form, it will be hard for Hillman to see the field.
Five-Year Projection
Keeping Toby Gerhart when his contract is up will be a difficult task for the Vikings to accomplish. I envision Hillman as Adrian's backup but getting plenty of snaps.
WR Tommy Streeter, Miami (FL), 6'5", 212 lbs.
Streeter is the second player from "The U" that DraftTek projects the Vikings to select, joining OLB Sean Spence. He is the proto-typical high-risk, high-reward prospect.
Many fans have been clamoring for the Vikings to pick Streeter in the third round, so getting him here would make them very happy. The 6'5" prospect ran a 4.40-sec 40 at the combine, and his speed is apparent on film.
If he can adjust to the NFL quickly, Streeter would be a perfect compliment to slot receiver Percy Harvin and possession receiver Michael Jenkins. This is the type of pick that can make a GM look like a genius.
Grade: A+
2012 Projection
I would not expect much from him in his rookie season. Prior to 2011, he had just six catches for 156 yards. He will need time to develop as a pass-catcher in the NFL.
Five-Year Projection
Within this time frame, we will find out if he was able to match his potential. With the Vikings picking him, I like to think he will. I would not be surprised if he becomes a 1,000 yard receiver by 2017.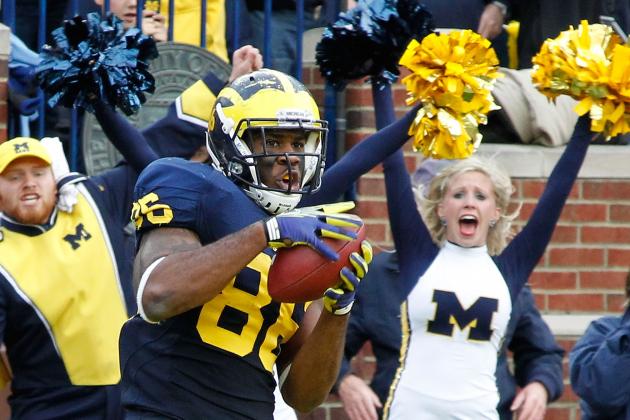 Gregory Shamus/Getty Images

TE Kevin Koger, Michigan, 6'4", 256 lbs.
There is not much to say about this pick, besides pointing out the Vikings currently only have two legitimate TEs on their roster and Koger would make it three.
Koger did seem to take much better to Brady Hoke's pro-style scheme than the spread run by Rich Rodriguez, so he does have a bit of the sleeper element.
Grade: C+
2012 Projection
The Vikings are set at TE with Kyle Rudolph and John Carlson but have nothing behind them. Koger would provide them a solid backup but is not known for his blocking.
Five-Year Projection
I expect both Carlson and Rudolph to be Vikings in five years, which limits the impact Koger would have with the team over that time period to very little.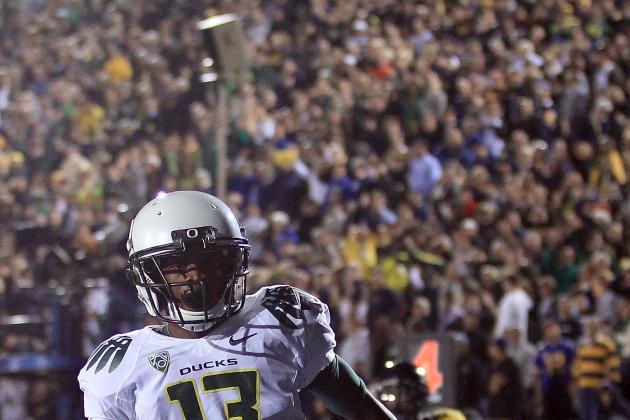 Ezra Shaw/Getty Images

CB Cliff Harris, Oregon, 5'11", 175 lbs.
If Harris did not have problems off the field, we are probably talking about a Day 2 selection. Because of his problems, he will be lucky to be drafted any higher than this.
Harris brings value to the Vikings both as a zone corner and a punt returner. He would essentially replace Marcus Sherels on the 53-man roster.
I like this selection for the Vikings because they lose very little if Harris is unable to put his problems behind him, and they could gain a solid starting CB if he can.
Grade: A-
2012 Projection
Limited time at CB, starting punt-returner.
Five-Year Projection
If he can stay out of trouble, I can envision Harris as the Vikings' nickel corner.
DE Jamie Blatnick, Oklahoma St., 6'3", 263 lbs.
Blatnick is probably most famous for making this great play against Stanford in the 2012 Fiesta Bowl. He is a prototypical left-defensive end: strong and able to stop the run but not a great pass-rusher.
A team can seemingly never have enough DEs on their roster, and Blatnick would provide depth behind incumbent starter Brian Robison. His combine numbers will not wow you, but he keeps coming at offensive lineman with his non-stop motor.
Grade: B
2012 Projection
Blatnick will not unseat either Jared Allen or Robison but could see playing time on special teams.
Five-Year Projection
If Robison leaves when his contract runs out after the 2013 season, Blatnick could be an option. However, I see him making a career as a role player.