Indiana Pacers: Should George Hill Remain the Starter over Darren Collison?
April 19, 2012

The Indiana Pacers have gone 6-0 since Darren Collison first sat out with his injured groin, and George Hill has been a big reason why.
Hill's 35.4 minutes per game during the five games that Collison missed (he played 19 minutes on April 16 in a win against the Minnesota Timberwolves) represents a more than 10-minute increase over his season average, and Hill has responded: 15.0 ppg, 3.8 rebounds, 5.2 assists, with only 0.8 turnovers per game.
As the starting point guard, Hill has nearly doubled his assists while lowering his turnovers slightly.
"I'm very comfortable out there," Hill said. "I'm just trying to go out there and run the team, get everybody some touches and try to attack myself."
The Pacers have benefited, raising their scoring output by nearly six points per game from 97.3 (15th in the NBA) to just over 103 points per game.
That offensive output would rank second overall behind only the Denver Nuggets.
So the question is: Are the Pacers a better team with George Hill running the show?
At this point in the season, I would contend that this question - as intriguing as it might be - is irrelevant.
There is an old saying that goes something like this: If it ain't broke, don't fix it.
While 6-0 is perfect, let's not forget that the Pacers were winning before this streak, posting a 7-3 record in the previous 10 games.
During that stretch, the Pacers defeated the Miami Heat and the Oklahoma City Thunder, two of the best teams in the NBA.
In contrast, the current six game winning streak has featured only one playoff team in the eighth-seeded Philadelphia 76ers.
And while Hill's numbers represent an improvement over Collison's season numbers, which are quite average, neither Collison nor Hill need to carry the team.  Granger is their star, and I believe that, of all of Granger's teammates, Roy Hibbert is the person who needs to step his game up to take the Pacers to the next level.
Everybody on the team has bought into Frank Vogel's system, and as long as they perform their roles well the Pacers will win more often than they lose.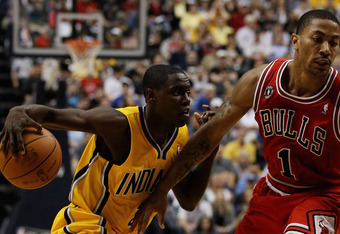 Jonathan Daniel/Getty Images
Speaking of roles, Collison's has been the starting point guard, and Hill's has been to back him up.
When Collison returns, he deserves to return to his duties as the starting five's distributor, and he deserves to do it without controversy.  (Luckily for Collison, he plays in Indiana, as opposed to playing in New York.)
He helped get them this far, so he should be allowed to finish what he started.
But as the Pacers prepare themselves for what they hope will be a long playoff run, Vogel, the front office, and Pacers fans should pay close attention to how the team performs with each of the two guards running the offense.
This year is Collison's time to run the team.
Next year, however, is when that point guard question becomes relevant.