NBA Rumors: Nate McMillan Must Replace Stan Van Gundy in Orlando
April 19, 2012

Christian Petersen/Getty Images
If you believed the Orlando Magic drama was beginning to fade after Dwight Howard decided to "opt-in" through the 2012-13 season, then you are sorely mistaken. 
This time, however, the rumors regard Orlando Magic head coach Stan Van Gundy. According to David Pingalore of Clickorlando.com, franchise cornerstone Dwight Howard is calling for the veteran coach to be dismissed from his current position. While Howard denies the claim and no apparent coaching change is imminent, it seems as if Van Gundy's time in Orlando may be dwindling.
Just a week ago, Magic vice president Pat Williams openly blamed Van Gundy for the behind-the-scenes drama that has rocked the organization to its core since this awkward interview. When management doesn't fully have a coach's back, you know his seat is quite warm.
In addition, a new poll was released by Sports Illustrated ranking the coaches that players would least like to play for. Out of all active coaches in the NBA, Stan Van Gundy racked up a dismal 22 percent of the total player votes. Whether it is his decision never to play young prospects, his abrasive coaching style or how he handled the entire Dwight Howard fiasco, there is obviously something about Van Gundy that players league-wide find unappealing. 
This survey may actually help identify the answer to a bewildering question: Why is Orlando not an attractive free-agent destination?
After all, the city of O-Town offers no state taxes, a loyal fanbase, a perennial playoff squad, a new arena and fairly nice weather. Could it be that Van Gundy is driving all of the free agents away?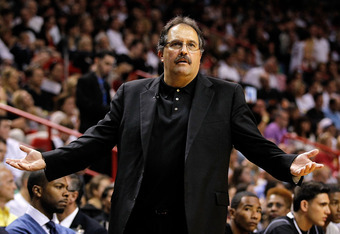 Mike Ehrmann/Getty Images
In the last few years, the Magic have acquired a grand total of two notable players through free agency. These players are, of course, current Wizards forward Rashard Lewis and Glen "Big Baby" Davis. Both players Orlando had to overpay tremendously to convince them to sign with the organization. In fact, Lewis is the owner of the most cumbersome, outrageous contract in the entire league.
Nonetheless, if Van Gundy is fired, which is quite likely, there are numerous enticing coaches on the market. However, none more appealing than former Portland Trail Blazers coach Nate McMillan.
ESPN's Marc Stein has received information that this is more than just a plausible pairing.
The fates of Magic coach Stan Van Gundy and general manager Otis Smith won't be clarified until after Orlando does what it does in the playoffs. 

The whispers, though, have already begun to spread on the coaching grapevine that Nate McMillan will emerge as a prime candidate to replace Van Gundy if this is it for SVG in Central Florida.
McMillan, who was just released in February, started his coaching tenure with the Blazers in 2006. Even though there was a tremendous amount of talent on the squad, the Trail Blazers during his time as coach were never fully considered a championship-caliber team due to injuries. From Brandon Roy to Greg Oden, McMillan had to cope with physical ailments on a regular basis.
Despite these challenges, the player-friendly McMillan always kept his team in fantastic position in individual games and in the annual playoff races. Additionally, McMillan is a young, bright coach who excels in communicating strategies to his roster.
In the end, however, one must consider the fact that the Orlando Magic are known contrarians and may decide to stick with the current situation. But, if Van Gundy, the coach who led the Magic to a NBA Finals berth and consecutive playoff appearances, is fired, McMillan should be the leading candidate for the job.
His coaching style and ability has the potential to dramatically improve the likelihood of Orlando's championship aspirations.