Ranking the 10 Best Central Midfielders in the Premier League This Season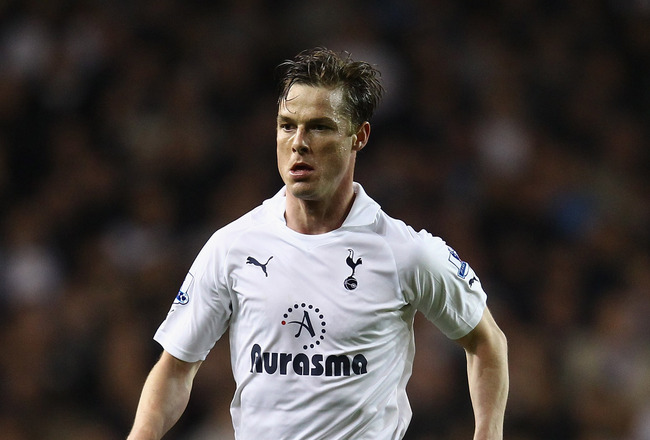 Julian Finney/Getty Images
As the Premier League season winds down, it is time for end-of-season awards to be given out.
With the PFA Player of the Year shortlist just released this week and more awards to be given out in the next few weeks, it is time for the EPL awards here at Bleacher Report to begin as well.
This slideshow highlights the top-10 central midfielders that have stepped on the pitch in the Premier League this season.
From young to old, English to foreign, here are the 10 best central midfielders in England.
10. Cheik Tiote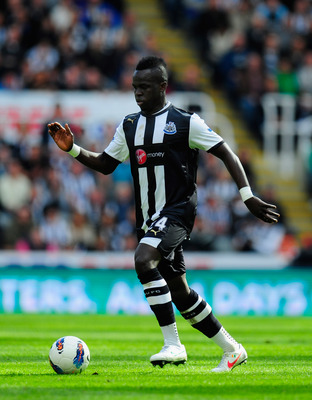 Stu Forster/Getty Images
Cheik Tiote has been part of the new era at Newcastle that has seen little-known players become Premier League stars.
Tiote has been a defensive enforcer in midfield for the Magpies since their return to the Premier League last season.
The Ivorian has been the man in front of the back four this season in a team that possesses one of the best defensive records in the league.
9. Mohamed Diame
Clive Brunskill/Getty Images
Time to show a little love to the clubs at the bottom of the table with Wigan's Mohamed Diame.
In his third season with the Latics, Diame has been a force in the midfield and has even scored three goals.
The Senegalese international is just one of a few players from his home country making an impact in the Premier League, with Newcastle's strike combination of Demba Ba and Papiss Demba Cisse also making an impact in England.
8. Youssuf Mulumbu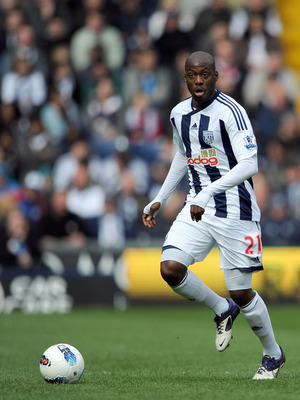 Clint Hughes/Getty Images
Another player who is quietly having a strong season at a smaller club is West Brom's Youssuf Mulumbu.
Now in his third season at the club, Mulumbu is providing quality play in midfield yet again and has played in 31 of his club's 34 Premier League games this term.
Unfortunately for football fans, you will not be able to see the 25-year-old on the international scene, as he has already retired from DR Congo national team due to personal reasons.
7. Paul Scholes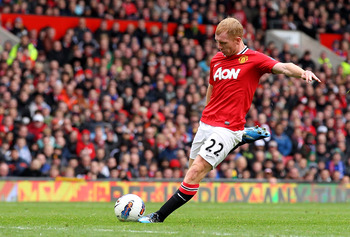 Alex Livesey/Getty Images
Who would have thought that Paul Scholes would make a comeback after retiring in May and not only play well, but have a huge impact on Manchester United?
Since Scholes returned from retirement on January 8th in the FA Cup third round Manchester derby, United have taken their form to another level, and currently sit atop the Premier League.
Not only has Scholes provided cover for all the injuries in the Red Devils' midfield, but he has also played very well and there has even been whispers that the midfielder may join England at Euro 2012, although it is a long shot.
6. Luka Modric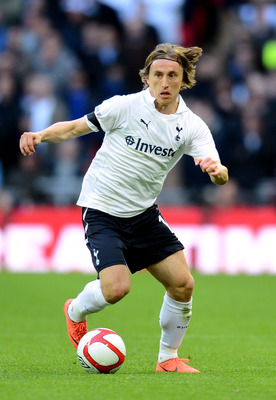 Mike Hewitt/Getty Images
While Luka Modric's days at Tottenham may be dwindling, he is still having a good season for the North London club.
Modric has been the spotlight of transfer rumors since the season began and with Spurs struggling to hold on to a Champions League position, the Croatian may leave White Hart Lane.
While most of the attention given to Modric this season has been where he will play football next year, he is still playing strong in midfield for his current club.
5. Frank Lampard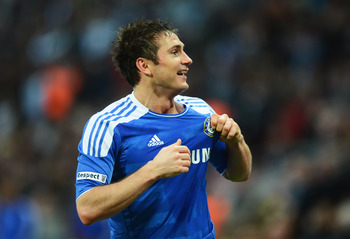 Mike Hewitt/Getty Images
Frank Lampard is enjoying another successful year at Chelsea, and he is on the road to make 50 total appearances in a season yet again for the club.
So far in the 2011-12 campaign, the England international has played in 44 total matches and scored 16 goals.
Lampard has not had to be a goal-scoring threat as much as he used to be, as playmakers like Juan Mata have joined the club this season.
4. Ramires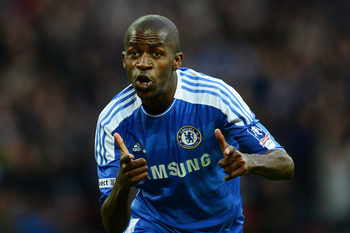 Mike Hewitt/Getty Images
Ramires has benefited a ton from the managerial change at Chelsea as he is thriving, just like the rest of his club, under Roberto di Matteo.
The 25-year-old Brazilian has seen more success under di Matteo than he ever did under Andre Villas-Boas since his return from injury, and has been a stalwart in the middle of midfield and he has even contributed with a few goals as well.
His latest goal came in the FA Cup semifinal on Saturday against Tottenham, and his efforts have been rewarded with a contract extension signed through 2017.
3. Yaya Toure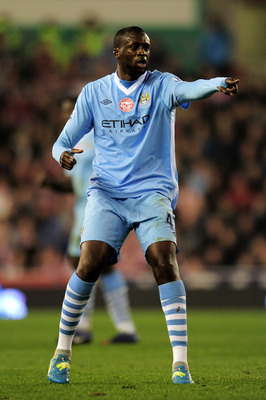 Shaun Botterill/Getty Images
Yaya Toure has been a main cog in the Manchester City machine ever since he arrived, and this season has been no different.
Although his form has dropped a bit after coming back from playing with the Ivory Coast in the African Cup of Nations, Toure's form has gone the way of his club's form.
After a strong first half, Toure and City were at the top of the table, but now they are fighting to stay in the title race ahead of the Manchester derby on April 30th.
2. Mikel Arteta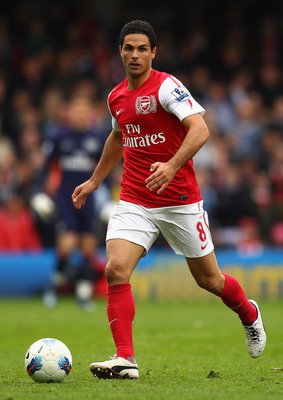 Richard Heathcote/Getty Images
Mikel Arteta has arguably been Arsenal's best signing of the season, as the Spaniard has impressed at the Emirates Stadium since his move in August from Everton.
Arteta has been a force in midfield, and has scored some crucial goals for the Gunners including his game winner over Manchester City on April 8th.
However, Arsenal will not be able to use Arteta anymore this season as he suffered an ankle injury in Monday's loss at home to Wigan.
1. Scott Parker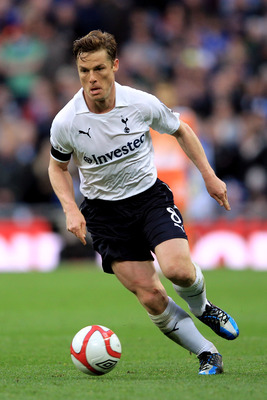 Michael Steele/Getty Images
Scott Parker has been one of the most consistent midfielders in the world over the past few years and he has continued that form even though his club, Tottenham, have struggled in the past two months.
This scenario is nothing new for Parker, as he was the best player on a relegated West Ham club last season.
Parker has also shined for England in the past year leading up to Euro 2012, and took control of the captain's armband in February against Holland.
Keep Reading