Mel Kiper, Jr. NFL Mock Draft: Breaking Down Hits and Misses from Latest Mock
April 19, 2012

Ronald Martinez/Getty Images
We are a week away from the NFL draft, which is a perfect time to break down the latest mock from Mel Kiper, Jr. and find the hits and misses. 
Let's begin by stating that Kiper's latest is a couple weeks old, dated back on April 4. However, this is a perfect moment to see what has changed in those weeks and what has stayed the course heading into the last week before the draft. 
The best part of a mock draft is the discussion that it starts, and Kiper is one of the best at getting the debate off and running. 
Here is my thoughts on the draft, and I encourage you to leave yours in the comments section. 
1. Pick 4: Trent Richardson to the Cleveland Browns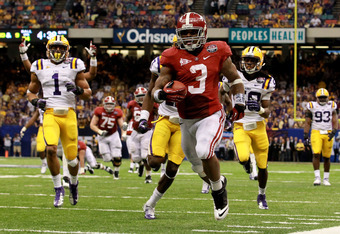 Ronald Martinez/Getty Images
Hit: The top-3 picks are fairly certain, but some have flip-flopped on Richardson to the Browns, but it remains the pick for me just days before the big day. 
The Browns would be foolish to reach for a quarterback at this point, and Richardson has star written all over him. He showed the strength and power you want at his pro day. 
2. Pick 8: Ryan Tannehill to the Miami Dolphins
Hit/Miss: I have to peg this as a hit and a miss depending on how you see mock drafts. I absolutely loath this pick and think Tannehill is a huge reach here. 
However, I am confident the Dolphins are sold on this selection, and that makes it solid from a prediction point of view. 
3. Pick 9: Dontari Poe to the Carolina Panthers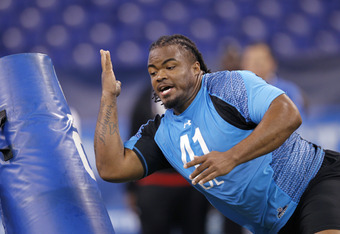 Joe Robbins/Getty Images
Miss: Poe is an intriguing prospect for the very fact that he rocketed up draft boards after his combine performance, but is waning at the moment. 
His tape from last season has many thinking twice about Poe as a top-10 pick, but I could still see him go to a team like the Seahawks at No. 12. 
4. Pick 24: Dont'a Hightower to the Pittsburgh Steelers
Hit: I continue to love this pick, even a couple weeks out. 
This doesn't fill an obvious need, but Hightower is a perfect fit to mature gradually on a team that will need him in time. 
In a couple seasons, we will see polish on his game and just how great this selection really was. 
5. Pick 31: Derek Wolfe to the New England Patriots
Miss: I don't have Wolfe pegged as a first-round pick, lacking the power and explosion I need for a player that will come with high expectations. 
I would much rather have a player like Jerel Worthy here. I have no doubts on his motor, but he is much more valuable in the later rounds.