2012 NFL Draft: Dontari Poe and Defensive Stars Ready to Dominate
April 19, 2012

Joe Robbins/Getty Images
We are a week away from a heavy infusion of talent that will change the landscape of the NFL, and here are some of the best defensive players to note. 
I can see what's going on. Thousands of nerdy little football fans are pouring over the minutiae of the NFL draft and the possibilities that lay ahead. 
I count myself among you, and I can't help but think a class weighed favorably by offensive stars will have just as many defensive juggernauts. 
Here are the defensive players that I am confident will make a long and lasting impression once the 2012 season starts. The future is now, or a week from now, depending on how you look at it. 
Here are players, not named Morris Claiborne, ready to dominate immediately.  
1. Dontari Poe, DT, Memphis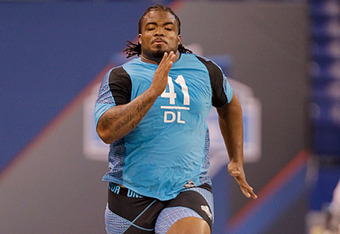 We start with the curious case of Dontari Poe, a mountain that moves with far more finesse and agility than I could ever dream of doing. 
His stock is taking a hit because many don't want to believe the combine brilliance was the real Poe. Instead, they would rather take the advice of the tape, which shows a far less dominant player. 
I am willing to believe what my eyes tell me, and a player that runs a sub 5.00 40-yard dash and bench presses 225 pounds over 40 times is a must-have player in the first round.
2. Quinton Coples, DE, North Carolina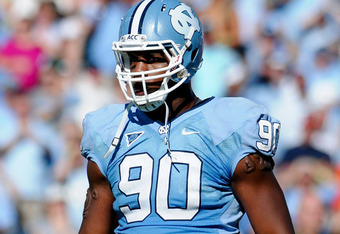 He is an inconsistent player with a tenuous motor. At least, that's what his detractors will claim.
We know better. 
I say he brings a great many things to his next team. Most important is his ability to get to the quarterback, and shortly behind that is his ability to hone in and plug up run plays. 
He has dominated the draft process from day one, and I say he is a motivated athlete that will prove as much next season.
3. Harrison Smith, S, Notre Dame
This isn't just about the marquee names, but the athletes that come in with a bit of uncertainty. Smith doesn't come with the motor questions that surround Poe and Coples, though. 
Mark Barron will get all the hype, and will no doubt get drafted early. However, Smith showed a great deal of versatility and athleticism at the combine. 
He has the size and frame. Best of all, he also has the instincts to be of tremendous value.