Cleveland Browns Mock Draft: 2 Potential Scenarios Per Pick
April 20, 2012

Scott Cunningham/Getty Images
It is that time again—time to get excited for the NFL draft. This year the Browns have 13 picks (4th, 22nd, 37, 67, 100, 118, 139, 160, 205, 206, 211, 245 and 247 overall). 
Last year I made a mock draft that included two players the Browns would end up drafting: tight end Jordan Cameron and safety Eric Hagg. The team also went defensive line with their first two picks, which is also something I predicted as a good possibility.
This year I am going to go with the same rules I had last year. I will give two scenarios for every pick and explain why the player would fit with the Browns. This is not two separate mocks, as scenario A and scenario B for each pick can be mixed and matched.
Of course, some possibilities will be ruled out by earlier picks. For example, if there is a quarterback in both the first and second rounds, it should be read as "IF the QB in the last round is not the pick, this pick is a possibility."
With that, here is my 2012 mock draft for the Cleveland Browns, with two possibilities for each pick.
Round 1, Pick 4
Trent Richardson, RB
As we have neared closer and closer to the NFL draft, many have suggested the Browns' No. 4 pick will be key to how the rest of the draft plays out. While early mocks had Robert Griffin III, Justin Blackmon and Ryan Tannehill as the popular choices here, Richardson has received more and more attention, becoming the favorite of many Browns fans.
With the offense struggling in 2011 due in part to an inability to run the football effectively, and the departure of Peyton Hillis in free agency, the Browns are in desperate need of a running back. Richardson has been hailed as the best prospect at the position since Adrian Peterson, and when you watch him play, you can see him run with a rare combination of power and explosiveness.
Also a capable receiver out of the backfield, Richardson is the most complete back in this draft. He is almost certain to be available here.
Morris Claiborne, CB
Many skeptics will point to the 2010 draft, when the Browns selected Joe Haden No. 7 overall, and cry that the team is putting too much money in one position, and that they have bigger needs to fill.
However, one glance at NFL statistics over the past decade will make it clear: The NFL is more of a passing league than it ever has been. With passing records seemingly broken on a regular basis, a team that boasts a great pass defense is at a distinct advantage.
With Claiborne, the Browns would be adding a player who rarely gives up the deep ball and is willing to tackle, something many cornerbacks do not do. It might be a cliche by now, but Claiborne and Haden would give the Browns their best cornerback duo since Frank Minnifield and Hanford Dixon.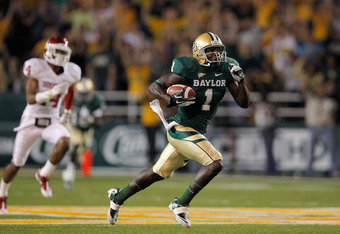 Sarah Glenn/Getty Images
Round 1, Pick 22
Kendall Wright, WR
Any NFL expert—and any Browns fan, for that matter—will tell you that wide receiver is one of the Browns' biggest needs.
While they added Greg Little out of North Carolina in the second round in 2011, they have very little else in terms of talent at the position. Former second-round pick Brian Robiskie was released during the course of the season, and after underwhelming play his entire career, fellow second-rounder Mohammed Massaquoi may soon be gone as well.
While Wright may lack the size to win many jump balls, he has the ability to make defenders miss in the open field and get those yards after the catch that are so important in the West Coast offense. With that ability paired with Little's ability to break tackles, the Browns would have one of the most elusive receiving corps in the league.
Ryan Tannehill, QB
First, let me start off by saying it is probably not realistic for Tannehill to fall this far. However, if he falls past the Dolphins, there is a good chance that the Browns find a way to turn this pick into their next potential franchise QB.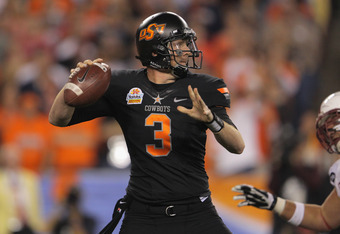 Doug Pensinger/Getty Images
While I won't predict the actual trade (as I said in the beginning, it is too difficult to do), I do see one being likely in this scenario. In recent drafts, the Browns have proven to like players who are inexperienced at their positions but show potential, such as Joe Haden and Jordan Cameron. After being converted to receiver early in his career at Texas A&M, Tannehill ended up playing roughly a year and a half as the team's starting quarterback.
With all the physical tools, and the potential to be coached up, Tannehill has the feel of the type of guy the Browns front office likes.
Round 2, Pick 37
Lamar Miller, RB
If the Browns choose to pass on Richardson, they will certainly be looking for another back with speed and size in the early rounds of this draft. When you watch Miller run, you can see he runs hard.
While he doesn't have all of the talent that a guy like Richardson does, if the Browns are counting on Montario Hardesty to play a big role in the offense this season, adding a guy like Miller and going to the increasingly popular splitting-carries-style running game may be an option.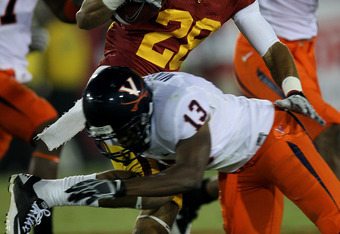 Stephen Dunn/Getty Images
Brandon Weeden, QB
While still far from a personal favorite, Brandon Weeden has grown on me as I have watched more of him. The talk of the Browns considering him has also ramped up, with some suggesting they may take him as high as the 22nd pick.
Weeden is regarded as a strong-armed quarterback who can make all the throws and is also accurate. The biggest knock on him is his age, as he will be turning 29 years old during his rookie season.
While there are also concerns about his ability under pressure, the Browns have made it clear they want to bring in someone to at the very least compete with Colt McCoy, and possibly supplant him as the starter. Weeden is probably the most likely possibility for that role.
Round 3, Pick 67
Chase Minnfield, CB
If the Browns elect not to take Morris Claiborne with the No. 4 pick, they will likely be looking for a corner later on. With Sheldon Brown nearing the end of his career, Minnifield is an intriguing replacement. As the son of Browns legend Frank Minnifield, Chase would be an instant favorite for fans who have watched the team pass on players such as Clay Matthews III and Casey Matthews.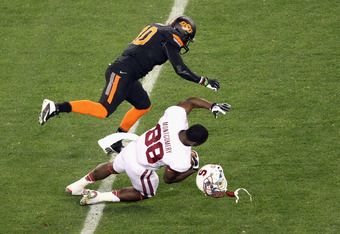 Christian Petersen/Getty Images
With Minnifield, the Browns would be getting a cornerback who, like Claiborne, is a willing tackler and ability to create turnovers. While Minnifield would make the best story, even if he is not the pick, look for a cornerback to be taken somewhere in the middle rounds as this draft is deep at the position.
Keenan Robinson, LB
With Scott Fujita's age showing in his play, and in the Browns' far inferior run defense, a linebacker needs to be found to replace him at some point in the near future.
While Robinson may not be the fastest or the most talented, he is known for his motor and his willingness to stick with a play. Stat lines like his 2010 game against Oklahoma (19 tackles, 2 for a loss) exemplify why he should be able to come in and contribute immediately.
Round 4, Pick 100
Brandon Mosely, OT
If the Browns have not yet addressed their right tackle spot, they will do it here. After years of pressure coming from the right side of the line, Mosely should be better than former starters Tony Pashos or John St. Clair in pass protection. Another player that is relatively new to his position, Mosely started his career as a tight end.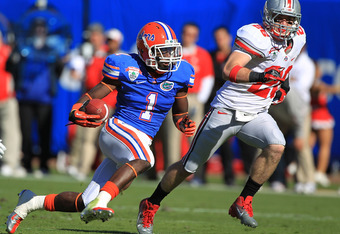 Scott Halleran/Getty Images
Markelle Martin, FS
Seeing Usama Young more as a stop-gap player than a piece of the future, the Browns will be looking for a free safety to pair up with TJ Ward. Martin is another hard-hitting safety who will have receivers thinking twice about going over the middle. The downside to Martin is that he may be too similar to Ward in coverage, leaving the backfield vulnerable to giving up deep passes.
Round 4, Pick 118
Chris Rainey, RB/WR
The Browns have recently had one of the slowest offenses in the league, with no real big-play threat that defenses fear. Josh Cribbs has had his moments out of the Wildcat and as a receiver, but he is still primarily a kick returner.
Adding a versatile player with track speed in Rainey will give the team both a change-of-pace back and a receiver capable of turning a little bit of space into a big play.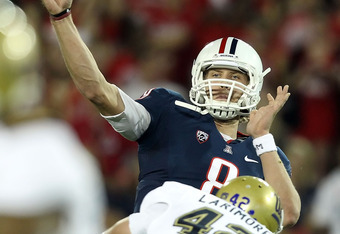 Christian Petersen/Getty Images
Ty Hilton, WR
He's another option to add speed to the team and a receiver with the ability to pile up yards after the catch. After breaking Florida International and Sun Belt conference records in both receiving and kick returns, Hilton is also an option if the Browns want to have Josh Cribbs focus his energy primarily as a receiver.
Round 5, Pick 139
Hebron Fangupo, DT
At 6'1", 323 pounds, Fangupo fits the mold for what the Browns look for in a defensive tackle. A big, strong lineman who should excel in stopping the run at the NFL level, he would add depth to the defensive line and at times spell Ahtyba Rubin on rushing downs.
Jake Bequette, DE
With the addition of defensive ends Frostee Rucker and Jaqua Parker in free agency, the Browns are not likely to spend a high pick on the position. However, neither of them are long-term answers. Look for the Browns to try to find a player to develop in the later rounds.
One option is Bequette, another hustle player who works to get the job done. With a productive career both rushing the passer (23.5 sacks) and run defense (31.5 tackles for a loss) at Arkansas, he has the potential to be groomed into a decent starter in the future.
Round 5, Pick 160
Nick Foles, QB
Before I go into any type of evaluation on Foles, I will admit that he has become a personal favorite of mine as far as developmental quarterbacks go.
The most impressive thing about him is his ability to stay calm under pressure and deliver an accurate pass, even knowing he is about to take a hit. His ball placement is decent enough to allow receiver to gain yards after the catch, and he has a strong enough arm to make all the throws.
The biggest concern on Foles is his decision making, which is something that will or won't improve with time (think Brett Favre vs. Derek Anderson). With so many late picks this year, Foles is a risk worth taking here.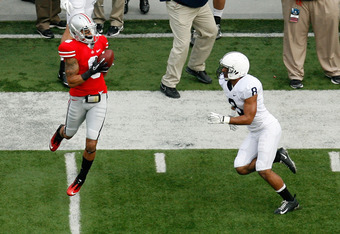 Kirk Irwin/Getty Images
Kellen Moore, QB
The Browns are almost certain to use one of their 13 picks on a quarterback, and it is possible they even take two. Over his career at Boise State, Moore surpassed current Browns quarterback Colt McCoy as the all-time winningest QB in NCAA history, methodically moving his team down the field.
Another QB with accuracy and ball placement, Moore makes a perfect backup for a team running the West Coast offense. Given Mike Holmgren's love of quarterbacks, especially proven winners, Moore could very well be in play in the later stages of the draft.
Round 6, Pick 204
Quinton Saulsberry, C
The Browns have a total of four compensatory picks in the final two rounds, and these can not be traded. That means they will likely be looking to add depth here, and the offensive line is where it is needed most.
Saulsberry is known as a competitor who has experience at nearly every position on the offensive line. Scouts see him as primarily a center in the NFL, but he can play other positions in a pinch.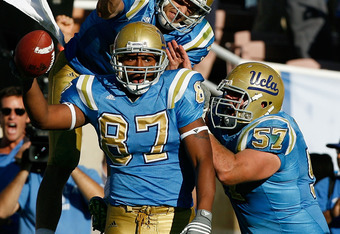 Harry How/Getty Images
Andrew Datko, OT
He is expected to fall this far in the draft due to injuries rather than play. Taking a chance on a player like Datko is also a possibility in these later rounds. Even if he can not stay healthy for a full season, he would make an excellent insurance policy for Joe Thomas, who has been extremely durable thus far in his career.
Round 6, Pick 205
Brandon Lindsey, OLB
Picking one right after the other near the end of the sixth round, the Browns should have their homework done when it comes to the later rounds. While Tom Heckert may be on record saying he is not a big fan of the linebackers at the top of this draft, they will likely be looking for 1 or 2 later on, since they didn't address the position at all last offseason.
Lindsey is similar in size to Scott Fujita as an option to address depth at the position.
DeVier Posey, WR
It is very possible that Posey gets taken well before this point, but the popular opinion currently has Posey projected to go in the sixth round. He probably has a higher ceiling than many sixth-rounders, but after only playing three games in 2011, his stock has dropped greatly.
Posey is similar in size and speed to current receiver Carlton Mitchell (6'2" with 4.4/4.5 40 speed to 6'4" and 4.4/4.5 40 speed). Look for Posey or someone similar to compete with Mitchell for a spot on the roster.
Round 7, Pick 211
Most likely this pick ends up being a throw-in in some type of draft day trade. However, I will still predict two players, just in case.
Cory Harkey, TE
While the Browns are unlikely to carry four tight ends, Benjamin Watson is near the end of his career and Evan Moore is not much of a blocker. Harkey would add a blocker at the position and is a player who may be safely stashed away on the practice squad for a year or two.
Akiem Hicks, DT
Another depth pick, Hicks is a player from a small school who may have the potential to be coached up at the NFL level.
Round 7, Pick 245
Josh Harris, LS
Long snappers are rarely drafted in the NFL. However, the Browns released former fourth-round long snapper Ryan Pontbriand during the 2011 season. An untradable seventh-round compensatory selection may not be a bad time to bring in someone to compete for the position.
Gino Gradkowski, OG
Another pick to add depth to the inside of the line, Gradkowski has experience at all three interior positions. Known as a hard worker, he is the younger brother of quarterback Bruce Gradkowski, who started one game for the Browns in 2008.
Round 7, Pick 247
Brian Stahovitch, P
He is one of the Browns only late-round invites to Berea. The team may not be comfortable with Reggie Hodges' recovery from an Achilles injury that cost him the entire 2012 season.
Carson Wiggs, K
With Phil Dawson's career in its final phase, the Browns will be looking for someone they can groom to replace him. Wiggs has an intriguing combination of power and accuracy and may be able to be stashed on the practice squad for a year while Dawson's career in Cleveland comes to a close.
Thanks for reading. I appreciate any feedback, positive or negative.
You can follow me on Twitter @deg4