2012 NBA Playoffs: Don't Discount the Los Angeles Clippers
April 18, 2012

Stephen Dunn/Getty Images
Among all the articles about the playoffs, there are very few about the Los Angeles Clippers.
Let me rephrase that: there are very few positive articles about the Clippers.
Why the lack of good hype, when there is plenty of fuel for it? This is a team that has bested the Oklahoma City Thunder—arguably the best team in the Western Conference—in three out of four matchups, including a solid trouncing on Monday night.
They have won 12 games out of their last 14, and their record for the last 10 games is 8-2—a figure only matched in the Western Conference by the team currently ranked No. 1: the San Antonio Spurs.
They have clinched their first playoff berth in six years, and that berth is not No. 8.
These stats only scratch the surface of why this team has an excellent chance of getting all the way to the Finals, yet most writers are focusing on the negatives.
It is understandable to bring up Blake Griffin, who is still very young and known more for his dunks than for his other skills. However, he averages 20.9 points per game, and only a few of those points are from dunks. You can't judge this man based only on what makes the highlight reels.
Vinny Del Negro is another point for concern that is frequently referenced. Admittedly, he does not have a great record in the postseason, and he coaches a team that is still finding its equilibrium as a unit.
However, each team is different, and a lack of success with one does not rule out success with another. And while the team is still coming together, they have been playing better and better as they get to know one another's strengths and weaknesses.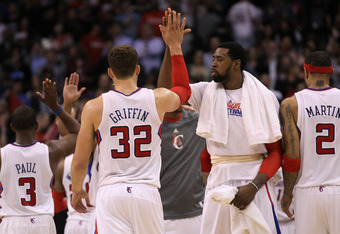 Stephen Dunn/Getty Images
The argument that I hear the most for why the Clippers getting into the playoffs means next to nothing? That they are the Clippers, the perennial losers that are always saying, "Next year will be better." 
Well, guess what? This is our "next year," and we are coming in hot. We don't care if our record from previous years precedes us. If you can't see past those tired old numbers—which have little to do with the current team—then don't bother writing more of the same old put-downs. We've already heard them all, ad nauseum. This is a new team, with a new attitude.
Watch Us Rise.