Sometimes, who will and who should start in net for a team is not always the same person. Tonight, and every night for the Pittsburgh Penguins, it is.
He's been bad so far against the Philadelphia Flyers, but his team hasn't helped much either. And regardless of how bad he's been, in a big game, Marc-Andre Fleury is a much better bet over Brent Johnson any day of the week.
Here are some things to consider about Fleury.
Fleury is not the best goaltender in the league; frankly, he's a bit overrated. But whether you like him or not (and for the record I don't), he is by far the most athletic goaltender in the NHL.
Just look at how often he's out of position. He should be giving up way more goals than he actually does on a regular basis, but he compensates his lack of ability to read the angles by being quicker than the shooter. If he ever gets his positioning down and learns to play the puck better, he'll be even better than he's shown so far in his career.
The other thing to consider is his ability to elevate his play in big game situations. Remember the Stanley Cup Finals in 2009? You know you do Red Wings fans. At the Joe Louis Arena in Game 7, Fleury shut down the defending Stanley Cup Champion Detroit Red Wings in front of their home crowd.
Remember the huge save at the end of that game? From the opposite side of the crease, he came all the way across making the save of the year to preserve his team's fragile 2-1 lead.
It doesn't get any bigger than that!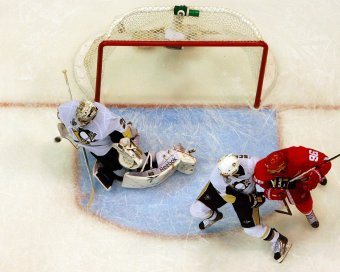 Jim McIsaac/Getty Images
Especially when you consider the way the Red Wings pounded the Penguins in the Finals only a year earlier.
He is the starter in Pittsburgh for a reason: The guy can win. Though he has been bad in the last three games, don't be surprised if he's got a few tricks up his sleeve for the Philly faithful tonight.
If you're Dan Bylsma, at least you know there's a chance he could have some big saves for the team tonight and going forward. With Johnson, you know you don't stand a chance.
That's why he's the Penguins starting goaltender, and rightfully so.