4 Ways Miami Heat Must Utilize Chris Bosh Better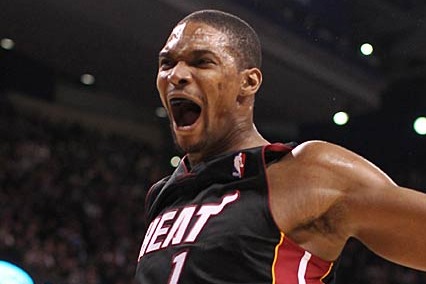 As weird and twisted as the Heat season has been thus far, the key to their success is quite simple. Chris Bosh is the one and only key that can unlock the door to success for Miami.
I'm said it time and time again, Bosh's inside presence is what separates the Heat from other contenders throughout the league, like the Bulls and Thunder, who lack an All-Star big man. But Bosh has disappeared more times than not this season.
The good news is, the season is not over and as of late, Bosh has been playing much better. Moving forward, the Heat staff have to make the proper moves that will help Bosh continue to play well. This may sound difficult, but here are a few simple steps Miami should take in order to ensure success.
Begin Slideshow

»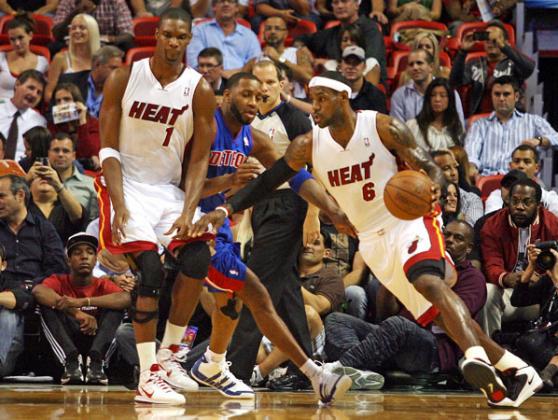 I mean, this is about as simple as 1, 2, 3. Bosh is an All-Star playing alongside two of the best perimeter players in the game today. It can be either Wade or James, but choose one and put them in a pick and roll with Bosh.
LeBron is a two-time MVP for a reason. Bosh is an All-Star for a reason. Wade is a NBA finals MVP for a reason. They are the cream of the crop of the NBA, meaning they make smart plays out on the floor.
A coach's job is to put players in positions in which they will most likely exceed. Bosh works very well in the pick and roll.
Bosh's versatility is underrated. Not only can he pick and roll, but he can also pick and pop. He's big enough to finish at the rim, yet finessed enough hit the open jumper.
John Stockton and Karl Malone are often associated with the best pick and roll the NBA has ever seen. Well, with enough practice and solid execution, Bosh/Wade or Bosh/LeBron has the potential to be just as good, if not better.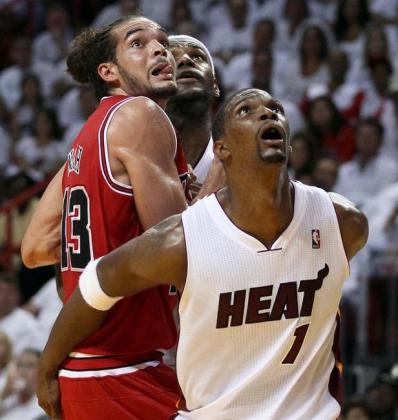 Heat coach Erik Spoelstra has got to start letting Bosh stretch the floor more. He may be a big man, but he's arguably a better shooter than LeBron and Wade.
Bosh played a lot more 5 in Toronto than he has in Miami. Clearly he's capable. It's true that the Heat have "no true big man." Well, it's time to let Bosh give it a try. Not only sparingly and from time to time, but quite consistently.
The Heat's roster is full of 6'8" swingmen who can get it done on both ends of the floor. We should see a front court with Bosh, James, and James Jones much more than we do.
How does this help Bosh's case? By asking him to do the little things that a 5 man does on both ends of the floor, you keep him involved in the game. Also, this will also get him to rebound more, something he has not done well this season.
There's no reason Bosh shouldn't average a double-double and by moving him to the 5, he has no choice but to rebound or watch his team suffer.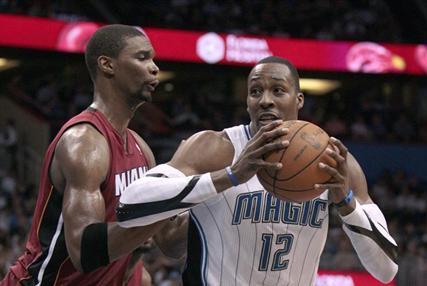 How will playing a zone help Bosh? Hear me out. With Bosh at the 5, he is often matched up against bigger guys down low. Smart coaches will try to go down low sooner rather than later when they see Bosh behind their center in the post.
That being said, it's time the Heat do what has been done to them all season long. Play some zone.
Bigs will not be able to go one-on-one with Bosh. They will be forced to settle for outside jumpers, and Bosh will be able to focus on rebounding and outletting the ball to his teammates looking to run.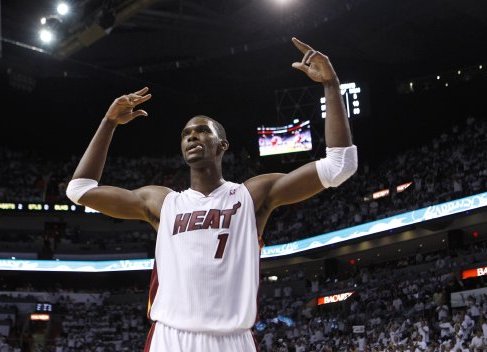 At the end of the day, it comes down to one thing and one thing only. Get the man more touches.
Not much changes from the time someone touches a basketball for the first time. The venues may change, but the rules don't, and neither does one's desire to have the ball in their hands, especially gifted players such as Bosh.
It's no secret that Bosh's touches, and numbers as a result, have declined. Lack of touches parlays into a decline in motivation to do anything else on the court, such as play defense.
What Bosh has to realize sooner rather than later is that when he does the little things, like rebound, defend, and hit open shots, that's when the Heat are at their best. The other parts of his game will come right along, being the talented player he is.
Heat fans want to see a more motivated, tenacious, and most importantly consistent Bosh. However, he won't develop the desired consistency until he finds his groove on the offense end; that will only come with more possessions being run through Bosh.
The offense running through Bosh is not a bad idea. He often ends up with better shots than Wade or LeBron, believe it or not. Miami has got to get the third member of the big 3 to start playing like CB4 again and they will really be unstoppable.
LeBron still does his thing, Wade's numbers may have gone down, but there's no question he's still Flash. Time to set the ex-Raptor lose so he can terrorize opponents every game like he did in Toronto.