MLB Power Rankings: How Do All 30 Teams Stack Up?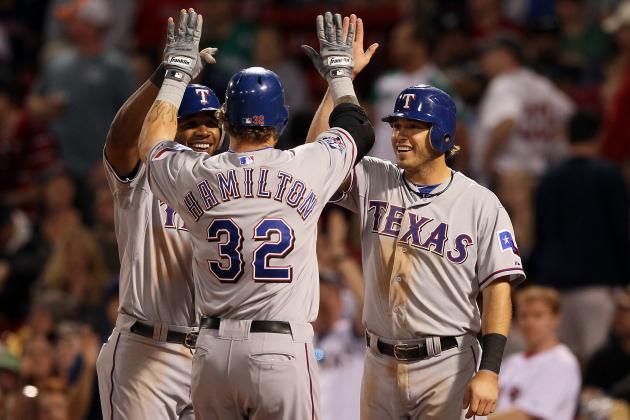 Elsa/Getty Images
Where do Josh Hamilton and the Texas Rangers rank?
The MLB season is in full swing. Every team has now had a least one home series. and we're beginning to get a good feel for how the season might play out. Some of the early surprises are starting to go back to their old habits, and some of the power teams that started slow are starting to turn things around. These rankings take all games into effect as of April 18th at 3pm central time. So enjoy!
Begin Slideshow

»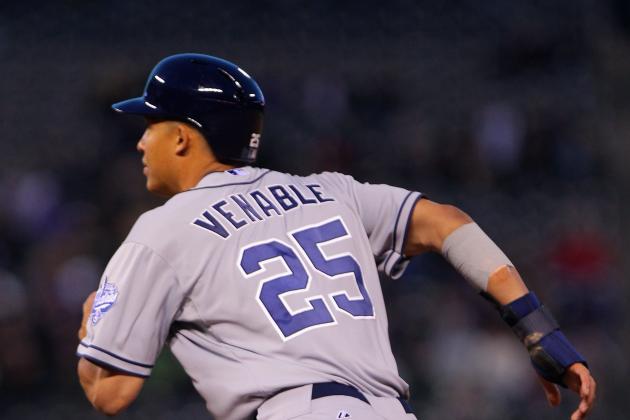 Doug Pensinger/Getty Images
Will Venable has been one of the few bright spots for the Padres this young season.
Tuesday night, the San Diego Padres became part of the record books and not in a good way. They lost to the Colorado Rockies, but more significantly 49-year-old Jamie Moyer is now the oldest pitcher to win a game in MLB history. The Padres are already 6.5 games back of the Dodgers, and they're only 12 games into the season. From the looks of it now, it's going to be a long year for Padres fans this season.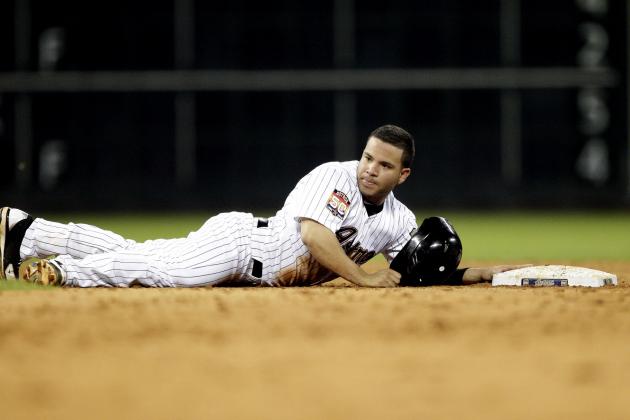 Bob Levey/Getty Images
Jose Altuve is off to a hot start in 2012.
The Houston Astros were, by most people's estimates, the worst team in baseball entering 2012. Even though they're not quite dead last yet, they're pretty close. The Astros started the year off 3-1 but have since lost six of seven. They're showing some life though. For the most part, they've had a chance to win every game they've played in. But they will still finish with one of the worst records in MLB history.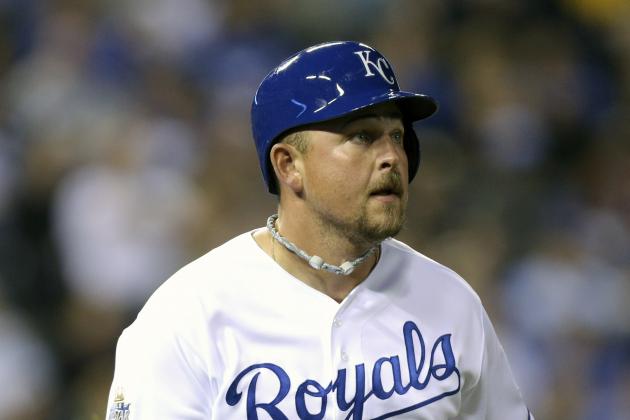 Ed Zurga/Getty Images
Aside from Billy Butler there hasn't been much to smile about in KC.
The Royals opened up the year by taking two-of-three from the Angels, who many people considered to be a serious World Series contender. Since then, though, the Royals have only won one game and have looked rather bad doing it. The Royals are loaded with young talent, but it looks like some of those young studs might not quite be ready for the majors yet. Unless their young talent does a lot of growing up in the next few months, the Royals will again finish near the bottom of the AL Central.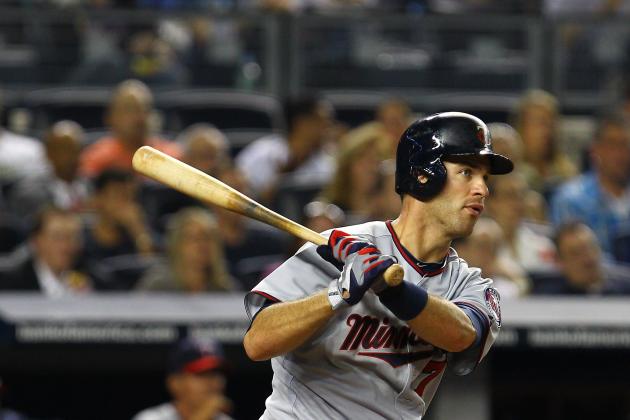 Al Bello/Getty Images
Can Mauer ever return to his MVP form?
The Minnesota Twins are falling right back into their 2011 form. Aside from Josh Willingham, who is one of the better surprises of the young 2012 season, the offense has been bad. The pitching, however, may be even worse and that starts with Francisco Liriano who is currently rocking a 11.91 ERA. The days of Mauer and Morneau being perennial All-Stars may be over, which in turn means the Twins need to do something before they become a doormat of the AL Central.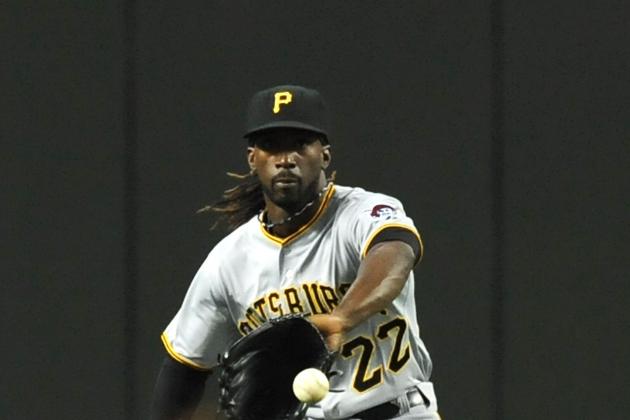 Norm Hall/Getty Images
Does any other team rely on one player more than the Pirates do with Andrew McCutchen?
Remember last summer when the Pirates were in the playoff hunt? Yeah, neither do they. Since the Pirates gained sole possession of the NL Central lead last July 18th, they have been awful. No hitting, no pitching, no anything. Andrew McCutchen seems to honestly be the only good player on this team, which begs the question: How much more can he take before he wants to get out?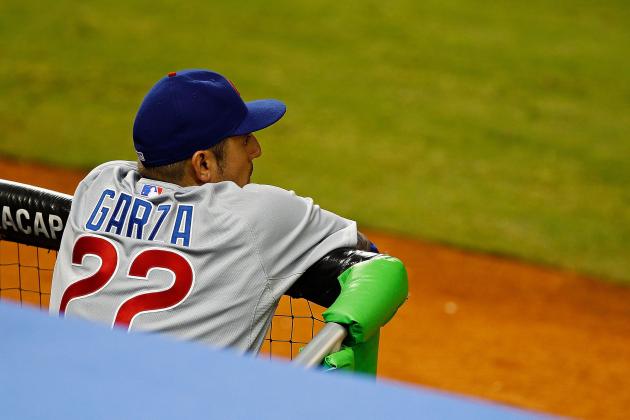 Mike Ehrmann/Getty Images
Garza was great last time out but can he keep it up?
It has been 104 years since the Cubs won a World Series, and there is pretty good reason to believe that 2012 won't be the year either. Although I think they're finally on the right path by bringing in Theo Epstein, it's still going to take some time, and that is apparent here in 2012. Starlin Castro and his .372 average seem to be the right building block to try and start something special. I think the Cubs will come around a bit in the remainder of 2012, but the playoffs are still a ways away.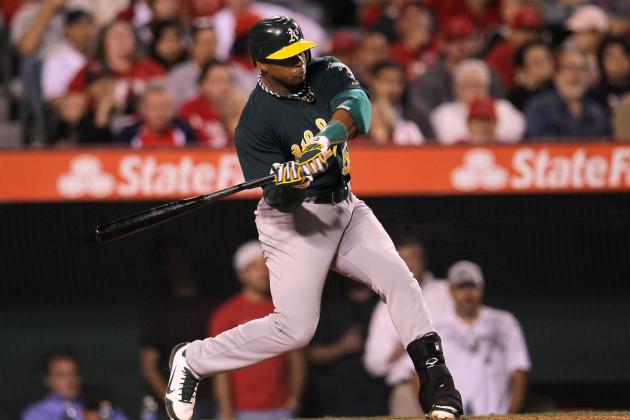 Stephen Dunn/Getty Images
Yoenis Cespedes has provided a big boost for the 2012 A's.
Can you imagine where the A's would be if they didn't have Yoenis Cespedes in 2012? Even though 24th is nothing to brag about, they would more than likely be a lot lower than this. Cespedes has put up great numbers so far in 2012 with a .541 slugging percentage and a team high 9 RBI.
Outside of him, however, the A's have been awful on offense. Although pitching is the strong point for these A's, you're still not going to win very many games if you're scoring 1-2 runs a night. I think the A's bats will eventually come around somewhat, and they'll win some games they maybe shouldn't, but don't expect postseason baseball in Oakland in 2012.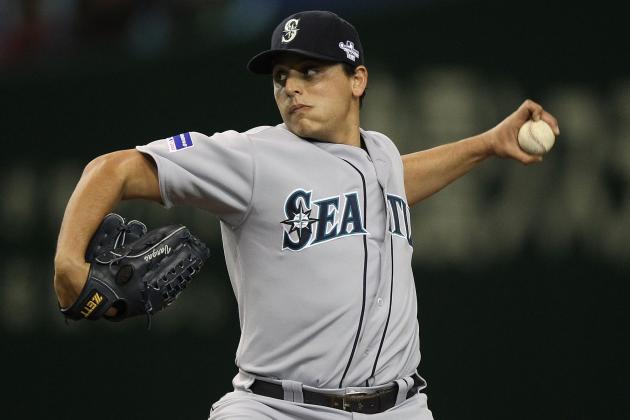 Chris McGrath/Getty Images
Jason Vargas is one of many young pitchers for the Mariners.
At 6-6 the Mariners have been one of the bigger surprises of the 2012 season. Not many would have expected them to be at .500 even 12 games into the season. Good pitching has been the reason the Mariners have been able to enjoy some success this year, and it's not Felix Hernandez leading the way.
Jason Vargas and Blake Beavan have been big surprises this year, and King Felix is still putting up pretty good numbers himself. If the pitching can keep up like it has been, the Mariners will win some games, but with the lack of offensive support, I see Seattle finishing last in the AL West in 2012.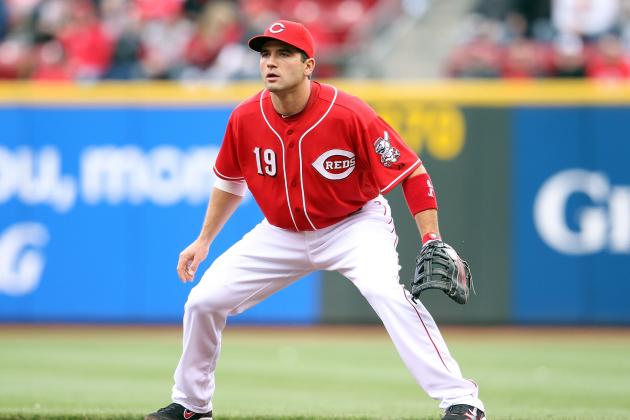 Andy Lyons/Getty Images
Equipped with a fat new contract, Joey Votto and the Reds look to make a playoff push in 2012.
If spending money got you anywhere on this list, the Reds would be near the top. They recently handed out huge contracts to Brandon Phillips and Joey Votto. At 4-7 the Reds have been somewhat of a disappointment this season, although they've had a pretty tough schedule so far facing the Marlins, Nationals and now the defending World Series champs the Cardinals for a second time. Once the Reds get deeper into their schedule, I think they'll get this thing turned around and be contenders come playoff time.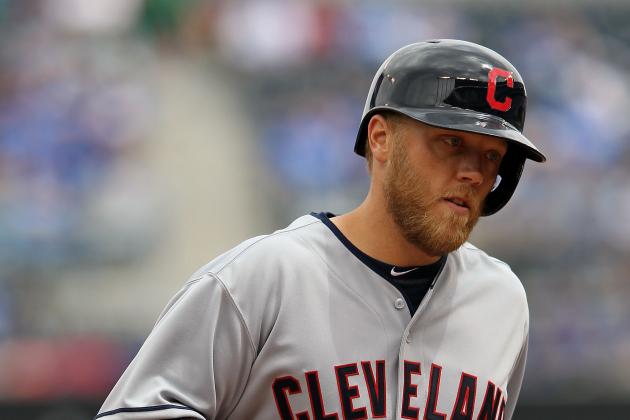 Jamie Squire/Getty Images
Shelley Duncan has the Indians off to a nice start in 2012.
The Cleveland Indians have been one of the bigger surprises of the young 2012 season. Just last night they erased an 8-1 deficit to come back and beat the Mariners. The young bats have been hot so far for the Indians, as well as the pitching staff. Derek Lowe has settled in nicely in Cleveland and looks to pick up his third win of the young season tonight.
Can the Indians keep it up in 2012 or collapse down the stretch like in 2011?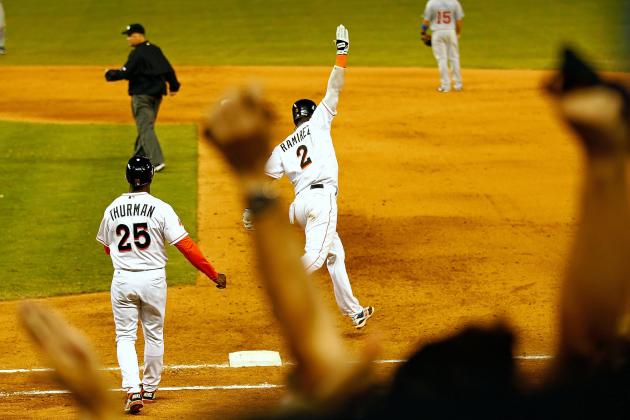 Mike Ehrmann/Getty Images
Hanley hopes his team can continue to roll with Ozzie's return.
Probably the most talked about team of the 2012 season has been the Miami Marlins. New team name, new logo, new ballpark, new manager, new players, new everything.
Although the Marlins brought in a bunch of new guys, Emilio Bonifacio has been the biggest surprise of them all so far with his team-leading .341 batting average. Jose Reyes has yet to find his groove in 2012, but when he does it could mean trouble for the rest of the NL East.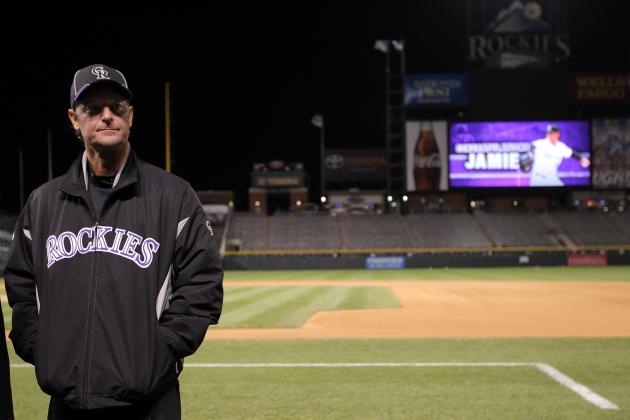 Doug Pensinger/Getty Images
The Rockies celebrated last night. Can they make a playoff push in 2012?
Jamie Moyer officially became the oldest pitcher to win a MLB game last night. However, can the Rockies count on him to be in the rotation all season? The Rockies have some of baseball's best young bats in Carlos Gonzalez and Troy Tulowitzki. Question is, though: How far can they carry these Rockies in 2012?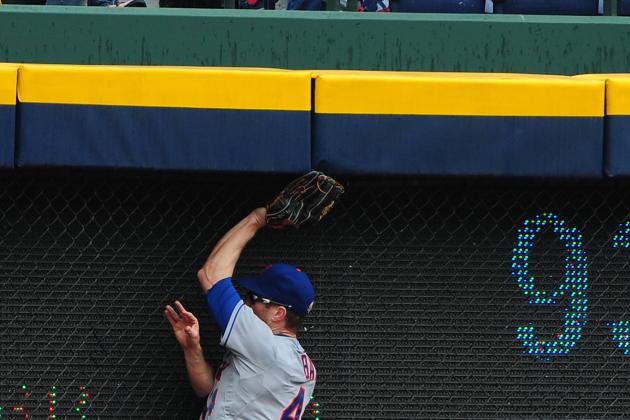 Scott Cunningham/Getty Images
Was today's beatdown a sign of things to come in New York?
The Mets started off 5-0, but we all knew they wouldn't be able to keep that up, didn't we? David Wright has been sensational in 2012, currently rocking a .500 average, but the injury bug has already bit him once. Who's to say it won't again?
The Mets got rocked this afternoon by the Braves, and with the loss they fell to third in the division. If the Mets are not going to finish last in the East, they're going to have to get better outings than the one-and-one-third innings they got from Johan Santana the other night.
Ezra Shaw/Getty Images
Can Lincecum turn his troubles around?
Aside from the struggles of Tim Lincecum, the Giants pitching staff has been great as advertised. Matt Cain and Madison Bumgarner both recently got new contracts and are preforming well with them. The man with the most famous beard in the world, Brian Wilson looks headed for Tommy John's surgery. Can the 'pen keep it up in his absence?
Buster Posey looks fully recovered from injury with his .375 batting average, and if he and the rest of the Giants can keep it up, they'll have something to say about the 2012 NL West crown.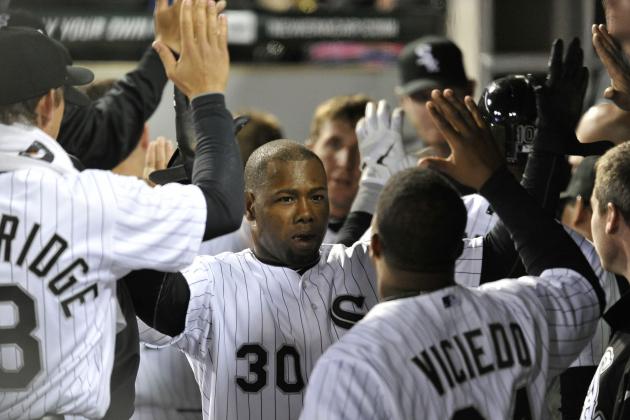 Brian Kersey/Getty Images
The White Sox may be the biggest competitors to the Tigers in the AL Central
Even though you might not hear much out of them, the White Sox are off to a pretty good start here in 2012. Pitching has been solid, along with hitting. AJ Pierzynski is off to a great start hitting .387 and Paul Konerko is still solid rocking a .342 average. If they can keep it up and the rotation can continue to be consistent, the White Sox may make the Central a bit closer race than we might have thought.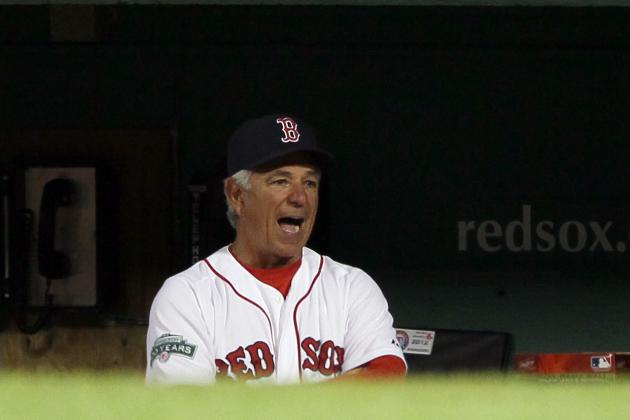 Elsa/Getty Images
Can Bobby V get his team back?
The Red Sox started awful again, then won three in a row against the Tampa Bay Rays, but then Bobby Valentine opened his mouth. Bobby V called out Kevin Youkilis on Monday, and since then the Sox are winless, including an 18-3 beat down by the Rangers last night. Jacoby Ellsbury is already on the DL, and by watching Youkilis hobble around out there, he could be next. If the Sox can stay healthy and gel in the clubhouse, they're one of the best teams in baseball. Right now, that looks like a big if.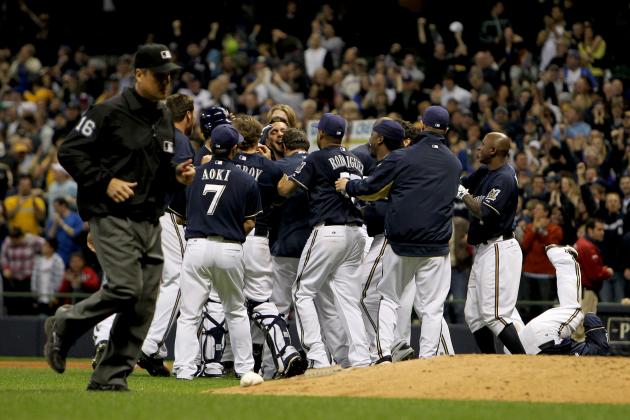 Mike McGinnis/Getty Images
Can the Brewers make it two NL Central crowns in a row?
The Brewers are starting to heat up a bit, which could be dangerous for the rest of the NL Central. The defending divisional champs are still getting used to life without the big guy Prince Fielder, but several guys are stepping up to help fill the void. Ryan Braun is at his usual numbers again, and if the Brew Crew can continue to pitch the way they have, they may be a serious playoff contender down the stretch.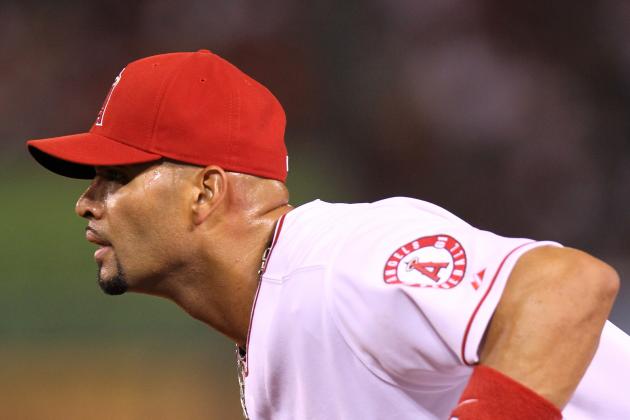 Stephen Dunn/Getty Images
Albert is still getting used to life as an Angel.
The Angels definitely took home baseball's top free agent this offseason in Albert Pujols. They didn't stop there either, bringing in pitcher CJ Wilson to add to an already dominant rotation.
Although the Angels haven't shown it yet, I think they are one of the dominant teams in the majors. They'll eventually get everything figured out and prove to everyone why preseason expectations were so high.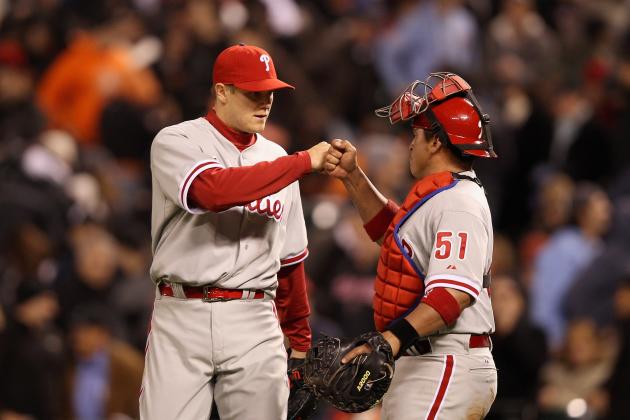 Ezra Shaw/Getty Images
Papelbon has added to an already dominant pitching staff in Philly.
The Phillies are currently last in the NL East. I know no one expected to hear that this season, but don't worry. They won't be there for long. This team is all about pitching and for good reason. They have two of the top five starters in the game in Roy Halladay and Cliff Lee.
The offense is the only question so far for the Phillies. If they can get the bats going, they should win the NL East again.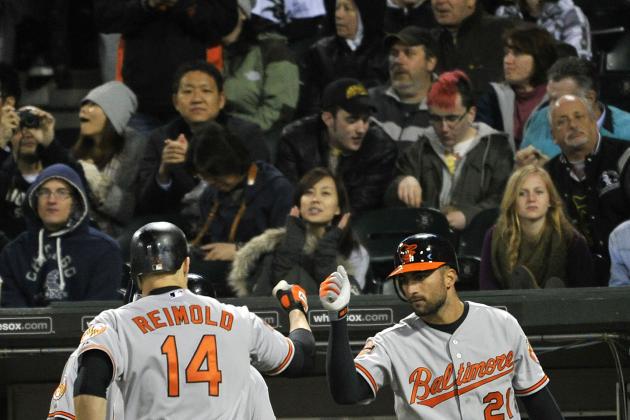 Brian Kersey/Getty Images
Can the O's keep it up all season?
The Orioles have been red-hot to start the 2012 campaign. The offense has been great, and the pitching has been there to go along with it. They have taken the first two against the White Sox this week and show no signs of slowing down from their hot start.
Do the Orioles have enough young firepower to propel them to a playoff birth in 2012? Time will tell.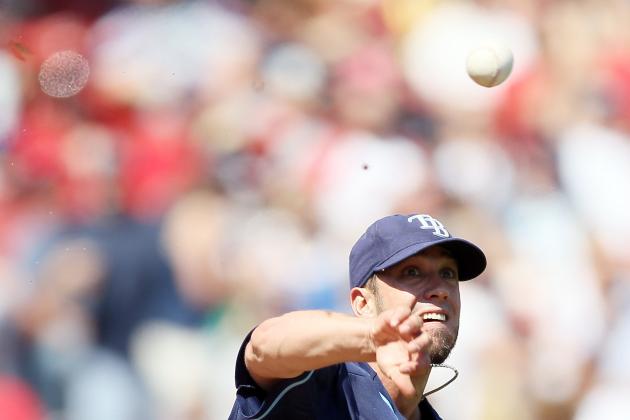 Elsa/Getty Images
Can James Shields be as dominant as he was in 2011?
The Rays are one of the many mystery teams in baseball right now. They opened up with a sweep of the Yanks, then lost two-of-three to the Tigers and three-of-four to the Red Sox. The main problem this year has been the bullpen, which has been terrible. As long as their starters are on the mound, you have to like Tampa Bay's chances of getting a playoff berth in 2012.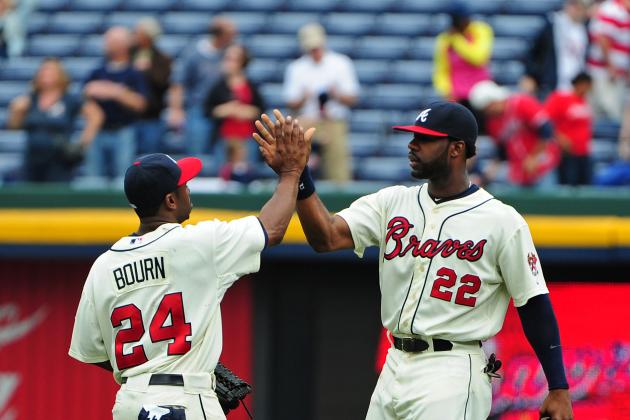 Scott Cunningham/Getty Images
Was 2011 just a sophomore slump for Jason Heyward?
The Braves started off bad. Like, really bad: getting swept by the Mets, then losing one in Houston. However, since then they've only lost one game, which was to the Mets, and they swept the Brewers in-between.
The Braves put it on the Mets today, 14-6, showing their offensive ability. Everyone knows they have the talent. Question is, can they keep their bullpen rested enough so they don't have another late season collapse?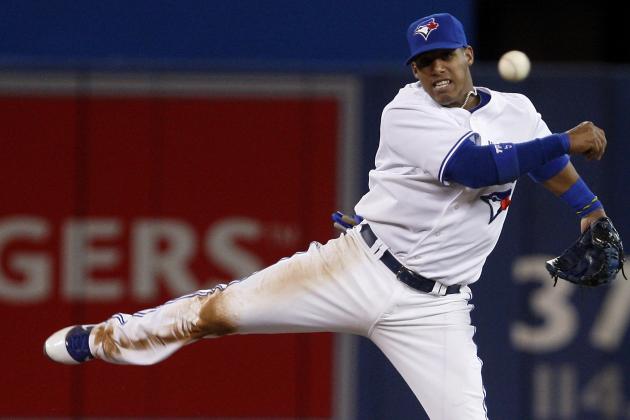 Abelimages/Getty Images
Is baseball back for good in Toronto?
There were big expectations for Toronto this year, but I don't know how many people outside of Canada took those seriously. Well, the Blue Jays sure did and are living up to them right now. They are 6-4 right now, and Jose Bautista is only hitting .222.
When he gets it turned around, and if the rest of the team continues to hit like they are, we may have playoffs North of the Border in 2012.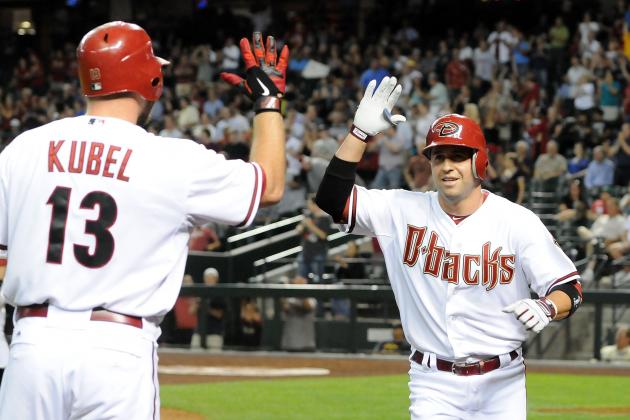 Norm Hall/Getty Images
Arizona looks to make it two NL West crowns in a row.
The Diamondbacks are out to prove that their 2011 divisional crown was no fluke. Chris Young has been outstanding this young 2012 season, as well as the pitching staff for Arizona. Justin Upton hasn't looked all that great and may be headed for the DL soon.
The D'Backs will continue to rely on pitching to get it done, and it looks like the rotation may be strong enough to handle it.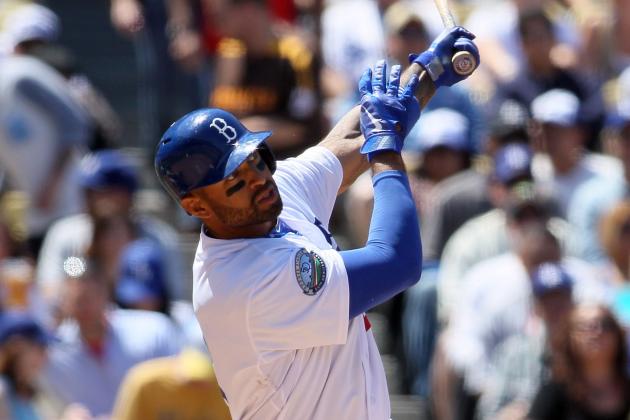 Victor Decolongon/Getty Images
Kemp and the Dodgers have baseball's best record. Can they keep it up?
The Dodgers are probably the biggest surprise of 2012 so far. Many thought they had good potential, but not many thought they would come racing out of the gates like this.
Matt Kemp is without question the early season MVP, and Clayton Kershaw and Chad Billingsley look to be in Cy-Young form. If the Dodgers continue to play like this, that $2 Billion investment by Magic Johnson and his group looks rather promising.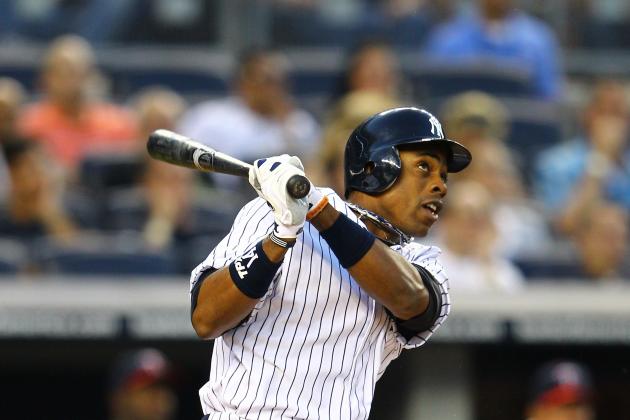 Al Bello/Getty Images
Granderson and the Yankees are starting to roll.
The Yankees had everyone a little worried to start the year when they were swept out of the gate by the Rays, but since then they are 6-2. The pitching staff hasn't quite come around yet, but the offensive production has made up for that recently. Andy Petite will probably join the team in the next month or two and Yankee fans hope he can pitch like he has in the minors so far, where he's been outstanding.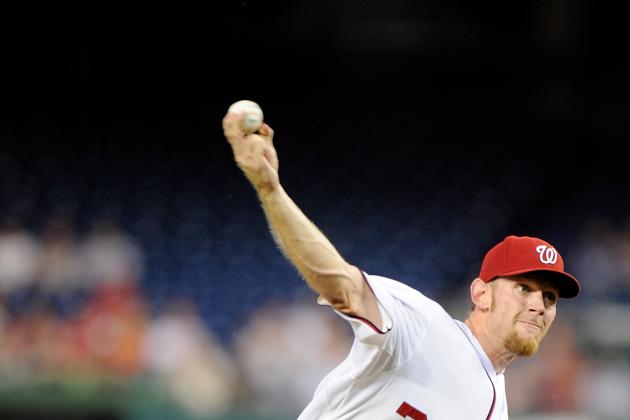 Greg Fiume/Getty Images
Strasburg is just one of the reasons the Nationals come in at 4.
Some people say the Nationals are just an early-season fluke, but not me. I said from the beginning of the season that this team would finish in the top 2 of the NL East this season.
The pitching, led by Stephen Strasburg has been outstanding, and the offense is playing great as well. They may not have any future-Hall-of-Famers on offense, but they do have solid role players who know what this team needs them to do. If Bryce Harper gets a mid-season call up and is all he is hyped up to be, look out for these Nationals come October.
Jeff Curry/Getty Images
New manager Mike Matheny is proving why he deserved this job.
The defending World Series champs are at it again. The Cardinals have picked up right where they left off in 2011 and so has David Freese. Carlos Beltran has found a home in this lineup, and Matt Carpenter is off to a terrific start.
They did all of this, with Chris Carpenter on the DL and Adam Wainwright struggling. When those two guys get back to how we know them to be, they may forget all about Albert Pujols.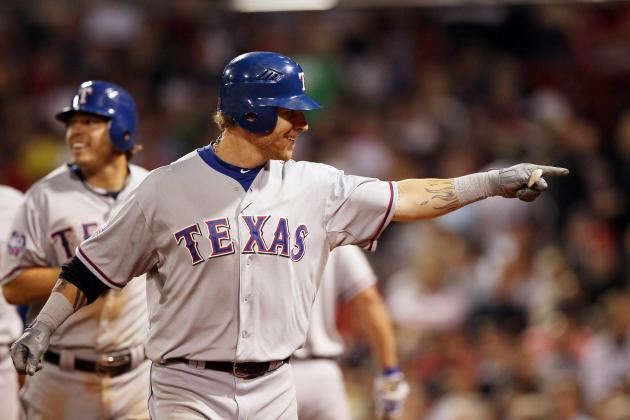 Elsa/Getty Images
The Rangers offense looks unstoppable right now.
The Rangers almost cracked my top spot, but until last night I wasn't 100 percent sold on them. However, the 18-3 shellacking of Boston last night definitely erased any doubts I had about this club. Yu Darvish wasn't good first time out, but he turned it around a bit the second time. Colby Lewis has been great and so has the rest of the pitching staff. From what I've seen so far, the Rangers have the look of a team that could very easily make it three AL Championships in a row.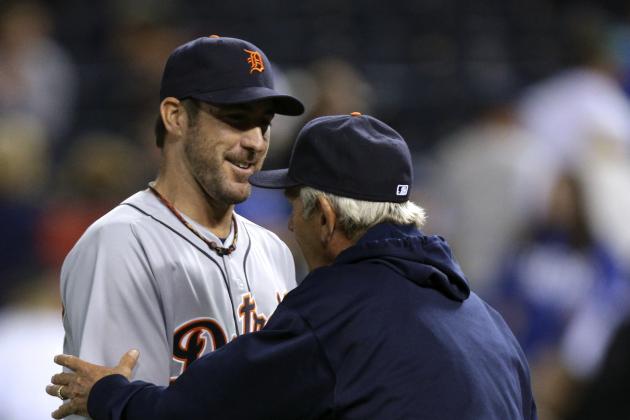 Ed Zurga/Getty Images
Jim Leyland and Justin Verlander are all smiles.
The Tigers have been the best team in baseball so far in 2012. The Tigers currently have an 8-3 record, which puts them atop the AL Central. They may have two of the three best overall players in baseball: Miguel Cabrera and Justin Verlander. Not to mention, newly signed free agent Prince Fielder, who has started to kill the ball here of late.
I don't think there is any question that this team runs away with the AL Central. To me they are almost a lock to have the best record in baseball. Big question with the Tigers in 2012 is can they stay fresh enough in October to bring a World Series championship to Detroit?