Ranking the NFC North DBs, Pre-NFL Draft Edition
April 18, 2012

Thearon W. Henderson/Getty Images
We've made our way through the defensive side of the ball in the NFC North, arriving at our final positional spot: the secondary.
The rankings for the defensive banks are odd, in part because some of the units had an off year. Green Bay, for example, looks worse than it is because they got little pressure on the quarterback, which allowed more time for receivers to get open.
Therefore, their troubles weren't all on the secondary. They have other issues, which could lead to a repeat of last year's problems in Titletown.
The Lions and Bears both have some problems, while the Vikings....well we'll get to that.
CB: Chris Houston, Jacob Lacey, Aaron Berry, Alphonso Smith, Ross Weaver
S: Louis Delmas (FS), Amari Spievey (SS), Erik Coleman, Don Carey, John Wendling
I bounced back and forth here, because the Lions are desperate for talent next to Houston and Delmas. It's not a bad unit, and it was saddled with injuries last season, but it needs depth and  someone the team can count on.
With that said, I'm a huge fan of Houston, and Delmas has been very good since he arrived in the NFL. Bot were hurt last year, which made it tough on this secondary. Being healthy will be a big key for them in 2012, but the depth behind them needs to be better.
Again though, getting someone playing next to those guys who are real difference makers would be nice. You can't have too many good defensive backs in this division.
CB: Charles Tillman, D.J. Moore, Tim Jennings, Jonathan Wilhite, Kelvin Hayden, Donovan Warren
S: Major Wright (SS), Christopher Conte (FS), Craig Steltz (SS), Anthony Walters, Winston Venable
I've been pretty hard on the Bears' secondary since I launched the NFC North blog for B/R, and with good reason. It has some issues, especially from a depth standpoint.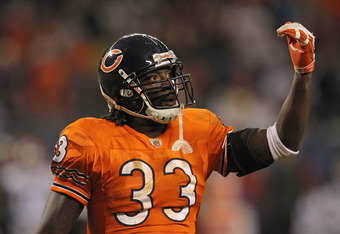 Jonathan Daniel/Getty Images
Wright and Conte were both early picks and are doing alright so far, but none of the players behind them engender much faith. If the safety class were deeper, I could see them selecting someone early again.
However, this year's class is quite thin at safety, and unless Mark Barron or Harrison Smith slips it will be up to a late-round pick or a summer cut off the waiver wire to provide the necessary depth.
At corner, I like Charles Tillman well enough, but the rest of the group are for depth only. That's fine—they can get the job done. It would be interesting to see them with another player who could be better than good, especially as Tillman approaches the end of a career.
CB: Charles Woodson, Tramon Williams (PR), Sam Shields, Jarrett Bush, Davon House, Brandion Ross
S: Morgan Burnett (SS), Charlie Peprah (FS/SS), M.D. Jennings (FS), Anthony Levine, Nick Collins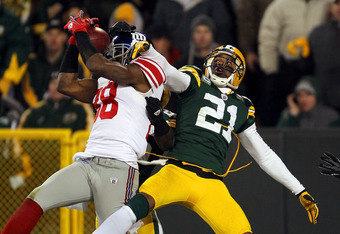 Jonathan Daniel/Getty Images
The top shelf of this group is better than the two teams prior. Woodson and Williams (despite a slide backwards for the latter) are a top cornerback tandem, and when Nick Collins is healthy, he's a Pro Bowl safety. However, his future is in doubt, and now the Packers will have to draft without the knowledge of whether he will return or not.
I wrote this morning that, if they haven't already, they should plan to proceed without him and either move Woodson over to safety or draft a new safety.
I think Woodson would be a good safety after a bit of a transition, but you're downgrading two positions for a while with that move. Woodson will not instantly be as good as Collins was, and whomever replaces Woodson will not be as good at cornerback as he is.
This could all be moot if Collins comes back, but we don't know if he will now.
All we know is that this is a secondary in a state of flux at two positions. That's not good.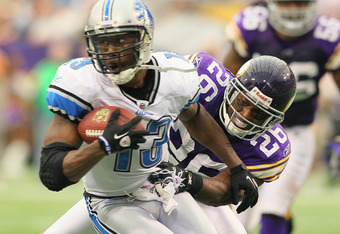 Adam Bettcher/Getty Images
CB: Antoine Winfield, Chris Cook, Asher Allen, Chris Carr, Zackary Bowman, Marcus Sherels (PR), Brandon Burton, Nick Taylor, Reggie Jones
S: Jamarca Sanford (SS), Mistral Raymond (FS), Eric Frampton (SS), Andrew Sendejo
Antoine Winfield is the only real legit threat in the secondary, and he's got some serious durability issues. Everyone else is, at best, serviceable and at worst simply a warm body.
This is a rebuild project, much like the rest of the team.