15 Nastiest Divorces in NFL History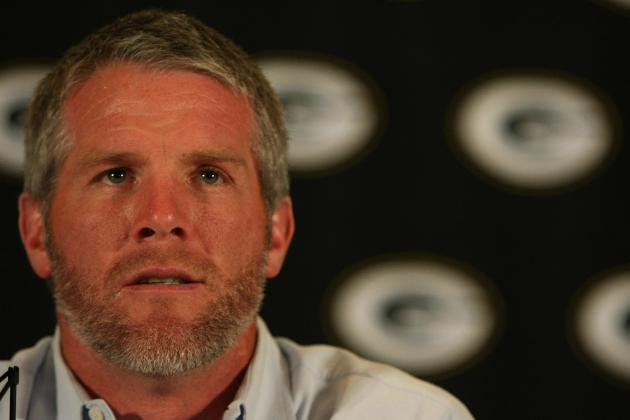 Jonathan Daniel/Getty Images

As unscripted as the NFL is, the league has had numerous drama-filled breakups between coaches, players, teams and cities.
Bad breakups in the NFL show exactly how much players, coaches and teams mean to a community, a state and a region. It has turned heroes into villains, owners into enemies and teams into betrayers.
From an iconic quarterback being shoved out of town, to an NFL team skipping town in the middle of the night, these are the NFL's nastiest divorces in history.
Begin Slideshow

»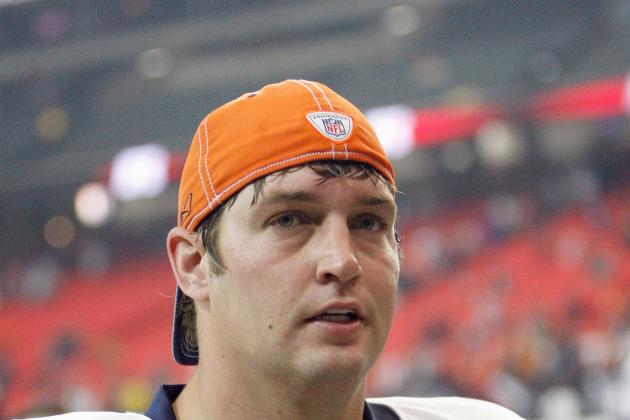 Kevin C. Cox/Getty Images

Jay Cutler is a sensitive guy.
After his new head coach, Josh McDaniels, had discussions with other teams about trading his young quarterback, Cutler felt betrayed.
This led to Cutler and his agent insisting on being traded to another team, and McDaniels tried to reconcile his relationship with Cutler. His words fell on deaf ears, though, as Cutler had already made up his mind, and a trade with the Chicago Bears would eventually become reality.
At the time this all went down, the drama between Cutler and McDaniels was childish, and both of their reputations were hurt by it—especially Cutler.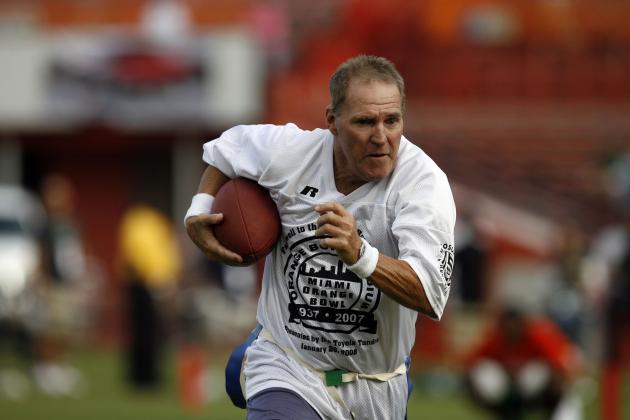 Eliot J. Schechter/Getty Images

Jim Kiick, Larry Csonka and Paul Warfield shocked the sports world when they signed with the World Football League.
After all the Dolphins had done for them, the fans were outraged to see these three leaving the team to start up a league that had no substance.
All three players were enjoying a second championship run with the Miami Dolphins, so the signing took Dolphins fans' breaths away.
To make matters worse, the deal was the richest three-player deal in sports history.
The city of Miami would learn from this situation, though. After all, the Heat put together LeBron James, Dwyane Wade and Chris Bosh, didn't they?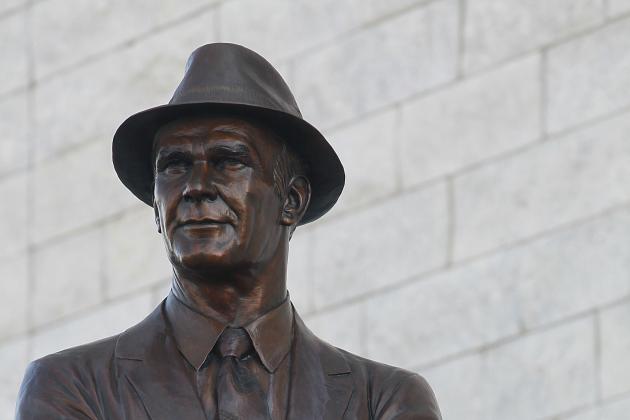 Ronald Martinez/Getty Images

Tom Landry was a pioneer when it came to the X's and O's of football.
Better yet, the man was a defensive guru.
However, no coach can escape the wrath of owner Jerry Jones. When Jones purchased the team in 1989, he fired Landry and brought in his own coach, Jimmy Johnson.
This was somewhat of a cultural shock, and it made quite a statement from Jones.
After all, Landry won two Super Bowls and is the guy who invented the 4-3 defense and the flex defense system. He was the Dallas Cowboys' coach for 29 years, and when he was fired, people were upset about the way it was handled.
Rather than being celebrated and sent away in a respectable manner, Jones marched right in and fired him as if he owned the place—oh wait.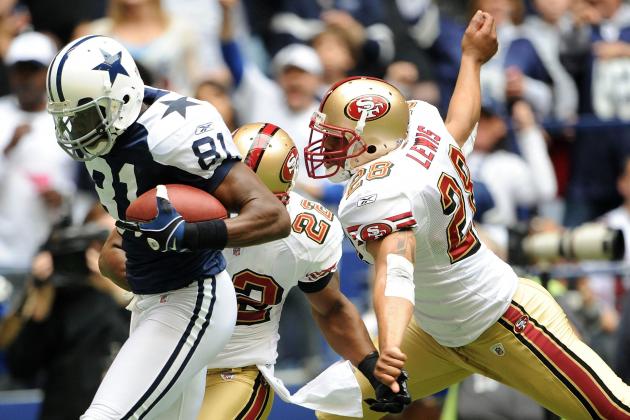 Ronald Martinez/Getty Images

Terrell Owens was blindsided when he was released by the Dallas Cowboys in 2009, or at least that's the way he put it.
To this day, Owens is still bitter about it, and just recently, he made insulting comments about a quarterback he once shed tears for.
Owens questioned if Romo ever really had his back in Dallas when he went on the ESPN Dallas 103.3 "Ben and Skin Show."
"Ultimately I'm not in Dallas anymore and I know he definitely had a hand in that," Owens said.
After all of these years, Owens still regrets being cut by the Cowboys, and with T.O. being T.O., I wouldn't be surprised if we've heard the last of his departure from Dallas.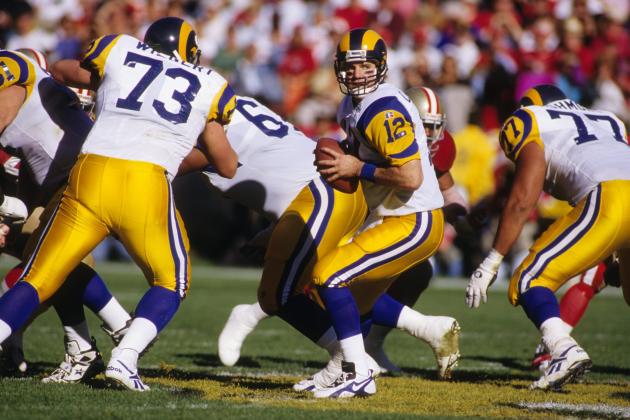 George Rose/Getty Images

Trading Jim Everett and releasing Kevin Greene was a precursor of terrible events for Los Angeles Rams fans.
Rams owner Georgia Frontiere wanted to take the team to St. Louis, and that's exactly what she did.
This obviously angered the fans in Southern California, and many questioned the move because of its marketability compared to St. Louis.
Fans were upset with the team leaving and taking the colors, but the fact that the team took the logo as well made it that more difficult for fans to get over their loss.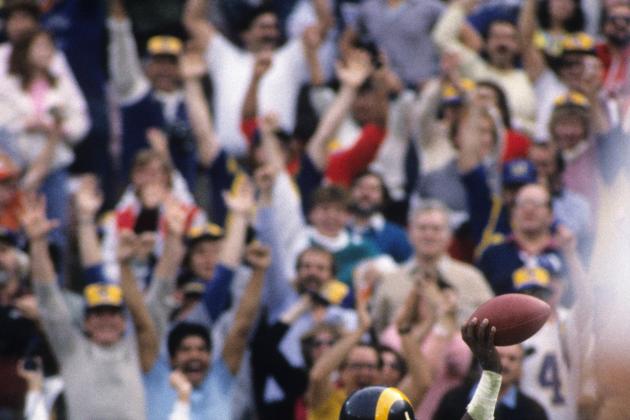 George Rose/Getty Images

Eric Dickerson is one of the greatest running backs in NFL history, but unfortunately, for him and the Los Angeles Rams, he had several problems with the front office.
After being drafted by the Rams in 1983 and setting the bar high with All-Pro honors and Player of the Year awards, Dickerson was traded to the Indianapolis Colts in 1987.
The two previous years saw Dickerson in contract disputes with the Rams, which would eventually see the Rams send him to the Colts. Many believe this to be the beginning of the Rams' eventual move to St. Louis.
As for Dickerson, he continued to turn out great seasons with the Colts and got into contract disputes with them as well.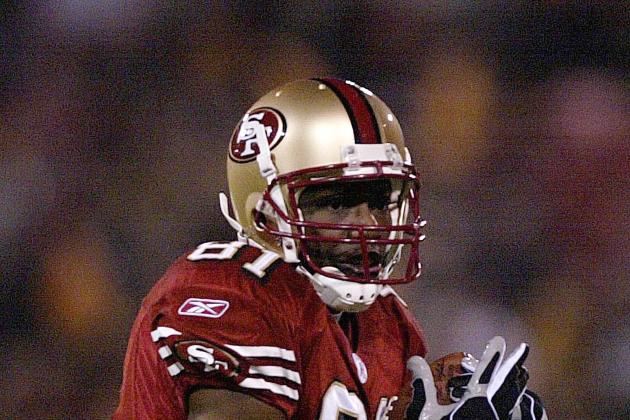 Jonathan Ferrey/Getty Images

It's simply not in Terrell Owens' DNA to walk away without causing a ruckus.
After breaking all of his ties with the San Francisco 49ers and heading to the Philadelphia Eagles, Owens did an interview with Playboy Magazine (h/t ESPN), where he implied that Jeff Garcia was a homosexual.
Not only did he insult Garcia as he made his way out of the door, he had issues with the 49ers when it came to which team he would be traded to.
The 49ers said Owens' previous agent, David Joseph, did not meet the allotted date missed the deadline to void the final years in his contract, so San Francisco tried trading him to the Baltimore Ravens. This created a big scene between the 49ers, Ravens and Eagles.
It was eventually settled when Owens challenged the 49ers' right to make a deal, and the 49ers ended up with a conditional fifth-round pick and defensive end Brandon Whiting in exchange for one of the best receivers in NFL history.
Fair trade, right?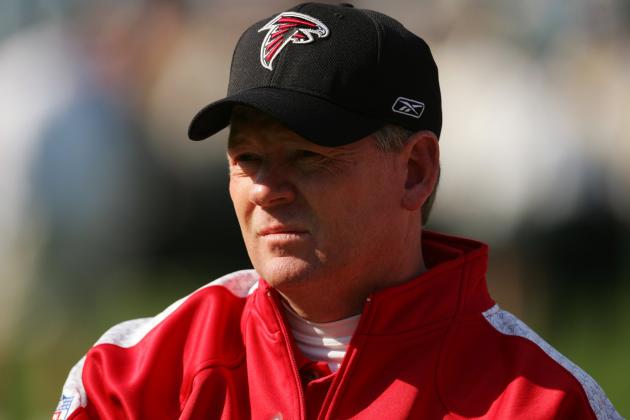 Streeter Lecka/Getty Images

It's hard to view Bobby Petrino as a respectable man.
Without getting into his recent involvements with a 25-year-old woman, it's safe to say that he's not a man of high character, and Atlanta Falcons owner Arthur Blank will be the first to tell you that.
Before Petrino went to Arkansas and did his fair share of scoring on and off the field, he was the head coach of the Falcons.
After one season that labeled Petrino as a loser, he jetted out the door before you could say, "Woo, pig sooie." The Falcons were 3-10, and on Dec. 10, 2007, Petrino informed the team via laminated note posted on their lockers that he was no longer the coach.
In a news conference, Blank said that he did, "feel a sense of betrayal," but he took the high road and showed what high character is—something that Petrino obviously has no idea about.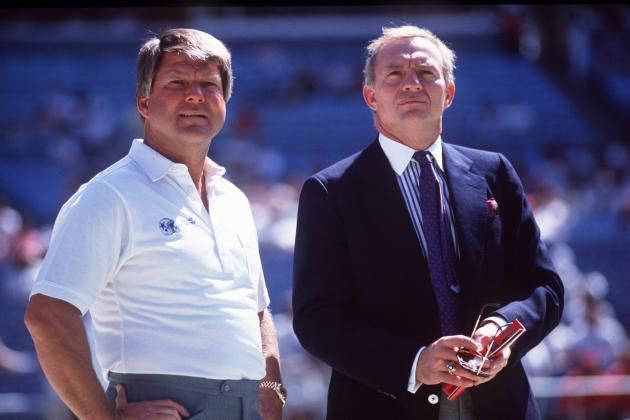 Allen Steele/Getty Images

Jerry Jones took Jimmy Johnson for granted.
Johnson is one of six coaches who can say he's coached consecutive Super Bowl-winning teams, as he won Super Bowls 27 and 28. But Jones said that any of 500 coaches could win a Super Bowl with that team.
What's funny about this whole thing is that Johnson was the one who made the draft picks and trades to put that team together, and Jones was the one who wanted to receive the credit for it.
Both the coach and owner eventually agreed to split ways, as they were unable to work together because of their disgruntled relationship.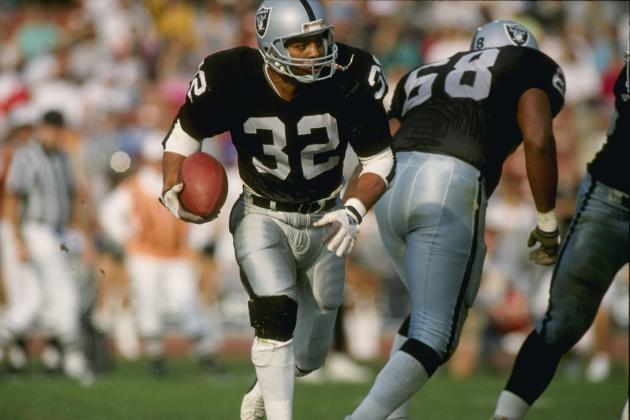 Mike Powell/Getty Images

Marcus Allen is one of most beloved Raiders of all time.
Coming straight out of USC and to the Los Angeles Raiders, Allen and the Raiders were a match made in heaven—or so many thought.
Allen had a rivalry with legendary owner Al Davis, and Davis would ultimately get the last laugh in this situation.
Both guys clashed, and Allen openly talked about the way he felt toward his boss. It was kind of like Stone Cold Steve Austin and Vince McMahon going at it, except you know, it was real.
The rivalry came to a head in 1992 when Allen told Al Michaels the following in a taped interview on Monday Night Football:
"I think [Davis] tried to ruin the latter part of my career, tried to devalue me," Davis said. "He's trying to stop me from going to the Hall of Fame. They don't want me to play."
Allen would leave Los Angeles the following year and join the Kansas City Chiefs.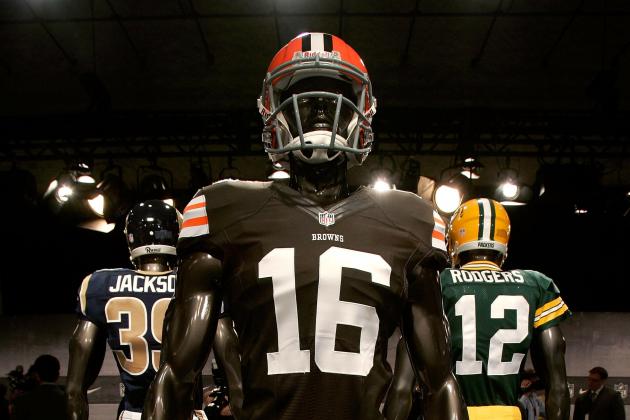 Mike Lawrie/Getty Images

Looking back, Cleveland has been through the ringer when it comes to sports.
From LeBron James taking his talents to South Beach, to the Browns abandoning Cleveland, it's safe to say that that city deserves a title soon.
But I'm not telling you anything you didn't already know.
As bad as James going to the Miami Heat was built up to be, it wasn't as bad as the Browns skipping town. Just imagine how devastated you would be if your favorite team skipped town on you.
In 1996, the Browns left Cleveland to go to Baltimore, where the team would become the Baltimore Ravens, and Browns owner Art Modell received piles of hate mail from the city of Cleveland.
Browns fans wore "Muck Fodell" shirts and hats, as their hearts were ripped out of their chests.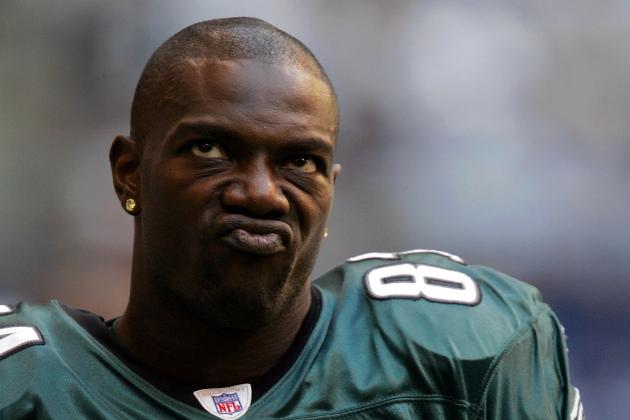 Ronald Martinez/Getty Images

Don't you miss the Terrell Owens and Donovan McNabb soap opera every day on SportsCenter?
For those who missed those days, just picture Tim Tebow's time on ESPN last season, and you'll get the picture.
Their rivalry started when Owens made a remark that he, "wasn't the one who got tired in the Super Bowl," which many assumed was directed toward McNabb. That is rather funny, because Owens commented on McNabb's cardio again in 2010 on The T.Ocho Show.
From the first comment he made about McNabb on, both players formed quite an entertaining rivalry. In an interview with ESPN, Owens let out his frustrations on Eagles management and McNabb.
As if that wasn't bad enough, he got into a fight with Hugh Douglas, which led to him being suspended for four games by Andy Reid.
This led to Owens eventually being deactivated by the Eagles for the 2005 season, and he was eventually released by the team.
Otto Greule Jr/Getty Images

The San Francisco 49ers front office couldn't look past Steve Young's talents, even though they had Joe Montana as their quarterback.
As good as Young was with the 49ers, he was no Montana.
Arguably one of the greatest players in NFL history was traded to the Kansas City Chiefs for a younger (no pun intended) and more athletic quarterback.
Montana missed the 1991 and most of the 1992 seasons due to injuries, but by then, the organization was already going with Young.
The 49ers did win a Super Bowl in 1995 with Young at quarterback, but who knows how many Super Bowls Montana would have won from 1992-1994 had he still been the starter?
It's a question NFL fans have always pondered.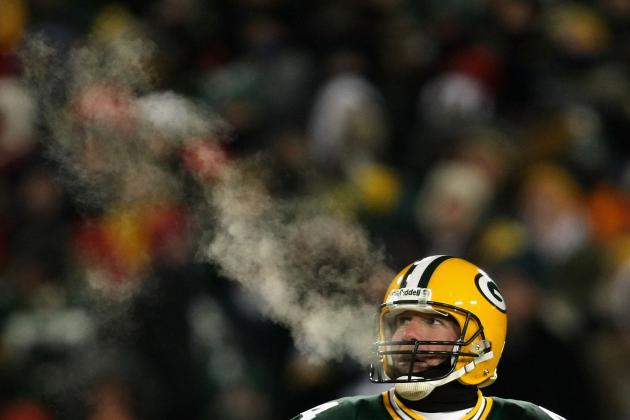 Jonathan Daniel/Getty Images

Who could ever forget Brett Favre walking away from Green Bay?
Back in the early days of Favre contemplating retirement only to return the following season and play again, many thought he played his last game against the New York Giants in the 2007 NFC Championship Game.
Favre being Favre decided to come back and play another season, and he wanted the Packers to grant him his release so he could play somewhere else. Packers general manager Ted Thompson wouldn't grant him the release and backed Aaron Rodgers all the way.
Favre then came out and said he was pressured by the Packers to retire. Things went from bad to worse when the Packers filed tampering charges against the Minnesota Vikings for improper communication between Vikings offensive coordinator Darrell Bevell and Favre.
Roger Goodell ruled that the Vikings had done nothing wrong, and after Favre met with Thompson, the Packers finally decided to part ways with him. It was an ugly situation, but signs like, "We'll Never Forget You Brent," made it better.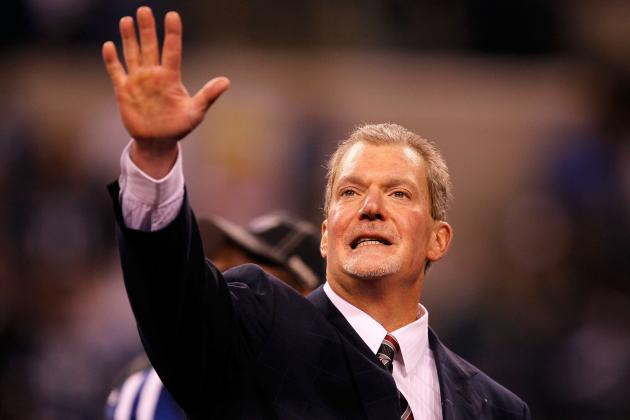 Jonathan Daniel/Getty Images

The Colts left Baltimore like a thief in the night.
Before Jim Irsay sent Peyton Manning packing, his dad did the unthinkable.
The story has been told several times with different details, but this is what we are sure of.
The Colts left late at night in numerous vans and were completely settled in Indianapolis by the morning.
The Baltimore mayor appeared on the front page of the Baltimore Sun in tears because of the move, and just like that, owner Robert Irsay pulled off the sneakiest move in NFL history.
The Baltimore Sun quoted the Indianapolis Star saying, "A legal battle ensued, which ultimately reached the U.S. Supreme Court, and bills were filed in both the U.S. House and Senate seeking to block the move."
Before the Colts made their move, Sports Illustrated quoted Irsay cursing reporters while he wreaked of booze.
"What are you all doing here? I don't know what in the hell this is all about," Irsay said. "I have no intention of moving the god**** team."
This is easily one of the craziest incidents in the history of sports.