Miami Dolphins 2012 Draft Needs: Ranking the Possible Options at WR
April 19, 2012

Ezra Shaw/Getty Images
Miami was left with a 6'4" hole at wide receiver when they shipped mercurial receiver Brandon Marshall off to Chicago for a pair of third-round picks. At the time many, including myself, thought they would replace him with a free agent.
We were wrong.
Miami recently signed 6'2" Legedu Naanee to a one-year deal, but that hardly addresses the position after losing Marshall.
Naanee did have the best season of his career last year, but that amounted to catching 47 passes for 467 yards and one touchdown to go along with the worst receiver rating at Pro Football Focus.
Indeed, Marshall had his off-field issues and some butterfingers on the field, but he also topped 1,000 yards in each season with Miami and it is hard to argue he was not the best receiver on the Dolphins in years.
Who might they be targeting in the draft to replace him?
No Room At the Top
Given Green Bay's history of avoiding first-round receivers with Joe Philbin there and Jeff Ireland's propensity to draft linemen, the likelihood Miami takes a receiver in the first round is slow. There is a chance, however, so let us examine the prospects.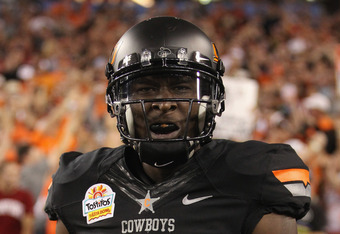 Christian Petersen/Getty Images
Justin Blackmon
One reason Brandon Weeden was so successful in college was that he had Blackmon to throw to. 
The problem with Blackmon is that he does not possess elite measurables in the same way that, say, Calvin Johnson or even Julio Jones do.
He stands at 6'0" and runs a 4.55 40-yard dash—not exactly 6'3" and 4.39—and did not display elite burst at the position in college. While he is a good receiver, he may not be top-10 material.
It is this combination of reasons that will conspire to allow Blackmon to fall to Miami here. In that event, I would expect Miami to aggressively seek a trade or select another position rather than pick Blackmon.
Here is a receiver who many are starting to place at the top of the heap at the position. 
While he was not a big producer at Notre Dame like his counterpart was at Oklahoma State, Floyd does have the combination of size, speed and hands that Blackmon does. He is 6'3" and ran a 4.41 official 40-yard dash (4.36 unofficially) at the NFL Combine.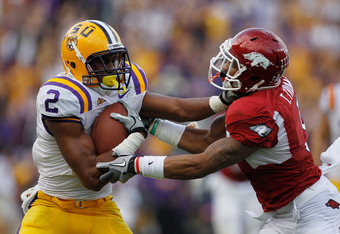 Chris Graythen/Getty Images
His off-the-field issues are the reason he is not the clear-cut No. 1 receiver in this draft, but the notion he will be the first one off the board is gaining steam.
Incidentally, while Floyd's issues are well-documented, Blackmon's DUI has not raised a similar ruckus amongst draft experts.
Those off-field issues could be a major factor in Miami's decision not to draft him, however. Floyd may have cleaned his act up, but Jeff Ireland may not want to pick up a potential headache after trading another one away for precisely that reason.
Once again, needs at other positions may be the ultimate deal-breaker here as well.
Kendall Wright
Once talked about as a potential top-10 pick, Wright's stock has taken a bit of a tumble in the public eye after a disastrous 4.61 official 40 time at the combine.
A premature hand movement may have been to blame for this, however, as Wright ran well at his pro day with a 4.41 time. Aside from 40 times, however, is the fact that Wright is explosive on film and catches the ball well.
Despite lacking ideal size, the former Baylor receiver may fit nicely into the Joe Philbin mold of receivers at 5'11"—and his NFL comparison is Greg Jennings to boot—but taking him at No. 8 is likely not in the cards for Miami. After all, Jennings himself was a second-round pick.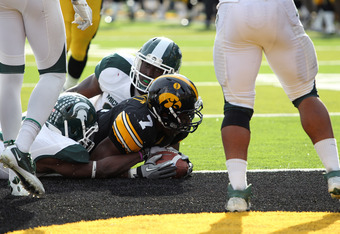 Reese Strickland/Getty Images
It would not be the first time the Dolphins made an odd receiver selection in the top 10 however—Dolphins fans know all too well how the last one, Ted Ginn, Jr. and his family, turned up.
The Big Boys
Michael Floyd could belong in this category, but he was in the discussion at the top of the draft. These receivers are all on the bigger side, which potentially pushes them down the draft board if they fall outside the Philbin mold.
Alshon Jeffery
Is he lazy?
After a breakout season in 2010 with South Carolina, Jeffery came into 2011 overweight and stayed that way. Unfortunately for him, that tagged him with the lazy label, a difficult one to shake.
Despite weighing in at a healthy 217 pounds and running a relatively fast 4.47 40 at his pro day, questions about his work ethic linger and drag down his draft stock. 
This means he could potentially fall to the Dolphins and their second-round pick. Considering Miami might be placing quarterback and pass rusher above receiver in terms of need, he may be bypassed in favor of one of those two.
If he is there, however, Miami would be filling the void left by Brandon Marshall nicely—Jeffery is about the same size at 6'3" and a considerable amount of talent to go with it.
Stephen Hill
Hill was the talk of the combine when he posted a blazing 4.36 official time. That is a lot of speed for a 6'3" player.
Perhaps the best combination of size and speed to replace Brandon Marshall, Hill's combine results may have vaulted him out of reach into the back end of the first round.
Although a bit raw as a result of run blocking most of the time in Georgia Tech's spread option, Hill is the latest in a line of great, big receivers out of Georgia Tech.
Although intriguing, Hill will likely not make it to the Dolphins' second-round pick.
Rueben Randle
The 6'4" receiver out of LSU has been flying under the radar for most of draft season. He was relatively disappointing at the combine, running a 4.55 40 with just a 31" vertical, but he drastically improved that time with a 4.40 at his pro day.
Though his combination of size and speed is enticing, he is a bit of a raw prospect coming out of college. His route tree was limited at LSU, which is likely the main reason he is not a lock for the first round.
His height places him outside that Philbin mold, but he is comparable to Brandon Marshall. He may be a bit too raw to take at the top of the second round as well. It would be a mild surprise if Miami is taking a serious look at the former Tiger.
Tommy Streeter
Even bigger than Randle at 6'5", Streeter was one of the combine's most impressive performers with a 4.36 unofficial time in the 40-yard dash. Though the official time wound up being 4.40, he clearly possesses excellent speed and size.
The problem with Streeter is that he never developed. He finally broke out during his senior season, but he has never lived up to his potential. Like Randle, he has a limited route tree and even less production in college.
His measurables alone could sneak him into the bottom of the second round, however putting him completely out of range for Miami. They could be looking at him with one of their third-round picks, but even that might be too expensive for the former Miami Hurricane.
Greg Childs
Childs is an intriguing prospect in that he had a poor senior season and combine, but turned his draft stock around with an impressive pro day.
The 6'5" receiver out of Arkansas ran a 4.41 40-yard dash and leaped a 40.5" vertical jump, showing teams he has fully recovered from an injury that was largely to blame for his mediocre senior season.
All these factors make it difficult to gauge his draft stock, but a guy with his apparent combination of size and speed is likely to climb draft boards on draft day. I would be surprised if he falls any further than the fifth round, but he could very well go in the third. 
At that price, he may be too risky for Miami.
Dwight Jones
Being banned from your college team's pro day is not exactly a good thing during draft season. Neither is a bad Senior Bowl.
Jones held his own pro day just after UNC's wrapped up, but the damage had been done. Once considered a second-round prospect, the 6'4" former Tar Heel's draft stock has taken a nosedive. 
His size might wind up getting him drafted in the fourth or fifth round, however. Given there are better options his size, and his slightly checkered recent history, I would wager to say Jeff Ireland will pass on him on the second and third days of the draft.
Jeff Fuller
Ryan Tannehill's favorite target at Texas A&M has a lot of questions dogging him coming out of college. 
The biggest one concerns his hands—Fuller dropped too many passes as a receiver—and he showcased that problem at the Senior Bowl, where he performed poorly, presumably to keep Dwight Jones company.
Aside from drops, Fuller is just an average possession receiver with limited upside. Unless he falls into the sixth or seventh rounds or Mike Sherman really likes him, the Dolphins should pass on him.
The Jordy Nelson Zone
Juron Criner
The receiver out of Arizona actually has very similar measurables to Jordy Nelson at just under 6'3" and 220 pounds while running a 4.5 40. 
Their scouting reports are not dissimilar either, making him an intriguing choice for the Dolphins.
Because this is such a deep receiver class, Criner's draft stock is stuck somewhere between the third and fifth rounds. 
Should the Dolphins elect to address other positions earlier in the draft, Criner might be high on their board when the fourth round comes along. Considering Nelson's success in Philbin's offense up in Green Bay, Criner could be a Dolphin next season.
Brian Quick
Quick is a small-school prospect with big upside. The question is whether he will be ready to contribute right away.
Like Hill, the Appalachian State graduate comes from a run-oriented system that stunted his development. At 6'3", Quick is a big and physical receiver who blocks well downfield, and he dominated lower competition. 
His limited route tree and average speed are keeping his draft stock in the late second or early third-round range, though. 
There has not been much talk of Miami drafting Quick, though they did spend a fourth-rounder on small-school prospect Clyde Gates last year. To snag him they would likely have to use one of their third round picks, which might be too rich for Ireland's blood.
Marvin McNutt
The 6'3" receiver out of Iowa was a big producer in college, leading the Big 10 in receiving last season with 1,315 yards and 12 touchdowns.
McNutt is a good receiver who simply lacks burst for the position. He is another wideout who reminds me of Jordy Nelson in that regard, one who could fit in nicely with this offense.
The former Hawkeye projects to go somewhere in the third or fourth round. Miami could snag him with one of their third rounders.
Nick Toon
Russell Wilson's favorite target at Wisconsin finds himself in the underrated category going into draft week. 
Though he does not exhibit elite speed, Toon is a versatile receiver who does a lot of things well. Those include crisp route-running and downfield blocking. 
Toon projects to be a third or fourth-round pick. If Miami has not drafted a receiver by the fourth round and Toon is sitting there, there is a good possibility he will be the pick.
Dale Moss
Little-known out of South Dakota State, Moss turned a few heads at his pro day, running a 4.45 40 at 6'3" and jumping a 41.5" vertical leap. Those are outstanding numbers.
The former basketball player would be a project, however; Miami would likely target him in the later rounds, if at all.
The Wheelhouse
These guys sit smack in the middle of that Joe Philbin mold, making them prime candidates in the draft, even if nobody is talking about them.
Marvin Jones
Despite dominating the Senior Bowl and performing well at the combine, Jones remains an under-the-radar prospect. This is mostly due to playing in the shadow of Keenan Allen during his time at Cal. He also suffered from erratic quarterback play.
Jones is an ideal pick for the Dolphins, however. Coming in just under 6'2," he has good 4.4 speed and excellent hands. He also excels after the catch, again an important trait in the type of offense Miami will be running.
Despite being under the radar for the most part, Jones could go somewhere in the second round. That would mean Miami would need to spend their second-round pick, or potentially use another one acquired in a trade down from No. 8. 
Should Jones fall to Miami's third round selections, however, he will likely be high on their list.
Mohamed Sanu
Though he has only played receiver for a few years, Sanu has established himself as a potential second-round talent in this year's draft.
Sanu has a penchant for making the difficult catches while dropping some easy ones, much like Brandon Lloyd early in his career. He is not particularly explosive, making him more of a possession receiver.
Miami could be looking at him in the second round along with Marvin Jones.
A.J. Jenkins
Much like Denarius Moore did last season, Jenkins's draft stock is experiencing a meteoric rise as we approach the draft, for apparently no reason. Moore wound up being drafted by the Raiders in the fourth round after some said he could fall into the second.
I expect a similar result for the receiver out of Illinois.
Jenkins was hot on McNutt's heels in the Big 10, catching a whopping 90 passes for 1,276 yards last season. He's got excellent speed, albeit on a bit of a thin frame at 190 pounds. 
If his stock does put him high into the third round, Miami may pass on him. Given his production and speed, though, they may like him enough to take him there or in the fourth if he falls far enough.
Chris Givens
Givens falls on the shorter side of the mold, but fits nicely at just under 6'0".
His draft stock is hazy, but the former Demon Deacon brings a lot of speed to the table. There are some injury and hand size concerns with Givens, meaning he might fall into the fourth or fifth round. Any higher might be too expensive for the Dolphins.
Quick and Speedy
Most of these receivers will make their living playing in the slot. Miami already has two bigger receivers in Brian Hartline and Naanee, both of whom are 6'2", and if they select another big receiver in the draft they may be looking at one of these guys as a complement.
Devon Wylie
When your NFL comparison is Wes Welker, you know you are doing something right.
Wylie is a fast slot receiver coming out of Fresno State. He ran a 4.39 40-yard dash at the combine, good for second among receivers. His 5'9" frame might be a bit small, but that is the main reason he elicits comparisons to Welker.
The former Bulldog could be taken as early as the third round, but it is a good possibility that he will be there when the Dolphins select in the fourth.
Ryan Broyles
Just a few months removed from ACL surgery, Broyles ran a 4.7 40 at the combine. A month later, he did it in 4.5 seconds at his pro day.
His impressive recovery has put a buzz around him going into draft week. That is perfect timing for the former Oklahoma Sooner, who is shooting up draft boards. 
He could go as early as the third round at this rate, and Miami would not be disappointed in taking him. 
Joe Adams
The former Razorback has quietly had a good draft season. He was outstanding at the Senior Bowl and put up good numbers at the combine.
He had some fumbling issues during his final season at Arkansas, but Adams is the type of player that could thrive in Joe Philbin's offense. He excels at running after the catch, an ideal trait to look for in the West Coast-style offense. 
Adams's draft stock is murky right now, but going into draft season he was projected as a third-round pick. He will likely not fall much further than Miami's fourth-round pick, if that far, but picking him in the third round is a real possibility.
T.Y. Hilton
The local product was a blazer at Florida International University, but I question his ability to stay healthy in the NFL. He was constantly dinged up in college.
His draft stock is in the fifth-round range, but there are plenty of better options that can be had earlier.
After the Draft
Considering how deep this draft class is at wide receiver, these guys could go undrafted. As such, Miami should not look to draft them with anything higher than a seventh-round pick.
Travis Benjamin
Benjamin flashed potential at Miami—particularly as a punt returner—but he was highly inconsistent, even costing his team a game or two. One thing the Hurricanes are known for is speed, however, and Benjamin has that in spades.
Thomas Mayo
Mayo has good size and produced well at California PA, but struggled when he made the jump to stiffer competition at the East-West Shrine game.
He is strictly developmental, and Miami may have too many of those guys at receiver by the time they get around to him.
Keshawn Martin
The receiver out of Michigan State was overshadowed by B.J. Cunningham in college, but he could be a nice post-draft addition if he goes undrafted.
It would have been unlikely in years past, but again, this is one deep class.