2012 NFL Draft: Running Backs Who Will Shine Immediately
April 18, 2012
Ronald Martinez/Getty Images
Running back is one of the easier places for rookies to come and make a huge impact, which is good since the typical career of a running back is not much longer than one season. 
The following three players won't find adjusting to the NFL that difficult. They will all have solid season and play a huge role for their team. 
Trent Richardson, Alabama
Richardson will be one of the best running backs in football from the moment he steps on the field. He is that good. There is nothing that he can't do on a football field that you would want a running back to do. 
He is a tough north-and-south runner who will consistently churn out positive yards with his powerful legs. He is explosive enough that he is also always a threat to bust one to the house. 
And that's not all—not even close. He also has the goods to be an elite third-down back. Richardson is as polished a blocking back that you will ever find coming out of college. 
He also has tremendous hands and solid route-running ability. He will be on the field a lot, and he will produce. 
Season Prediction: 1,237 rushing yards at 4.7 yards per carry
Lamar Miller, Miami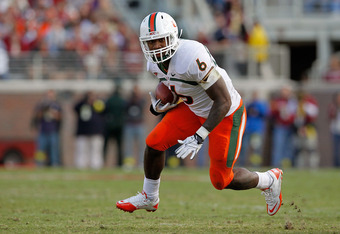 Mike Ehrmann/Getty Images
Miller is a hard runner with the speed to go the distance. He has a tremendous feel for finding the hole. This will serve him as well in the pros as it did in college. 
He will be a nice fit on a zone-blocking team, as he is a perfect one-cut-and-go runner. Miller has tremendous quickness and he can hit those holes in a hurry. 
Once he hits the holes, he will be a problem. He has excellent straight-line speed. 
Miller will also be a nice threat catching the ball out of the backfield. He has very good hands and a decent feel for the pass game. 
His problems with pass protection could keep him off the field in some situations, but he will get plenty of work and he will not disappoint. 
Season Prediction: 874 rushing yards at 4.5 per carry
Chris Polk, Washington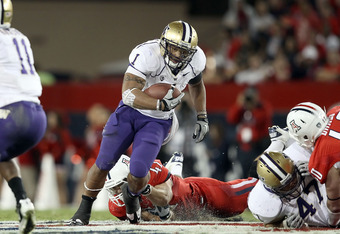 Christian Petersen/Getty Images
Polk's lack of elite straight-line speed will hold him back in this draft, but not in the NFL. This is not a guy that is going to boost his average with a lot of long runs, but he will consistently get positive yards. 
Polk is a patient runner with great quickness. He can explode through the hole, and he does so with force.
He is a workhorse runner that gets stronger as the game goes on. He used that to become just the seventh player in Pac-12 history to rush for over 4,000 yards—a feat that is especially impressive considering the Huskies have not had an offensive lineman drafted since 2006.
Polk is definitely a starting-caliber back, and he will be from day one. 
Season Prediction: 1,052 rushing yards at 4.3 yards per carry