2012 NFL Mock Draft: Studs Every Team Would Benefit From Drafting
April 18, 2012

Butch Dill/Getty Images
Non-scheme driven players can fit on any team. Though they may not be stars, many of them can be solid contributors, no matter the team or coach.
I can't say that these spotlights will include any QBs, as teams like Green Bay and New England have no need for a signal caller in the first round.
Instead, I focus on positions where depth is key, and on players so talented, they could get on the field and contribute for any team this season.
Here is a spotlight of those players within a first-round mock draft:
1. Indianapolis Colts: Andrew Luck, QB, Stanford
The Colts may have known they were selecting Luck the day they clinched the league's worst record.
2. Washington Redskins: Robert Griffin III, QB, Baylor (via trade with St. Louis)
The Redskins are just as attached to RG3 as the Colts are to Andrew Luck.
3. Minnesota Vikings: Matt Kalil, OT, USC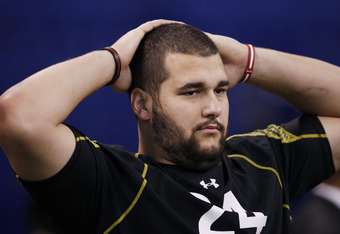 Joe Robbins/Getty Images
There are teams set at LT, but I contend there isn't a team in the NFL that wouldn't start—or at least give Kalil a strong look with this pick.
Bookend offensive tackles are rare, and that is what Kalil is.
Even a team like the Miami Dolphins or Cleveland Browns that are already set at LT would consider him to play RT.
As it stands, I predict Kalil will be protecting Christian Ponder in the very near future.
4. Cleveland Browns: Trent Richardson, HB, Alabama
Even though I believe the Browns should trade down or draft Justin Blackmon here, I can understand an interest in Richardson.
He could very well win Rookie of the Year, as he is ready to contribute now. His north-south running style, ability to block and receive make him an asset to any backfield.
With so many teams using two—and even three backs, there is no RB rotation Richardson couldn't crack.
That said—the Browns need a playmaker in the passing game more than a beast of a RB.
5. Tampa Bay Buccaneers: Morris Claiborne, CB, LSU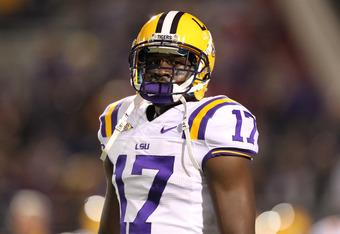 Joe Murphy/Getty Images
Who can't use a dynamic cover-corner? That is how I see Morris Claiborne.
He has excellent ball-skills, good size and he tackles well.
His abilities could be adapted to any scheme. Even a corner-rich team like the Eagles could find a place for him in their secondary.
I predict he'll be one of the top 10 corners in the NFL in three years.
6. St. Louis Rams: Justin Blackmon, WR, Oklahoma State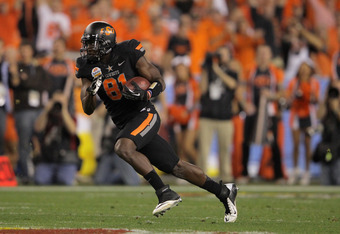 Doug Pensinger/Getty Images
Blackmon has the speed, hands and run-after-the-catch ability to stand out for any team.
If they had the chance, even the Super Bowl champion New York Giants could find a way to play Blackmon with Victor Cruz and Hakeem Nicks.
Blackmon is the best WR prospect in the draft, and I think he'll quickly become Sam Bradford's No. 1 option in St. Louis.
7. Jacksonville Jaguars: Melvin Ingram, DE/OLB, South Carolina
Streeter Lecka/Getty Images
Ingram may not have a true position, but that makes him fit this spotlight all the more. He is 6'2", 275 pounds, with amazing athleticism.
His size and physical gifts have him on the radar of teams that play 3-4 and 4-3 defensive schemes.
He could be a traditional DE, or a OLB in a 3-4 scheme. Pro Football Weekly lists him as a DE-OLB-DT prospect.
That is a true testament to his versatility.
Hopefully he finds the right system, and is utilized properly. If that happens, he'll be a star.
8. Miami Dolphins: Ryan Tannehill, QB, Texas A&M
Tannehill is an interesting prospect, but I think he's a major reach this high. Hopefully, he proves me wrong.
9. Carolina Panthers: Michael Brockers, DT, LSU
Brockers is huge and he could be a major player in the NFL. I think his future is as a DT in the NFL, but he must shake off a poor showing at the combine.
10. Buffalo Bills: Michael Floyd, WR, Notre Dame
Floyd has really made a push in the offseason. He has great size and speed. I wouldn't be surprised to see him climb inside the top seven.
11. Kansas City Chiefs: David DeCastro, G, Stanford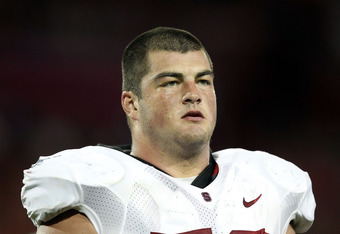 Christian Petersen/Getty Images
This fundamentally sound offensive guard has a chance to be the first to crack the top 15 at his position in a while.
He is solid in most every aspect, though he isn't considered a stud athlete.
The position is not traditionally valued very highly, but DeCastro could play for any team in the NFL.
He's a good bet to start for the Chiefs and that would be the case for any team that selected him.
12. Seattle Seahawks: Luke Kuechly, MLB, Boston College
NFL scouts don't seem to be concerned about Kuechly's speed anymore. He would be a solid pick for the Seahawks—especially after they addressed the QB position through free agency.
13. Arizona Cardinals: Riley Reiff, OT, Iowa
I love Reiff and he's a great fit for the Cardinals. They need to improve everything about their passing game—except Larry Fitzgerald.
14. Dallas Cowboys: Dontari Poe, NT, Memphis
Will he boom or bust? We'll know over the next two or three years. He has enormous potential, but potential doesn't sack the QB, make tackles or command a double-team.
15. Philadelphia Eagles: Fletcher Cox, DT Mississippi State
The Eagles need to improve their run defense, and drafting Cox would be a great step in that direction. 
16. New York Jets: Courtney Upshaw, OLB/DE Alabama
The Jets have a strong need for a pure pass-rusher. At this point in the draft, Upshaw will likely represent the best fit for that need.
17. Cincinnati Bengals: Dre Kirkpatrick, CB, Alabama
The Bengals' top priority in this draft should be a CB. Kirkpatrick will be the best pick at that position at No. 17.
18. San Diego Chargers: Nick Perry, DE/OLB, USC
Perry has the potential to give the Chargers the type of pass-rushing presence they once enjoyed from Shawne Merriman.
19. Chicago Bears: Whitney Mercilus, DE/OLB, Illinois
The run on pass rushers could continue if the Bears select Mercilus to be Julius Peppers' running mate.
20. Tennessee Titans: Cordy Glenn, G, Georgia
Another solid guard who is a notch below David DeCastro in my opinion. Still—Glenn can contribute and this is a smart pick for the Titans.
21. Cincinnati Bengals: Doug Martin, RB, Boise State
After addressing the CB spot, the Bengals could stand to replace free agent Cedric Benson. Martin reminds me a lot of Ray Rice—enough said.
22. Cleveland Browns: Jonathan Martin, OT, Stanford
This could be a smart selection for the Browns. Martin would be a nice fit at RT. It would give the Browns solid bookends at both tackle positions with the most awesome Joe Thomas on the left side.
23. Detroit Lions: Stephon Gilmore, CB, South Carolina
I'd like to see the Lions address their coverage issues—OK, as a Bears' fan I couldn't care less, but as a sportswriter—I acknowledge the need. Gilmore is a solid all-around CB who could really help Detroit.
24. Pittsburgh Steelers: Donta Hightower, LB, Alabama
It's time the Steelers injected some new blood into their LB corps.
25. Denver Broncos: Kendall Wright, WR, Baylor
Wright could really thrive with Peyton Manning as his QB—on second thought, that statement could be made for most receivers.
Still—his speed could be a huge asset to Denver.
26. Houston Texans: Stephen Hill, WR, Georgia Tech
Stephen Hill's speed, size and athleticism will get him drafted in the first round. His lack of production in college is still a concern though.
27. New England Patriots: Quinton Coples, DE, North Carolina
If the Pats can get Coples to buy in, this could be the biggest steal in the draft.
28. Green Bay Packers: Chase Minnifield, CB, Virginia
Minnifield is a great all-around athlete and nice eventual successor to Charles Woodson..
29. Baltimore Ravens: Peter Konz, C, Wisconsin
I'd really like to see the Ravens look for Ray Lewis' successor, but no MLB prospect trumps the appeal of drafting Konz. 
30. San Francisco 49ers: Coby Fleener, TE, Stanford
Fleener could give the Niners the premier TE tandem in the NFL.
31. New England Patriots: Alshon Jeffery, WR, South Carolina
This could and would be another steal for the Pats. If Jeffery is the guy that we saw his sophomore year, and at his pro day, he could add a Randy Moss-like effect back to the Pats offense. 
32. New York Giants: David Wilson, RB, Virginia Tech
Wilson is a home run threat, and that is an element the Giants' offense doesn't have at RB.
Follow Brian Mazique
and Franchiseplay - A Haven For Sports Expression