2012 NFL Schedule: The 17 Most Intriguing Games of the Year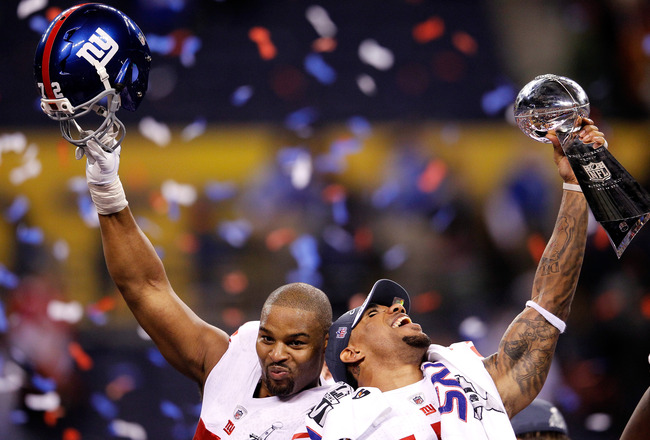 Rob Carr/Getty Images
The 2012 NFL Schedule was released Tuesday night, and as it does every year, the league blessed us football fanatics with some intriguing matchups.
As expected, the defending champions New York Giants drew the league's toughest schedule, but for Giants fans, that will also result in watching many of the season's best games. If this team is going to get back to the playoffs in 2012, they'll definitely have to earn it.
Many of the games we thought would be big-time tilts heading into the season turn out to be duds by the time they are actually played, primarily due to injuries to key players and disappointing play from teams thought to be playoff contenders prior to the season's start.
Here are what I believe to be the most intriguing games of the NFL season, one for each of the season's 17 weeks.
Week 1: San Francisco 49ers at Green Bay Packers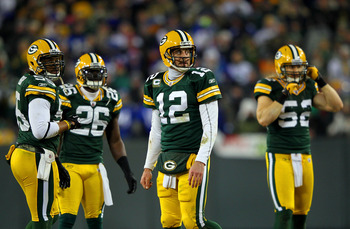 Jamie Squire/Getty Images
This opening weekend matchup features two NFC favorites looking to turn the page on the 2011 season, following disappointing playoff losses to the Giants.
The Packers headed into the postseason looking to defend their Super Bowl title after a 15-1 regular season. That dream was cut short when New York went into Lambeau Field and throttled Green Bay 37-20, exploiting a defense that was shaky all year.
Green Bay will return with pretty much the same group intact, focused on erasing the memory of that crushing defeat.
If you think the Packers' season ended poorly, it pales in comparison to the overtime loss that the 49ers suffered in the NFC Championship game. Two crucial errors by the special teams unit led to a 20-17 loss that will not soon be forgotten by the San Francisco faithful.
The 49ers made more headlines this offseason by flirting with Peyton Manning, before eventually resigning Alex Smith at quarterback. They also turned heads with the free-agent signing of Randy Moss, who returns to the NFL after a one year "retirement."
Both teams will be highly motivated to get off to fast starts in 2012, and this game will be a great early-season test for both.
Week 2: New Orleans Saints at Carolina Panthers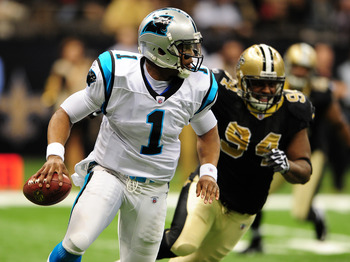 Scott Cunningham/Getty Images
Heading into week two, the Saints will still be adjusting to life after Bountygate, with head coach Sean Payton suspended for the year and several key defensive players certain to miss at least a handful of games.
An early season visit to the up-and-coming Panthers will do nothing to help the healing process.
Carolina got off to a slow start last season, with rookie quarterback Cam Newton adjusting to the NFL game and first-year head coach Ron Riviera leading his first NFL team. But by the end of the year, the Panthers looked like a team on the rise, winning four of five games down the stretch before a blowout loss at New Orleans in the season's final week proved that they weren't quite there yet.
With a full season of NFL experience under his belt and a full offseason to prepare, expect Newton and Co. to give the Saints all they can handle in their first shot at proving that they'll be a legitimate contender for the NFC South crown.
Week 3: New England Patriots at Baltimore Ravens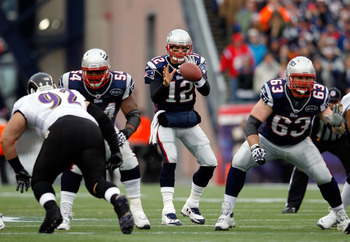 Rob Carr/Getty Images
The Ravens certainly don't have to wait long to try and exact revenge on the Patriots following last season's loss in the AFC Championship game. Baltimore thoroughly outplayed New England in January's title game, but the Pats made the plays that they needed to down the stretch to make a return trip to the Super Bowl.
More than the recent history between the franchises, this is a matchup of contrasting approaches to winning football games. The Patriots feature the AFC's most prolific offense, while the Ravens depend on a stingy defense and potent running game to defeat their foes.
Both teams will enter the 2012 season as favorites to win their respective divisions and will perhaps meet again in the postseason. We can only hope that the regular season battle is as close as their most recent confrontation.
Week 4: New York Giants at Philadelphia Eagles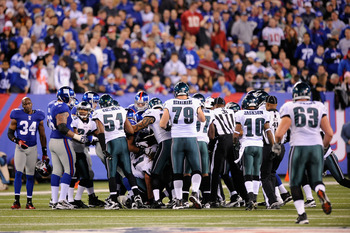 Patrick McDermott/Getty Images
The Philadelphia Eagles probably wish that Roger Goodell and the league's owners had gotten their wish for an 18-game season last year. Those two extra weeks might have been enough to allow Philly to ascend to the NFC East title and perhaps embark on an epic postseason run of their own.
Instead, Philadelphia's four-game winning streak to finish out the 2011 season left their fans and experts wondering why it took 12 weeks for such a talented team to put it all together.
The Giants, meanwhile, put together a nice late-season run of their own on their way to the NFC East title. We all know what happened once postseason play began.
Free of any "Dream Team" hype heading into 2012, the Eagles will be anxiously anticipating their first shot at the reigning champs. New York should be equally motivated to quickly put down any questions about a Super Bowl hangover and prove once again that they are top dogs in the NFC East.
Week 5: San Diego Chargers at New Orleans Saints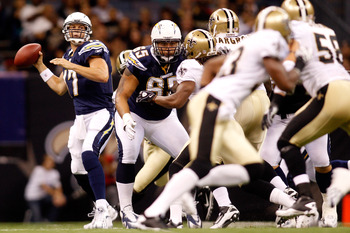 Chris Graythen/Getty Images
It's been six years since the Chargers and Brees parted ways to make room for Rivers, the quarterback they acquired in a draft-day trade with the New York Giants in 2004. The two have gone head-to-head twice since then, with the Saints emerging victorious in both the 2008 and 2010 contests.
The history between these two is far enough removed that it's no longer a major story, especially since both the Chargers and Saints have to be thrilled with their respective signal callers. This game will be exciting because it features two of the game's best quarterbacks, guiding two of the NFL's most prolific offenses.
Brees and Rivers combined to throw for more than 10,000 yards and 73 touchdowns in 2011, with Brees breaking Dan Marino's single-season mark for passing yards. Both teams lost key members of their receiving corps this offseason (Vincent Jackson in San Diego and Robert Meachem in New Orleans), but that shouldn't stop two of the league's best gunslingers form lighting up the scoreboard in the Big Easy.
Week 6: New York Giants at San Francisco 49ers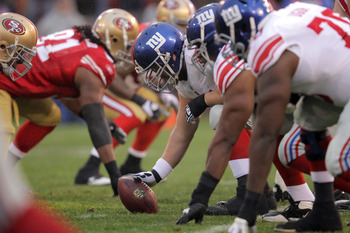 Doug Pensinger/Getty Images
These two teams gave us a pair of great games during the 2011 season, and this year's edition should be no different.
After narrowly holding off the Giants in their regular-season matchup, the 49ers gave away a trip to the Super Bowl with a pair of special teams mistakes that led to a 20-17 overtime loss in the NFC Championship game. Although last season had to be considered an overwhelming success in the first year of the Jim Harbaugh era, coming that close to a Super Bowl birth was heartbreaking nonetheless.
The 49ers and Giants both enter 2012 with high expectations. A loss for either team will not spell doom with two-thirds of the season yet to play, but don't be surprised if this game matches the intensity of January's memorable showdown.
Week 7: New York Jets at New England Patriots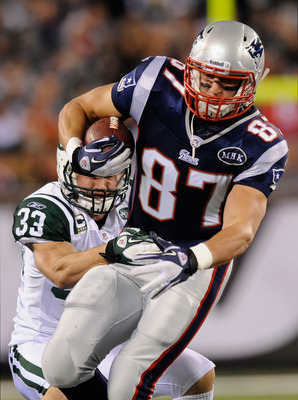 Patrick McDermott/Getty Images
Since Rex Ryan took over as the Jets head coach prior to the 2009 season, this rivalry has quickly reached a level of competitiveness and hatred matched only by Pittsburgh vs. Baltimore in the AFC.
The series has been dominated by back-page stories and memorable quotes by players and coaches. But both teams have also shined on the field, with one of the two appearing in the last three AFC Championship games, including a Super Bowl appearance for the Patriots last year.
Despite the appearance in the NFL's title game, you'd have a hard time convincing the Patriots—everyone but tight end Rob Gronkowski—that their 2011 season was any less disappointing than New York's, even though the Jets missed the postseason entirely.
As if the Jets needed anymore motivation against their AFC East arch nemesis, the offseason trade for Tim Tebow adds yet another subplot to the story, as Tebow will be anxious to prove that last year's blowout loss to New England in the AFC Divisional playoff round was a mere speed bump on his road to postseason glory.
Media fodder aside, the Jets and Patriots are the class of the division. New York will be anxious to make New England work a lot harder for the AFC East crown than they did in 2011, when they won the division by a comfortable five games.
Week 8: New York Giants at Dallas Cowboys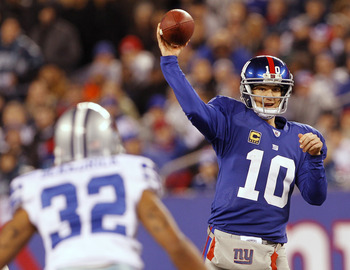 Rich Schultz/Getty Images
After the 2011 NFC East title came down to the New Year's Day showdown between the Cowboys and Giants in the Meadowlands, it's a little disappointing that this year's final matchup between the two teams will come before the midway mark of the season.
It's also why this game trumps the New Orleans at Denver game as the week's best game (luckily we don't have to choose between the two, since the scheduling Gods made the Saints at Broncos tilt a Sunday-night affair).
Dallas had a chance to bury New York's playoff hopes in Week 14 last year, but they blew a two-score lead with under four minutes to play, a choke job that burst their emotional bubble while serving as a launching pad for the Giants' Super Bowl run.
In addition to having the NFL's most heated rivalries, the NFC East is arguably the toughest division in the league when measuring the difference between its best and worst team.
With two Super Bowl victories in the last five seasons, the Giants have clearly established themselves as the class of the division. You better believe that doesn't sit well with Jerry Jones and the rest of the Cowboys organization.
Week 9: Carolina Panthers at Washington Redskins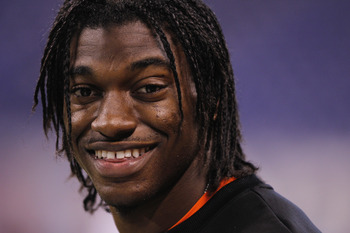 Joe Robbins/Getty Images
If you like your quarterbacks in the classic, drop-back mold of Peyton Manning and Tom Brady, this game is not for you.
In a week that currently shapes up to be a relative snooze fest, a matchup between the last two Heisman Trophy winners stands out as week nine's premiere game.
If the NFL draft plays out as expected, Cam Newton will face off against Robert Griffin III in what could develop into this generation's version of Manning vs. Brady.
After many questioned Newton's ability to excel at the NFL level, he quickly silenced the haters with a rookie-record 4,051 passing yards and an NFL-record 14 rushing touchdowns by a quarterback. We're itching to see what he does for an encore.
Meanwhile, Griffin, III may be the biggest beneficiary of Newton's debut performance, as it proved that a dual-threat quarterback could succeed at the NFL level with no learning curve. If you thought Newton's rookie season was impressive, imagine what RGIII can do with a full offseason of preparation and a more refined passing game than Newton had coming into the league.
If Griffin turns out to be as good as advertised and the Panthers can build off of their late-season success in 2011, this game may even have playoff implications.
Week 10: Denver Broncos at Carolina Panthers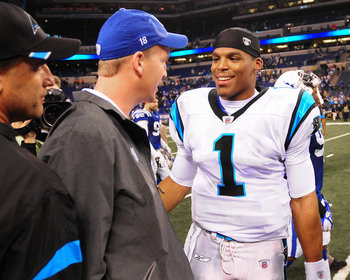 No matter which style of quarterback you prefer, the Broncos at Panthers game will offer you the best of both worlds. Peyton Manning will take his Hall-of-Fame credentials and pocket-passing proficiency to Charlotte for a shootout against the new face of the league, Carolina's Newton.
More than a matchup between quarterbacks old and new, this game will also mark the return of long-time Panthers head coach John Fox to the place that gave him his first shot at a top NFL gig.
Fox's departure was likely the best thing for the Panthers and the coach, as both benefited from a change in 2011. Fox led the Broncos to a surprising AFC West title and Wild Card playoff upset over the Pittsburgh Steelers, while Ron Rivera and Newton brought excitement about the Panthers back to Carolina.
Newton has proved to be a great student of the game and the quarterback position in particular. Don't think that will leave him star-crossed in his first meeting against Manning.
Week 11: Philadelphia Eagles at Washington Redskins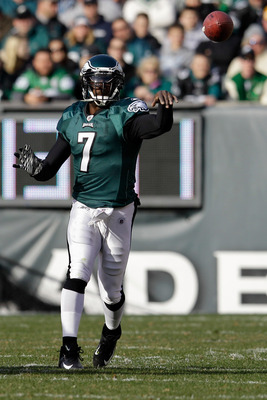 Rob Carr/Getty Images
If Michael Vick happens to catch a glimpse of the Redskins offense while sitting on the sideline between possessions, he might get a little spooked watching Robert Griffin III under center. He may also wonder to himself what might have been had he taken the game seriously early on in his career?
The Eagles will get their first look at The Michael Vick Experience 3.0 when they travel to the nation's capital for an NFC East battle against RGIII and the Washington Redskins.
Griffin's dedication and professionalism are already apparent, even though he has yet to take as much as a practice snap at the NFL level. Some have doubts about his ability to live up to the expectations that will come with being the No. 2 pick in next week's draft, especially given all that Washington gave up to have a chance to select him. What is not in question is his work ethic and reputation as a team leader.
Vick has done an admirable job reviving his career in the three years since returning to the NFL following a two-year prison stint for leading a dog-fighting ring. It's just unfortunate that it took such an extremely awful set of circumstances to make him finally make the most of his immense talents.
All that is history now, and NFL fans should be in for a treat when Vick and Griffin face off in week 11. More than the game itself, I'd love to hear the words of wisdom that Vick imparts on RGIII during the post-game, mid-field embrace.
Week 12: Carolina Panthers at Philadelphia Eagles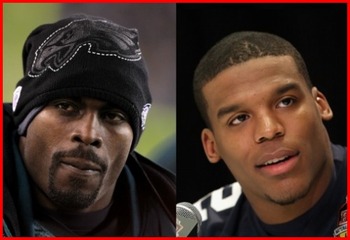 If Vick isn't sufficiently spooked by the previous week's encounter with Griffin, the week 12 showdown with Newton will be like the Ghost of NFL Careers Past for the Eagles' QB.
Facing Newton will invoke a different type of internal question for Vick, something more like "What would happen if they genetically altered my physique like the guy in that Captain America movie?"
If Griffin is the smarter, more professional update of Vick, Newton is unquestionably the bigger, stronger version.
Aside from the quarterback matchup, this game should feature two teams battling for NFC playoff spots, if not division titles. That will add an extra layer of drama and excitement to the "Old Vick vs. New Vick" sequel.
Week 13: Pittsburgh Steelers at Baltimore Ravens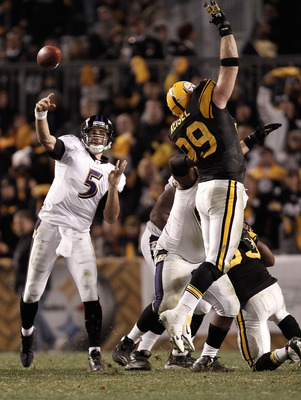 Jared Wickerham/Getty Images
With all due respect to the Cincinnati Bengals, Pittsburgh vs. Baltimore still represents the battle for AFC North supremacy.
The Ravens finally got the best of the Steelers last year, sweeping the season series and the division, on their way to the AFC Championship game. But they failed to turn that success into a Super Bowl appearance, coming up just short in a game where they clearly out-played the New England Patriots but couldn't come up with key plays when they needed them.
Baltimore very well could have been squaring off against their division foe in the playoffs had the Steelers not suffered a stunning loss at the hands of Tim Tebow and the Denver Broncos on the first play of overtime during their Wild Card matchup.
If things play out as most expect, the second regular-season battle between the two will again play a critical role in deciding the division title and overall AFC playoff picture.
Week 14: New Orleans Saints at New York Giants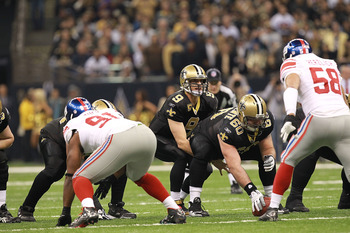 Ronald Martinez/Getty Images
Many thought that these two would meet in last season's NFC Title game. The New York Giants held up their end of the bargain by upsetting the Green Bay Packers in the Divisional Round,
Unfortunately for the Saints, they were unable to overcome five turnovers in a 32-36 loss at San Francisco that included one of the most entertaining fourth quarters in NFL playoff history.
The Giants would appear to have a major advantage facing a dome team at home in December, but New York might be so beat up from a brutal schedule by then that any advantage will be nullified by fatigue.
My guess is that both teams will still be fighting for their playoff lives at this point in the season, so we're likely to see a tremendous battle between two of the last three Super Bowl-winning quarterbacks.
Week 15: Pittsburgh Steelers at Dallas Cowboys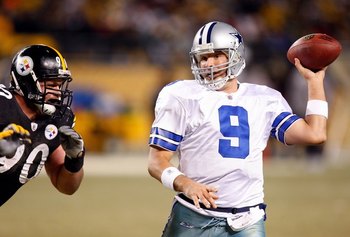 Up until the mid-nineties, you could make a strong case that the Pittsburgh Steelers and Dallas Cowboys were the two most successful franchises in NFL history. But since the Cowboys' last Super Bowl victory over the Steelers following the 1994 season, the paths of the respective franchises have diverged greatly.
The Steelers have appeared in three Super Bowls since then, winning two, while the Cowboys have only two playoff victories within that same time span.
Both teams should be in the thick of tough division races heading into this contest, so there'll certainly be more than nostalgia at stake here. It's also quite possible that both could emerge as legitimate Super Bowl contenders, with this game proving to be a potential championship preview.
I wouldn't bet on that today, but both teams have the talent to make this a reality.
Week 16: New York Giants at Baltimore Ravens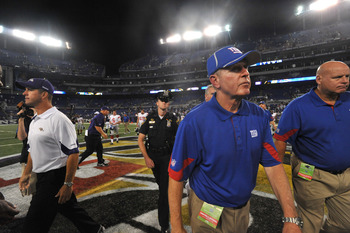 Larry French/Getty Images
We were a dropped Lee Evans catch away from this being a rematch of last year's Super Bowl. Instead, the Ravens will come into this game wondering what could have been, as they face off against the eventual Super Bowl winners.
Baltimore quarterback Joe Flacco one-upped Eli Manning's 2011 preseason assertion that he was indeed an elite QB, by recently stating that he believes he's the best in the NFL. While the claim seems ridiculous on the surface, he did enter the 2011 playoffs sharing the record for most road victories in NFL playoff history (four, which has sense been eclipsed by Eli Manning), and he did outplay Tom Brady during last season's AFC Championship game.
A road victory against the defending champs would go a long way towards validating Flacco's claim. Duplicating the result of the last Super Bowl to feature these two franchises—a 34-7 Ravens victory in 2001—on the same stage would do even more to bolster his reputation.
Week 17: Kansas City Chiefs at Denver Broncos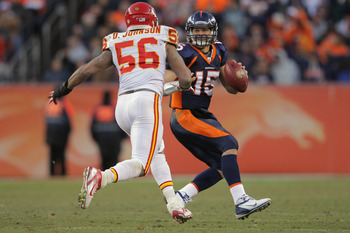 Doug Pensinger/Getty Images
The final week of the NFL season features as many as eight games that could decide division races and/or playoff seeding. So what makes the Chiefs at Broncos game stand out among those?
If Kansas City's fortunes in the injury department turn around and the Broncos get a full season out of Peyton Manning, this game could determine the winner of the AFC West. That would put Manning in the curious position of needing to win the final game of the regular season just to equal the accomplishment of the 2011, Tim Tebow-led team.
Conventional wisdom would suggest that a healthy Manning should ensure that scenario doesn't come into play, but let's not forget that the Chiefs entered the 2011 season as the defending AFC West champs.
They lost some pretty significant pieces early in the season, including running back Jamaal Charles, tight end Tony Moeaki, safety Eric Berry and quarterback Matt Cassel, but all are expected to be at 100 percent heading into 2012.
Add those pieces back to a squad that made some solid additions in free agency and that should get an impact player with the eleventh pick in next week's draft, and a one-game battle for the division could certainly be in play.
Contact Geoff at Geoff@popflyboys.com, follow him on Twitter @snglemarriedguy, and read more of his takes on sports and pop culture at popflyboys.com
Keep Reading

New York Giants: Like this team?