2012 NFL Mock Draft: Teams That Will Make Playoffs with Great First-Rounders
April 18, 2012

Joe Robbins/Getty Images
The NFL draft is finally here to refresh the coffers of depleted teams. Those middling franchises will finally get the talent they need to make the next step towards postseason glory. 
Of course, the NFL draft is but one piece of the puzzle. The rest will be sorted out in free agency or via trade, but fresh young talent at specific positions is exactly what some of these teams need to get them over the top and into the postseason. 
With a little over a week to go, we mock out the draft and single out the teams that have the most to gain next season by drafting wisely int he first round. 
Here is what that NFL draft will look like. 
1. Indianapolis Colts: Andrew Luck, QB, Stanford
We have known this pick for so long that it borders on being dull. Luck is the most complete quarterback on the board, and he goes first. 
2. Washington Redskins (via STL): Robert Griffin III, QB, Baylor
I am not about to put them in the playoff, but the Redskins will be improved with a consistent star under center in the form of RG3. After a season or two, this team will be dangerous. 
3. Minnesota Vikings: Matt Kalil, OT, USC
The Vikings play in one of the toughest divisions in the NFL and will once again be on the outside looking in. However, they get what they need in a stout lineman for immediate help. 
4. Cleveland Browns: Trent Richardson, RB, Alabama
I am not ready to buy into the Browns taking Ryan Tannehill here. The best running back around is still the pick here.   
5. Tampa Bay Buccaneers: Morris Claiborne, CB, LSU
The Buccaneers took a huge step back last season, but they now get a more physical player to mix things up with the best receivers.  
6. St. Louis Rams (via WA): Justin Blackmon, WR, Oklahoma State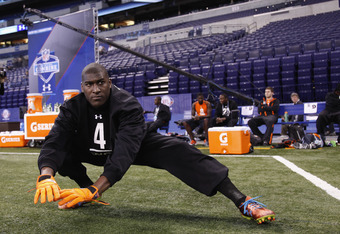 Joe Robbins/Getty Images
Oh, yeah. I am ready to re-buy into the Rams making the postseason, something we thought would happen prior to 2011.
Injuries and sophomore slump from Sam Bradford saw this team get just two wins on the season. When you start the year with injuries to your top running back and receivers, you are going to have a bad time.
They will come in healthy and with a star receiver in the making. Justin Blackmon will be the next big thing with a bounce-back year following from Bradford.  
7. Jacksonville Jaguars: Melvin Ingram, DE/OLB, South Carolina 
His versatility up front will be the reason he flies off the board. His tenacity is what will make him an impact player at the next level. 
8. Miami Dolphins: Ryan Tannehill, QB, Texas A&M  
Oh, geez. I am not ready to see this reality take place, but I fear this is exactly where the Dolphins are headed. This is a reach, no matter how you slice it.  
9. Carolina Panthers: Fletcher Cox, DT, Mississippi State 
I love Cox and his ability to come in and deliver an immediate impact, and he comes with a tremendous motor. 
10. Buffalo Bills: Jonathan Martin, OT, Stanford
The Bills could also solve receiver woes, but I have them shoring up the line with a sure thing in Martin. 
11. Kansas City Chiefs: Luke Kuechly, ILB, Boston College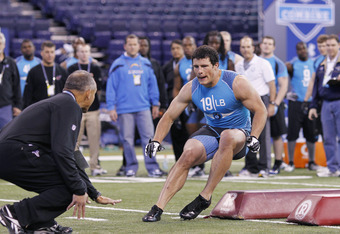 Joe Robbins/Getty Images
The Chiefs get exactly what they need in Luke Kuechly, a total package player that has all the signs of having a long and fruitful career. 
I am also ready to make the Chiefs playoff bound with a step in the right direction on defense. The AFC West is always up for grabs and the Chiefs have just as good a chance going in. 
12. Seattle Seahawks: Quinton Coples, DE, North Carolina
Coples does have questions on his motor, but there is no way you can discount his talents and size. The call up to the NFL will be enough of a wake-up call. 
13. Arizona Cardinals: Cordy Glenn, G/T, Georgia
You can stick him pretty much anywhere on the line and consider it a win. The Cardinals will solve one of their bigger needs.   
14. Dallas Cowboys: Dontari Poe, DT, Memphis 
I still have Dallas just a shade under our next team, but the Cowboys will certainly love the player they get in Dontari Poe. 
Yes, he is getting flack for his tape not measuring up to what we saw at the combine, but that just means he is invigorated and ready to perform. 
15. Philadelphia Eagles: Mark Barron, S, Alabama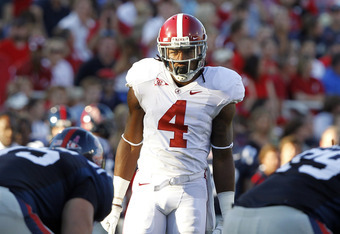 Butch Dill/Getty Images
Philadelphia needs consistency at the safety position, and Barron is one of the best athletes left on the board.
We also have to consider the Eagles have largely the same talent we once considered dreamy. Minus the expectations, the Eagles will play to another level.  
16. New York Jets: Courtney Upshaw, OLB, Alabama
The Jets will again have a deadly defense, but they need help at linebacker. This is a good draft to need such a thing as Upshaw comes in with grit and toughness to make a difference.  
17. Cincinnati Bengals (via OAK): Michael Floyd, WR, Notre Dame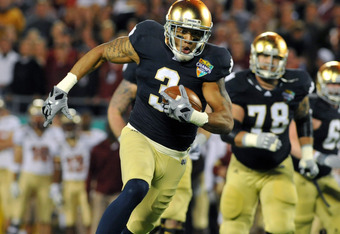 Al Messerschmidt/Getty Images
I am keeping the Bengals in the playoffs with this genius pick that gets them the weapon they need to combine an underrated defense with a budding offense. 
Andy Dalton showed flashes of brilliance, and this pairing will be the difference for them to sneak back into the postseason for 2012. 
18. San Diego Chargers: Whitney Mercilus, DE/OLB, Illinois
Mercilus' improvement last year is a signal he has the right maturity to make him a solid first-round pick.  
19. Chicago Bears: Riley Reiff, OT, Iowa  
The Bears would love to draft some closure to the Matt Forte saga, but they will settle for help on the line, something they seem to need perennially.  
20. Tennessee Titans: Dre Kirkpatrick, CB, Alabama 
The Titans get a gift in an underrated corner that will be far better than he is given credit for. I love his physicality and instincts.  
21. Cincinnati Bengals: Stephon Gilmore, CB, South Carolina
The Bengals can now use some help on the other side of the ball and get the next best answer on the corner with Gilmore. 
22. Cleveland Browns (via ATL): Kendall Wright, WR, Baylor
The Browns still need more, and I am convinced they will take a stab at Tannehill if he falls here. Other than that, a vertical weapon is never a bad thing. 
23. Detroit Lions: David DeCastro, G, Stanford 
I will step out on a ledge and say the Lions are keen on keeping Matthew Stafford safe and healthy for a few more years.  
24. Pittsburgh Steelers: Dont'a Hightower, ILB, Alabama
Hightower doesn't feel an obvious need, but I would love this talent maturing on a team like the Steelers. 
25. Denver Broncos: Nick Perry, DE, USC
I could see them getting help on the line to guarantee safety for Peyton Manning but am not loving what's left for this pick. I say they continue to build a young and scary defense.  
26. Houston Texans: Alshon Jeffery, WR, South Carolina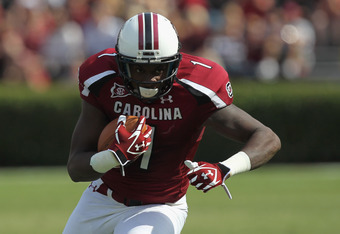 Streeter Lecka/Getty Images
Jeffery is still my pick over the other qualified receivers at this point. I think he will do wonders on the other side of Andre Johnson. 
27. New England Patriots (via NO): Michael Brockers, DT, LSU
He didn't help himself at the combine, but I am still enamored with his size and physicality at the line. 
28. Green Bay Packers: Andre Branch, DE/OLB, Clemson
He is a big athletes that moves well in space and controls his huge size very well. I like him to be a star once he works some polish on his game. 
29. Baltimore Ravens: Harrison Smith, S, Notre Dame 
He will transition into Ed Reed's role in time, because he is that gifted, physical and versatile.  
30. San Francisco 49ers: Jayron Hosley, CB, Virginia Tech

I love the 49ers chances next year as they come in with a good portion of the 2011 staff, but they still need depth in the secondary. 
31. New England Patriots: Rueben Randle, WR, LSU
He grabbed 53 receptions for 917 yards and eight touchdowns in his senior season, and is my pick for a franchise that can groom him properly. 
32. New York Giants: Amini Silatolu, G, Midwestern State (Texas)
The Giants started off with a rash of inconsistent production on the line, and that can't happen in a year where every team will be gunning for them.