NHL Playoffs 2012: Can Gary Bettman Do Anything to Stop the Violence?
April 18, 2012
Jonathan Daniel/Getty Images
The NHL playoffs are in full swing, and the suspensions are starting to mount. With eight players already booked for some vacation time, and a ninth on the horizon, this year's version of the playoffs is the most violent in recent memory.
Player safety is at an all-time premium in the NHL. From commissioner Gary Bettman to league disciplinarian Brendan Shanahan, the entire NHL is trying its best to limit head shots and other illegal hits.
Hockey is one of the most inherently violent sports there is. Grown men flying around ice on razor-sharp blades carrying weapons and wearing body armor is enough to let them think they are invincible. Asking players to be more careful seems to be a lost cause. 
We have seen nasty hits on the ice before. Hockey is such an emotional, physical game that fighting and illegal hits are inevitable. Hockey is a lot like driving your car down a freeway. You do it so often without incident, you can easily forget just how quickly things can spiral out of control and become very dangerous very quick. 
We shouldn't be surprised by the 2012 playoffs so far. The NHL has basically encouraged fighting, and along with that comes nasty, sometimes illegal checks. If the league is concerned about these hits escalating, they need to send some messages. So far, they are suspending guys, but not for any meaningful stretch of time.
Allowing players to fight is encouraging violence. Plain and simple.
When you encourage violence, it is human nature for players to think taking a guy out with a head shot will be okay. I mean, if two guys agree to pound each other in the face with their fists while 19,000 people cheer and referees act like boxing officials, why wouldn't they begin taking liberties with the rules of illegal hits? 
The league has created a culture of violence over the last decade, and we are seeing the results in 2012. Even at the highest collegiate levels of hockey, fighting is absolutely not allowed. In the NHL, it is encouraged. 
Next time a whistle blows and a couple of players start pushing, watch the rest of the guys on the ice. They will immediately skate over to the commotion and start pushing and shoving the opponent. It almost looks like they are mindless drones, just used to the violence. It has become second nature for them. That is a problem.
What the NHL has done is turned the greatest sport in the world into a novelty. Don't get me wrong, I like fights as much as the next guy, but if something isn't done soon to at least regulate some of it, we might be in for more of this nonsense all next season too. The problem becomes that fighting and illegal hitting are basically parts of the game.
Whom to fight and whom to go after is part of the 'strategy' of an NHL game. Getting away from the fighting and hitting will be tough since it has been allowed and encouraged for so long.
If you allow players to fight, execute illegal head shots and cross-check, other like offenses are going to increase. It seems like knocking a guy out of a game, even if you are suspended for it, is a badge of honor, that you were willing to sacrifice yourself to a suspension to help your team win.
That is dangerous thinking. 
I for one do not want to see players taken off the ice on stretchers. It happened again last night when multiple repeat offender Raffi Torres took a run at Blackhawks forward Marion Hossa. Torres went directly towards Hossa and leaped from his skates like Brian Boitano as he leveled the Hawks' star with an elbow to the head.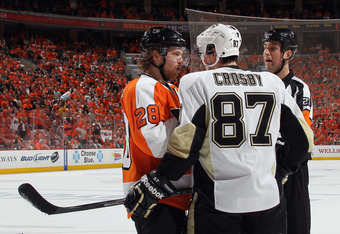 Bruce Bennett/Getty Images
Hossa was put on a stretcher and taken to the hospital. If this sort of thing continues, you can expect much more significant injuries to happen more frequently.
What Brendan Shanahan needs to do now is hand down a stiff penalty. Torres is a great example of the culture of violence in the NHL. He has been suspended many times for the exact same thing: leaving his skates to absolutely destroy someone and hit them in the head. Players like Torres need to be kept in check, or they will continue to push the limits.
We will see just how serious the league is about player safety when Torres is handed his suspension. Anything short of the rest of the playoffs won't be enough. Lord Stanley's Cup is all these guys care about, and until you seriously take them away from the chase, no one will change.
I love hockey, and I love the NHL. I just don't love the current NHL. Things need to start changing, or I fear it is only a matter of time before something truly devastating happens on the ice.