Tim Tebow: Polarizing QB Deserves Place on Time's Most Influential People List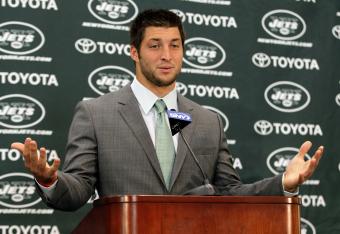 Mike Stobe/Getty Images
It's official—Tim Tebow is one of the 100 most influential people in the world.
Well, at least that's what TIME Magazine thinks.
Like Tebow or not, it's hard to ignore his cultural relevance after this past year. If you've spent any time on Bleacher Report, you know there was a time that Tebow basically owned the Internet. Remember Tebowing, you guys?
Man, those were the days...
And Tebow wasn't just a spectacle this year. Leading the Denver Broncos to multiple comebacks throughout the season and a playoff win over the Pittsburgh Steelers made him one of the NFL's most important players this past season.
But as Jeremy Lin wrote in the blurb he provided for the magazine, Tebow's impact is felt far more off the field:
But it is the qualities that Tim, 24, embodies in his life off the field that truly set him apart. He is unashamed of his convictions and faith, and he lives a life that consistently reflects his values, day in and day out. Through his foundation, he constantly reaches out to people and communities in need of hope. He realizes what he has been blessed with and seeks to help those who are worse off. As athletes, we pour our hearts into winning games. Tim is a reminder that life is about much more than that.
When you combine Tebow's cultural relevance this year with all of the good he does off the field, it makes total sense that he would make Time's list.
Along with Tebow, athletes were well-represented as Lin, Lionel Messi, Novak Djokovic, Oscar Pistorius and Yani Tseng were all deemed influential by Time.
But at least in America, none of them dominated public discourse like Tebow has. He's made people debate a lot this year, from how the quarterback position should be played to whether or not they support how vocally he champions his religious beliefs.
TIME managing editor Rick Stengel (via the New York Post) explained how the decision-making process to choose people for the list took place.

"The TIME 100 list is about the infinite possibilities of influence and the power of influence to change the world," TIME managing editor Rick Stengel said. "Before microphones and television were invented, a leader had to stand in front of a crowd and bellow. Now [one] can tweet a phrase that reaches millions in a flash. Influence was never ­easier—or more ephemeral. Which is why we try to choose those people whose influence is both lasting and, with a few notable exceptions, laudable."
Do you think Tebow was a good choice for TIME's list?
Tebow's impact fit that bill this year.
He became more than just a football player. He was a symbol, a polarizing public figure, an unorthodox athlete that stood out in a superstar, prima donna culture that often surrounds professional sports.
He was undoubtedly influential. Like it or not, he was a worthy selection by TIME.
Hit me up on Twitter—my tweets light the lamp like Danny Briere.

Lead image courtesy of the Tim Tebow Foundation.
This article is
What is the duplicate article?
Why is this article offensive?
Where is this article plagiarized from?
Why is this article poorly edited?