Mike Wallace or Antonio Brown: Who Should Pittsburgh Pay?
April 18, 2012

Jared Wickerham/Getty Images
With Mike Wallace holding out over contract disputes, many fans don't realize that the problem Pittsburgh is facing with its star receiver is one that could manifest itself again next season.
At the end of the season, Mike Wallace will be an unrestricted free agent and have the chance to leave Pittsburgh for bigger money if the team doesn't pay him beforehand. At the same time, last season's team MVP, Antonio Brown, will become a restricted free agent and be in the same position Wallace is in now.
So that begs the question: which one do you pay?
Pittsburgh has a history of never paying its receivers big money, with the exception Hines Ward. That history works against Wallace getting a big-money deal and definitely works against the Steelers keeping both Wallace and Brown.
So if it came down to it, which receiver would the Steelers want more?
The average fan would say Wallace, as he is the household name at receiver for Pittsburgh, but the more in-tune fan would have to say Brown.
While Wallace is a threat to go deep every play and score, he has been billed as a one-trick pony who doesn't excel at the other facets of being a receiver.
Look at his production last season: he lit up the league through the first eight games, with 800 yards of receiving, and was on pace for having one of the best seasons at receiver in Steelers history. Then, he practically disappeared. During the second half of the season, he only produced 393 more yards and three more touchdowns.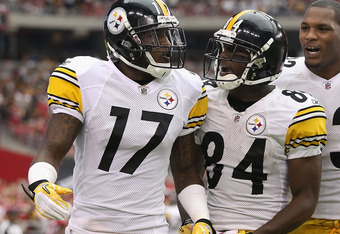 Christian Petersen/Getty Images
During this time, though, Brown assimilated himself as the Steelers' go-to guy at receiver. Brown has the nearly same kind of speed as Wallace, with Brown having better quickness, while Wallace has slightly better straight-away speed.
Brown finished the season with 1,108 yards of receiving, but only two touchdowns. He came alive during Wallace's slump and used this time make his case for going to the Pro Bowl with Wallace. Brown is also viewed as the more complete receiver of the two.
So it comes down to who do you choose? The speedster Wallace, or the well-rounded Brown?