UFC: Could Edson Barboza Be the Next Lightweight Champion?
April 18, 2012

At 10-0 and riding a four fight win streak in the UFC, Edson "Junior" Barboza is sprinting towards contendership at an alarming rate.
The undefeated 26-year-old  has mown down recent competition in devastating fashion, leaving a slew of the lightweight division's brightest prospects in his bloody wake.
Not that we should have expected any less. Barboza amassed a 25-3 record in professional Muay Thai before he ever touched an MMA glove, knocking out 17 of his opponents in the very first round.
So there you have it. With perfect angling, enviable finesse and enough power to drop a dinosaur, nobody is knocking on Edson Barboza's door for a fight. The lightweight belt could reside at "Casa Barbosa" sometime in the near future.
There is, as always, a catch. We simply haven't seen Barboza tested by an elite wrestler. Yes, the youngster's skills on the feet are impressive, but how will he fare with his back pinned against the wall?
Enter current UFC lightweight champion Ben Henderson, a wrestling expert and Taekwondo black belt.
Unless Barboza has been working with high-level wrestlers since day one, he's in for a nightmare bout with the champ, who will happily negate Junior's highly-refined striking game by dropping the rising star on his head.
The truth is, Henderson is an all-around bad matchup for Barboza, and he's not alone in that regard. As the Brazilian flies closer to the lightweight division's ceiling, he's due for dates with the likes of Gray Maynard, Frankie Edgar and Jim Miller, all of whom excel at pinning their opposition to the floor.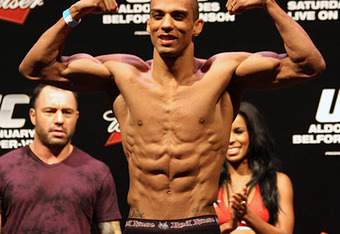 That's not to say Barboza isn't a top-notch wrestler with a dynamic submission game.
At this stage, we simply don't know enough to pass conclusive judgement. In my own view however, Barboza is a striking specialist, talented enough in MMA's "other" disciplines to impose his elite Muay Thai on lesser opponents.
It won't last.
Expect to see Barboza lose a grinding five-rounder against some of the division's aforementioned names. Amid cries of "wet blanketing" and "lay and pray" from fans, the Brazilian may well decide upon a change of camp, moving to a team of elite wrestlers in pursuit of a truly well-rounded game.
In the meantime, however, Barboza must concentrate on his meeting with Evan Dunham at UFC 146. Training at Xtreme Couture, Dunham will surely be sharpening his double-leg and cage work, hoping to give Barboza a hellish fight against the fence. With a bit of luck, the Brazilian should get a chance to reveal his hidden talents.
Can Edson Barboza become champion in the future? Sure.
But he'd better start working that sprawl.