Chelsea vs. Barcelona Preview: Best Quotes Leading Up to the Match
April 18, 2012

Richard Heathcote/Getty Images
Chelsea are set to host Barcelona today in the first leg of their UEFA Champions League semifinal at 2:45 p.m. EDT today. It is the biggest match of the season for the Blues and the first time under interim manager Roberto Di Matteo that they find themselves the overwhelming underdogs, as Pep Guardiola's side is looking as dominant as ever.
Most see Chelsea's remarkable return this season ending today, with the return leg at Nou Camp just a formality. The Blues' attack is substantially weaker than that of Barcelona's, and with David Luiz out to injury the backline will feature at least one player who may not be the first choice at his position.
But what really makes for the intrigue today is the philosophical differences these two sides possess. Barcelona believes in a "total football" mentality, playing indirect quick passes through the heart of the midfield and pressing hard on the opposition in their half to force mistakes.
Chelsea are as English as they come, relying on the head-down countering style that was perfected under Jose Mourinho. Their defense is there to defend, the midfield to create chances and the forwards to score them. Little interchange takes place between the roles.
With this differing in approach it has created an entertaining war of words leading up to the game. Here are some of the best quotes from the buildup.
Dani Alves Is a Doofus
There is a certain reason why even Barcelona fans cringe when they see Alves at times. Sure he is an explosive and one of the most dynamic wingbacks in the world, but he also has a tendency to be big-headed in how he views himself and the team.  He made those feelings and his toward Chelsea quite well known to The Guardian:
People say Chelsea could have won but for the referee but that is not our problem. We do not control the referees. We are there to play football, to compete and to try to reach the final. What can we do about the referee?

Chelsea did not reach the final because of fear. The team that has got a man more, is playing at home and winning should have attacked us more. But of course, if you don't have that [attacking] concept of football that Barcelona have, you stay back and you get knocked out.

You have to go forward. Stay back: losers. Go forward: winners. I think Chelsea lacked the courage to take a step forward and attack us. They paid for it.
The comments have become the favorite of the pregame pundits all dissecting and analyzing the motivation behind what would make someone speak with such egoism. The truth is Alves' comments only work because his teammate Andres Iniesta hit a wonder shot in the closing minutes.
They also conveniently ignore the fact that Chelsea had more shots on goal despite not being given the penalties. But hey, we put the microphone in front of these boneheads for a reason and they always seem to deliver gems.
Di Matteo Must Be "Perfect"
It is never easy to take on a side like Barcelona in any competition, let alone when they are one round away from their second straight Champions League final. So when Di Matteo says his side needs "two perfect games," he is in no way over exaggerating:
It's fair to say we need two perfect games. But I think, also, that the fact we've been performing very well in the last six weeks gives us the belief we can produce two perfect games in this match.

It's the biggest challenge for any manager to play against the best team in the world, but for every player as well, to be able to compare themselves against one of the top teams in the world.
These kind of boldless and bland optimism is what you would expect a manager to say ahead of a big match. It may not mean much to anyone, but it is also what has kept Di Matteo's job safe. He does not give the media anything to run with and therefore cannot fabricate stories to put him in hot water.
As for what he said, it is pretty accurate. Barcelona is an incredibly gifted team, but they make that leap from good to great by forcing their opposition into mistakes. When teams stick to their game plan and don't fall into Barca's traps, more often than not the Catalans look almost human.
Pep Playing Mind Games
Leave it to Pep Guardiola to try and knock down another team before they even take the pitch. But he never does it in the brash fashion of some of his players (i.e. the doofus), but rather in a much more cynical and cunning way—kindness.
@ChelseaFC, the official Twitter account for the club, tweeted out the following quote from Guardiola:
Chelsea in 2 games are v. difficult to beat & I'm struggling to see how we're going to create chances & score a goal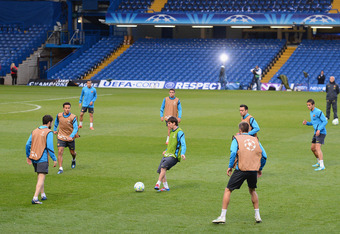 Mike Hewitt/Getty Images
Really Guardiola? You have the best player in the world, create more chances than any other team and have been regularly scoring multiple goals in over 90 percent of your games and you are worried about finding the net?
Okay Pep, you are trying to mess with the Chelsea players and get them to let their guard down. Real original move there #wegotya.
Everyone has an Opinion
The biggest mystery surrounding tonight's game will be who starts up top for Chelsea, Fernando Torres or Didier Drogba. Both have looked brilliant at times and equally miserable at others. Both can make a strong case, with Torres having an impressive scoring record against Barca (eight goals in ten games) and Drogba stepping up big in these kind of marquee games.
Former Chelsea striker Jimmy Floyd Hasslebink has made his feelings known who he prefers in his exclusive column on Goal.com:
People say Drogba is the man for the big occasion but I would play Torres on Wednesday night…Drogba played in the FA Cup semifinal on Sunday and was great but he is 34 now. In sporting terms, he is old. You really need fresh legs to play against Barcelona and I can not see Drogba getting a lot of joy because whoever plays up front is going to be chasing balls, running after lost causes…You need someone with the energy to get behind Barcelona's defense and Torres can do that. You have to be able to hurt Barcelona back.
In no short way Hasslebink has set helped fuel what will surely be a raging debate until the final lineup card is submitted. Then depending on how the 90 minutes of play go for the starter, the debate will either rage on even stronger or there will not be one at all.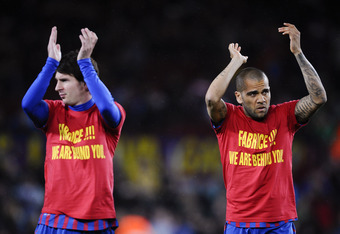 David Ramos/Getty Images
Thank You Captain Obvious
I thought I would throw this nugget in just to show how bland athlete talk can be sometimes. When Barcelona midfielder Sergio Busquets was asked about how his side plans to approach Chelsea he offered up this:
"Our challenge is to keep to our style and system and forget the atmosphere. We want to score goals, as it makes it easier to cope with the second leg," Busquets said to The Daily Mirror.
Can you believe that a team which has been so successful taking the initiative and attacking their opponents is going to use the same strategy in the biggest game of their season? I surely though that they would go into a five-back design, with ten men behind the ball at all times.
I know this is what we expect our athletes to say and smart of Busquets to not give away anything the media can turn into something it more than it is (i.e. the doofus), but why even bother publishing this?
"We Play Football"
I have long argued that results are what mark a team, not the process. That Chelsea's experiment with Andre Villas-Boas failed because he was unable to get that which matters most. But never have I heard anyone describe and symbolize Chelsea better than Di Matteo did the other day.
When a Dutch journalist asked the manger, "we say every Barcelona game is like a piece of art. How do you describe Chelsea's game?" Di Matteo gave a slight grin and replied, "We play football."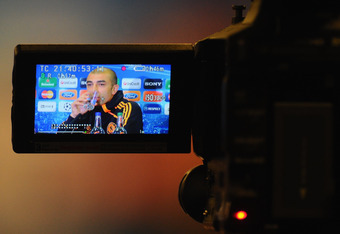 Mike Hewitt/Getty Images
Simple, pure unmitigated and rational – the Chelsea way through and through.
So many are dismissive of Chelsea's hopes this season because they do not play the "beautiful" way may describe Barcelona. That because their game is not a "piece of art" (pretentious much?) that it is somehow lesser than their opponents.
But that argument falls away the very moment Chelsea makes a tackle, gets a shot, has a save or takes a result. Because on the scoreboard, there is no section for subjectivity and Stamford Bridge is not the Louvre. It is a house of football and the scoreboard only reflects the results, not how they were obtained.
When the final whistle blows, that scoreboard is what tells the story.
What are some of your favorite pre-match quotes? Please leave them in the comments section below and thanks for reading!
For all my articles, follow me on Twitter: @thecriterionman