Cleveland Browns 2012 NFL Draft Will Determine How Hopeless Season Will Be
April 18, 2012

Harry How/Getty Images
The Cleveland Browns 2012 schedule was released last night, and let's just say that the team has no choice but to get better. They play the third hardest schedule including eight playoff teams from last year. Every team is a quality opponent, and there isn't a team that the Browns "should" beat.
The AFC North is one of the toughest divisions in the NFL and sent all three of the Browns division mates to the postseason. This season they'll be playing the NFC East, which includes the Philadelphia Eagles, Dallas Cowboys, RGIII and the Washington Redskins, and the Super Bowl Champion New York Giants. Others they'll battle are Peyton Manning and the Broncos, Peyton Hillis and the Chiefs, Andrew Luck and the Colts, and Mario Williams and the improving Buffalo Bills.
Did you notice how on all the schedule release shows, zero "must-see" matchups include the Browns, and they were pitied with a Thursday Night Prime-time game against division foe Baltimore. Everyone gets a Thursday Night game, and it could be painful come Sept. 27th.
Looks pretty bleak, I agree, but perhaps some games will look better after next weeks NFL Draft. I'll say it now, I think the Browns can win against the Giants; look at their past history playing recent Super Bowl Champs.
Wishful thinking?
Regardless, Tom Heckert and Mike Holmgren have to take the best player available with their first three selections. I don't care if one of those selections includes defense, but everyone knows the team needs to score touchdowns to have any chance of winning, especially this season.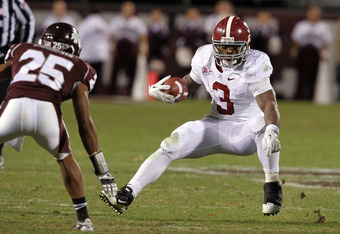 Butch Dill/Getty Images
With the No. 4 pick overall, the Browns need to select Trent Richardson, RB, Alabama.
He is the highest rated player on the board. He runs, catches, blocks, and best of all—rarely fumbles. He is a workhorse that will take half the pressure off of Colt McCoy whether he is running the ball or picking up a block for a pass. Richardson is an offensive juggernaut that the Browns cannot pass on.
Sure there are other running backs the Browns could grab later like Doug Martin of Boise St. and David Wilson of Va. Tech, but Richardson is head and shoulders ahead of them.
Other options won't provide similar returns.
Trading down yields quantity but not necessarily quality. The Browns need quality now. Julio Jones would look good in an orange hat wouldn't he?
Justin Blackmon-WR, Oklahoma St. is the highest rated wide receiver, but there has been speculation about whether he really wants to play in Cleveland. His interview with a local radio show was mediocre at best. He is talented without a doubt, but the wide receiver position is deep this year, and the Browns could find one if not two receivers later in the draft that could become great players. Other names include Kendall Wright, Stephen Hill, Alshon Jeffery, Rueben Randle, Brian Quick, Marvin McNutt, Nick Toon, Tommy Streeter, Juron Criner, Greg Childs...
Ryan Tannehill-QB, Texas A&M is not the pick, please. Look at Blaine Gabbert, Jake Locker, Christian Ponder. Do you really want to have a J.P. Losman in Cleveland? Cleveland would be better off looking at Brandon Weeden (forget about age if he can win), or projects in Kirk Cousins, Brock Osweiler, or B.J.Coleman.
At No. 22, the Browns will have a number of options, but again, should select the best player available. It could be a cornerback like Stephon Gilmore, offensive lineman like Jonathon Martin or Bobby Massie, or wide receiver like Wright and Hill noted above. How about a dark-horse selection like outside linebacker  Shea McClellin or inside linebacker Dont'a Hightower?
With the No. 37 pick, the Browns will consider players like Weeden & Massie (if still available), or the best wide receiver on the board like Randle or Quick. Others that could still be available are OL Mike Adams, CB Janoris Jenkins, OLB Lavonte David.
My ideal first three round selections:
#4-RB-Trent Richardson, Alabama.
#22-OL-Bobby Massie, Ole Miss
#37-QB-Brandon Weeden, Oklahoma St.
#67-WR-Brian Quick, Appalachian St.
If the Browns could start off in this fashion, they greatly improve their chances at success against the most brutal NFL schedule for any non-playoff teams. If this season goes down the toilet, you can rest assured that the Browns will do everything they can to position themselves next year to draft the No. 1 rated QB—be it Matt Barkley, Landry Jones, or another unnamed player.