Alistair Overeem: Will He Use the TRT Defence? His Brother Valentijn Speaks out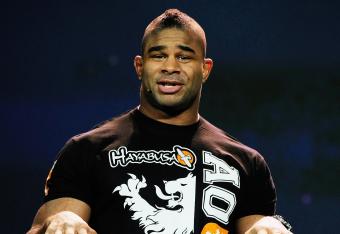 Kevork Djansezian/Getty Images
Alistair Overeem's deafening silence over his failed drug test in the run-up to his UFC 146 heavyweight championship match against Junior dos Santos will be broken next week when the fighter is due to appear before the Nevada State Athletic Commission (NSAC) to argue for a licence.
With his decision to go ahead with applying for the licence and the UFC keeping him on the card, there is much speculation as to what defence he could possibly have beyond the now well-worn "testosterone replacement therapy" (TRT) excuse.
According to his manager, Glenn Robinson, Overeem is confident he will get a licence during his April 24 hearing.
InsideMMA's Ron Kruck spoke to Robinson and reports that he is positive of a favourable outcome.
"He said that Overeem is respectful for the Commission's process, and he is very hopeful that he will be granted his licence," Kruck said, as reported by ESPN.co.uk. "The entire team is very confident that he will be facing Junior dos Santos come May 26."

"Now, Robinson also wanted to make it very clear that despite other reports, Overeem did not test high for testosterone. Rather, his testosterone-to-epitestosterone ratio (T/E) was off, and he has a reasonable explanation for why that is, which he will present to the Commission next Tuesday," Kruck added.
The NSAC uses the T/E ratio test when determining whether a fighter has cheated. This test does not determine the level of testosterone in a fighter's body, which can only be determined by a blood test, but whether a synthetic substance has been used.
What tactic will Alistair Overeem use to get licenced during his hearing?
In the normal human body, every time a molecule of testosterone is produced, the body also produces a substance called epitestosterone. In the majority of men, therefore, the T/E ratio is 1:1. If, however, a fighter uses synthetic testosterone, because it's coming from an unnatural source, the body does not produce the concomitant amount of epitestosterone.
This can skew the T/E ratio heavily in the favour of T. The NSAC allows this ratio to drift to as much as 6:1 before failing a fighter. Overeem tested 14:1.
So far, the only excuse fighters have used to explain their elevated ratios has been to claim they are on TRT for a medical condition. Chael Sonnen used this explanation when his T/E ratio came out at 16.9:1. Because the fighter's actual testosterone level wasn't measured, the NSAC accepted that legitimate TRT use could have caused the lopsided ratio. Sonnen has since obtained a Therapeutic Use Exception (TUE).
Overeem has not yet applied for a TUE, nor has he used TRT as an excuse thus far. But that doesn't mean he won't make the TRT argument before the commission on Tuesday.
However, in an interview with MMAJunkie.com, Alistair's brother, Valentijn Overeem, says he is unaware his brother has ever needed TRT.
"Because I know him so well that I think I should be aware of something like that," Valentijn Overeem told MMAjunkie.com. "If that was the case, I think I would know. I would be surprised."
Alistair Overeem has long been dogged by allegations of steroid use after putting on 50 lbs. of muscle in the space of five years. So far, he has never tested positive for a banned substance.
However, the fighter missed a drug test just before his fight against Brock Lesnar in December, claiming he had to leave for Holland in a hurry to tend to his ailing mother. It was that missed test that prompted the random test two weeks ago, which Overeem failed.
NSAC chief Keith Kizer has said that he doubts the fighter will use the TRT defence during his hearing.
"They've asked for no additional testing," Kizer told CagePotato.com. "I have talked with Overeem's attorney and that issue has not been raised."
Kizer continued:
He has not indicated what [Overeem's] defense will be, but he has not said to me, as I'm sure he would have if he was using it, that [Overeem] is on TRT. That is not to say that they could not still make that case and ask for a therapeutic use exemption for TRT, but if they do, I'd be as shocked as the next person. We'll all see what they do when April 24th comes around.
Holding back his anger at Overeem, UFC president Dana White said the fighter will get "due process" at the commission hearing before making a decision as to what to do. As of now, the fight is still on.
For more MMA goodness, checkout my blog: The Fight Week
This article is
What is the duplicate article?
Why is this article offensive?
Where is this article plagiarized from?
Why is this article poorly edited?