Following a Legend: The 15 Greatest Managerial Transitions in MLB History
April 18, 2012
Christian Petersen/Getty Images
There's no Albert Pujols, no Tony La Russa and no Dave Duncan, but the St. Louis Cardinals and new skipper Mike Matheny are off to a great start and sit atop the National League Central Division with an 8-3 record.
For Matheny, not only is this gig his first professional managing position, but he is also replacing a legend in La Russa. It brings up the question: How successful have previous major league managers been when they replace a legend?
To answer that question, I established one simple criteria: I defined a managing legend as a manager who won 700 or more games with a particular team.
Here's a look at the managers who managed the most games with a team after replacing a legend.
1. Los Angeles Dodgers: Tommy Lasorda follows Walter Alston (first full season: 1977). Alston won 2,040 games with the Dodgers. Lasorda compiled a 1,599-1,439 record, leading the Dodgers to the playoffs seven times. He won two World Series in four appearances. He went to the World Series in 1977, the year after he replaced Alston. Lasorda managed 3,040 games after replacing Alston.
2. Pittsburgh Pirates: Jim Leyland follows Chuck Tanner (replaced in 1986). Tanner won 711 games with the Pirates. Leyland followed with 11 seasons at the helm compiling a 851-863 record, making the playoffs three times, losing each time in the National League Championship Series. Leyland managed 1,716 games after replacing Tanner.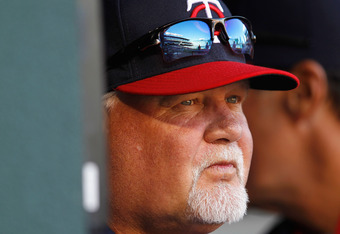 Rob Carr/Getty Images
3. Minnesota Twins: Ron Gardenhire follows Tom Kelly (replaced in 2002). Kelly won a pair of World Series with the Twins and won 1,140 games. He retired in 2001. Gardenhire is the current Twins skipper and has made the playoffs six times in 10 seasons. He has won 869 and lost 762 as Minnesota manager. Gardenhire has managed 1,631 games after replacing Kelly.
4. New York Giants: Bill Terry follows John McGraw (first full season: 1933). McGraw won 2,583 games as Giants manager. Terry replaced McGraw in the middle of the 1932 season and led the Giants to a title the following year. He won 823 games and lost 661 with the Giants and lost consecutive World Series in 1936 and 1937. Terry managed 1,496 games after replacing McGraw.
5. Pittsburgh Pirates: Chuck Tanner follows Danny Murtaugh (replaced in 1977). Murtaugh won 1,115 games during four different stints with the Pirates. Tanner managed nine seasons winning 711 games and losing 685. He won the 1979 World Series. Tanner managed 1,398 games after replacing Murtaugh.
6. Oakland A's: Art Howe follows Tony La Russa (replaced in 1996). LaRussa won 798 games with the A's in nine-plus seasons. He won three pennants and one World Series. Howe made the playoffs in three of his seven years as A's manager. He compiled a 600-533 record. Howe managed 1,133 games after replacing La Russa.
7. New York Giants: Mel Ott follows Bill Terry (replaced in 1942). Terry won 823 games with the Giants. Ott never managed in the playoffs; he was 464-530 as the Giants skipper. Ott managed 1,004 games after replacing Terry.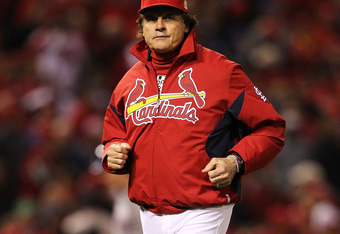 Jamie Squire/Getty Images
8. Detroit Tigers: Ty Cobb follows Hughie Jennings (replaced in 1921). Jennings won 1,131 games with Detroit. Cobb won 479 and lost 444 as the Tigers manager in six seasons. Cobb managed 933 games after Jennings.
9. Cleveland Indians: Al Lopez follows Lou Boudreau (replaced in 1951). Boudreau won 728 games with the Indians. Lopez managed six seasons after Boudreau and was 570-354 and lost one World Series. Lopez managed 930 games after replacing Boudreau.
10. San Diego Padres: Bud Black follows Bruce Bochy (replaced in 2007). Bochy won 951 games as Padres manager. Black is the current skipper in his sixth season. He has a 391-431 record with San Diego. Black has managed 822 games after replacing Bochy.
11. New York Yankees: Joe Girardi follows Joe Torre (replaced in 2008). Torre won 1,173 games in 12 seasons with the Yankees, winning six AL pennants and four World Series. Girardi won the World Series in 2009 and has a 389-269 record. Girardi has managed 658 games after replacing Torre.
12. Pittsburgh Pirates: Gene Lamont follows Jim Leyland (replaced in 1997). Leyland won 851 games in 11 seasons with Pittsburgh. Lamont managed four seasons, going 295-352. Lamont managed 648 games after replacing Leyland.
13. San Francisco Giants: Felipe Alou follows Dusty Baker (replaced in 2003). Baker won 840 games with the Giants. Alou managed four seasons after Baker, winning one pennant in his first season at the helm. He was 342-304 with the Giants. Alou managed 646 games after replacing Baker.
14. Cincinnati Reds: John McNamara follows Sparky Anderson (replaced in 1979). Sparky won 863 games with the Reds and managed in four World Series, winning two. McNamara followed Anderson with three-plus seasons as Reds skipper, winning 279 and losing 244. He made the playoffs once. McNamara managed 524 games after replacing Anderson.
15. New York Yankees: Ralph Houk follows Casey Stengel (replaced in 1961). Stengel won 10 pennants and seven World Series with the Yankees. He won 1,149 games as New York's manager. Houk managed three seasons following Stengel, winning 309 games in three seasons and winning two of three appearances in the World Series. Houk managed 486 games after replacing Stengel.