Philadelphia Eagles: Is Asante Samuel Sabotaging Potential Trades?
April 18, 2012

Jim McIsaac/Getty Images
Asante Samuel is still a Philadelphia Eagle, for now. However, is it more because he wants to remain with the Eagles or because they simply can't find a trade partner?
It's no secret that Samuel is on the trade market, as we've known that since last year. Many people, myself included, fully expected him to be dealt by now or during the draft at the latest.
However, maybe Samuel doesn't want to be traded at this stage of his career. Or, perhaps he is clearly overvaluing himself which is therefore ruining potential deals with other teams. Or, it's quite possible he is purposely sabotaging trades because he doesn't want to go to the teams the Eagles were in trade talks with.
Finally, maybe he just wants to force the Eagles' hand to either keep him and pay him his $9.5 million this season, or release him so he can become a free agent and control his destination.
Those are a lot of maybes, but there has to be some reason a trade hasn't happened yet.
Samuel is still a good cornerback, but he doesn't appear to fit into the defense's new system under Juan Castillo. The Eagles want to have Nnamdi Asomugha and Dominique Rodgers-Cromartie starting on the outside so they can play to their strengths, which is press man coverage.
Samuel's strength is playing off the receiver and jumping routes. However, if he jumps a route and misses, there better be safety help over the top to back him up or it could be a big play.
Trading Samuel isn't about getting rid of a bad player, it's about finding the right mesh of players on defense to make them function better as a unit. And with Samuel's free-lancing style, he's no longer an ideal fit.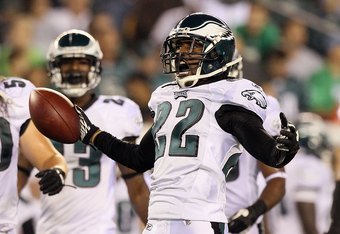 Jim McIsaac/Getty Images
It's obvious the Eagles want to move on from him but haven't yet. The question is, why? What's holding things up? They've been trying to trade him since last summer and while it's common for trades to happen during the NFL draft, it just seems it's taking forever to make a deal.
Here's a rundown of the events surrounding the Asante Samuel trade situation:
- The Eagles had a deal in place to trade Samuel to the Detroit Lions last summer and even had the compensation worked out, but the deal fell apart due to "other reasons."
- Trade rumors began swirling around again last season just before the trade deadline.
- On Easter, just a few weeks ago, Samuel felt the need to post a link to an article on Twitter that was titled "A quick reminder that Asante Samuel is still a great CB" (written by Jimmy Kempski over at Blogging the Beast).
That same day, he was also pumping himself up with several tweets about why he's still a great CB.  He also changed his twitter handle to "pick_six22" as just another subtle reminder that he's still got it.
- Recently, Matt Alkire of ScoutsNoteBook stated that sources told him that due to his demands, Samuel has "nixed two trades." Alkire elaborated that the problems were that he wants too much money and too many years on a deal.
So, let's see here...a trade with the Lions fell apart for "other reasons" (money and years?) and two other trades haven't gone down because of Samuel's demands. Maybe this is starting to lean toward the "he overvalues himself" reasoning as to why a trade hasn't gone down yet.
Perhaps his Easter self promotion on Twitter was his way of venting because of what he perceives as "slaps in the face" from the teams who wouldn't give in to his demands.
Then again, maybe Samuel is purposefully asking for too much because he really doesn't want to be traded. In this case, his high demands would make perfect sense in that if he really doesn't want to leave, he might as well "ask for the moon" in any contract discussions.
*Side note: Since Samuel has multiple years left on his deal and the fact he's due $9.5 million this year, any team that trades for him will want to rework his contract before consummating a trade.
In a recent interview, Samuel reiterated his desire to stay in Philadelphia. As reported by Chris McPherson of Eagles Insider, Samuel stated the following regarding his desire to stay an Eagle:
"Of course, I love it here. This is my home. I've never been to a place I love more than Philadelphia," Samuel said. "It's up to management. I want to be here. I've always voiced that opinion. It's up to them."
Apparently, it's up to the same management team that "plays fantasy football" with the owner's money (I still loved that comment by Samuel!).
At the end of the day, Samuel is still a good player and can still produce at a Pro Bowl level (for at least one more year anyway). The problem is, the Eagles have a young former Pro Bowl player in DRC and need to see if he's going to be in their long-term plans.
And playing DRC in the slot is not going to allow them to see exactly how good he can be.
Even though there seem to have been problems in completing a trade, I'd still consider it a long shot that Samuel is still on the roster come training camp. He's going to be traded one way or the other, even if they end up having to take lesser value in trade compensation.
When the Eagles are ready to move on from a player, they usually do it in a hurry. Samuel is the one holding things up here.