2012 NFL Schedule: Most Exciting Week 1 Matchups
April 18, 2012

Doug Pensinger/Getty Images
The 2012 NFL schedule is finally out, and even though the first week of the regular season is several months away, there's never a wrong time to get pumped up for upcoming games. 
Not every matchup in Week 1 of the 2012 NFL season, which you can see in its entirety on NFL.com, is all that great, but the good games more than make up for weaker ones.
It's going to be a great year of football, and the league starts it off right with some seriously intense games. 
That being said, here's the most exciting Week 1 matchups.
Cincinnati at Baltimore: Monday, Sept. 10 at 7:00 PM ET on ESPN
The first Monday night game of the year starts off with a bang.
These two AFC North rivals gave fans great games last year, even though many thought the Bengals wouldn't amount to much with a rookie QB. 
Andy Dalton easily proved his doubters wrong a year ago, and now looks to avoid the unfortunate sophomore slump.
It doesn't happen to everyone, but when it strikes, it's devastating. 
Dalton and the Bengals certainly don't have it easy to kick off the year as Baltimore is ready to challenge for the Super Bowl again, and the Ravens aren't going to let any team get in there easy, especially their division rival. 
And that, my friends, is exactly why the first Monday Night Football game on ESPN will be fantastic. 
San Francisco at Green Bay: Sunday, Sept. 9 at 4:15 PM ET on FOX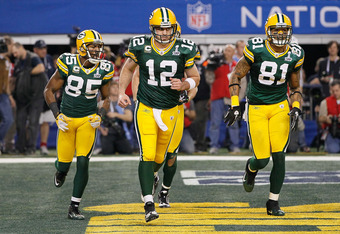 Kevin C. Cox/Getty Images
Speaking of teams contending for the Super Bowl this year, this Sunday afternoon game of Week 1 is a possible NFC championship showdown. 
The 49ers and the Packers are two of the strongest teams in the NFC, and both are hoping to win it all this year. 
Aaron Rodgers against a stout San Francisco defense will be incredibly fun to watch.
However, what's most intriguing in this matchup is to see how the 49ers new-look offense stacks up against an elite team like Green Bay.
The pressure to thrive early on will be extremely high for the 49ers, especially after their success in head coach Jim Harbaugh's first season.
Expect this matchup to come down to the wire, leaving fans on the edge of their seat all evening long. 
Pittsburgh at Denver: Sunday, Sept. 9 at 8:20 PM ET on NBC 
After the crazy free-agent frenzy the Broncos went through this year, everyone is highly anticipating what they can bring to the table in 2012. 
Thankfully, we'll get to see exactly what Peyton Manning and his new team are made of right away.
Squaring off against the always tough Pittsburgh defense will allow fans to see if Manning is back to his old self or if he has to shake off a ton of rust. 
The Steelers want revenge against Denver, and they certainly don't care that the Broncos are a completely different team.
Get ready for an epic showdown in prime time, which is easily the best way to start the season off.