SI's Richard Deitsch Talks Andrews, Beadle, Bayless, Pamphilon & Pulitzers
April 18, 2012

Kevin C. Cox/Getty Images
Richard Deitsch of Sports Illustrated is one of the most respected names in sports media, especially those in sports media who make it their job to cover…sports media.
Subscribe to the Wide Left podcast on iTunes here.
Deitsch is not one to keep his thoughts to himself, be it on Twitter or his popular column for SI, and this show is no different. In fact, in this 57-minute conversation (double episode!) I think I get in about six questions. 
For most of the show, I yield the floor to Deitsch.
The first half of the conversation is centered around ESPN, weaving the conversation from my relationship with the PR staff, including Deitsch's "fruit basket" cracks and his theory on having a friendly relationship with PR people without creating a potential conflict of interest by becoming "friends." We talk about how that theory works for someone like Deitsch, who is charged with covering the talent within his own industry, making it potentially difficult to be friends with anyone in the field.
Allen Kee/Getty Images
We discuss the popularity (read: infamy) of Skip Bayless and why it's so hard for Deitsch to ignore ESPN's resident mid-morning carnival barker. Deitsch says that Bayless, the First Take producers and ESPN are essentially perpetuating a con, which gives Deitsch the justification to write about Bayless in an effort to inform the audience to the game and expose the shameless ratings grabs like goading athletes with sexist nicknames in an effort to get them to respond.
How does Bayless differ from someone like Colin Cowherd? At what point does our coverage perpetuate the con instead of exposing it? If all publicity is good publicity, would no publicity for Bayless and First Take be better or worse?  
Can it be both?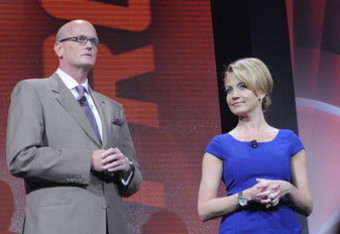 We discuss the upcoming contract negotiations between ESPN and top talent like Scott Van Pelt, Erin Andrews and Michelle Beadle. Who would be the smartest to leave the Worldwide Leader, and who would be best served to stay?  
The large focus of the conversation is if NBC or CBS would be smart to poach any of that talent away from ESPN to use as an anchor on either network's 24-hour sports station. Erin Andrews is hugely popular and a rare crossover star in sports media, but would she draw on a sports-only start-up? What happens if the audience doesn't come with her?  
The same can be said for Beadle, albeit to a lesser extent. What happens if NBC or CBS backs a truck up to Andrews or Beadle, builds a show around one and, after the initial buzz, no natural audience settles in?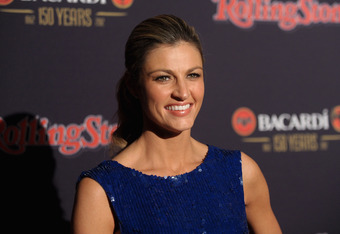 Gustavo Caballero/Getty Images
Does it make sense for either (or both) to look for jobs with more crossover, non-sports appeal? Is that the logical next step for either of them, or if they want to stay in sports, does it make more sense to stay as one of the stars at ESPN instead of becoming the big draw at a new network? 
Deitsch astutely points out that most people are focused on the big three free agents at ESPN, but a host of talent will be looking for new contracts in the next few months. Look for some of the solid-but-not-spectacularly-famous folks at ESPN to seek new options.
Deitsch and I switch off the network talk to discuss Sean Pamphilon, the documentarian who released the audio tape of Gregg Williams that stopped the sports world in its tracks.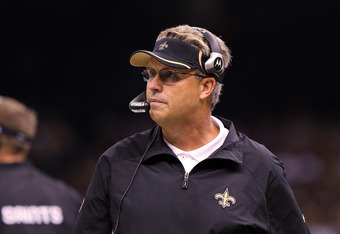 Matthew Sharpe/Getty Images
We touch on Pamphilon's potential motivations, but also discuss Mike Silver of Yahoo! (who broke the original story of Pamphilon's video) staunchly defending the public's right to hear the tapes, going so far as to say virtually any "real journalist" would agree with his assertion that Pamphilon did the right thing in defying the wishes of former NFL player Steve Gleason to release it. 
Silver dropped the "real journalist" line to me and Steph Stradley, a widely-respected NFL blogger. So I asked Deitsch—who is clearly a real journalist but one who actually respects the work of independent media more than one particular NFL writer (who works for an online media outlet by the way)—what he thinks about Pamphilon, Silver's comments and whether releasing the tape was good journalism or sensationalistic spotlight-grabbing by a filmmaker trying to make a name for himself.
(One side note about Pamphilon's motives: I agree with PFT's Mike Florio in thinking Pamphilon could have released the tape as soon as he recorded it—which would have stopped the NFL playoffs in their tracks—but he waited until after the Saints were sanctioned by the league, putting the idea of serving the public by disseminating the truth into question.
In addition, even if someone did believe Pamphilon was working in the best interest of "the truth" and not his own personal gain, the sanctimonious video asking Roger Goodell to tell his 13-year-old son why he should play football comes off so wrong-footed and smarmy that Pamphilon has actually managed to inexplicably turn Goodell into a sympathetic figure in this. But that's just my opinion of the situation. I wonder if real journalists would agree.) 
I digress. Deitsch and I discuss the news that Esquire writer and prolific tweeter Chris Jones has decided to give up his personal blog for what a friend says is basically cyber bullying.
Deitsch had strong thoughts about this on Twitter and we talk about the situation and the new media age where everyone has access to everyone else (especially on Twitter).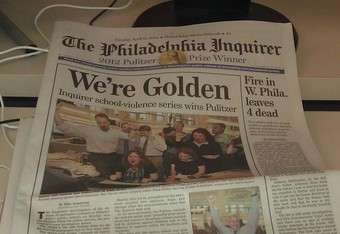 We end with a discussion about the Pulitzer Prize as I ask Deitsch for his thoughts on newspapers making front-page news out of their own awards. Deitsch loves the move by the Patriot-News and Philly Inquirer pointing out that newspapers don't do enough self-promotion in the new age of media. Per Deitsch, letting the readers know the quality work your publication produces is as much about self preservation as it is self promotion.
And what about the Pulitzer for Best Editorial Writing? Nobody won?!?! There were three finalists and nobody won? How is that possible? Isn't that like the Emmys just declining to give out the award for Best Comedy? It's a top award in the field! If you are going to go through the aggrandizing motions of giving out awards, give out the damn awards! 
This is a long show, yes. I am sure I forgot some things we talk about, but it's well worth the listen. Deitsch delivers and I just try to get out of the way.