WWE: There's Only One Man Left for WWE to Bring Back...
April 18, 2012

Rusty Jarrett/Getty Images
No, it's not Hulk Hogan. It's not Ric Flair. It's certainly not Batista.
There's only one man left that WWE could bring back for a big-time match, who would make a big impact and create a huge buzz. That man is Stone Cold Steve Austin.
WWE fans were treated to the shocking surprise return of The Rock last year, and the year-long build to the dream match against John Cena at this past WrestleMania.
The night after WrestleMania 28, Brock Lesnar made his return to WWE, and caused a social-media frenzy, similar to when The Rock returned to WWE.
Sure, Austin has come back every now and then over the years for a special appearance, but he hasn't actually wrestled a match since 2003, and that's exactly what his fans want to see.
No "Cyber Six Packs" or "Cyber Stunners" from Austin via Twitter. Fans want to see the Texas Rattlesnake and "Toughest SOB" back inside the WWE ring.
Austin is the last huge name that WWE has yet to bring back and build up to a big match, specifically a WrestleMania match. That's not to say they haven't tried. Austin has said in interviews that Vince Mcmahon has called a few times over the years, asking Steve if he would be interested in wrestling Hulk Hogan at WrestleMania. Steve declined every time.
With all due respect to Hulk Hogan, at his age and with his physical limitations due to injuries over the years, Austin vs. Hogan would probably not have delivered as much as fans hoped it would, and Austin knew that, which is the main reason he declined that match years ago.
At this point, I don't even think WWE fans would take a Hulk Hogan return seriously, due to his age and limitations inside the ring.  Same thing with Ric Flair. To be honest, I don't even think WWE would even consider having either of those two back in a wrestling role.
Guys like Batista or Bobby Lashley would get the initial return reaction, but wouldn't be able to create a sustained buzz like a returning Stone Cold Steve Austin would.
Austin is considered among the greatest WWE Superstars of all time, and easily one of the most famous of all time. Plus, he says that he is physically capable of wrestling a match, or even multiple matches if he chose to.
Lets take a look at three possible WrestleMania opponents for Austin, if he were to return.
CM Punk
A match between Austin and Punk has been talked about for the past year or so. Both Punk and Austin have had some fun exchanges back and forth on Twitter, regarding a match between the two, but that's all it's amounted to, is just some entertaining Tweets, and fans' wishful thinking.
John Cena
Another dream match for fans, where generations collide.  The biggest star of the current era, against one of the biggest stars from the Attitude Era, also known as the Austin era.  John Cena vs. Stone Cold Steve Austin is equally as big as Rock vs. Cena, and would most certainly be a WrestleMania-worthy Main Event, and a match that can be built up and promoted as one of the biggest of all time.
The Rock
Another chapter in the storied rivalry between Austin and Rock would be fun for fans, and both guys have a great deal of professional respect for each other, which makes the possibility of match that more likely.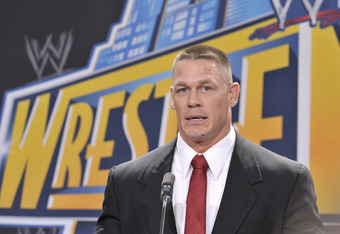 Michael N. Todaro/Getty Images
Brock Lesnar
This has dream match written all over it, and already has a built in story in place. Most WWE fans know that one of the reasons Austin left WWE back in 2002, was because he didn't want to lose to Lesnar in a unannounced, unadvertised match on a episode of Monday Night Raw. Brock has never forgotten that, and neither has Austin.  Both men still talk about it today.
Austin and Lesnar had some interaction with each other during the build up to WrestleMania 20, where Stone Cold was the guest referee in a match between Lesnar and Goldberg. After the match, Austin gave Lesnar the Stone Cold Stunner, and Brock was not seen again on WWE TV for eight years.
Late last year, a video surfaced online of Brock Lesnar being interviewed by Paul Heyman, promoting the WWE '12 video game. In the interview, Brock was asked if there is anyone from WWE he would like to have a match against.
Brock's response was Stone Cold Steve Austin, and he also mentioned that Austin walking out on him back in 2002 as the main reason.

What are your thoughts?  Will we see a Stone Cold return at some point, and if so, who would make for a good opponent?