WWE Character Analysis: Why Does the WWE Universe Still Hate John Cena?
April 18, 2012

From times when Triple H was unbelievably thin (relatively) and Undertaker had hair, I've stoically maintained my aversion towards the Cenation Leader gimmick portrayed by undoubtedly the most polarizing figure in the wrestling industry (and maybe wrestling history).
But given my inherent curiosity, I had to impassively ask myself why I felt like booing Mr. Cena the night after WrestleMania when he came out and basically said he won't be turning heel. Why do these tendrils of hate sustain in times when they shouldn't?
Why?
The IWC (me included, obviously) has had major problems with John Cena, prominent among those are the following phrases which keep floating around any reference to Cena: a) superhuman victories, b) stale promos, c) limited moveset, d) shoved down our throats.
These are valid reasons to hate a wrestling superstar, but the wheel of time never stops spinning and eventually there comes a moment when these very once-valid reasons are no longer valid. 
In other words, invalid.
Before you lash out at me, do let me clarify my bold claims. The clarification is based on simple yet traditionally lengthy paragraphs, really, but ones that I confidently believe contain pinches of overlooked truth in today's era (no, not the People's Power era).
If I hated John Cena and his colourful shirts for his superhuman victories, I believe that hatred would be dying an inevitable yet eventual agonizing death. Cena doesn't win anymore; he walks into "the biggest WrestleMania of all time" to get crunched by a movie star who had taken a hiatus from wrestling for seven years.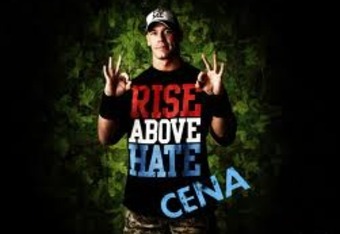 The losses don't stop there, because Mr. Cenation then gets F5'ed and gets his mouth bloodied by another returning star and then spit on by veterans returning from Japan and now faces a match at Extreme Rules that I fully expect him to lose.
Hopefully, I'm not the only one who expects so. Looking at you, WWE Creative.
If I hated John Cena and his trendy jorts for belting stale promos consistently, then my hate should have expired ever since February 2012. His promos, which incidentally dealt with numerous references to wrists, strudels, movies and pectoral muscles, were liked by many and equally disliked by many.
Love or hate isn't important here; he made people talk. He got fan sites buzzing and got his lovers and haters riled up. Promos which included Cena became interesting, which I remind you is antonym of the said reason of hate. His promos lost the stale factor and so did that one malicious reason for hating evil John Cena. 
If I hated John Cena and his doomed-to-be-always-thrown-away cap for his limited moveset, then by all means, I should continue to hate him. This is something he should be detested for, and pelted with eggshells for, but we should also remember that his recent matches haven't been that bad, either.
The numbered ammo in his artillery doesn't stop John Cena from putting on a good (notice I said good, not awesome) match, even with rusty stars who haven't wrestled for seven years.
But if I hated John Cena and his oh-so-corny wristbands because he was being shoved down our throats far too deep for far too long, then it's time I loosen the noose on his neck slightly. Slightly.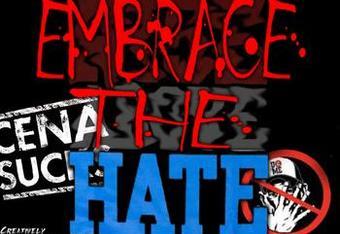 Missing out on a PPV and a couple of RAWs is just at the bottom of this justification pit. It has almost been a year (Vengeance 2011) since he was involved in a WWE Championship match or feud or screaming "THE CHAMP IS HERE!" while 'you can't see me, my time is now..' played in the background.
The road to the coveted WWE Title has no traces of John Cena, and by the looks of it wouldn't have any for a good while. 
The rise of Champion CM Punk is marginally linked to the demise of Champion Cena. Yeah, controversial words.
Yes, he still does take the main-events for most shows but we're getting somewhere; nowadays we consistently get fantastic WWE title matches on RAW and PPVs. We have a titleholder who has all rights to claim he is bigger than Cena or Brock or Rock in today's era, because he has the gold. That counts.
It is human nature to exaggerate and to blend in with the crowd. Exaggerate John Cena's wrestling to Kelly Kelly's calibre, exaggerate a few weeks of stale promos to a year's worth of staleness and to blend in with booing John Cena because only women and kids under 18 can cheer someone like John Cena.
We are the WWE Universe, and we are expected produce such reactions, be it a 'Let's Go Cena!' or 'Cena Sucks!' or 'YES! YES YES!', but at times when you're watching something (case in point: John Cena) and you mutter under your breath, "This Fruity Pebble really sucks!", take a second to introspect on your judgment and actually analyze why you hate John Cena today.
Today. If we were to hate stars for their dirty pasts, then Triple H, Shawn Michaels, Rocky Maivia, Stunning Steve Austin and Hulk Hogan should be felicitated with praise-worthy spots in the reputed IWC Hall of Hate.
Thanks for reading all.
Shalaj Lawania is gradually getting older but still looking bafflingly younger (that's impossible!) at Bleacher Report and that's about it. You can become a fan of his if you like his work or follow him on Twitter (@_Apex_Predator_) if you really can put up with his useless tweets. Annoying tweets or not, do leave a comment (any comment except "YES! YES YES!") for this article!