Joe Adams: 5 Biggest Strengths and Weaknesses of NFL Draft Prospect's Game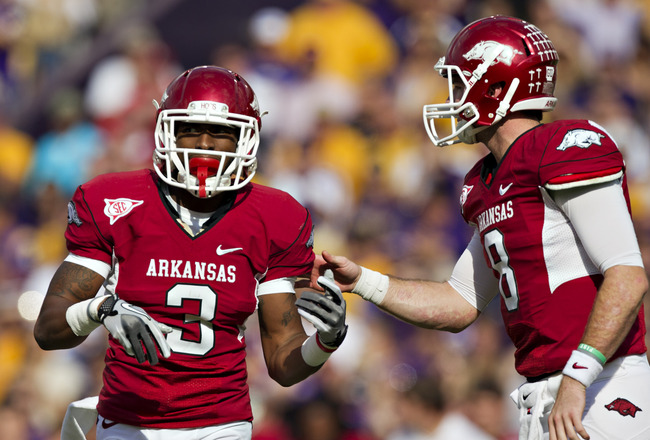 Wesley Hitt/Getty Images
Well over a year ago, at a time when most people were looking at wide receiver Greg Childs as the best receiver at Arkansas, I held firmly to the belief that Joe Adams was the team's best receiver.
We have come full circle since then.
Childs fell out of favor as he fought through injuries and clearly lost some of the athletic prowess that made him such a well-regarded player. As a testament to how often things change, Childs has since reclaimed his top spot in the eyes of many draftniks, especially after running a supposed 4.39-second 40-yard dash at his pro day.
Meanwhile, Jarius Wright emerged as a go-to guy for Ryan Mallett in the second half of 2010, finishing the final six games with 450 receiving yards and seven touchdowns.
He continued that momentum into 2011, finishing with 66 catches for 1,117 yards and 12 touchdowns, including a preposterous 281-yard performance against Texas A&M.
Yet through it all, my eyes go back to Joe Adams. Let's take a look at some of the reasons why.
Strength: Game Speed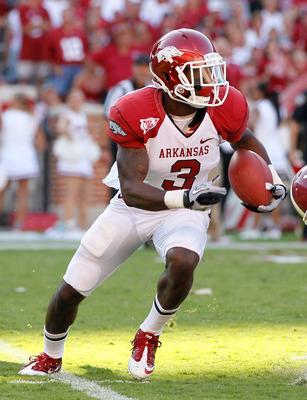 Kevin C. Cox/Getty Images
Do not be fooled by a 4.55-second "official" time in the 40-yard dash at this year's NFL scouting combine.
As I have stated ad nauseam, there is nothing official about those times, and the methodology used in the calculation of those times produces serious inconsistencies in the way different players of the same speed are represented.
I trust my own timing and my own methodologies, and I had Joe Adams right in between 4.47 and 4.49 in the 40-yard dash, which is approximately the same speed as Morris Claiborne.
When Adams improved his 40 time to 4.46 seconds on Arkansas' fast track, that was closer to what Adams really is, compared with his fellow players.
While I am not one of those people that believes the two to be totally different, I believe there is some difference between track speed and game speed. I do not see Adams completely obliterating pursuit angles like a Ted Ginn, Jr.
However, he clearly maintains his advantage and is very rarely, if ever, caught from behind.
At Arkansas, he was definitely a guy that could hurt a defense with his pure speed after the catch, or even run vertically down the field from the slot. Running in the 4.47 range does not change that.
Weakness: Size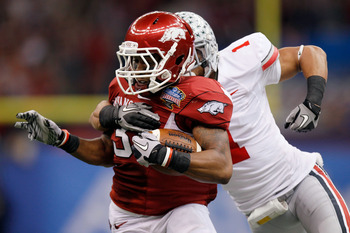 Kevin C. Cox/Getty Images
There is no avoiding the simple fact that Joe Adams is a small player by NFL standards.
He measures just under 5'11" in height, with less than 180 pounds on his frame. You can look at his body and see that there is not much room for him to gain weight or get significantly bigger. He has narrow shoulders and shorter arms.
He is built low to the ground, and he is about as big as he is going to be, even after getting into an NFL weight and conditioning program.
There have been small players that have had success at this position in the NFL.
Adams' frame and measurables put him in companionship with guys like Percy Harvin, Antonio Brown, Steve Smith (CAR) and Doug Baldwin. Of that group, Brown and Baldwin were not more compelling than Adams on a stopwatch in shorts.
Adams' size means that he will have trouble matching up and winning, especially deep, on the outside at the next level, unless he can learn to control his speed to an unusual degree.
Strength: Run After Catch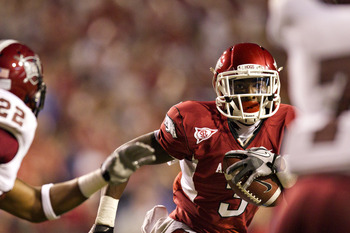 Wesley Hitt/Getty Images
There was no punt returner in college football more dangerous than Joe Adams in 2011. Adams is a true weapon with the ball in his hands.
In the last two years, he has averaged almost 16 yards per punt return. He returned five touchdowns on 36 total punt returns, including four touchdowns in 2011 alone.
The Razorbacks also found other ways to get the ball into Joe's hands.
Over the last two seasons, he had 16 runs for 171 yards and a touchdown. The interesting thing to note about his running is how he was asked to run the football—he did not just take the ball off the end-around or fly sweep.
Adams ran a ball 92 yards from the backfield as a tailback out of the I formation. Optioning him into the backfield gives an offense the advantage of most likely catching the defense in a personnel package that is weak against the run.
As a player running with the ball in his hands, Adams is electric.
He catches a lot of screen passes and acts as a de facto tailback. He is a short strider, which makes him very quick and agile. He accelerates quickly.
Adams is able to break tackles as he runs low to the ground and shows a knack for staying on his feet.
Weakness: Route-Running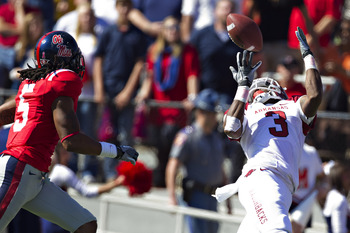 Wesley Hitt/Getty Images
There are run-after-catch players out there that have no clue how to run routes and look like fish out of water. Let me make it clear that Joe Adams is not that type of player.
He shows receiver instincts for how to track and approach the ball in the air, as well as how to get into and out of his breaks. There is a reason he caught six passes for 116 yards during the Senior Bowl.
However, his route-running does leave something to be desired. I would not call this aspect of his game "raw" so much as non-compelling.
As a short strider, he is going to be quicker into and out of his breaks than many players. However, his movements and steps are not fully in control yet while running routes.
He can take extra steps in his breaks and fail to look sudden.
This all goes back to the kind of player Adams is, though. He is very much the type of player you want to put in the slot and get his hands on the ball in space and on the run so that he can make things happen after the catch.
Those guys do not necessarily need the route-running skills it takes to win consistently on the outside.
Weakness: Hands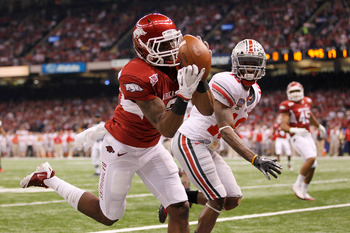 Kevin C. Cox/Getty Images
I have had some problems over the years with the way Joe Adams catches the football.
He is not yet consistent and drops a lot of easy passes. He also fails to haul in some harder passes that you would like to see him be able to catch.
Adams is, for the most part, a clean catcher of the football with instincts for how to treat the ball in the air, how to catch it with his hands and how to secure it.
However, the consistency is what's been maddening at times.
Keep Reading