Oregon Ducks Running Back Depth Will Not Be a Problem
April 18, 2012

Stephen Dunn/Getty Images
It started with the early departure of LaMichael James and only got louder with the transfer of Tra Carson, the screams that Oregon was in trouble at  running back and the depth chart was getting thin.  Throw in the transfer of Lache Seastrunk just before the start of the 2011 season and maybe those screams are right.
I am a little less concerned. I can't say that I am entirely comfortable with the situation, but I feel that Oregon has enough to keep the ball moving. 
Start with the heir apparent to James with Kenjon Barner. As the backup to the nation's second-leading rusher, he still had 939 yards. He did so on 152 carries. Only three players in the nation did more with fewer touches. He had four games with over 100 yards in 2011. Three of these games came when James was injured. 
From the time he was a freshman to where he is now, Barner has seen an increased role including more touches, resulting in more yards and touchdowns. People have questioned his ability to be the premier back and play week in and week out. I feel the Oregon offense is designed so that the ball will be distributed enough so as to not stress him too badly. 
I also have seen that Oregon running backs coach Gary Campbell and head coach Chip Kelly have their backs possibly more prepared and conditioned to handle running the ball as many times as asked of them. 
Barner was also the team's sixth-leading receiver, which puts him at third for the returning players. He has also been a weapon in the return game, taking turns at both kickoffs and punts.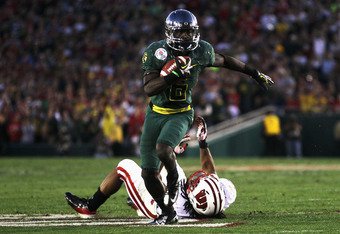 Jeff Gross/Getty Images
Speaking of return men, the next guy on the list that may not even be listed as a running back is DeAnthony Thomas. Known to many Oregon faithful as the Black Mamba (I will save the argument now, he went by this nickname BEFORE Kobe), or simply DAT, he electrified fans every time he got the ball in his hands. 
He is an all-around player who could line up as a running back or a receiver. He was a dangerous kick returner, taking a couple back to the house. He was the team's leading receiver and the third-leading rusher. Did I mention he was a true freshman last season?
I expect him to have just as big of a role this coming season, but if a couple of highly recruited, highly touted young receivers step up, this could only open him up for more diverse plays when he isn't as needed at WR as he was in 2011. 
This is where some people's concern begins. After these two, the rest of the field is full of unknowns. 
Start with who is already there. Ayele Forde would be who I expect to see a little bit of time. As a freshman, he saw the field in four games, mostly blowouts. He only had 176 yards and a couple of touchdowns, but he came in at 4.9 yards per carry. This is pretty well on par with a number of the top-rated backs.
Anthony Blake saw the field in one game, Missouri State. He got the ball just three times and totaled 21 yards. I would not expect him to see the field in any more than three games next season. As of right now, I don't even see him as listed on the roster, but I cannot find any evidence of him leaving the team or being cut either.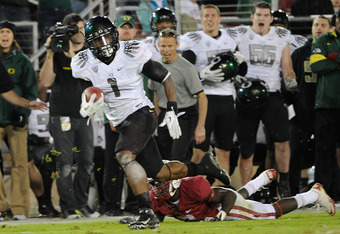 Thearon W. Henderson/Getty Images
Another back from the 2011 roster is Kenny Bassett. He did not see the field in 2011, and would likely only see the field this season in a blowout. He was not highly recruited but has earned his place primarily on the scout team. 
Antwan Baker is listed as a redshirt freshman, so obviously he did not see the field in 2011. Baker is an Oregon native who was conference offensive player of the year as a senior in high school. He ran for 1,631 yards and 22 touchdowns. He is another back I would only expect to see in a minimal role.
While those last three might not raise eyebrows, this next one might. A lot of people forget that Josh Huff was recruited as a running back. A 4-star running back. Rated the seventh-best running back in his class. He has proven himself as a wideout, but if the Ducks needed him to run the ball I am sure he could fill in fine. This is likely a worst-case scenario so I don't expect it to happen. 
The incoming class only has only one running back, but he is a good one. Byron Marshall was rated as the eighth-best back in the nation by Rivals, 18th by Scout and 10th by ESPN. All three have him as a 4-star player.
Marshall's stats weren't what they could have been since he missed a number of games due to injury as a senior. While his yards and touchdowns could have been bigger, he was averaging 9.38 yards per carry. Pac-12 fans will also know him as Cameron Marshall's brother. Cameron was the leading rusher for Arizona State. I expect to see him on the field this year. 
I hope Oregon fans take a look at this and can relax a little. Oregon has had a long history of good running backs, and in my opinion this will continue through 2012 and beyond.