2012 NFL Mock Draft: 6 Players That Teams Will Reach for in the 1st Round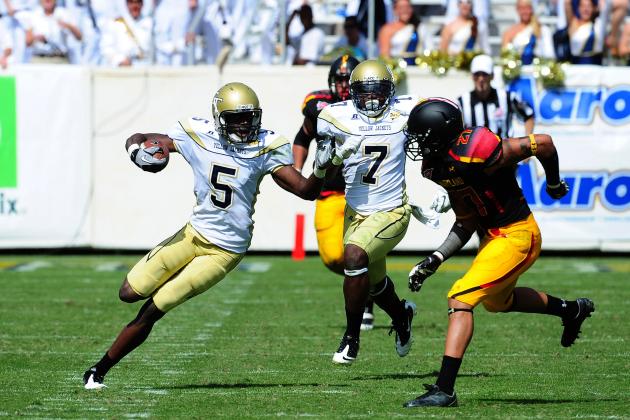 Scott Cunningham/Getty Images
Stephen Hill is an intriguing prospect that one enamored team will reach for.
Since the Oakland Raiders don't have a first-round pick in the 2012 NFL Draft, there's no team we absolutely know will waste their pick.
Every year, countless fans across the country watch each pick with two things in mind. First, they hope the pick will make his team better. Second, they hope it will make any team he does not root for worse.
And the NFL never fails to provide a few blunders.
You've got the New York Jets trading up to No. 5 to select Mark "The Sanchize" Sanchez. The Cincinnati Bengals grabbed Andre Smith at No. 6, the most troubling tackle since Bo Jackson trucked the Boz.
And who could forget the Raiders, and virtually all of their picks over the last five years? It's a good thing Michael Crabtree didn't turn into the next Jerry Rice, or ol' Al Davis might've rolled over in his grave.
So, who will it be this year?
Begin Slideshow

»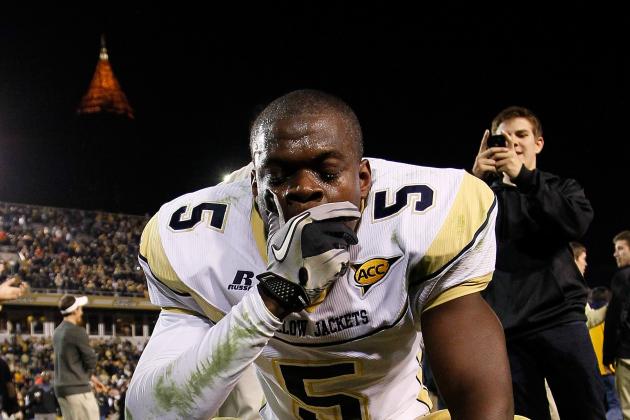 Kevin C. Cox/Getty Images
Whichever team reaches for Stephen Hill will be saying their prayers.
Not to harp on the Raiders, but this guy would be sitting at No. 1 on Al Davis' big board.
He screams Oakland Raider even louder than Darrius Heyward-Bey.
Standing 6'4", running a 4.36-second 40-yard dash and having D-minus college productivity all seem to point straight into the "Black Hole" in Oakland.
Alas, the Raiders do not have a first-round pick with which to pluck this physical anomaly. No matter, somebody will.
A team with a need at wide receiver will see him on the board and their mouths will salivate. They will talk themselves through the fact he played in an option offense in college. They will abate the fears incited by his abysmal 49 career receptions.
In short, they will ignore all the red flags and grab at the oft-disastrous green one, which reads "POTENTIAL."
My Best Guess: Houston Texans, No. 26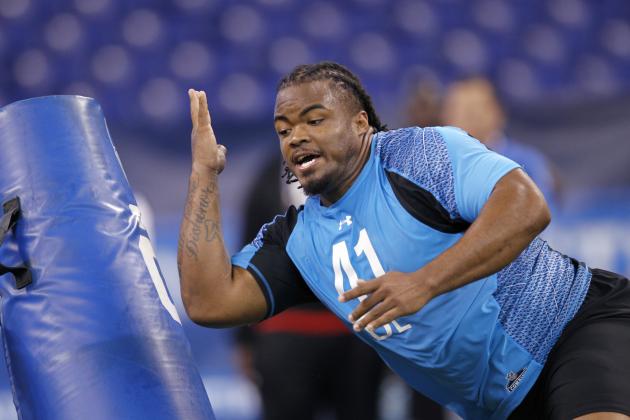 Joe Robbins/Getty Images
Dontari Poe's combine performance vaulted him into the first round.
Before the NFL combine, my bet would be that nine out of 10 football fans (if not more) had never heard of Dontari Poe.
And why should they have?
This behemoth of a man, who is now being projected as a top-15 pick, wasn't exactly an All-American at Memphis.
No, Poe wasn't even all-conference in the highly-esteemed Conference USA.
But when NFL scouts watched him go next level at the combine, all those college games didn't seem to matter as much. He brought his entire resumé to the event, and it had only one word on it.
Potential.
My Best Guess: Dallas Cowboys, No. 14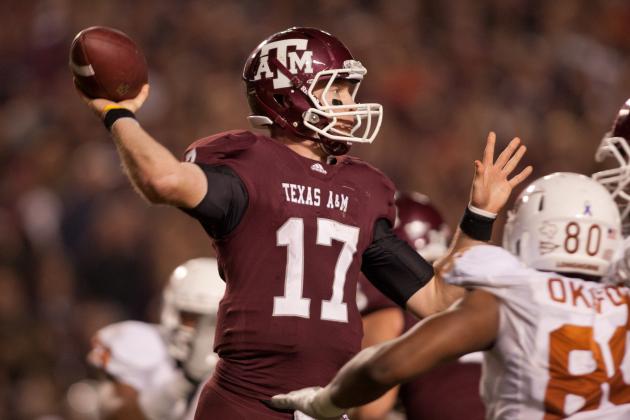 Darren Carroll/Getty Images
Ryan Tannehill doesn't belong in the top-10.
No matter what Jim Irsay or anybody else says, Ryan Tannehill does not belong in the top-10 draft picks. He doesn't belong in the top-20.
He really doesn't belong in the first round.
Yet, he might be going as high as No. 4.
If that doesn't tell you how quarterback-thirsty the league is, nothing will.
Just like the Tennessee Titans were crazy to pick Jake Locker at No. 8, and the Minnesota Vikings were insane to take Christian Ponder at No. 12, whichever team rolls the dice on Tannehill knows they aren't getting a sure thing.
So many aspects of his game have been questioned that you wonder what it is that scouts like about him so much.
However, scouts do agree on one thing. He throws well on the run.
Given that he'll probably be walking onto a horrible team, that could be a perfect fit.
My Best Guess: Miami Dolphins, No. 8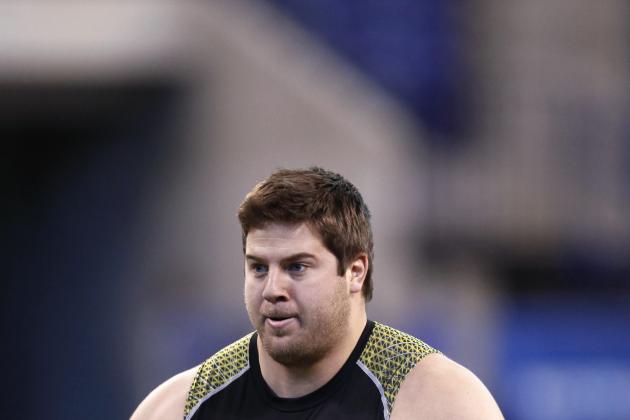 Joe Robbins/Getty Images
Riley Reiff is not an elite-level tackle prospect.
Too often, teams fall into the trap of simply selecting the best player at a position of need. While this certainly makes sense to a lot of people, it often leads to players who don't perform up to the standards of their draft position.
Riley Reiff is not a bad player.
In fact, Reiff could very well end up being an extremely solid, if not Pro-Bowl caliber player. But at this point in his career, I can't justify him as a top-10 pick, which is exactly where I see him going.
Despite his intelligence and polished footwork, Reiff lacks elite strength for the position.
While that isn't always a problem in the college game, every NFL defensive end possesses a variety of pass-rushing skills to beat tackles. Many of these moves are devastating, and even more troubling is that they can set up a nasty bull rush.
If a tackle anticipates a spin or swim move too heavily, he can be caught giving up too much ground. A smart defensive end, which virtually every NFL end is, will use the tackle's backward momentum and simply drive him deeper into the backfield.At this point, it's game over for the tackle. If the end doesn't drive the tackle straight into the quarterback, he can disengage the block and make the sack himself.
Now, Reiff is no pushover, but he's not ready for the weekly struggle of protecting Ryan Fitzpatrick's blindside, which is what I see him doing next season.
My Best Guess: Buffalo Bills, No. 10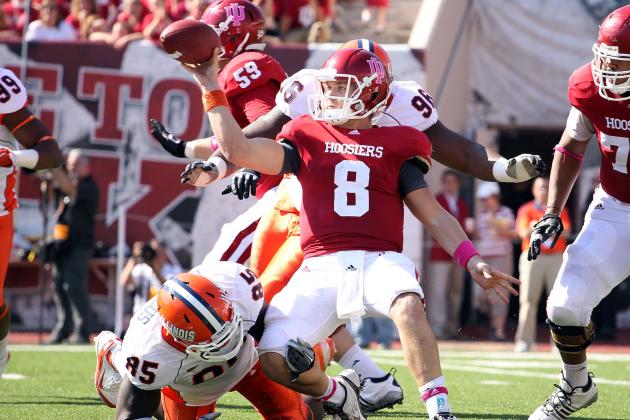 Andy Lyons/Getty Images
Whitney Mercilus hasn't played enough games to be fairly evaluated.
Whitney Mercilus is a tough prospect to evaluate.
He started only one season at Illinois, and crushed the competition. But is that enough?
With only one year of tape, how can NFL talent evaluators put a realistic price tag on him? Does a team really know what they are getting when they pick a guy who has only a single season of starting experience?
The answer to that is a resounding "no." And yet, there will be a team who doesn't care.
There will be a team whose board says he's the next man up, and they could use a rush end in a league where you can't have enough rush ends.
Some general manager will see Mercilus' tools and decide that one year was enough. Just as the prospect himself did.
I'm not saying he won't ultimately be worth whatever pick he garners. Rather, I'm saying he hasn't proven that worth.
Yet.
My Best Guess: Chicago Bears, No. 19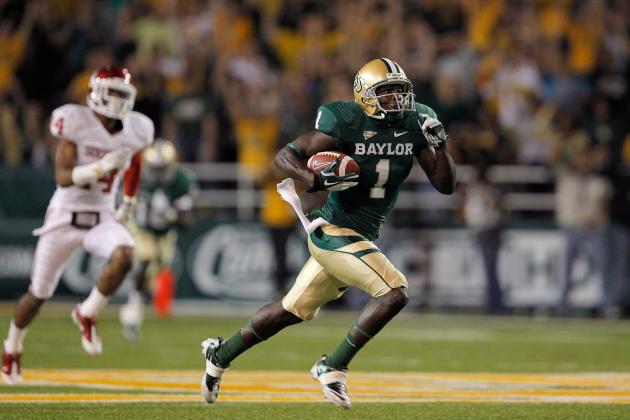 Sarah Glenn/Getty Images
Kendall Wright was the beneficiary of Robert Griffin III's Heisman campaign.
NFL Network analyst Mike Mayock says a lot of controversial things, many of which turn out to be blatantly untrue.
But there's one thing he says, and says often, that is hard to disagree with.
"Fast guys run fast, and slow guys run slow."
John Madden couldn't have said it better.
When Kendall Wright was helping Baylor light up every defense in the Big-12 last season, he was doing the majority of his damage in the deep passing game.
So when the 5'10", 190 pound wide receiver showed up to the combine, you expected to see him fly.
Then he laid down a 4.61-second unofficial 40-time. His 4.43-second 40-yard dash at Baylor's pro day improved his stock, but where does that leave us?
The fact is, Wright isn't overly polished. He's a player used to "out-athleting" opponents, simply being faster than the competition.
He is going to find out that NFL corners are no joke, and he's certainly not going to blow by too many of them.
Wright is a second-round prospect at best, and has a lot of holes left to fill in his game.
My Best Guess: Baltimore Ravens, No. 29