11 College Football Teams That Should Be 5-0 Coming out of September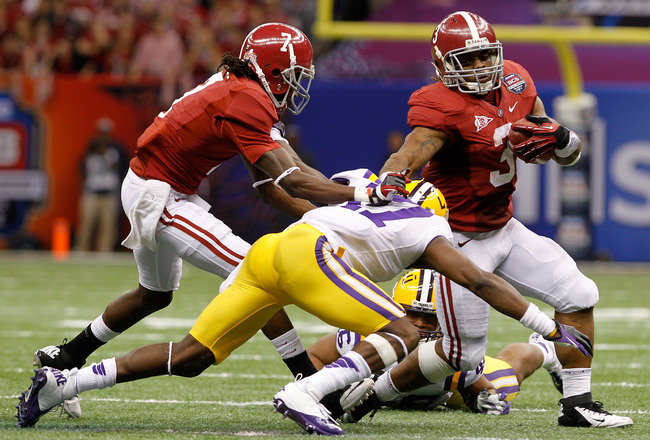 Chris Graythen/Getty Images
Players and coaches in any sport know how important it is to get off to a fast start, and in college football, September can be the difference between an inside track at a BCS title-game berth and the rest of the nation hoping for a little pollster help come late in the season.
Some have mind-numbingly easy schedules while others barely dip their toes into the competitive waters. Still some dive headlong into oncoming traffic during the opening weeks. Who will survive?
We'll try to answer that and a few other questions as we look at the college football teams that should be 5-0 when September comes to an end.
Florida State Seminoles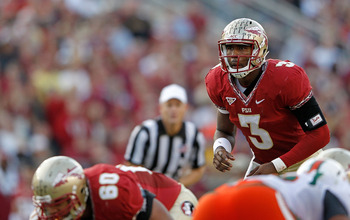 Mike Ehrmann/Getty Images
With all of the talent returning to Tallahassee this season, Florida State fans should have high hopes.
While the Seminoles fell well short of last season's lofty expectations, the 2012 schedule is noticeably absent of behemoth non-conference games, a la Oklahoma.
Florida State gets things underway with a September 1 warm-up against FCS Murray State.
Sadly, Florida State plays another FCS program in Week 2: Savannah State. If the Seminoles were looking to sabotage their own strength-of-schedule, this is a great way to do it.
Seriously? Two FCS programs to start 2012? This would be a joke, except it isn't funny—at least not a "ha ha" kind of funny.
At least we can pretty much guarantee a 2-0 start.
Finally, Florida State plays a game that might actually mean something in Week 3, as the ACC gets an early start with a trip to Tallahassee by Wake Forest.
The biggest test in the month of September for Florida State comes on September 22 when the defending ACC champion Clemson Tigers come to Doak Campbell Stadium.
It's highly likely that this early season conference showdown will determine the eventual ACC-Atlantic Division champion.
Even though Clemson will be good again this season, Florida State should be better, with 18 starters returning—all healthy.
Florida State finishes the month of September with a short trip down to Tampa to take on the South Florida Bulls.
While this will be a great draw for USF, it probably won't amount to much more than ticket revenue, as the Seminoles should make quick work of Skip Holtz's team.
Oklahoma Sooners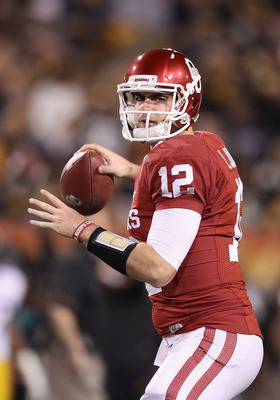 Christian Petersen/Getty Images
Oklahoma isn't taking full advantage of the five Saturdays available in the month of September this year.
The Sooners have just three games scheduled in the first five weeks, but each of those three games—including the Big 12 opener—should end in wins.
The Sooners get 2012 underway with a whimper, as they actually travel to El Paso to take on the Texas-El Paso Miners.
The person at UTEP who managed to get Oklahoma to come down for this game deserves a raise. This will easily be the best attended UTEP home game of the season and will be one of the only opportunities for the Miners to showcase their skills to a national audience.
That being said, the Miners don't have much hope of actually beating Oklahoma.
The Sooners then play the annual FCS beatdown game against Florida A&M before enjoying the first of two off weeks in the month.
The Big 12 season gets underway on September 22, as the Kansas State Wildcats make the trip to Norman. While the Wildcats had a magical 2011, actually finishing with an identical 10-3 record to Oklahoma (and a better 7-2 conference mark), the Sooners will prove to be much too powerful for the Wildcats again. Oklahoma was, after all, one of those two conference losses suffered by K-State last season.
The month of September closes with another bye week for the Sooners. So while we can't technically say Oklahoma will emerge from September with a 5-0 mark, the Sooners will be undefeated, nonetheless.
Texas Christian Horned Frogs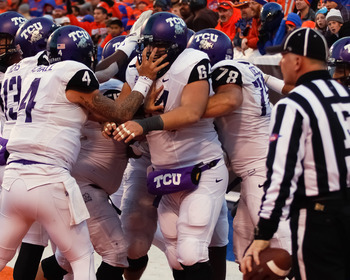 Otto Kitsinger III/Getty Images
First impressions are often the most important, right?
So what better way to impress your new conference mates by beginning the season with an undefeated first month?
Texas Christian plays just four games, starting the season with a bye week. Week 2 isn't much better, as TCU hosts FCS Grambling State. TCU's first-ever Big 12 conference game is on September 15 at lowly Kansas before returning home for a game against Virginia.
The month concludes with the annual grudge match against crosstown rival Southern Methodist.
While SMU was able to pull off the upset last season—capturing the Iron Skillet for the first time since 2005 and only the sixth time in the last two decades—the Frogs won't let the Mustangs slip past them again, especially with the pride of the Big 12 riding on it.
TCU has the look of a team that can compete in the Big 12, and SMU—for all the strides made—is just another Conference USA also-ran.
West Virginia Mountaineers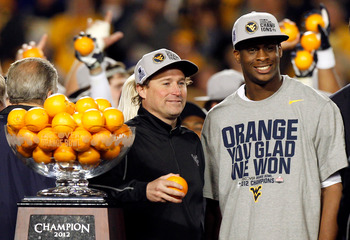 J. Meric/Getty Images
Another new Big 12 program looking to make its mark is West Virginia.
The Mountaineers are coming off an Orange Bowl title, and they have to believe they have as good of a shot at the conference title as anyone in 2012.
A quick start in September won't do anything to dissuade anyone from that line of thinking, and the Mountaineers look to have a pretty easy path to an undefeated September.
Week 1 features a visit from Marshall before a bye week.
Week 3 is a date with FCS James Madison at FedEx Field in Landover, Md., before the Terrapins make the trip to Morgantown in Week 4.
The month concludes with a homecoming game that will also double as WVU's Big 12 debut, as the RG3-less Baylor Bears visit Morgantown for the first time.
If there's one coach in the country who knows what it takes to dismantle Big 12 defenses, it's Dana Holgorsen. His time spent as Oklahoma State's offensive coordinator will come in very handy this season. A combined 15 returning starters, including quarterback Geno Smith won't hurt matters, either.
Iowa Hawkeyes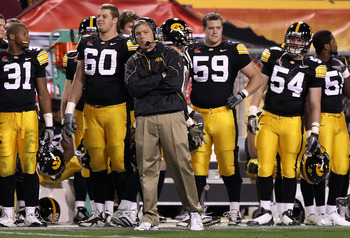 Christian Petersen/Getty Images
It seems as if Iowa is forever in "rebuilding" mode.
However, the Hawkeyes may be able to break out of that mold in 2012, especially with a quick start the month of September should provide.
The five games on the schedule for Iowa in September include two MAC programs (Northern Illinois and Central Michigan), an FCS program (Northern Iowa), a Big Ten doormat (Minnesota) and the annual battle against Iowa State for the CyHawk Trophy.
Not only is every game on that list winnable, head coach Kirk Ferentz should expect his team to win each of them. With 14 returning starters from a year ago, now is as good as it's going to get for Iowa to make a move in the Big Ten.
Penn State Nittany Lions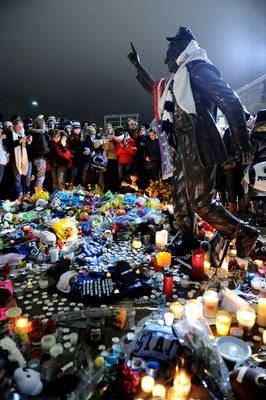 Patrick Smith/Getty Images
It's never easy to move past the career of a legendary coach, but Joe Paterno defines legendary. He is the gold standard against which all other coaches will be measured. How can you simply move past nearly half a century of history?
Five quick wins will certainly help.
With Ohio, Virginia, Navy, Temple and Illinois all appearing on the September slate for the Nittany Lions, new head coach Bill O'Brien should have Penn State fans singing his praises by the time we change our calendars to October.
Oregon Ducks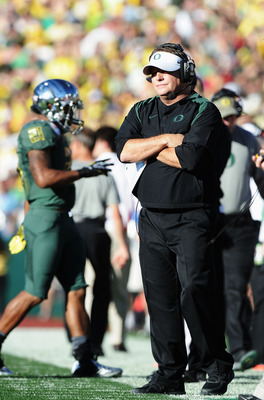 Harry How/Getty Images
The 2012 season may not be starting against a top-tier opponent like LSU, but that doesn't mean September won't be an important month for the Ducks in 2012.
There's not a whole lot on the early schedule that should trip up Oregon, but it will provide some great opportunities to break in quite a few new faces this season.
Oregon is the heavy favorite in the Pac-12 North Division this season, and the conference title will likely come down to the USC-Oregon clash we're all hoping to see in December.
Arkansas State, Fresno State, FCS Tennessee Tech, Arizona and Washington State will likely provide little more than mild amusement for the Oregon players as the Ducks cruise to a 5-0 start.
Southern California Trojans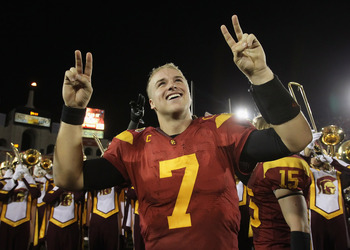 Jeff Gross/Getty Images
USC is back.
Not that the Trojans really went anywhere.
Southern California has four games on the September docket, and none of the four teams really should provide much of a challenge to a Trojans squad that returns 16 starters, including quarterback Matt Barkley.
Hawai'i and Syracuse provide the warm up before the Pac-12 schedule begins with Stanford and Cal in Weeks 3 and 4, respectively.
While Stanford might stick out to some, it remains to be seen if the Cardinal can still be a force without Andrew Luck—remembering that Stanford failed to win a conference title with him.
USC may very well be the top team in the nation this year, and 4-0 might very well be the first step toward 12-0.
Alabama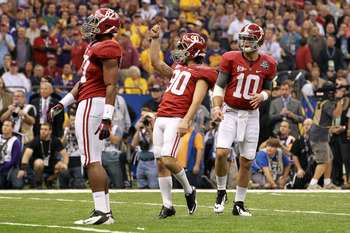 Ronald Martinez/Getty Images
The Crimson Tide will get their BCS National Championship defense underway against another BCS bowl winner from last season: the Michigan Wolverines.
Michigan is an early Big Ten favorite for 2012 and for good reason. Not only is Denard Robinson returning, the Michigan defense has vastly improved over two seasons—and Brady Hoke has eight defensive starters from 2011 returning.
While Alabama should win this game, many might be surprised at how close the final score will actually be. As it turns out, Alabama is not invincible, and Michigan isn't as bad as SEC fans would like to believe.
The Tide get a bit of a breather in Week 2, as lowly Western Kentucky comes to Tuscaloosa for a lesson in SEC football.
Week 3 features what could be a defining SEC-West game this season, as Alabama takes their show on the road to visit Arkansas.
The Razorbacks are a bit of an enigma, especially with all that's gone on in Fayetteville over the past few weeks. With the Hogs still being a question mark, we're going to side with the known factor: Alabama will be good.
The final two weeks of September will see games against Florida Atlantic and Ole Miss—two games that should be very easy wins for Nick Saban and company.
Georgia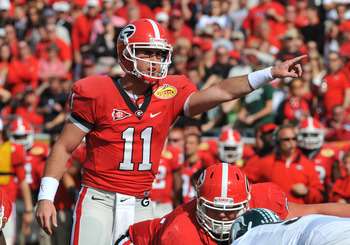 Al Messerschmidt/Getty Images
After an impressive turnaround 2011 season, the Georgia Bulldogs are the presumptive favorite in the SEC-East this season.
Nothing in the month of September will change that.
After an opening week laugher against Buffalo, Georgia gets a quick start to the SEC conference slate with a trip out to newcomer Missouri.
Florida Atlantic, Vanderbilt and Tennessee round out the month.
Anyone betting against the Bulldogs in any of those games? Keep in mind that Mark Richt has nine defensive starters returning, and the offense will still be under the control of the very talented Aaron Murray and his intact corps of receivers.
Anyone still betting against Georgia?
South Carolina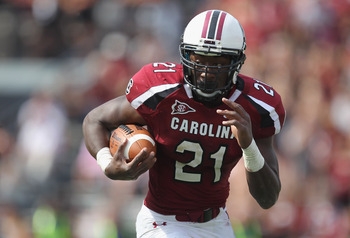 Streeter Lecka/Getty Images
Speaking of the SEC-East, South Carolina is the other potential front-runner in the division for 2012.
While the Georgia-South Carolina showdown will have to wait until October 6, September will kindly set up a clash between the two top teams in the East Division, with a combined 10-0 record. What could be better?
The only thing SC needs to do is knock off Vandy, East Carolina, Alabama-Birmingham, Missouri and Kentucky.
With Marcus Lattimore returning to the lineup for the Gamecocks, there shouldn't be anyone left believing we won't be treated to the already anticipated October opener between undefeated Georgia and undefeated South Carolina.
Keep Reading