Latest News, Injuries and Updates on the Stanford Cardinal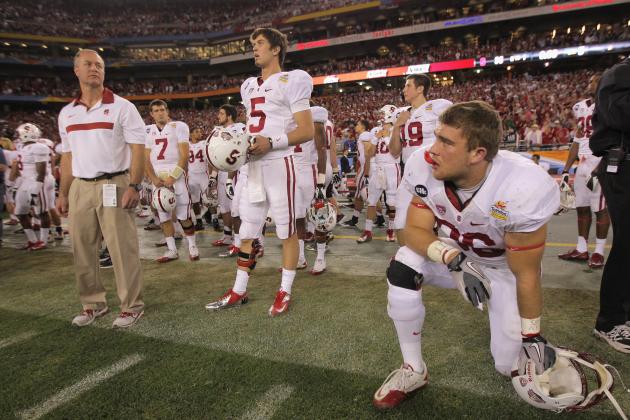 Doug Pensinger/Getty Images

College football is back and is in full swing.
With spring games occurring and the starting 11 on both sides of the ball formulating, the Cardinal look to prove that the past two years were not because of a great senior class.
In fact, Stanford definitely wants to build on the successes of the past three years as it looks to once again become an elite college football destination.
Here are the latest updates on the young 2012-13 season.
Begin Slideshow

»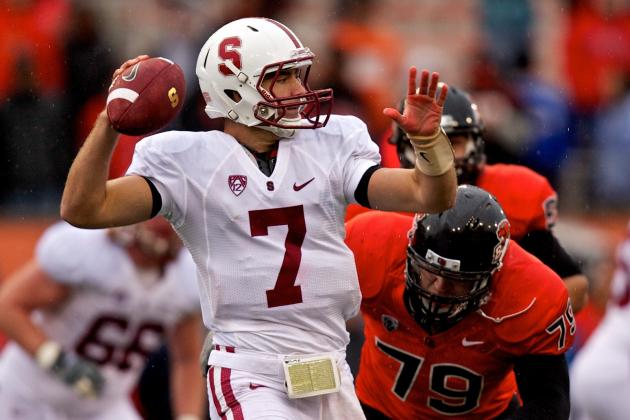 Craig Mitchelldyer/Getty Images

The Stanford quarterback battle seemingly has no end in sight. Josh Nunes and Brett Nottingham both had reps in the spring football game and both performed admirably.
Nunes completed 11-of-29 passes and threw for two touchdowns and 167 yards, while Nottingham threw for 118 yards and one interception.
While Nottingham did throw an interception, he made a few ridiculous throws and showcased his strong arm very well.
Look for this battle to rage on until the fall as no decision seems close.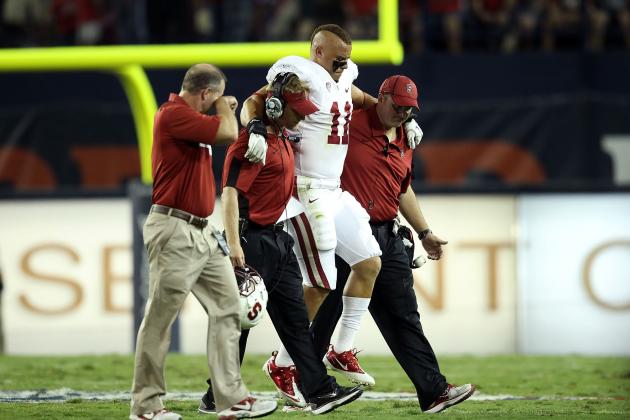 Christian Petersen/Getty Images

There are no major injuries to report from the beginning of the spring football season.
However, Shayne Skov and Ed Reynolds, both of whom were lost for most of last season, are looking to rebound and make an impact on Stanford's defense.
Backup fullback Geoff Meinken did suffer a left knee injury and needed crutches to leave the field. The team plans to do a further evaluation on the situation.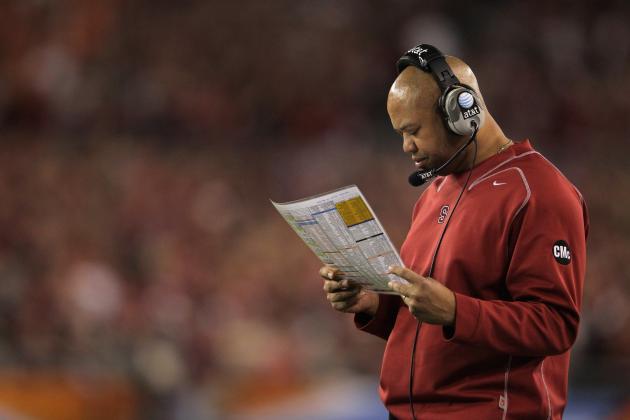 Doug Pensinger/Getty Images

The defense prevailed in the Spring Game, winning 37-29 in a tight contest. However, this result should be taken with a grain of salt, considering that the defense was awarded points for turnovers or stands.
With that being said, both Brett Nottingham and Josh Nunes played well as they look to earn the starting quarterback position for next year. A decision will not be made anytime soon.
Wide receiver Ty Montgomery was outstanding in the game, catching two touchdowns while having 87 receiving yards. Look for him to be a force for the Cardinal next season.
Kelsey Young was solid at running back as he looks to move up the depth chart.
All in all, the Spring Game was a greatly positive event.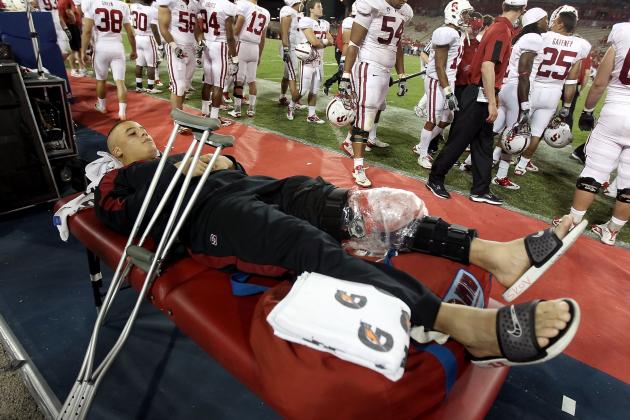 Christian Petersen/Getty Images

Last season, Stanford lost its defensive leader Shayne Skov when he went down because of a severe knee injury he suffered against Arizona.
If the Cardinal want to contend in the Pacific-12 and win eight to nine games, Skov needs to return to his former self, playing hard for the team while also being the captain.
However, he will likely miss one or two games this season because of a DUI arrest, which occurred in February. This could be a positive because it might allow for Skov to have more time to get ready for the season.