UFC 145: Jon Jones and the Top 10 Workhorses in MMA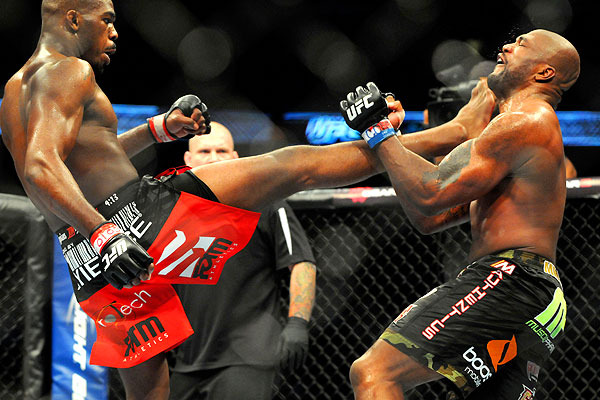 "So you want to be a fighter?"
Dana White's iconic quote makes fans and fighters alike consider how impossibly difficult it is to compete in the Ultimate Fighting Championship. Cross-training in multiple disciplines and spending most of your time in the gym is beyond the limits of normal men and women. Perhaps that is one of the reasons that we look up to successful mixed martial artists.
Today's article is a celebration of the fighters who go above and beyond the normal UFC schedule. We will look at fighters who fight frequently against hefty competition, and those fighters who are ready to assist Joe Silva in case a scheduled fighter is affected by injury.
In this article, we look at the UFC stars who say they will fight anyone, any time, anywhere...and actually mean it.
UFC 145 competitor Jon Jones earned his spot on this list with his fantastic 2011. One more fighter who is fighting on Saturday night made the list too. Can you guess which one?
Note: For the sake of this article, I only included fighters who are on the active UFC roster.
Begin Slideshow

»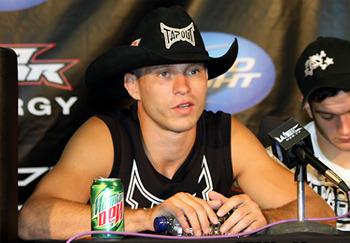 Donald Cerrone was the undisputed workhorse of the UFC in 2011. In his first year with the organization, Cerrone fought five times. In three of those bouts, he served as a late replacement.
Cerrone showed off his well-rounded skills by earning the fight night trifecta in consecutive bouts. He earned bonuses for KO of the Night against Charles Oliveira, Submission of the Night against Dennis Siver and his second Fight of the Night against Nate Diaz at UFC 141.
Cowboy will attempt to get back on track when he meets Jeremy Stephens at UFC on Fuel 3 in a lightweight affair.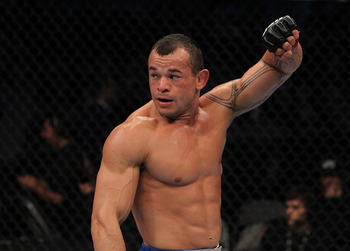 A fighter who fights three times a year can be considered busy. Lightweight Gleison Tibau fought four times between February and October of 2009, but that's not his shortest time frame for that feat. Tibau hammered out four wins in only six months between March and September of 2007.
Tibau's 14 lightweight fights inside the Octagon is a divisional record for any active fighter. Technically, two of those fights were contested at catchweight, but I'm not going to nitpick over him weighing in at 156.5 and 157.
Not only is Tibau a busy fighter, but he fights a high level of competition, including Joe Stevenson, Jim Miller, Kurt Pellegrino and Melvin Guillard.
Tibau looks for his fourth straight win at UFC 148 when he takes on undefeated prospect Khabib Nurmagomedov.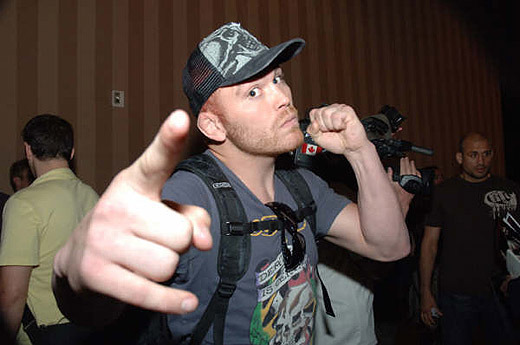 Anybody, any time, any place! That is the hard-nosed mentality of middleweight Chris Leben. Our first exposure to Leben's "always ready" philosophy came when show favorite Nate Quarry was injured during a training session on The Ultimate Fighter and the eliminated Crippler jumped at the opportunity to replace him.
Always staying busy, Leben took place in eight fights in only 20 months between April 2005 and December 2006. With a total of 19 fights in the UFC, Leben currently holds the record for any active fighter in the division.
After a knockout over undefeated prospect Aaron Simpson, Leben decided to take some time off from the sport and recuperate. That is, until opportunity came knocking. Days after the Simpson victory, Leben got a call stating that Wanderlei Silva was hurt and could not fight against Yoshihiro Akiyama, a man who had tasted defeat only once in 16 career fights. The fight was less than two weeks away.
Taking the fight, Leben knew that he had the chance to make history by becoming the first fighter of the Zuffa era to win two UFC fights in such a small span of time. And that's exactly what he did.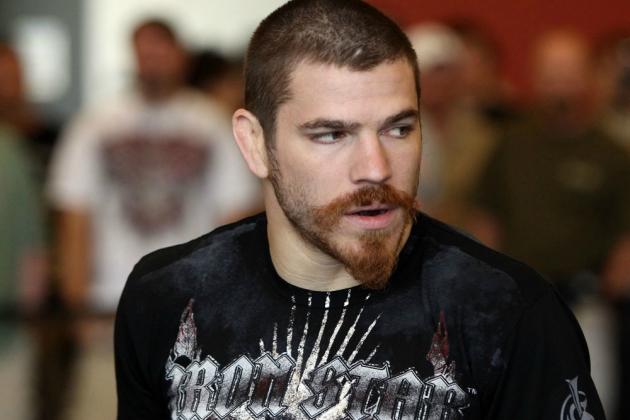 In his first 17 months as a member of the UFC roster, Miller competed seven times, taking on tough fighters like Mark Bocek, Duane Ludwig, Matt Wiman and Gray Maynard.
The only men to defeat Jim Miller are the elite members of the lightweight division: Ben Henderson, Gray Maynard and Frankie Edgar. Sooner or later, Miller will be knocking on the door of a title shot.
Miller looks for his 13th UFC fight and 11th UFC victory when he takes on Nate Diaz in the main event of UFC on Fox 3.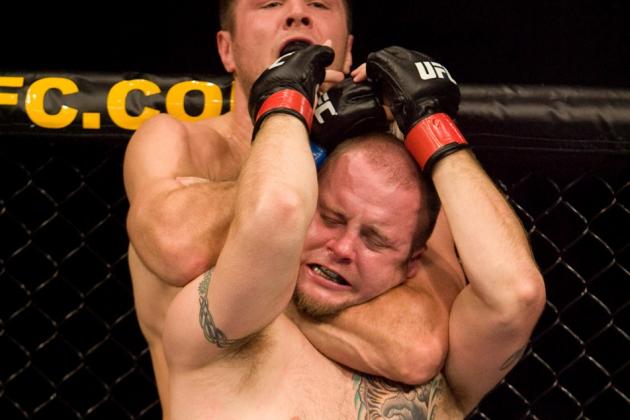 These Miller boys are tough. Dan Miller has not only signed on as a replacement three times in the past two years, but he accepted fights on very short notice against top-level competition.
Last March, he signed on to fight Nate Marquardt on one week's notice when Yoshihiro Akiyama dropped out to deal with the Tohoku earthquake and tsunami that ravished Japan.
Miller allowed Rousimar Palhares to remain on the UFC 134 card in his home country of Brazil after Alexandre Ferreira was forced to withdraw due to injury.
Dan Miller's son has struggled with health problems but has fought to hang on. It sounds like the Millers just have toughness in their DNA.
Miller drops down to welterweight for the first time when he takes on Ricardo Funch at UFC on FX 4.
Tough-as-nails Matt Brown is an under-appreciated fighter.
Although his UFC record sits at a mediocre 6-5, his performances are enjoyable and usually against hefty competition. The Ultimate Fighter 7 alumni has spent cage time with Chris Lytle, Ricardo Almeida and Dong Hyun Kim and has wins over John Howard and TUF winner James Wilks.
Speaking of John Howard, Brown found himself in that fight as a last-minute replacement for Martin Kampmann, who dropped out due to injury.
That wasn't the first time that Brown made the best of a short-notice bout. At UFC 91, he met American Top Team's Ryan Thomas as a fill-in for an injured Matt Riddle.
In the biggest showing of fortitude in his career, Brown volunteered to fight undefeated Stephen Thompson in a bout that many struggling welterweights would have avoided. They square off on the FX portion of UFC 145 this Saturday.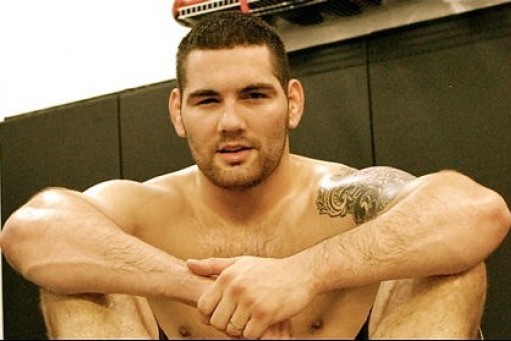 In his brief UFC tenure, hot middleweight prospect Chris Weidman has thrice stepped up to fight a major challenge.
Despite having only two weeks to prepare, Weidman didn't hesitate to sign on the dotted line when he heard Joe Silva asking him to make his UFC debut against Alessio Sakara in March of last year.
When Court McGee fell to injury before his UFC 131 bout with Jesse Bongfeldt, Weidman came to the rescue once again.
In January of this year, when the UFC on Fox 2 lineup was shuffled due to an injury to Mark Munoz, the Serra-Longo prospect stepped in as a last-minute fill in against former No. 1 contender Demian Maia.
Still undefeated, Weidman has shown his burning desire to be in the cage, as he fought four times in his first 11 months in the UFC. Currently recovering from a broken foot, we can expect to see Weidman against a Top 10 middleweight in his return.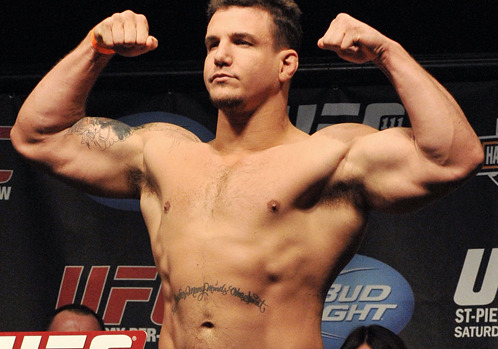 Although he hasn't been granted the matches he has asked for, Frank Mir has attempted to be the workhorse of the heavyweight division.
When Alistair Overeem couldn't comply with a drug test for his December date with Brock Lesnar, Mir volunteered to fight in his stead, a mere three weeks after his submission of the year performance against Big Nog.
Additionally, Mir was the first to throw his name into the hat after Overeem peed dirty at a random drug test for his upcoming UFC 146 title fight with Junior dos Santos. Dana White shot down this notion when he confirmed that Mir will still square off with former champion Cain Velasquez.
Despite missing nearly two years of competition after a motorcycle accident, Mir currently has more UFC fights than any other active heavyweight.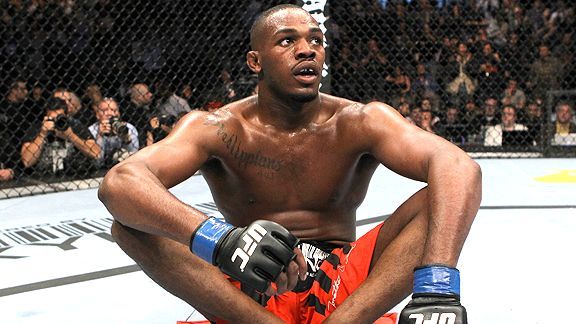 I wonder if current light-heavyweight champion Jon Jones has "carpe diem" painted over his bed, because since joining the UFC, he has certainly taken every opportunity to seize the day.
On Saturday night Jones will make his 11th Octagon appearance and attempt to defend his world championship for the third time. Did I mention that he is only 24 years old?
Taking his first UFC bout with only two weeks' notice, Jonny Bones stepped in for his title fight with Mauricio "Shogun" Rua as a late replacement for an injured Rashad Evans. Even when the ultimate prize is on the line, our reigning champion had the courage to step in on short notice against the best in the world.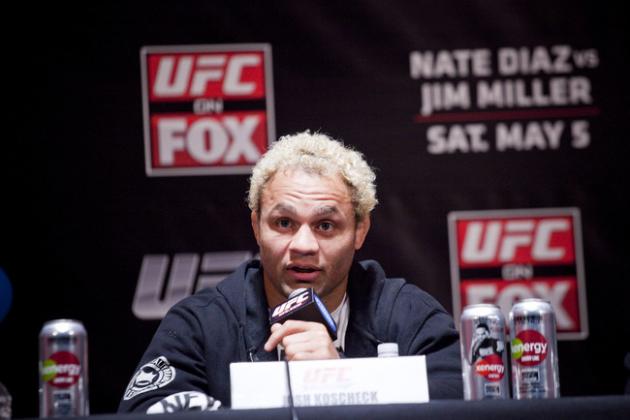 Twice in his tenure career has Josh Koscheck stepped in to replace an injured Diego Sanchez. Kos has taken short notice bouts against welterweight contenders Matt Hughes and Thiago Alves, with the latter occurring with only two weeks' notice.
Koscheck is the epitome of a workhorse, as he is willing to face anyone with minimal time to prepare. He has faced champions like Hughes and St. Pierre, rising prospects like Anthony "Rumble" Johnson and Paul Daley, and virtual unknowns like Paulo Thiago and Yoshiyuki Yoshida.
Despite being a longtime top-five fighter in his division, Koscheck agreed to take on unranked (but tough-as-nails) Mike Pierce at UFC 143 in February when his original opponent Carlos Condit was moved into the main event.
Despite having only two weeks to prepare, Koscheck volunteered to face jiu-jitsu ace Demian Maia in a middleweight contest. The slot was ultimately given to Chris Weidman, but Koscheck's willingness to do the job speaks volumes.